We at PTR are very happy to get a follow up interview with the Anglo-Swedish race driver Freddy Nordstrom. The interview with Freddy in 2015 was PTR's first non-Scandinavian based interview and it opened up the interest for both Freddy as a driver and Euro NASCAR Series (NWES).

In this follow-up Q&A interview, we will take a look in the mirror through the years of 2015-2020, including a peak in the future. So, I bid you welcome 3-time most popular driver in Euro NASCAR – Freddy Nordstrom.

Jens Martin: Picking up after the last interview in 2015, you ended up in P16 (394p) driving for GDL Racing in NWES. I did feel that you struggled a bit that season. You also left GDL Racing after the season. What are your reflections from that season and the GDL Racing team?

Freddy Nordstrom: That was probably the worst season of my racing career. It was the first time I decided not to turn up to the last race due to the pure frustration with the Team. I remember telling the team owner at the penultimate round if something drastic was not changed I didn't see the point of continuing. He had a very lethargic response to the issue, and we decided to end our tainted relationship there. Funnily enough he decided to race the car himself and had an awful showing too. For whatever reason the Team just couldn't make the cars go fast so it was with regret that the relationship ended on a sour note.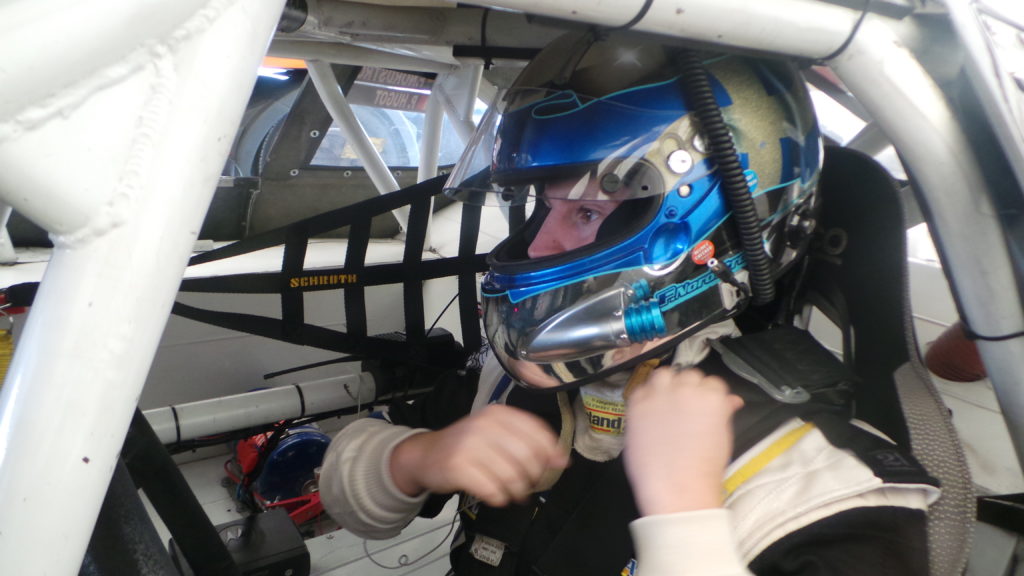 JM: In 2016, you signed up for CAAL Racing for another full Euro NACAR season. Ending up in P10 (494p) that season, I felt that you were heading into the right direction with good results – except that weekend in Raceway Venray (Netherlands) with a broken suspension (race 1) and the multiple race crash drama (race 2). How did you feel that season unfolded for you at CAAL Racing?

FN: 2016 was pretty good in fairness. There were some moments where I showed some good pace and I think I made a slight error at Venray in race 1 just touching the wall and the suspension collapsed. To be honest I don't remember the crash in race 2 but I never had any good luck on ovals. It was a huge crash and I ended up in hospital. I used to love the 2 lap shoot out in qualifying having many top 5s and 3rd at Tour Speedway but things somehow always unfolded badly. I remember in 2016 coming together with Alon Day when we were 3rd and 4th and neither wanted to yield. That was a rather uncomfortable debrief ha ha.
JM: In 2016, your teammates at CAAL Racing were Alon Day and Nicolò Rocca. How was it to have them as teammates at the time? Alon Day was one of eleven drivers in the "NASCAR Next program" and got the opportunity to drive two races in the NASCAR Xfinity Series that year. Did you get any feedback from Alon about racing in the NASCAR Series?

FN: To be honest we never really spoke about it but Alon and I did get on pretty well by the end. I really respect him, and he is on of the quickest drivers I have ever shared a team with. Other notable quick drivers were Fred Gabilion who always performed amazingly.
JM: You also raced in the Dubai 24 hour in the Porsche 991 class in 2016 for MSG Motorsport. How did you get this ride? Was this a "one start only ride" or were there an option for more races at the time? Did you feel like "this is what I need to do more" or "better seeking back to Euro NASCAR Series" is the best option?

FN: It came about last minute; I think I got the phone call on the Tuesday and the race practice was on the Thursday in Dubai. It was an amazing experience as it was the strongest team I have ever been part of, including Dan Camish (Porsche Carrera Cop GB champion, almost winning BTCC on his first attempt), an ex Force India test driver Facu Regalia and Porsche Supercup driver Luca Rettenbacher. Unfortunately, Facu broke the suspension resulting in a 3 hour pit stop. It was such a shame as we were leading the class at the time ( 20 cars in class) and I would have bet a lot of money we would have won that race if we kept it on the black stuff. On a positive note I had 7 hrs in the car which was great to drive.

I always wanted to do longer races which seemed to suit me more due to consistency and avoidance of contact being my forte. However, I never made the right connections to do enough races to show my true potential.
JM: We are now looking at the 2017 Euro NASCAR season – your final full-time season for CAAL Racing. You ended up in P12 (439p) that season. We could follow all your races through guest writer Leanne Fahy articles here on PTR in 2016 and 2017 (thanks to Leanne). Looking back at that season, what was the best and the worst? Did you know that this was to be the final full season when it started?

FN: I had no idea if it would be the last or not, but I felt I had some strong performances.
One of my favourite moments was 2017 in Adria, I finished p5 but was right on the pace and there was a queue for the lead. This was quickly followed by the worst race the next day when someone came from 50m behind with their four wheels blocked up into the side of my car on lap 1 ending my race early.
All in all, racing against some of the quickest drivers in Europe I feel I did quite well but just lacking something to be getting podiums (which is ultimately what I needed to do).
JM: The 2017 Euro NASCAR season was over. You didn't continue driving full time after that season. Did you had any offers to continue racing in the NWES or in any other Series at this time? Or did you need a break from racing?

FN: I had offers but I just didn't feel I could compete for wins and podiums which was why I got into racing. I couldn't understand how I could improve and felt I had reached a level where 5th place was my ceiling. I decided to take a year out to look at other options but nothing interesting on a sensible budget came up. I rather like the Porsches, but budget requirements are very high.
JM: Besides a few races in NEWS at Brands Hatch, we have seen little of you at the racetrack in 2017-2020. Have you been more focused on the private life (and work career) under these years and have there been any offers to race in NWES or other series perhaps?

FN: There are always offers but nothing that I felt I wanted to race. I did a race in the UK GT Cup, racing a Maserati where my teammate and I won every race. That again was a last-minute deal.
I have just started a mobile food van business with an aim to launch a fleet of vans selling Scandinavian street food in the UK. (www.scandi.uk).
JM: Looking at 2020 and beyond. Will we see you in a race car this year? Are you looking for new Series to race in? Is the "NASCAR dream" still there?
FN: I would race again if something exciting came up where I felt I can be competitive. I would like to race 'fast' cars like GT3's/ Porsches or similar.

NASCAR US is and will unfortunately in my mind remain a dream for European drivers. You almost have to grow up in their 'ladder' system to learn the craft. The budgets are very very high and for European drivers to find US sponsorship is probably almost impossible. Even our best Euro NASCAR drivers have had a difficult time over there but hopefully someone will crack it someday but that will not be me!

I have attended NASCAR races in Daytona and Talladega as a spectator and the racing is awesome. The plan was to go to Texas in October but will have to be postponed until next year due to the current Corona situation.
Photo credit: Freddy Nordstrom