Labor Day was a big deal in our family growing up in the 1960's. My father's side of the family were steelworkers and coal miners. They had gone through the labor wars in their respective industries. They had lived it. As family we had lived it. And what we didn't live through we were taught. Labor Day was more than an extra Monday off. It meant something special.
Labor Day was a big deal.
Growing up in a racing family, Labor Day was a big deal. It was Darlington, the "Granddaddy of 'em All." For us, this was the second biggest race of the year in all of Motorsports behind the Indy 500.
We always wanted to go to Darlington, but never got the chance. It was too far away. School always started back on Tuesday and there was just no way to make it back in time. There was no way my sister and I were going to be allowed to miss the first day of school. Not even for a race. Not even for Darlington.
Back then, Du Quoin was our Darlington.
The rural little town in southern Illinois was the site of the Du Quoin State Fair. The fairgrounds, campgrounds and track was situated on 1200 acres of reclaimed strip mine land and had hosted auto racing of one type or another since before WWII. On Labor Day, businessman W. E. Hayes' dream was our epicenter of racing as the United States Auto Club, the other leading Sanctioning Body of that day rolled in for three days of racing on the flat 1-mile harness track.
It was quite a weekend. Saturday opened with the USAC Midgets running two 50-Lap races. Sunday brought in the USAC Stockers for a 100 Lap Race. Labor Day was the cream of the crop, the USAC Champ Cars (Indy Car roadsters) running a 100 lap race – the Ted Horn Memorial 100.
A race fan's dream.
Du Quoin was an over the top experience for a kid growing up. It was a fair of fairs with everything one could imagine. In addition to the seemingly endless displays, there were rides, amusements and loads of carnival food. At night they hosted concerts – top shows with top artists. It was said that every artist but Sinatra, Elvis and Streisand had performed there. And in the middle of it all, topping it all off was racing with the top drivers of their series.
What more could a kid want?
As this weekend brings the 2023 summer to a close, I can't help thinking back to those weekends back then. The long ride in our faithful Ford truck, Big Red across Western Kentucky into Southern Illinois, past the seemingly endless miles of corn either being harvested or ready for harvest. Pulling through the big gates of the Fairgrounds with all the anticipation and excitement a kid could have of going camping, going to a huge fair and seeing three days of top-flight races.
Pulling into our familiar camping spot, next to our friends we had met here before and only see on this weekend every year. Our camp set up with the precision of a NASCAR pit crew, a routine practiced many times on summer weekend camping trips to Rough River and Lake Barkley. Then it was my sister and I walking the campground roads endlessly until it was time to go to the fairgrounds or track. Why? Because back then, before smart phones, video games and social media that's what kids in campgrounds did-you walked around, walking, talking, hoping your friends from past races had arrived so you could catch up on the year gone by or hoping to meet new kids who would join you, walking and talking.
Our evenings there were special. We would go to the Midway and take in all of that. We'd take in a few rides, maybe a cotton candy or two. There were lots of sights and sounds for a kid to take in. Evenings in the campground was even more so. As the night grew long, the campfires would pop up and we'd sit listening to the adults talk about the racing, hearing the tales of races and racers of the past.
After a while we'd gravitate over to the campfire of the Tinley Park, IL tribe. The Bettenhausen crew would camp right there among us "commoners" and it was neat to have the chance to meet members from such a racing family. To have this chance to just spend evening after evening with them just hanging out at their campfire was beyond this kid's wildest dreams. Gary was just on his way up, starting to really make a name for himself, signing to race for Roger Penske. Merle was just getting started, so this was heaven to a young race fan. I would have spent all my free time there if I could and if I had a dime for all the times Dad said, "No! Leave those folks alone!" I could have bought all the cotton candy on the Midway.
It really did my heart good this year to see Daniel Dye with GMS Racing run Gary's paint scheme in the Craftsman Truck Series race at IRP. Brought back a lot of special memories.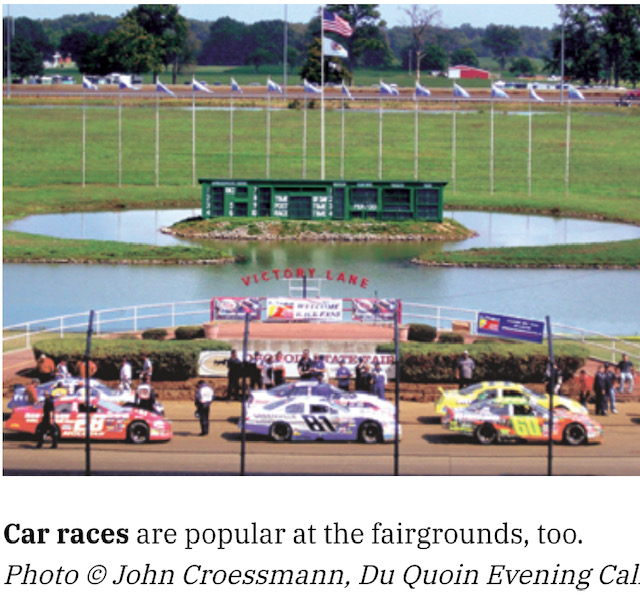 Bedtime would always come long before sleep time as the anticipation of tomorrow's race was just too much excitement for a race kid to handle. We were always sent to bed long before we could go to sleep and were forced to just lie there replaying today's race highlights while anticipating what tomorrow would bring, as we would finally drift off to sleep to the sounds of Louis Armstrong or Karen Carpenter performing on the Main Stage at what seemed to be miles away.
Daylight would bring a big breakfast. Got to have a big meal we're going to the races and there's not going to be any running up and down getting concessions and stuff. We're here to watch a race. As race time approached it was time to gather up the cushions and stuff and make the march to the track. I don't remember any shuttles or anything, just falling into line of other race fans leaving the camp for the long walk to the track for the race ahead.
Du Quoin was a special facility. I remember it as clean, tidy, well-kept track, which sounds odd for a dirt track but at that time this hosted the Hambletonian Stakes, the first event in the "Triple Crown of Harness Racing for Trotters." This wasn't just your run of the mill dirt track. In retrospect, from a safety aspect it was more suited to the trotters than stockers.
Its infield was much different than Darlington-instead of being filled with fans and flags (and at one time a temporary jail), Du Quoin's infield was occupied by a pair of swans swimming elegantly on the "lake" located just inside the inner guardrail that looked perfectly suited for outboard races. The tote board occupied an island in the middle of the "lake" just behind a beautifully decorated and landscaped Victory Lane. It wasn't Darlington but it still had a "charm" all its own.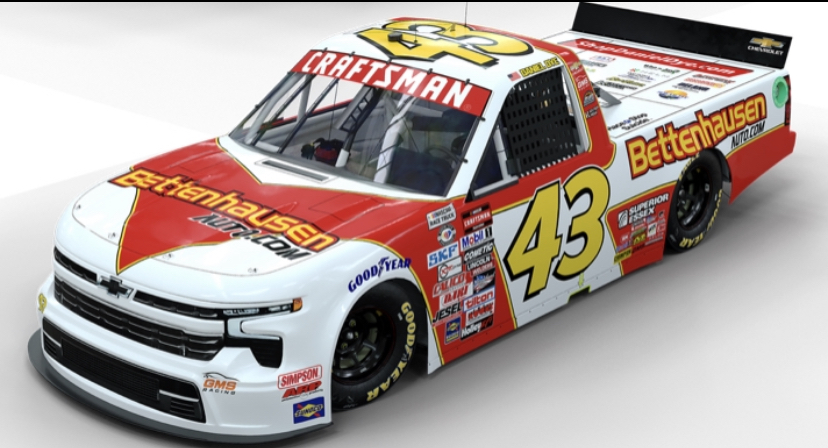 Our seats were always in the stands near the first turn where the Champ Cars drivers would cut their wheel to throw their big roadsters into a broadslide. Unfortunately, that wasn't in the covered Main Grandstands, which always looked so appealing when that hot Illinois sun would start beating down. But Dad always wanted to be where the cars were at their very fastest and that was the place.
I liked seeing the cars at their fastest but this location put me farther away from the pits which was something I loved to watch. My allotment of binocular time was a premium for me as I watched the pit boards to get info you couldn't get any other way.. Back then, there were no radio broadcasts, no scanners to listen to crew and drivers. So I'd split my time watching the race and watching the pit boards to gain info like position, when teams were going to pit, whether they were gaining or losing time, etc. Board watching was a huge part of the race experience.
It was at Du Quoin where I got to see so many great drivers show their greatness. In midgets, Mel Kenyon was my immediate favorite. His story of surviving a fiery crash but losing his fingers from his left hand to returning to not only drive again but to go on and win over 300 races and seven championships, eight runner ups and top five points finishes in 21 of 27 seasons behind the wheel is incredible. Seeing him lapping that one-mile track in his #61 is a lasting Labor Day weekend memory.
Seeing drivers like Ramo Stott, Iggy Katona, Norm Nelson, Don White, Butch Hartman and Jack Bowser pitch their USAC Stockers sideways through the flat turns was a sight to behold . In addition, Champ drivers like A. J. Foyt, Al Unser, Parnelli Jones often drove in the series. Foyt won the 1968 USAC Stock Car Championship and Unser was Rookie of the Year in the series.
Two of my favorite memories from the Sunday Stocker races was seeing all the different shields "engineered" to protect the radiators and windshields. These shaker screens were marvels all to themselves as everyone had their own idea how to protect their radiators from the dirt and debris kicked up in a 100-lap race. Not only did they have to protect those valuable radiators, but they had to self-clean as a blocked protector was just as bad as an unprotected radiator as you couldn't win with either. Seeing how each addressed this was a thing to behold. Everyone had their own ideas about how to keep their windshields intact as well as extra sheet metal would appear on the hoods in different locations and configurations in hopes of keeping errant rocks off the glass. And more than one driver ran with windshield wipers to clear the dust from the windshield.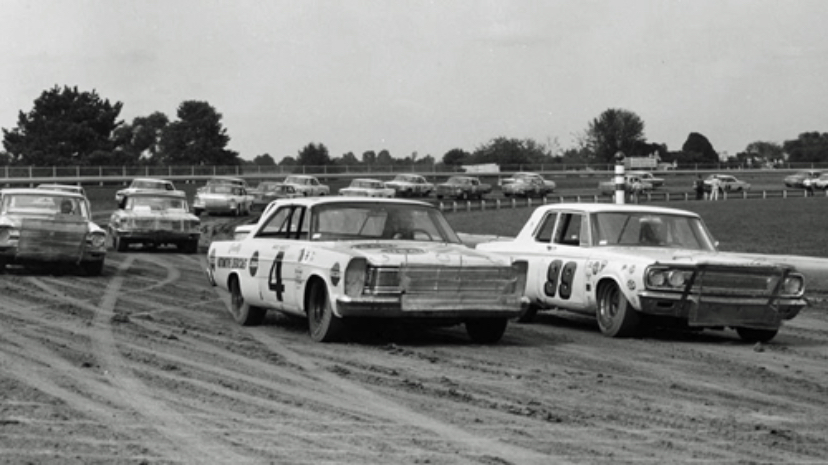 Also, it was during the Du Quoin Stock Car race I first heard the name Gerald Kulwicki, then engine builder for Norm Nelson and father of the 1992 NASCAR Winston Cup Champion, Alan Kulwicki.
Now Labor Day was THE DAY. This race was part of the Championship Trail and all the big names showed up on their quest to win a National Championship. It was A. J.Foyt, Mario Andretti, Don Branson, the Unsers, Johnny Rutherford, Lloyd Ruby, Jim McElreath and many more racing heroes we'd heard race at Indy now in their Champ Cars for 100 laps on the 1-mile dirt-it doesn't get much better than that! Foyt was my favorite. My Mom and Dad's as well. My sister, the contrarian, adored Mario Andretti, which made for lively exchanges along the way.
Labor Day was always the same. We'd listen to Darlington on the radio until it was time to head to the track. It was practice, qualifying and racing. There is nothing like seeing those Champ Cars, two rows of twelve, take the green flag, head toward the first turn and then pitch them into a broadslide right in front of you, and do it again and again for 100 laps. The heat, it didn't matter. The dust was only a slight annoyance. This was racing at its best.
This was our Darlington.
Memories from races past, fade but fortunately some were captured on film and can be found on YouTube. Not as many as Darlington mind you, but you still get the idea.
Some memories through remain. Although I was a Foyt fan, two drivers always stuck with me. One was Don "Pappy" Branson, the oldest driver on the circuit. His car was always easy to pick out with its bright yellow with red trim. Branson was always fast, smooth and near the front. It didn't hurt that his car flew a tiger tail off the gas cap, as he was fueled by ESSO whose motto was "Let us put a tiger in your tank!"
The second driver was Jud Larson. I never knew a lot about him other than his driving style. At that track I don't know another driver who had better car control that Larson. It seemed like he'd pitch his car sideways right after he passed the flag stand, long before everyone else did and could still pass and outrun competitors taking a more conventional "line" with later "entry." I'm not sure how he did it but it was something to see and I'm sure I swallowed more Illinois dirt than I needed to sitting slack jawed watching him go through the turns.
I loved seeing the Champ Cars race but always hated to see the Champ Car races end. It meant no more big time racing. It meant not seeing my open-wheel heroes in real life for another long year. It meant tearing down camp and making the long drive home. It meant school tomorrow. Most importantly, it meant summer was truly over.
Not wanting the weekend to end, I was guilty on the long walk back of lolligagging behind, head dropped, feet dragging in hopes of making it all last just a little while longer. Mom would fuss as mom's do, trying to keep her flock together, moving along and out of trouble, but that would just slow me down even more. Then Dad would remind me, "Son, if you hurry up, we might catch the end of Darlington on the radio" which always lifted my head and quickened my step. It wouldn't be long before the dust covered pack of Nance's would exit out those fairground gates, heading south to the final laps of your Darlington on Red's Motorola as Du Quoin, our Darlington grew smaller in our rear view until finally disappearing, just like the final moments of this kid's summer.
A lot has changed at Du Quoin since those days. We stopped going when USAC dropped the dirt tracks from their Championship Trail. The USAC Midgets and Stock Cars are no more there as well. The USAC Silver Crown still race there but now under the lights on Saturday night. ARCA is now the premier event of Labor Day, running on Sunday night.
If you can't make it to the "Lady in Black" this weekend, head over to the mile dirt track in Southern Illinois. Take in a couple of days of racing and make Du Quoin your Darlington.
Thunder On… and Stay Safe
David Nance
Photo Credit (cover): Jeremy Thompson Track Enterprises.