There are times in life that are frozen in your memory forever.
The immensity of the moment etches its every detail, big or small into your mind.
It forever becomes a part of you, woven into your life's tapestry. It's a part of what makes you… you.
The crack in Mrs. Greer, our school principal's voice as she announced President Kennedy had been shot and killed.
How joyful playtime with our fiends stopped and immediately turned to sadness and fear when the news cut in to say Martin Luther King was dead.
Losing my appetite and pushing away my bowl of Cap'n Crunch cereal after spotting the tiny headline in the Sports section that simply said, "Clark Killed" and wondering where in Germany, was Hockenheim.
Stopped in traffic at a changed traffic light, having cars honking at me to move, frozen by the stunning announcement of the Challenger explosion.
Having co-workers report a plane had hit the World Trade Center and blowing it off as a tragic accident. When they came back to report the second hit, telling them, "If one hits the Pentagon or White House we are at war."
Sitting on the front stretch of the Charlotte Motor Speedway and watching our retaliation unfold live, as it happened on their big screens. My first and hopefully my last "war-delayed" start to a NASCAR race.
Cursing at the radio sports reporter for his sick April Fool's joke saying that NASCAR Champion Alan Kulwicki had died in a plane crash… then breaking down when the reality set it that it wasn't a joke.
Sitting in my truck in the parking lot of my little country church, praying as hard as I knew how to pray that Dale Earnhardt would be OK, then the gut punch when I turned on the radio to find that tonight, my prayers wouldn't be answered in the way I, and untold millions of others had hoped.
Sitting up all night in my wife's hospital room, one eye making sure she was resting peacefully, the other on the ESPN crawler to see if there was any change to the initial reports of Davey Allison's helicopter crash. The next day rejoicing that she would be going home, tempered with the early morning news Davey had already gone Home.
Some moments are not as tragic, but still as memorable.
The magic of the 1992 All-Star Race, "One Hot Night", the first one under the lights. Going from elation of having Davey Allison win it, to the sparks and the sickening sound of him hitting the wall after taking the checkered flag.
The terror seeing Davey viciously and endlessly tumbling down Pocono Tunnel Turn after being clipped by Darrell Waltrip. Thoughts going from "did he survive?" to "how did he survive" to "will he drive again" to "will he make the race next week to keep his Championship hopes alive?"
That first interview after when he removed the sunglasses and there was no doubt just what he was made of. Treated for a broken arm, wrist, collarbone and a concussion, the gritty, black-eyed Allison was determined to start Talladega the next week and keep his Championship hopes alive… to the silent doubts of "there ain't no way."
Sitting in the front row at Talladega, torn between seeing him get in the car to get the points he needed to stay in the Points race and get the heck out of it before he got caught up in something that the track is known for that would finish battering what was left from Pocono.
The thankfulness for the stray shower on a sunny Alabama day that brought out a caution that allowed him to pit. The huge sigh of relief when he finally climbed out of the car on his own and Bobby Hillin, Jr. climbed in. It was only then I could breathe once again and sit back and actually enjoy the race, that saw Hillin bring Davey's Havoline Texaco Ford home in third, elevating Davey back into the points lead.
In his brief time here, Davey Allison provided many memories, good memories that are too many to list today. Sharing the 1988 Daytona 500 Victory Lane with his father Bobby Allison, after their father-son one-two finish is a sticker for sure.
But the one memory that still haunts me, the one that always come first to my mind when I think of Davey is his interview after the 1993 inaugural New Hampshire race. Davey had started that race seventh, behind pole winner Mark Martin, third place rookie sensation Jeff Gordon and Terry Labonte. He led four times, passing Sterling Marlin on lap 82 the first time and then Jeff Gordon on lap 244 for his final time leading. He paced the field for the next 26 laps. Rusty Wallace would make his race winning pass, taking the lead from Allison on lap 271 and lead the final 30 laps. In that final run, Martin would slip past Davey to take second.
None of us knew we had seen his final race.
The interview was Davey as we had always seen him, positive, no matter what the circumstances. Yes, he had a car to win, but things just didn't go his way today. They showed promise, making improvements and leading laps. You could just feel the season turning around.
But ot wasn't all racing. His shout out to Krista and then Robby and Liz reminded us there is more to life than racing. As important as racing is, there are still things more important. It was a brief reminder we need to take time to remember them and the sacrifices they make.
Davey did.
It was the promise that he'd be home soon. A promise he kept that day. It was the last one he was able to keep.
Finally, his hope for the future. Next year they would do better. They knew what to do. They would bring a new car. They had plans, but he wasn't going to tell you. You'd have to come back next year and find how they would capture the victory that had eluded them that day…
But, as we all know that never came. Today would be the last time we would see him take his Thunderbird to the limits and beyond. This would be the last time we would see and hear Davey.
The interview always reminds me that we can make plans, have hopes and dreams, but none of it is for certain. There will be a last win, a last pass, a last race, a last interview, a last shout out, a last promise, a last hug, a last kiss, a last story, and a last memory.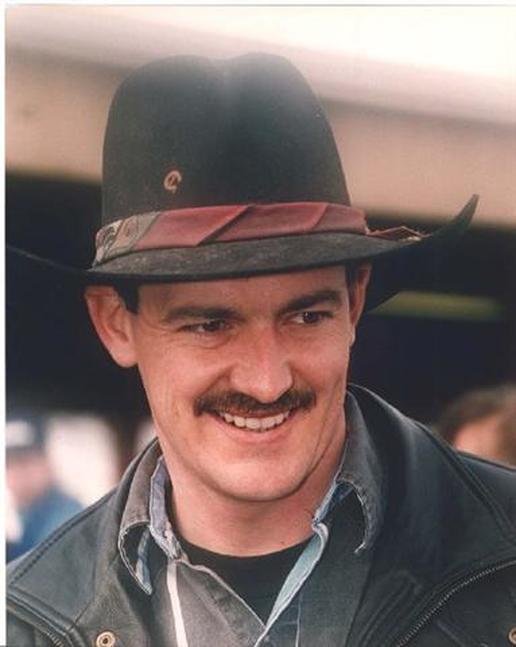 We just never know when they will be.
This interview always reminds me to cherish life and those in it to the fullest and to hold on tight to them and the memories… till the end.
Davey did.
Thanks for the memories…
For those who would like to remember Davey or learn about one of the toughest drivers to strap into a Cup car, here are two videos –
The Pocono Comeback (Nascarman history) – https://www.youtube.com/watch?v=6AfgUKeIPww
Inside Winston Cup's Tribute (narrated by Ned Jarrett) https://www.youtube.com/watch?v=tNNjgIEZ9Z4
Enjoy the memories.
Thunder on… and Stay Safe
David
Photo Credit (cover): Previously used here at PTR