(Author's note: This piece originally ran on the pages of www.maclouridees.com in 2002 under this, the original title. It was written at the request of my friend Mike, whom many of you have seen commenting here on RFF over the years as "Mike #28." I've brought it home my friend. This one's for you.)
It's mid-July of yet another year, and it's time once again to mark the passing of a young man that might well have become NASCAR's biggest star, if only… As you'll read later, I have a special reason to remember exactly when Davey's helicopter crashed at Talladega. It's been 28 years now that Davey's been gone. Can it really be that long? Strange… I can still see Davey in my mind as if the accident were yesterday… he left that kind of impression on folks… and there will be new fans reading this that never knew him or saw him race. Some may not even know his name, which is why this is offered today.
For my gentle readers not familiar with Davey Allison, or those that would like to refresh your memories, let me take you back, down that time-worn path called Memory Lane. He was the first-born son of stock car racing great, Bobby Allison and his wife Judy and had three siblings, sisters, Bonnie and Carrie, and brother, Clifford. He entered this world as David Carl Allison, on February 25, 1961, in Hollywood Florida, the night before Bobby raced his very first Daytona 500. A couple of years following Davey's birth, Bobby and Judy moved their family to Hueytown, Alabama, where eventually the legend of the "Alabama Gang" would unfold.
Considering who his father was, Davey was probably destined to become a racer in his own right, and he surely didn't disappoint, although in his early years he did try other sports. He dabbled in baseball, basketball and football, but racing was always foremost in his mind, and at the tender age of 12, he began to work at Bobby Allison Racing.
Bobby was a bit of a tough taskmaster, and insisted that Davey could not go racing until he'd gotten his high school diploma, so along with working at the shop, Davey managed to attend summer school for extra credits, which allowed him to graduate well ahead of others in his class. Diploma in hand, and with a racecar he'd built himself in his "spare" time, from scrap materials at the shop, Davey Allison was ready to go racing.
From 1979 through 1983, Davey would compete and win in several series including Limited Sportsman, NASCAR Grand American, NASCAR Dash, ALL-PRO, ASA, DIRT and finally ARCA, where he won his first Talladega pole and race. The following year, 1984, Davey would become Rookie of the Year in the ARCA series, and by the end of 1985 became that Series' all-time leader on superspeedways. That year also saw his first Winston Cup start, driving for Hoss Ellington and managing a 10th place finish at Talladega. He continued in ARCA through 1986, making a few scattered starts in Winston Cup, most notably filling in for an injured Neil Bonnett, in Junior Johnson's #12, and finishing 7th, again at Talladega.
The year 1987 would be Davey's career making year, when he was offered a ride with Harry Rainier in the #28, replacing the great Cale Yarborough in that seat. Davey put up some very impressive stats that year, becoming the first rookie to sit on the front row in the Daytona 500. By the end of the year, he had claimed five poles, three outside poles, and two wins (Talladega and Dover), a feat never before accomplished by a rookie. He finished an amazing 21st in points, despite the fact that he'd only run 22 of the 29 races on the schedule. Needless to say, Davey was named "Rookie of the Year", while setting a record for rookie earnings as well.
To say that Davey Allison had a large fan base would be like saying that a sheepdog is a little hairy. In the short time he was with us, he had grown immensely popular with the fans. They loved him and he responded by loving them back. In the style of a true champion, Davey was never too busy to cater to requests for autographs or pictures, and went far out of his way to be warm and friendly, especially to children. The young man with the infectious smile and the slouchy black hat was the darling of the race fans, which made his tragic death so much harder to come to grips with.
At the start of 1988, Davey and Bobby gave the racing world quite a thrill when they raced for the win, door handle to door handle for several laps in the season-opening Daytona 500, with Bobby winning the closely fought battle and son Davey coming in second. It was a wonderful start to what should have been a wonderful season, but we just never know what fate may hold in store around that next corner.
This time, the next corner came at Pocono Raceway in June. We were at that race, and I have two memories to share with you, gentle readers. Both are bittersweet. The first of course, was witnessing the horrible accident that occurred at the very beginning of the race, when Bobby Allison cut a tire and spun into and off the wall in turn two, then was T-boned in the driver's door by Jocko Maggiacomo, who had no warning and nowhere to go. A lot of us are familiar with the hushed feeling that comes over a crowd when something of that magnitude happens. We watched as Davey drove around to the crash site and stopped his car to check on his father, and held our collective breath until he pulled away and rejoined the race. After what seemed like hours, we watched them drag back to the garage what was left of Bobby's car, and it wasn't much. Then, of course, with silent prayer, we all shared that chilling feeling as the helicopter lifted off from the infield. That accident and the resulting head injuries would be the end of Bobby's racing career, but ironically, only the start of the pain that family would come to know.
The second memory from that day was a chance meeting in the infield, before the race, with a young man we didn't recognize at first. He and a couple of friends were all decked out in Havoline colors, and since we were all moving in the same direction, we talked along the way, as race fans do. In the course of conversation I praised how well Davey was doing for such a young man, and then mentioned that this one actually resembled Davey quite a bit, which brought forth peals of laughter from all three of the young men. I guess he might well look like Davey, since it was his younger brother Clifford, who, besides being a delightful conversationalist, was an aspiring young racer in his own right.
Despite his father's injury and the extra burden put on Davey because of it, he still managed an 8th place finish in the points for that year, even with car owner Rainier selling the team to his crew chief, Robert Yates, before the year was over. 1989 saw Davey marry his second wife, Elizabeth 'Liz" Mayson, and on Christmas Eve of that year the couple became the proud parents of Krista Marie, the first of their two children. (Robert Grey would follow on July 30, 1991) Davey would finish 11th in the points that year, and 13th in 1990.
In 1991, Larry McReynolds left the #26 team of Kenny Bernstein to take over as crew chief for Davey. The two quickly developed a father-son type relationship that seemed to benefit both. Always a good driver, Davey improved greatly with McReynolds' guidance, and the end of that year saw five wins and another in the Winston All-Star race behind the pair, and a third place finish Winston Cup points.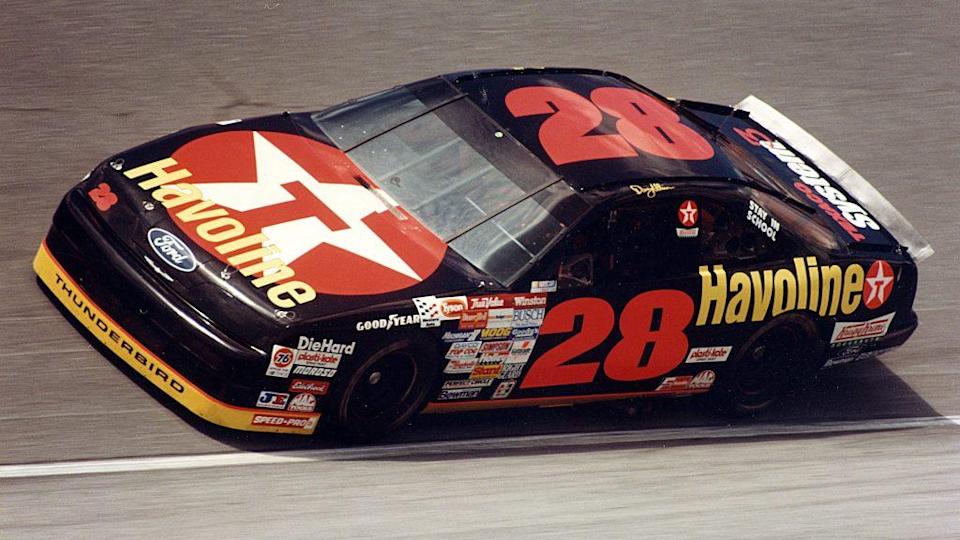 The following year, 1992, was all about toughing it out against adversity, and Davey came through like a champion. In the spring of that year, the Allisons lost "Pop", Bobby's father and longtime family patriarch. On the track, it seemed Davey was plagued by injuries throughout the year, with the first sustained at Bristol, and another at Martinsville, but a win at North Wilkesboro sandwiched in-between.
May 16 of 1992 brought the All-Star race, then known as "The Winston", and though Davey won it, he did so in the most difficult of fashions… injured and unconscious… not to learn he'd won until awakening in the hospital. This short video will show what happened that "One Hot Night" better than all the words this scribe could muster.
Later that year, fresh from a hospital stay for a viral infection, Davey arrived at Pocono in July and promptly put his car on the pole; he then led a good portion of the race before being touched on the rear fender by Darrell Waltrip and completing 11 frightening barrel rolls in the infield. (Click here;) It was back to the hospital for a broken arm and assorted injuries, but even worse, in Davey's eyes, was the fact that he'd lost the points lead for the first time that year. That would be rectified later, through pure grit and determination.
On August 13, the word came to the racing world that young Clifford Allison had been killed in a practice crash at Michigan. Now, I was just a fan, hearing the news on my kitchen radio, and I was absolutely heartbroken as I remembered the cheerful youngster I'd been fortunate to meet once. Imagining what his family felt, especially when piled on top of the long and arduous recovery of Bobby and the loss of Pop, is just beyond my comprehension. Surely, this good family had suffered more than their share of grief for one lifetime. One would think that God would have something good in store for them now, wouldn't one? As the racing year progressed, it seemed like that might be the case, as Davey continued to race well and regained the points lead at Phoenix. The final race at Atlanta is one that most race fans remember well as being perhaps the most exciting and meaningful race ever run in Winston Cup.
With six drivers mathematically eligible for the Championship, it was Davey's race to lose, and he needed only to finish fifth or better in order to claim the Winston Cup. Sadly, Davey didn't finish. A spinning Ernie Irvan crashed into Davey and dashed his dreams, as we heard Benny Parsons, almost in tears, saying, "Oh No! Davey Allison! That's Davey Allison! Well, maybe it's not too bad. Nope folks, it's bad." Independent owner-driver Alan Kulwicki went on to claim the Championship for 1992, by the narrowest of margins over Bill Elliott. For young Davey Allison, the third place finisher, there was always next year.
Well, next year came, and on the first day of April, Alan Kulwicki, the new Winston Cup Champion, was tragically killed in a plane crash while approaching Bristol Motor Speedway for a landing. The racing community mourned as one, even those from other venues. A Champion was gone! Just when you think things can't get worse, somehow they manage to.
It was July 12, 1993, which was my 55th birthday and I was watching the late news on TV when I heard that a helicopter had crashed at Talladega Speedway. On board were the newly licensed pilot, Davey Allison and longtime family friend Red Farmer, the oldest member of the "Alabama Gang." They had been going to the Speedway to watch Neil Bonnett's son, David, practice for a race, and the helicopter had evidently encountered wires near the ground and become entangled, sending the craft careening wildly into the air and then straight down. Reports were still sketchy that night, but by the next day, we learned that Red Farmer would survive, but Davey had died from head injuries sustained in the crash. It was not a happy birthday!
I am a race fan, and I've dealt with death a time or ten, but this couldn't be real, could it? It had been horrible to live with the death of the reigning Champion, but here was the heir apparent, gone also. It was hard, and still is, to sort out feelings from that time. Certainly, there were no good ones! We mourned Alan, the Champion, and then in a heartbeat, we mourned Davey, who many felt would have held the title, but for a stroke of fate. Certainly, the people most deserving of sympathy and prayers were the Allisons, Bobby, Judy and their daughters and Davey's young wife Liz and their babies. Believe me; they were forthcoming in great quantities, as were tears. So great was the impact of his loss that there were tributes to Davey everywhere, but foremost were those from venues dealing with Winston Cup. He was immortalized by his longtime friend Neil Bonnett on a special edition of the "Winners" show, which Neil hosted on TNN, and received like accolades from his friends at ESPN. Perhaps the most poignant were the Havoline ads, which ran a full two weeks after Davey left us, one of which showed only a haunting video of Davey walking away from the camera, with his name and years of birth and death inscribed below. "David Carl Allison ~ 1961-1993" Attempts to locate that one have failed, but this is another from the same time:
It should be noted that over the brief time he was with us, Davey set a plethora of Winston Cup records, many of which are still unbroken, or at best tied by the young guns of today. He was the first of the "super rookies"; the "young gun" of his time, which was cut short twenty three years ago, and one has to wonder how many records and Championships would be recorded differently today, if God had not called him home so soon.
I only hope, gentle readers, that I've managed to give you a real sense of the man and the racer that made up Davey Allison, because as both he was first class; a rare talent in a very special human being. He is sadly missed by family, friends and race fans alike.
Rest well David Carl Allison. You are loved and remembered.
Post Script: Some ten years after Davey's death, a ruling was issued by the NTSB (National Transportation Safety Board) concerning the crash. The Board found the cause of the crash to be "a stress break in the collective yoke", the device that controls the pitch of the rotor blades on the helicopter. It never was pilot error as we were led to believe for all that time.
PPS: On December 18, 2015, Judy Allison passed away due to complications after surgery. She rests now with her two sons, Davey and Clifford. Rest in peace dear lady; you have more than earned it.
Today's Classic Country Closeout will consist of just two special songs offered in memory of Davey. Both songs are sung by T. Jae Christian, from the album "Racing's Country Roots" (Songs of the Alabama Gang)
Be well gentle readers, and remember to keep smiling. It looks so good on you!
~PattyKay
(Editor's note: This story is publish with the permission from the author! It was originally published on RaceFansForever;
Photo Credit; Working on my redneck and sports.yahoo.com