Racing in a city.
Chicago.
Downtown.
First race on a street course in the 75 year history of NASCAR.
Bringing racing to the people.
Making them NASCAR fans.
A Big Deal.
Don't believe it? All you have to do to is check the media.
They'll set you straight.
To hear some, this is the biggest thing to ever happen to NASCAR… ever. Or at least since the Clash at the Coliseum… which was the last biggest thing to happen to NASCAR… ever. Or at least since Bristol Dirt… ever. Or at least since the ROVAL… ever.
It wasn't that long ago (if NASCAR was a viewer it would have still been in the Desired Demographic, instead of Legacy fan status it is today), another big event that took place.
Racing in a city.
Indianapolis.
First NASCAR race on the most famous race track in history-the Indianapolis Motor Speedway.
Bringing racing to the non-Stock Car People.
Making them NASCAR fans.
A Big Deal.
Don't believe it? All you have to do to check is take a look back.
So here is a compare and contrast of these two Big Deals.
For perspective.
The Setting
Brickyard-The Indianapolis Motor Speedway, home of the most famous automobile race, the Indianapolis 500 was built in 1909 as an automotive testing grounds. The first 500 race was held there in 1911. Racing had been held there every year except for the years due to World War.
It was hallowed ground for open wheel racers. Although they viewed stock car racing as a lesser sport, several stock car drivers, mechanics and crews competed in the 500 with surprising success including drivers like Cale Yarborough, Bobby and Donnie Allison and Kurt Busch. Tim Richmond, Tony Stewart, Robbie Gordon, Juan Pablo Montoya, Dario Franchetti, John Andretti got their start at Indy before moving south. 500 Legends like AJ Foyt, Mario Andretti, Dan Gurney, Al Unser Jr. were primarily open-wheelers but saw success in their occasional forays into fendered racing. Legendary Crew Chief Smokey Yunick was a regular there and found the less restrictive rules more to the liking of his innovative skills. And the Wood Brothers brought their exception pit stop skills to the premier open wheel race to help Jim Clark secure a win (and brought back a few secrets that served them well in stock car racing over the years).
The overall attitude was Indy and their fans wanted nothing to do with NASCAR and sure didn't want NASCAR and its fans soiling their hallowed grounds.
Chicago-Similar. The deal was negotiated with Mayor Lori Lightfoot prior to her unsuccessful bid for reelection. City government was not happy with the deal as many of the Aldermen were not aware of the deal until after the deal was done. Residents were unhappy because of the impact on traffic patterns before and after the event. Time frames on impact were presented considerably shorter initially and as the event go closer extended out. Also, the race displaced another long-standing event, the Taste of Chicago. This five day event which recently drew as many as a million people was normally held at the race location footprint at this time.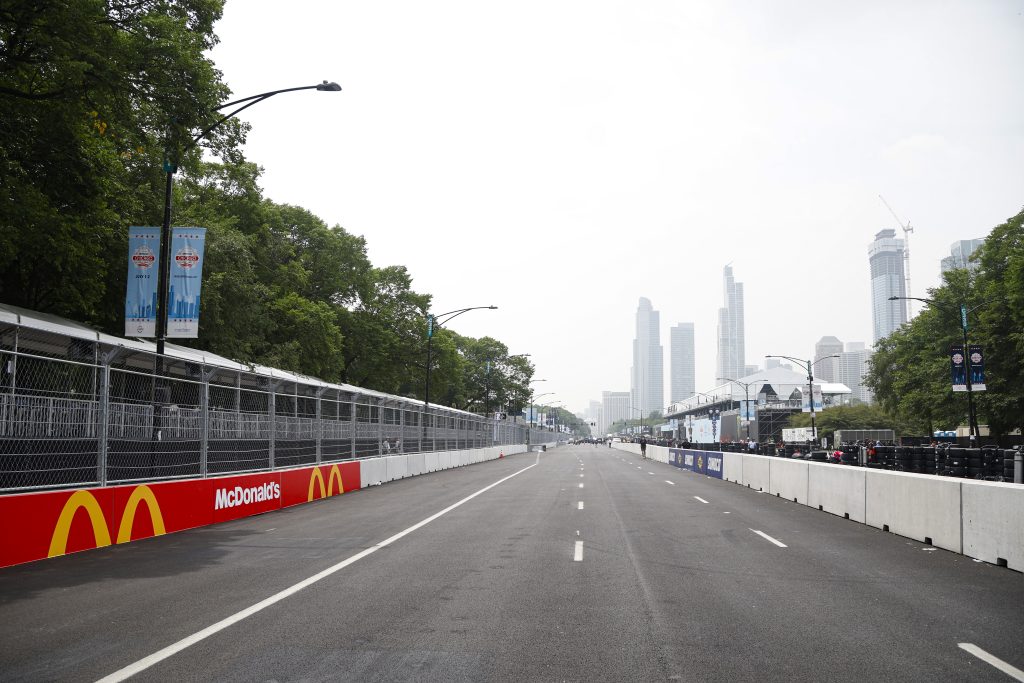 Track History
Brickyard-Permanent Facility. Built in 1909 as a test facility. First race held in 1911. Oldest "speedway".
Chicago-Temporary Facility. Built June 30, 2023. First race held July 1, 2023. "Newest" race course
Track Configuration
Brickyard-2.5 mile, four turn oval
Chicago-2.2 mile, twelve turn street course
Location
Brickyard-Speedway IN, 6 miles from downtown Indianapolis
Chicago-Grant Park, Downtown Chicago
Race Origins
Brickyard-During a 1991 filming of a Craftsman Tools commercial at Indy, AJ Foyt and later Indy President Tony George took laps around the Brickyard in Foyt's Cup car. This sparked interest for IMS to pursue a second race date for the facility. In 1992, a nine car "feasibility test" was held, followed the next year by tire tests, with a real event being held in 1994.
Chicago-The 2021 eNASCAR iRacing Pro Invitation Series' final race of the season was held at a street course in Downtown Chicago. Rick Ware Racing's Cup driver, James Davison won the virtual race that became the spark for the real event held here two years later.
Attendance for On-Track Preliminaries
Brickyard-25K fans show up for June 1992 "feasibility test". The 1993 two day "tire test" drew an estimated 100K fans.
Chicago-None. Preliminaries were done through iRacing
Race Entries
Brickyard-86. NASCAR opened race to Winston West competitors and guaranteed one starting spot from that series.
Chicago-37*
Field Size
Brickyard-43
Chicago-37* of a 40 car max
*was 38 but JImmie Johnson withdrew due to family tragedy
Entries failed to qualify-sent home
Brickyard-43
Chicago-0
Ticket Requests
Brickyard-1 million plus
Chicago-<50K
Tickets Sold
Brickyard-250k. Largest race in NASCAR history to date.
Chicago-<50K to date. This race replaces Road America which opened at 120K two years ago.
Fans Breakdown
Brickyard-No reported demographics
Chicago-First race for 80% of fans (<40K first time fans). Tickets sold to fans from four continents including New Zealand, home of race winner, Shane van Gisbergen.
NASCAR Track Prep Expenditures
Brickyard-None. Track built and could handle that and larger groups
Chicago-$50 million prep. 900 Security Officers hired. Teams hired own security.
Driver Autograph Signings/Promotions/Miscellaneous Activitites
Brickyard–
Wednesday-USAC Open Wheel Race at Indiana Fairgrounds,
Thursday-ARCA (dirt) at Indiana Fairgrounds.
Friday-Trucks at IRP, Saturday-Xfinity at IRP.
Autograph Sessions-OEMs and individual drivers had events scheduled throughout area. Schedules and locations published so fans could attend. Sessions saw massive attendance. Ford had to move their drivers to the Hoosier Dome.
Chicago–
NASCAR Night at Navy Pier,
Bubba's Block Party (7K tickets at an estimated value of $1.88 million given away),
NASCAR Night at Wrigley Field (bobblehead night),
Concerts-

JC Brooks Band,
The Black Crowes (late start-shortened to 40 minutes, weather),
The Chainsmokers with NASCAR drivers (cancelled-weather),
Charley Crockett (cancelled-weather),
Miranda Lambert (cancelled-weather),
Xfinity Cup Race at Chicago Road Course (shortened-weather),
Foreign Drivers in Field
Brickyard-Geoff Brabham (New South Wales)
Chicago-Daniel Suarez (Mexico), Shane van Gisbergen (New Zealand)
Race
Brickyard-160 Laps, 21 Lead Changes, Margin of Victory .53 seconds
Chicago-75 Laps (shortened from 100), 7 Lead Changes, 1201 Green Flag Passes, Margin of Victory 1.259 seconds
Pure, unrestricted sound of raw racing power
Brickyard-Yes
Chicago-No due to mufflers and tapered spacers
Race Winner
Brickyard-Jeff Gordon, 2nd Year NASCAR CUP Driver, 2nd Cup Win
Chicago-Shane van Gisbergen, 3 Time SuperCars Champion, 80+ Series wins, 1st Cup Win, 6th Cup winner born outside the US.
Purse
Brickyard-$3.2 million-Largest to date
Chicago-$7,565,807
Winner's Earnings
Brickyard-Jeff Gordon $613K
Chicago-NASCAR has not reported winnings since 2015, however NBC reports van Gisbergen will take home the largest portion of the $7,565,807 purse, NASCAR does not report drivers' winnings. Due to payout differential between Charter and Non-Charter competitors, the Non-Charter van Gisbergen's winnings are anticipated to be significantly less than had he been in a Charter vehicle.
TV Viewership
Brickyard-5.7 rating with 8.1 million viewers. NOTE- This year's Daytona 500 had a 4.4 with 8.17 million viewers. (Click here)
Chicago-2.5 rating with 4.632 viewers. Largest audience for NBC since Homestead 2017. Largest streaming numbers. With these numbers combined and discarding the Daytona 500, this is the largest viewed race since 2017 Brickyard 400
Economic Impacts
Brickyard-In 2000, the economic impact of the race to Central Indiana was estimated at $212 million. The event eventually bankrolled the formation of the Indy Racing League
Chicago-Was estimated to generate $113 million in economic benefits with $3.2 million in tax revenues for Chicago.
Longevity
Brickyard-27 years before moving to the road course (1994-2020). 2020 race was held on July 4th weekend in conjunction an IndyCar Grand Prix race. Due to COVID there were no fans to these events. The last pre-pandemic race saw an estimated 60K in attendance.
Chicago-First year of a three year deal. Future of the second year has not been reported yet.
Race Highlights
Brickyard–
5 Lead changes in last 25 laps.
Jeff Gordon's second Cup win and elevated him to stardom status on a future Hall of Fame career.
Two Indy 500 winners in field (AJ Foyt, Danny Sullivan)
Chicago–
Shane van Gisbergen's 1st Cup win in first start is the first time it's happened in 60 years,
first win for Trackhouse Racing's Project 91,
shows NASCAR can put on a Cup street race "anywhere we want",
Race Bummers
Brickyard–
Some minor complaints, but overall declared a success
Chicago–
Rain, rain and more rain disrupted support activities and shortened races,
contractor killed by lightning strike,
citations issued to a fan for taking their car onto the track after Saturday's race cancellation,
last race for NASCAR's long-time Cup assistant director and pace car driver, Kip Childress
2nd Race and Beyond
Brickyard-2nd race occurred the following year and it continued on the oval for the following 26 years before moving to the road course in 2020. It soon became a Crown Jewel race with "kissing the bricks" becoming a new Tradition.
Chicago-This was the first race of a possible three race series. Status of next year's race has yet to be announced.
Without a doubt both of the events were big deals. There impressive impacts extend beyond the numbers mentioned above.
The inaugural Brickyard 400 was a new addition to the Cup schedule. No date was taken from an existing track and given to it… instead a new date was created for it, bringing the season schedule up to 31 races from the 1993 30 race schedule. It brought Cup into an area of the country starving for Cup racing that had whet its appetite for stock car racing with a dozen or so wildly popular Xfinity races at nearby Indianapolis Raceway Park (Lucas Oil). The Brickyard went on to become a "Crown Jewel" on the schedule and for many years was the most attended the race on the Cup schedule and paid the largest purses.
The Brickyard's initial success helped spark the Series phenomenal growth in the late 1990's and early 2000's. During that time, the Series added seven new tracks, not venues or reconfigurations, but new tracks to the schedule – Auto Club (1997), Texas Motor Speedway (1997), Las Vegas (1998), Homestead (1999), Kansas (2001), Chicagoland (2001). Kentucky Speedway opened in 2000 for Craftsman Trucks and Xfinity in 2001 but it would be 10 years later before they secured their first Cup date.
New tracks constructed during that time but unable to secure Cup dates included, Chicago (1999), Pikes Peak International (1997), Walt Disney World (1995) and Iowa Speedway (2006). World Wide Technology (1997), Nashville Super Speedway (2001) were on and off the schedule for lesser series but finally received Cup dates last season.
As the growing fan demand was filled by the new tracks with larger seating capacity, the schedule grew to accommodate these additions, as over the next eight years the schedule expanded from 31 races to the current 36 races it still has today.
As the new tracks were added, smaller capacity tracks that couldn't meet the fan demands either fell off the schedule (North Wilkesboro-1998), (Rockingham-2005) or lost dates (Darlington-2005) along the way.
No matter how you cut it – the Brickyard 400 was a pretty big deal.
Fast forward to 2023. The Chicago Street Race interjected a new energy into the sport as NASCAR went into the city streets to try something new. This experiment sparked a renewed interest and energy in the sport both inside and outside the racing community.
Even though NASCAR admitted going into this inaugural event that it would not be profitable, they declared the event as a "remarkable weekend" even with the soaking rain's impact on the racing and support events. Endorsements continue to come in. NASCAR COO, Steve O'Donnell stated "I think we are all confident at NASCAR that we could take the Cup Series anywhere we want" and mentioned they had already been contacted about the possibilities of future races being held outside the country. NASCAR Hall of Famer and Hendrick Motorsports Vice Chairman, Jeff Gordon said "the possibilities are sort of endless" and pointed out the events success, especially in the TV viewership numbers, came at a good time with the on-going 2025 contract negotiations.
That's a pretty big deal as well.
As the City and the Sanctioning Body basks in the event's afterglow and the contemplate it's future for 2024 and beyond, one has to wonder if the Great Chicago Street Race Experiment of 2023 impact will change the sport like that other big deal? Is the future resurgence of the sport that was once the living poster child for Field of Dreams' "Build it and they will come" hinging on metropolitan downtowns' plea of "bring us your Jersey Barriers, tire walls and temporary seating?"
As the 2024 season schedule is being finalized to set the course for Cup's future, Street Racing appears to be a new staple. Will it be Chicago or will the Series pack up its assets for a new City seeking NASCAR gold? Either way, that's a pretty big deal.
And the rumors have been flying that NEXT GEN's could favor the Oval over the Indy Road Course and bring the Brickyard 400 back to the 2024 schedule. If true, that's a pretty big deal as well.
Can the two together spark a resurgence in Cup Racing?
Guess it all depends on weather, politics and… time to see just how big a deal these will be.
Tighten those belts up and hang on.
Thunder on… and Stay Safe
David
Photo Credit (cover); Michael Reaves / Getty Images