Here we are for the second round at Loudon for the NEXT GEN. What's different? Will things be any different?
Last Year
Last year's race won by Christopher Bell saw 9 cautions for a total of 52 of the 301 laps. In the 249 green flag laps, there were a total of 1596 Green Flag Passes. This was down slightly from the 1644 GFP in the 2021 rain shortened event and down just over 900 from the 2020 that ran the full 301 laps.
Of those 1596 Green Flag Passes, 752 of these passes were Quality Passes or passes for P1-P15. This meant fans saw the passing slightly toward the front of the field.
There were 8 Lead Changes among 7 different drivers. Martin Truex, Jr. led the most times and the most laps. 4 of the Lead Changes were under Green Flag conditions.
There were 14 Green Flag Passes for the Lead (counted at the scoring loop) This was down from 21 in 2021. 4 of those resulted in Green Flag Lead Changes. All 4 of the Green Flag Lead Changes were Racing Lead Changes. This means the leader was passed by another car racing past without benefit of field bunching due to starts or restarts or the leader pitting and relinquishing the lead.
This also means no lead changes occurred in the three laps following the Start or the 9 Restarts when the field is bunched up. Can we expect no lead changes on restarts this weekend?
Martin Truex Jr passed for the lead twice. Tyler Reddick and Christopher Bell each had one RLC. Based on the fact that Toyota was the only car to find the front last year, can we expect success to come from that camp again Sunday?
So NEXT GEN produced 4 Racing Lead Changes last year. Can we expect more or less this weekend?
What's New?
Goodyear held tests in the spring and is bringing a new tire compound designed to generate more grip, more wear and more tire falloff. This is the first time this compound has been used, so expect changes. Goodyear reported that last year several teams were running under pressure in search of more grip. They are hoping the new compound makes that unnecessary.
Last year's P-7 Brad Keselowski, P-2 Chase Elliott and P-1 Christopher Bell participated in Goodyear Tire Tests earlier this year that resulted in a new tire which will be used for this race. Will those additional laps be an advantage?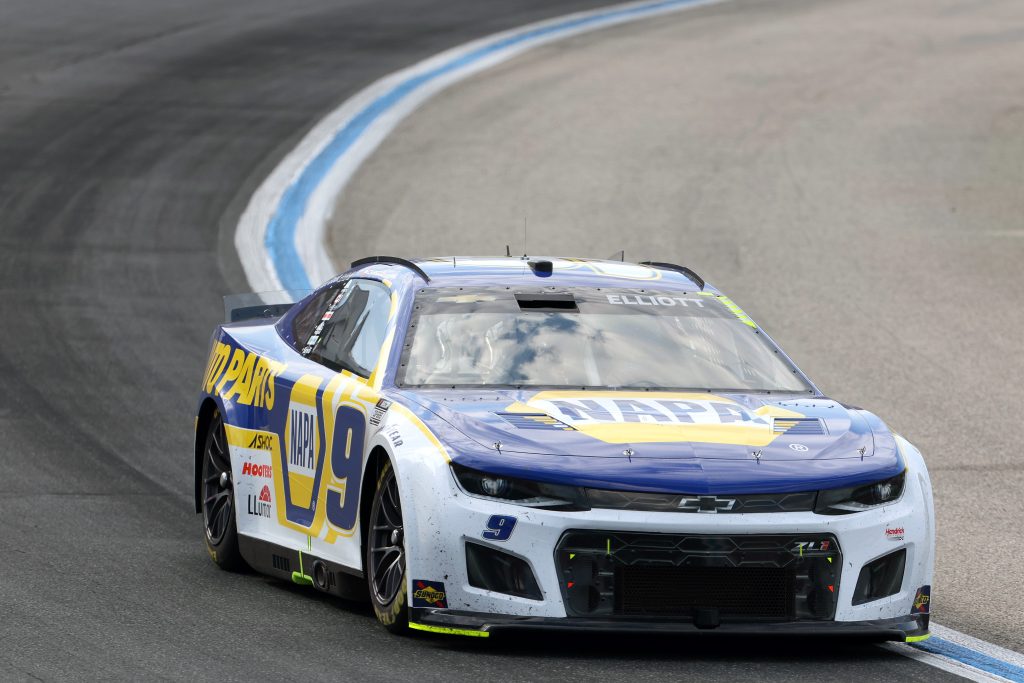 Also factor in these cars will be running a different aero package from last year that includes a shorter spoiler and fewer strakes in the diffuser. This has been used at several short tracks this season with mixed results. Hopefully, this will be a positive move for the flat one-miler on Sunday.
With it comes the Cup's new wet-weather package. It got a workout recently at Chicago. Hopefully, it won't need to be used… but predictions are showing 80% chance of rain on race day. Goodyear brought the teams four sets of "wets"… just in case.
What to Expect
There are a lot of changes to take into consideration. New aero package, new dry tires, wet weather tires for the first time that could come into play if the predictions hold true makes it a new race.
Can last year's results be used to make any predictions as to what we'll see this weekend? Hard to tell.
Fans saw four Racing Lead Changes over 220 Green Flag Racing Laps. Hopefully, we'll see battles for the lead more frequently than an average of one every 55 laps and more Green Flag Passes than last year produced.
Could this be the race to get Chase Elliott into the Playoffs? He ran good last year and was part of the tire test?
Will Brad K finally break into the win column?
Will C Bell repeat or will Martin Truex Jr. keep it up front when it counts most?
Or will we see a new winner, like say a Ty Gibbs? He is driving the right make.
Tune into the race this weekend and find out. It should be interesting!
(Photo Credit (cover); James Gilbert / Getty Images)