In Dave Fulton's recent article about Richmond's Junie Donlavey and the first Southern 500 (1950), he quotes Donlavey explaining the motivation for building a car and taking it to South Carolina.
"The thing is, we didn't think much about it," the legendary car owner said. "It was a happening, and we had to be there. The full- time racers knew what they were doing and were ready. Us? We were out in left field, but we were still having a good time."
That's how it was then. The NASCAR Grand National Division of 70+ years ago was more like today's World of Outlaws dirt-track late models or sprint cars: a small number of regulars followed the tour, and the fields were supplemented by locals, both weekly racing stars and teams that just decided, "We had to be there."
Once they got there, everybody was pretty much equal. You qualified as equals, then raced by how well you qualified. Depending on the size of the field, you stood a chance of being sent home if your car/driver team couldn't get the job done.
(I remember standing outside my motel room in Charlotte more than 50 years ago and listening to GN "independents" Cecil Gordon and Henley Gray talk about who was going to buy what for the team to celebrate if they made the National 500 field the next day.)
Despite NASCAR's best efforts, I don't think of a Cup Series race coming to town as a "happening" today. It's just another form of touring entertainment, like a golf tournament, traveling Broadway show, or "Disney on Ice" (if that's still around).
I'm not picking on NASCAR here, either; the other entertainments have changed, too. I'm sure local golfers once played in PGA tourneys. My Dad, a gifted singer, told of being in the chorus for traveling grand opera productions – the speaking/singing roles went to professional actors, while the chorus was recruited locally, practiced their songs beforehand, then had a rehearsal with everybody together before the opening night. I kind of doubt that happens anymore, either.
NASCAR Cup racing is not the sport that Grand National racing was, and it's not going back. We'll never see a young car owner (Donlavey was 26) of modest financial means and two drivers (Runt Harris was 23, and the more experienced Bob Apperson nearly 38), plus whatever crew followed them, head off to a major race not knowing what to expect but hoping to have fun.
For that matter, we don't see part-time/occasional entries at all for most races; Beard Racing is pretty much the only established occasional team on the Cup circuit these days (there are others, but they haven't shown, yet, that they can stick around).
When I started following the sport 60 year ago, we had guys like Worth McMillion, the Virginia alcoholic beverage regulatory agent who brought a homemade Pontiac to a handful of races each year and did his best, or H.B. Bailey, the Texan of somewhat greater means who ran a handful of superspeedway races with the "big guys." Fans of the underdog – like me – were in heaven with Worth or H.B. in the field. Today? Forget it.
They gave you story lines behind the headline stuff, but that headline stuff is all a made-for-TV sport wants, so they're no longer needed.
As I mention regularly, I volunteer with the Pennsylvania Sprint Series (PASS), an economy class of sprint car racing, which in a lot of ways is like the NASCAR I grew up with. Last weekend we were at Hagerstown Speedway in Maryland for a race co-sanctioned by two other regional RaceSaver groups, the Virginia Sprint Series and the Laurel Highlands Sprint Series. (RaceSaver is the overall rules package governing these cars all over the country.)
We had 43 cars on hand for a 26-car starting field, which means 17 teams went home, all based totally on performance – no "provisionals" and no "charters," just quality of racing.
The "made-for-TV" story was Logan Spahr, a young Pennsylvanian who won the first six PASS feature races of 2023, then finished 13th and 3rd the last two weeks, handicapped both races by a poor starting position. Starting in third place this week, he took the lead at the midway point and went on to claim win #7. Spahr can race.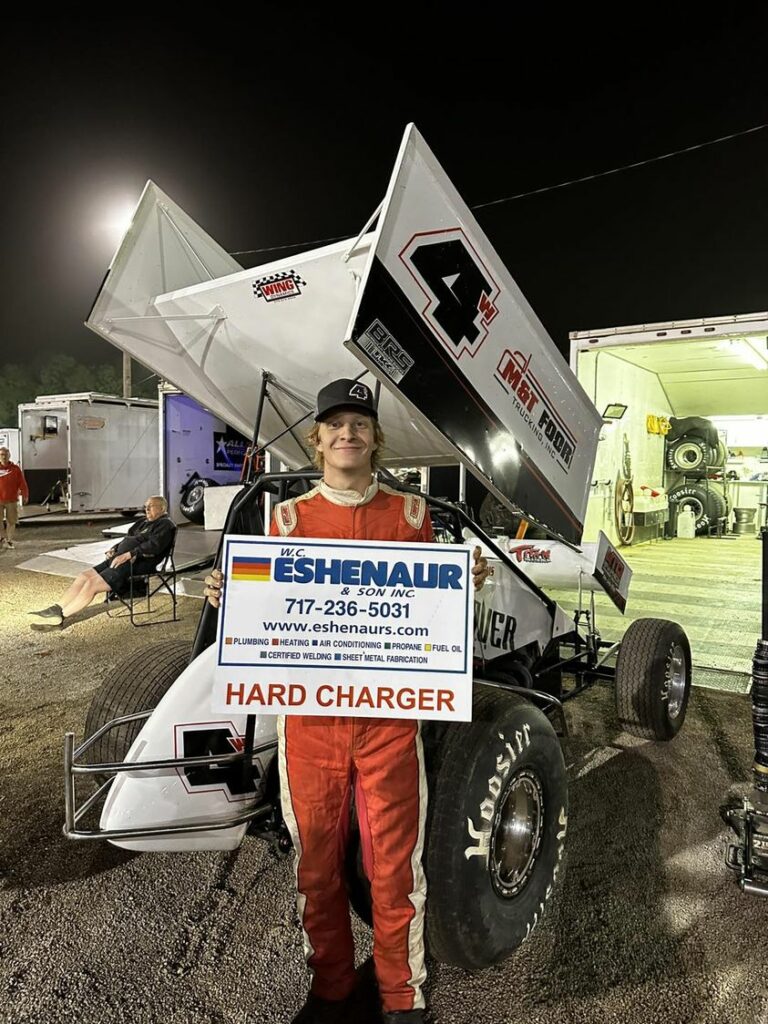 But we also had storylines behind the competition for the lead, like the one involving rookie Kasey Weaver. He moved up from sixth starting position to third in his heat, only to come up light at the post-race scales and be disqualified. (That was the penalty, by the way; no huge fine or ejected car chief – if he'd had one – just lose your finish and start the B-main/consi in the rear.)
Starting last in his B-main (due to the number of cars, two B-mains were run, with the top three qualifying for the feature from each), Weaver charged to the final qualifying spot and started the feature 25th.
Then, during that 25-lap race, he cut through the field to a ninth-place finish, an advance of 16 positions, earning him the $50 W.C. Eshenaur & Son Hard Charger Award.
I'm pretty sure nothing like that was part of the storyline from Sonoma. But it's a good human-interest story, and I think those have gotten lost in the shuffle as NASCAR transitioned from sport to entertainment. I miss it.
Of course, I also prefer minor league baseball to MLB (and not just because my wallet still has a hole from the $10 popcorn at the Nationals game earlier this month), and most of my favorite bands play in smaller clubs, not stadiums. I understand that not everybody shares my preferences, and I understand that the number of MLB and stadium rock fans is larger than my peers, which is why NASCAR caters to them, not me.
Still, I keep making this point to explain why NASCAR is no longer the obsession it was for me, and why that's not going to change, which in turn means that NASCAR will continue to fade as a priority in my life, and I'll continue to be happy at dirt tracks on Friday or Saturday nights, watching a bunch of regular folks race on annual budgets that wouldn't get a Cup team to one race.
It's a regret, but it's life, and I'm OK with that.
Frank's Loose Lug Nuts
Here are just a couple more examples of the human element that keeps me following the low-buck, local racing instead of the NASCAR glitz.
When Logan Spahr wins a PASS race, Victory Lane includes a photo including his whole, extended team/family. There's a bunch of people and one framed photograph. It's of a team member who died, and the Eshenaur team wants him to remain a part of their celebrations.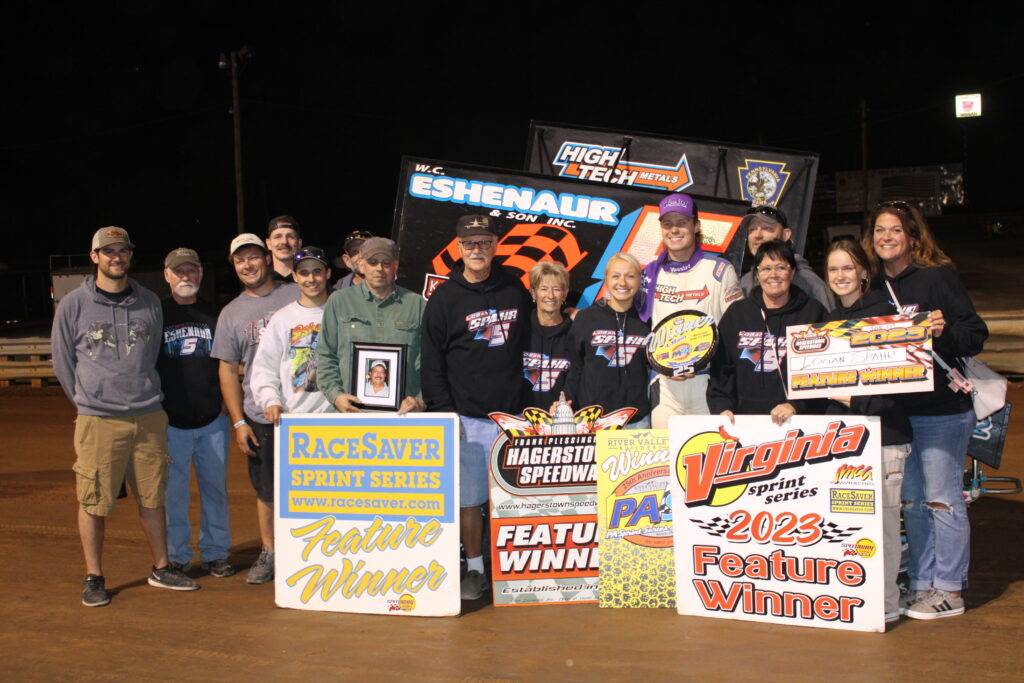 PASS also has a memorial award at one track, remembering a long-time push-truck driver named Jim "Slippery" Snyder. His son decided to fund an $50 award for each PASS race at Selinsgrove Speedway recognizing the driver posting the fastest time in hot laps (or heat races, if there's a problem getting all the hot laps speeds).
I'm pretty sure that the money posted for the awards goes entirely to the team that wins it; neither the track nor the sanctioning body gets to take a cut. Try that in NASCAR.
(Photo Credits: The "cover" photo from the 1950 Southern 500 came from the NASCAR Hall of Fame, which credits it to Getty Images. The photo of Junie Donlavey is from David Allio Racing Photography Archives, and that of his #90 Ford is available all over the Internet, and I have no idea as to its origin. The Henley Gray photo is from the East Tenn Racing website, noting that it's "courtesy of Junior Spencer," another competitor in that Grand National race. The Worth McMillion photo was used on Racers Reunion and notes credit to John McMillion. The photo of Kasey Weaver is by Rod Ort, and the PASS racing and Logan Spahr Victory Lane photos are by the author.)
Frank Buhrman