It is not my intention to be a spoil sport, but I am here to tell you not to believe everything you read when it comes to researching NASCAR race, driver, owner and crew chief records. That's probably not a surprise to most. However, I see many folks quote "facts" from racing websites such as Racing Reference and Ultimate Racing History as though what they read at those places is the gospel truth. It isn't in many cases.
Just as the biblical New Testament Gospels of Matthew, Mark, Luke, and John passed through many hands and many translations through the years, so have early NASCAR records. And if those records (when they exist) were wrong in the beginning, then they are wrong now after passing through those multiple hands.
Thanks to the efforts of two South Carolinians, we have access today to an amazing trove of NASCAR information that has been used by "modern" racing web sites. At one time these two gentlemen collaborated on their research before going separate ways.
Greg Fielden would author the outstanding 40 Years of Stock Car Racing series of books, whereas the late Gene Granger worked behind the scenes after being hired by RJ Reynolds Tobacco Company in the early 70s to furnish the statistics for their yearly Winston Media Guides. These guides were distributed to the "working press" at the track and mailed to other media members by Bob Moore at RJR Special Events.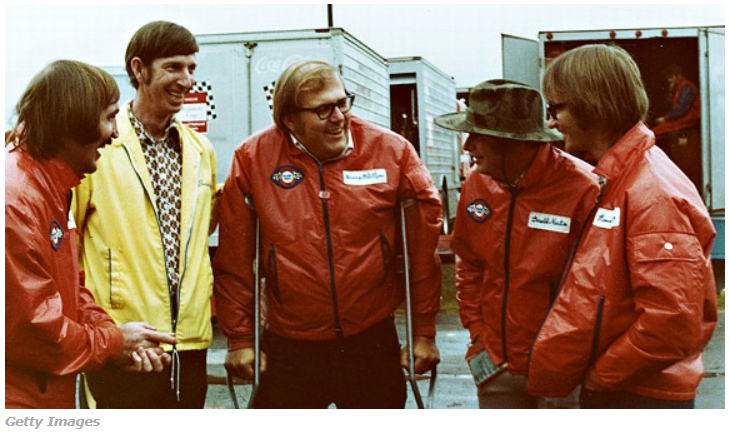 Granger updated his stats for Winston every week while at the same time GHOST writing materials for many sponsor press kits and writing a weekly column for Grand National Scene newspaper. In my humble opinion, Granger was the most knowledgeable and prolific racing journalist I ever met. It is a treat for me to look at old photos from the pits, garages and victory lane and nearly always see Gene Granger front and center in those pictures jotting quotes from drivers of the 60s-80s. Most of the other writers were comfortably ensconced in press boxes and media centers.
RJR was very secretive about their operations as was Gene. Neither really wanted the racing media to know where the info in their guides originated. When Gene stopped going to the track in the late 80s, RJR hired Len Thatcher from the Fredericksburg area of Virginia to publish and take to the track weekly update guides with stats pertaining to that week's event.
Gene operated from a magnificent "lair" which encompassed his entire beautifully furnished Spartanburg, South Carolina basement. The first thing you saw upon descending to this secret lair of racing information was a huge keg cooler donated to Gene by the Falstaff Beer racing sponsor. This cooler always held a chilled full-sized keg of suds that seemed to encourage Gene's writing and research. From time to time, Gene would phone upstairs to his sweet wife and let her know the keg was nearing the empty mark. Immediately Anne would fire up the family station wagon and immediately make the trip to procure a new keg.
When my family moved to Spartanburg in the spring of 1986, I spent a lot of time in Gene's basement NASCAR stats research center. I had Gene GHOST write the materials for my Derrike Cope/Rabanco Racing/Western Peterbilt media press kits. Later Gene would prepare preseason booklets for me for Wood Brothers Racing. I already knew Gene pretty well from his days at the track and in my various hospitality rooms. In the first 1984 edition of Grand National Scene newspaper, Gene had named me as the "Individual Contributing the Most to Stock Car Racing in 1983." That was pretty flattering.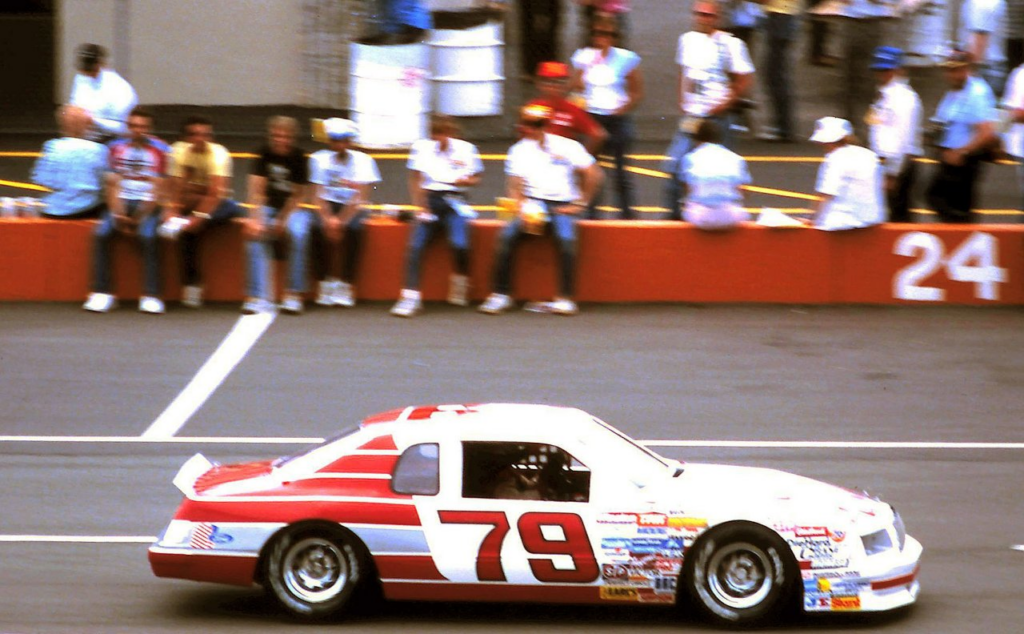 That secure Spartanburg basement fortress where Gene Granger committed stats and stories to floppy discs also contained a big 1940s Wurlitzer juke box, a functioning traffic signal and an old timey barber chair. These were in the "big" room adjacent to the keg cooler room on one side and his office with desk, phones and private restroom on the other.
Gene was paranoid about NASCAR. He was convinced the sanctioning body had his telephones tapped because of some unflattering things he had written. After all, this was the same Gene Granger who had his nose broken by Buck Baker at his Charlotte motel door when Gene informed the National Motorsports Press Association that Buck had not been retired the requisite time to be inducted into the NMPA Hall of Fame.
In the summer of 1977, Gene Granger was one of a select few media members invited to the Jimmy Carter White House along with drivers Richard Petty, David Pearson, Cale Yarborough and Benny Parsons and a few car owners such as Bud Moore. This was the first time NASCAR folks had been invited to the White House and while there visiting in the Oval Office, Gene Granger thought about the secret recording system Richard Nixon had installed there in the pre-Watergate days.
When Gene returned to Spartanburg, he paid a technician from Radio Shack to install a recording system in his NASCAR stats office. This was the same tech who had installed every computer ever produced by Tandy all around Gene's basement. Tape recorders were hidden behind sliding doors in a bookcase and a foot pedal under Gene's desk activated the link from his desktop telephone.
Gene revealed all this to me one night in 1986 as we updated Derrike's press kit between trips to the keg cooler. "Dave," he said, "If you want to know something, don't ask a driver or car owner, ask their wife."
With that advice in mind, he showed me his list of driver and car owner wives and their telephone numbers. And with that just revealed, he called car owner Harry Ranier's wife in Kentucky who was happy to chat with Gene and spill the beans about the latest plans Ranier had for his Winston Cup race team. He played the tape back for me and I was dumbfounded. Gene found many uses for his telephone recording "protection system." There aren't many "real" journalists left in NASCAR and I don't see those still floating around going to the lengths Gene Granger did to get the story and stats or having the trust of wives to spill it to them.
When I became Media Relations Director at the Richmond track in 1990, one of my first efforts was to publish a track media guide full of stats. I was also asked to prepare a list of invitees to be inducted into the "Strawberry Hill Mod Squad" in April 1990. These would be the drivers who had competed in the annual Virginia State Fair Strawberry Hill NASCAR National Championship Double Point Modified races on the old half-mile dirt tracks. This task became easier than I anticipated when I discovered that Richmond track promoter Paul Sawyer had saved every entry blank to every race he ever staged and every payoff sheet.
I had a field day going through all of those 1950s-1960s NASCAR entry blanks. They were just a treasure trove of information. And I knew I had the right stuff.
In checking the Winston Media Guide for 1990, I discovered it listed Ned Jarrett driving a Bondy Long owned car for a 1963 Richmond dirt track GN win. I knew this was incorrect because of my own memory and a lengthy interview I had done with Ned on Thanksgiving Day 1989 for a magazine article I was asked to write. The car Ned drove to the Richmond 1963 win was owned by Burton & Robinson Concrete Construction of Fairfax, Virginia. Ned wouldn't drive for Bondy Long until 1964.
I called Gene and he corrected his records, but Winston was really miffed that I caught an error in its materials and corrected it in my own Richmond media guide and informed the press box that they better use my info and not Winston's if they wanted the right stuff. When Ty Norris became the latest in a line of Winston media reps sometime in the 90s, he told me he had been "warned" about me being a hard ass and difficult to get along with. This is the same Ty Norris who was later employed by Michael Waltrip Racing and ordered Clint Bowyer to spin at Richmond attempting to affect the drivers who would race in the old "Chase." I guess I proved Norris right when I threw his girlfriend out of the Richmond Press Box for taking the seat of a real media member filing on deadline.
Again, I think it is wonderful to be able to access so much information on line, but it is hurtful when the information is just plain wrong and has been for years.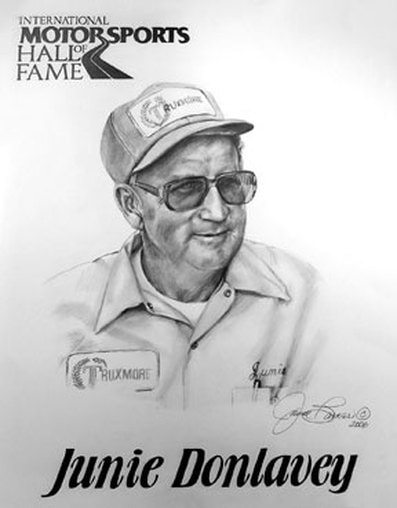 I'll give one more example and get off my soapbox. I thought about this one a lot back in September during Darlington's Southern 500 "Throwback" weekend.
During Labor Day weekend of 1999, Darlington staged the 50th Southern 500 with much hoopla and fanfare. If you look at Racing Reference and other sites, you'll find that the "records" show no car owner entering a car in the 50th Southern 500 who fielded a car in the first Southern 500 on Labor Day 1950. However, that is just plain wrong, but Richmond, Virginia's late Junie Donlavey was too nice to tell the folks at Darlington that he owned a car in the first Southern 500 and entered the 50th and spoil their little party.
Thanks to an interview conducted at Junie's shop in Richmond the week before the 50th Southern 500, veteran award-winning journalist Al Pearce of the Newport News Daily Press uncovered the unvarnished truth that Donlavey never pushed on anyone. Here are some excerpts and quotes from that September 1,1999 Al Pearce interview story:
The 1950 Southern 500 was the first long-distance NASCAR race and its first on a paved superspeedway. Qualifying was spread over two weeks, and the 75 cars took the green flag in 25 rows of three cars, similar to the Indianapolis 500.
Starting 49th that Labor Day – on the inside of the 17th row – was a 1949 Oldsmobile owned and tuned by Richmond native Junie Donlavey. Because 500 miles seemed too much for one man, he recruited local hotshots Bob Apperson and Runt Harris to share the driving duties.
On Thursday, Donlavey once again will head for Darlington, this time for Sunday's 50th annual Southern 500. Now that Bud Moore has sold his team and Hershel McGriff has retired, Donlavey is only competitor from that 1950 race still active in NASCAR.
"Back then, we were racing Modifieds on short dirt tracks," he said during a Tuesday test session at Richmond International Raceway. "To us, a half- mile track was a superspeedway. When we heard about this new place in South Carolina, we had to go down there to see what it was all about. At the time, it was the biggest race track we'd ever seen."
Preparation was fairly simple: Donlavey bought a wrecked Olds from a junkyard and fixed it up. He banged out the dents and replaced the broken parts, then towed it to Darlington. After going through tech inspection at a downtown garage, Donlavey towed the car back to Richmond.
"We went back a few days later and qualified," Donlavey said. "They didn't even look at us again except to make sure we weren't running Modified stuff. Everything was stock: wheels, axles, spindles – stuff like that. Really, nobody knew what to expect because nobody had ever tried what we were trying.
"The thing is, we didn't think much about it. It was a happening, and we had to be there. The full- time racers knew what they were doing and were ready. Us? We were out in left field, but we were still having a good time."
Apperson started and ran to the first pit stop. From then on, he and Harris swapped off during each stop. Finally, the car quit after 249 of the 400 laps. Apperson was scored 61st, behind Curtis Turner and ahead of Tommy Thompson.
"We knew we were part of something big," Donlavey said, "but we didn't realize how big until maybe 10 years later, when they opened (tracks at) Daytona and Charlotte and Atlanta. There were a lot of cars and people there, and nobody was there for the money because there wasn't that much to be had."
A footnote: At midnight the night before the race, Donlavey heard radio reports of massive traffic jams on the road into Darlington. He and his crew promptly left their motel on Route 301, went to the track, and spent the rest of the night in their cars or on the ground.
"They woke us up with a recording, of "Oh,What a Beautiful Morning," he recalled. "And you know what? It was. It was a beautiful morning, and we were just happy to be there."
The records at Racing Reference will show that Junie Donlavey's car driven by stuntman Stan Barrett was one of just two cars not to make the field for the 50th Southern 500 at Darlington, along with the car of Todd Bodine. 67 more Southern 500s have now been staged since Richmonder Junie Donlavey took a car and two Virginia drivers to the very first Southern 500 in 1950 and Donlavey's name still doesn't appear in the stats. Instead, the Oldsmobile owned by Donlavey is instead listed as being owned by one of his two drivers, Bob Apperson.
How nice it would have been back in 1999 for Darlington track president Jim Hunter to have recognized Junie Donlavey for being the only car owner to enter the 50th Southern 500 who fielded a car for the first. That would have been a nice honor for the quiet Virginia gentleman. But, in September 1999 Jim Hunter was on assignment for International Speedway Corporation trying to get the Richmond Sawyer family to sell their track. They did, and near his death patriarch Paul Sawyer said he wished he had sold to Bruton Smith.
You had to know Junie Donlavey to understand why he wouldn't have pushed to correct the records and stats. This is the same Junie Donlavey who used to let the Connecticut and Massachusetts "Eastern Bandits" modified drivers Ed Flemke, Rene Charland, Denny Zimmerman and Red Foote use his Midlothian Turnpike shop to prepare their cars before beating Junie on Friday nights at Southside Speedway in the early 60s.
Back before NASCAR "Hard Card" ID's, every driver, car owner, crewman and sponsor rep had to register with Mt. Pleasant, North Carolina NASCAR Registrar Carl Hill before they could enter the track. Carl kept a huge supply of cash in his little trailer from late entry fees, the purchase of NASCAR licenses, etc.
Early one cold February morning in 1981 at Richmond I was in line behind Junie Donlavey and Ricky Rudd signing in with Carl Hill. Junie presented Carl with a huge list of friends he wanted to be given pit passes at his home track. I'll never forget former Donlavey driver, Ricky Rudd telling Carl Hill, "It would be easier for Junie to just give you the Richmond phone book than to try to write down all his friends." That was a true statement and the way it used to be at the track.
I know we can never expect to get all the old records right, but when we have evidence such as the 1999 Al Pearce interview with Junie Donlavey, I'll take Junie's account over what is published at Racing Reference and other sites. Some folks have called me a nitpicker or a guy lying in the weeds looking for errors. Maybe they are right. I am a strong proponent of the words in The Pledge of Allegiance…. "And Justice for All."
With age near mid 70: tis, I no longer walk NASCAR pit road, work in media centers, press boxes, garages and behind the scenes. But we do have a younger generation like Alex Nickerson and Cody Dinsmore who have the years ahead of them to try to correct some of these grievous errors in the records of the sport we have all loved. I wish them much success.
# # #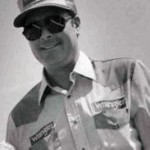 More of Dave Fulton's articles ( Here )
(Editor's note: This story is published with the permission from the author! It may have appeared previously at RacersReunion.com, GhostTracks.com)