Authors note; This tribute to a very dear man appeared in its original form in 2002, on a long-gone site called Maclouridees.com. Nope, it wasn't much of a site, but it was your scribe's introduction to Internet writing, and truth to tell, I wasn't all that much of a writer either. Everything has changed since then but the author and the honoree.
It strikes me now as rather sad that some of the young readers that come to Race Fans Forever might never have heard the name Junie Donlavey. It's been many years since big money and lack of sponsorship (They are synonymous, you know) drove this good man into retirement from the NASCAR ranks, but past time to refresh some memories or in other cases, present an introduction to one of those pioneers you hear so much about but will probably never meet.
In 2002, a door closed, the echo of which is still resounding in the hallowed halls of NASCAR history. On that day, we bade a sad farewell to one of our all-time greats, Wesley C. "Junie" Donlavey. I'm not at all sure that I possess enough adjectives or superlatives to impart to you my admiration and respect for Junie Donlavey, but I shall try. This warmhearted native of Richmond, Virginia is more than worthy of whatever praises I can sing here, and deserving of so much more.
Junie was an original, in every sense of the word. I tell you often that I am old, but Junie makes me seem young, if one is counting years alone. Back then, when his long run came to an end, Junie was 78 years of age, and still showed up at the shop every day, just as he'd done for 53 years. I imagine that he continued to travel with Phyllis, his wife of 61 years, but he no longer had to wait for the off-season.
He can remember from first-hand experience, the beginning of NASCAR. Before Junie closed his shop, he was the only active car owner who had an entry in the very first Southern 500, when Darlington debuted as the first "Superspeedway" in 1950. What a shame that he didn't have an entry in the last one on Labor Day weekend.
I'd settle in a heartbeat, just to have his memories. From Big Bill France to all those wonderful drivers of by-gone days who built the sport with their talents and sometimes with their lives, and down through the years to the present, he's known them all on a first name basis, and there is not one who doesn't honor and respect this hard working, unassuming man.
To say that Junie marched to a different drummer might be an understatement. Admittedly, he loved the sport of auto racing; he willingly spent his lifetime and all his labors within its boundaries. What has perhaps stood over the years to set him apart from all the rest of the drivers and owners is the fact that his team was not a winning one, but Junie never seemed to mind. It was always his contention that the joy is in the racing. The competition is the thrill, and it matters very little who wins as long as everyone has a good time. Actually, the statement that his team was not a winning one is not completely accurate. Junie's car did win a race once, at Dover, in 1981, with Jody Ridley as the pilot. He referred to the win as embarrassing, since Ridley had been laps down, but running third, when the front- runners, Neil Bonnett and Cale Yarborough, both blew their engines, and he was suddenly an unexpected first. Junie's feelings on the win were, "That took the edge off of us winning, to tell you the truth. I understand you take a win any way you can get it, but I didn't enjoy it."
Over the course of the years, 72 different drivers have qualified and run races for Donlavey Racing, and at least 14 of them have been named to the list of the 50 greatest drivers of NASCAR. They are lovingly known as "Junie's Army" and can be seen on the following list:
Rick Mast, Hermie Sadler, Ed Berrier, Harry Gant*
Stanton Barrett, Jimmy Hensley, Morgan Shepherd, Ed Pettijohn
Dick Trickle, Paul Radford, Mike Wallace, Maynard Troyer
Bobby Hillin Jr., George Follmer, Pancho Carter, Richie Panch
Hut Stricklin, Ramo Stott, Charlie Glotzbach, Ray Hendrick*
Dorsey Schroeder, Yvon DuHamel, Kerry Teague, Bud Moore
Robby Gordon, Wayne Andrews, J.T. Hayes, Jackie Oliver
Wally Dallenbach Jr., Fred Lorenzen* Steve Perry, LeeRoy Yarbrough*
Ernie Irvan* David Pearson* Buddy Baker* Max Berrier
Chad Little, Butch Hartman, Stan Barrett, Ron Hutcherson
Lennie Pond, Johnny Rutherford, Benny Parsons* Richard Brown
Jimmy Means, Cale Yarborough* Ken Schrader Sonny Hutchins
Dick Brooks, Johnny Roberts, Jody Ridley, Buzz Woodward
Ricky Rudd* Larry Frank, Chris Beckers, Buddy Shuman
Buck Baker* Bobby Isaac* Runt Harris, Gene Felton
Tiny Lund* Ken Brightbill, Speedy Thompson, Dick May
Neil Castles, Earl Ross, Manny Zervakis, Al Holbert
Joe Weatherly* Bill Dennis, Bob Apperson Bobby Isaac*
* Indicates drivers listed as part of NASCAR's 50 greatest drivers in 1998.
If anyone is wondering why 72 men chose to drive that familiar #90, it's because of the way Junie selected drivers. Being a self-described, "People person", his aim was always to help others, and to that end, his drivers were almost exclusively on their way up the ladder of success or on the way down. His garage was a training ground for young talent, giving them invaluable experience and seat time, until that day when they found a more lucrative ride and bid adieu to Donlavey Racing. In similar fashion, his car was offered to several aging veterans who wanted to race just a few more times before retirement claimed them.
In strange contrast to the corporate monster that NASCAR has become, where contracts are made and broken on a daily basis, Junie's philosophy was much simpler, and borrowed from another day and time. He proudly proclaimed, "I never in my life had a contract with a driver. If you're my driver and you don't want to drive for me anymore, I don't want you to have to go through a lot of problems to get out of it. You just come and tell me and you're on your way." Is it any wonder that young and old alike place this man on a much-deserved pedestal, built entirely out of respect and friendship? How does Junie express his thoughts on all that? "I've had a very good life and made enough friends for 10 lifetimes." That, my friends, should be the measure of any man, and is what makes Junie Donlavey a winner.
His friends and colleagues have not failed to recognize how much this gentle, caring man has done for them and for the entire sport. In 1998, he was awarded the STP Richard Petty Achievement Award. In 1999, Junie received the Ford Motor Company Spirit of Ford Award, the company's highest motorsports honor. Also in 1999, he was the recipient of the National Motorsports Press Association/Myers Brothers award. In 2001, Junie Donlavey became only the second person to be awarded the H. Clay Earles award from Martinsville Speedway for his dedication to the motorsports industry. The only other time this award had been given previously was to Big Bill France, the founder of NASCAR. Excellent company to be keeping, I would say.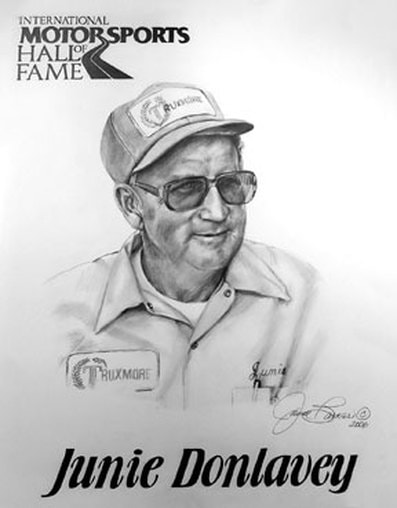 At the start of the 2002 season, Junie was ecstatic to have lined up something he had always dreamed about, an all-Virginia race team, with himself as owner, Rick Mast as the driver, and C.F. Sauer Co. as the sponsor. Unfortunately, fate or circumstances, call it what you will, had other plans. Driver Rick Mast developed a mystery ailment, diagnosed after months of testing as carbon monoxide poisoning, presenting symptoms such as weight loss and chronic fatigue. Sadly, Mast would retire and not return to racing. Well before the halfway point of the season, Sauer announced that they were discontinuing funding for the team. Junie soon found a couple of replacement drivers, but alas, no sponsor willing to back the team that had learned to do so much with so little. Junie announced that the Pepsi 400 in Daytona would be the team's last race, since funding was completely exhausted. Adding insult to injury, driver Ed Barrier failed to qualify for that race.
Now, I am as much of a realist as the next person, but for some time it was difficult to watch the races and not see that familiar #90 among the racers. Certainly, I realize that with the progression of our sport from little dirt bullrings in the Southeast to a nationwide gala tour of splendid facilities, seating more spectators than was once even thought possible, the time had to come when change would win out, and tradition be supplanted. It happens in all walks of life, and I have witnessed my share. The sun still rises in the east, the birds are still singing and the planet is still revolving around the sun, so in that grand scheme of things, the change was not earth-shattering. Still, when Junie turned that key in the door for the last time, the sound you heard might have been that of a foundation beginning to crumble.
Let me say in closing, I have done my best here to honor a man who deserves it far more than most, but I'm sure it missed the mark by a good measure. It is so difficult for mere words to impart from one person to another, feelings as deep as total respect and complete admiration. I hope I've come close.
Mr. Donlavey, Sir, I have taken the liberty of referring to you by your first name several times throughout this writing. Regretfully, I have never had the privilege of meeting you in person, but I learned many years ago about the feeling of "family" in NASCAR, and it is in that spirit that I employ the familiarity. They say, "When a door closes, a new door opens." I pray that has happened for you Sir. No one deserves it more!
Gentle readers, there is a reason why this article runs a full week before April 8, when Junie will turn 90 years old, God bless him. You see, like so many his age, Junie now suffers from dementia, or perhaps Alzheimer's… I am not positive of the exact diagnosis… Are they really different? He resides now in the Heritage Oaks Retirement Center, where he is under watchful care. The last I knew, he still recognizes friends that visit, and I have what I'm quite sure is still a working address, so I thought…
Why not send Junie some Happy Birthday cards? How about it? All of you that say you enjoy it when I tell you about the pioneers and the early days of our sport, please spend the price of a stamp, whatever that is nowadays, and wish Junie a Happy 90th Birthday. No expensive cards are necessary; one from any Dollar Store will suffice, or even a short, heartfelt note. Just try to get it to Richmond on or about April 8.
Nope, hold that thought! This article ran 5 years ago in 2014, so I have removed the mailing address.
Note to NASCAR: This is what we mean when we say "Pioneers" in reference to your "Hall of Fame" in Charlotte. Junie was good enough and his body of work important enough to earn him an award that had only been given before him to Bill France Sr. Does he even appear on your waiting list for the NASCAR Hall of Fame? Of course not. Will his name ever be there? My guess would be a resounding "No!" Perish the thought that someone that gave over 50 years of his time and talent to NASCAR be recognized over drivers that are still active today. Junie, and so many like him, will never be honored by NASCAR because he doesn't fit the demographic you seek now to romance. Shame on you! Shame!
We need to take a breath and pause here, so that I can explain why you're reading a column about an early April birthday in early June. You see, just 2 months after airing this one, I chose to run it again, this time with this introduction: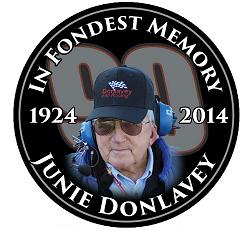 Only two short months ago, this column was offered on these pages as a tribute to one of the finest men ever to grace the sport of stock car racing. It is with both sadness and love that today I offer it once more as we bid our final farewell to Junie Donlavey, a man that to my mind epitomizes everything good about the sport and none of the bad. Godspeed Junie; I know you're with your dear sweet Phyllis now. No more pain; no more suffering… your earthly race has been run and as always, you were the winner.
No tears; no sorrow… only joy that I was allowed to be one of those that saw your goodness and loved it. If there were more like you, this world would be such a better place. Rest in Peace with the Lord.
One last happy thought before we end our visit today. Sometime after his birthday, I was contacted by Junie's granddaughter April. She wanted to thank me for the column, and also wanted me to know a bit of the backstory that came from all those cards my wonderful readers sent. At first, she said Junie had been confused and maybe a bit agitated, thinking he'd forgotten all those folks that chose to remember his 90th birthday. April did a bit of investigating and soon turned up a reference to my column of the week before.
She explained to him that these were not folks he'd forgotten. They were ardent admirers of his and cards had been requested to celebrate his 90th birthday. She read him my column and said he got the biggest grin on his face, knowing how many folks just wanted to wish him a Happy Birthday, just because. Because… he was Junie Donlavey and was respected and loved throughout the racing world.
Be well gentle readers, and remember to keep smiling. It looks so good on you!
~PattyKay
(Editor's note: This story is publish with the permission from the author! It was originally published on RaceFansForever;