(The author is meandering through a life of race-fandom, while he still remembers at least some of it. For part one Click here.)
In late June 1970, I had my head shaved, put on a uniform, and entered four years of service in the U.S. Coast Guard. Five months later I got married and officially moved to Cape May, New Jersey. Something had to be done about my separation from Southside Speedway, Richmond Fairgrounds Raceway, and the Virginia weekly racing scene.
I found two antidotes: Dover Downs and Atlantic City Speedway.
The former, of course, remains a Cup Series track, but in those days, it had two dates on that schedule and sometimes ran modified, late model, or other types of racing. We made multiple trips during the slightly less than two years of Jersey residence.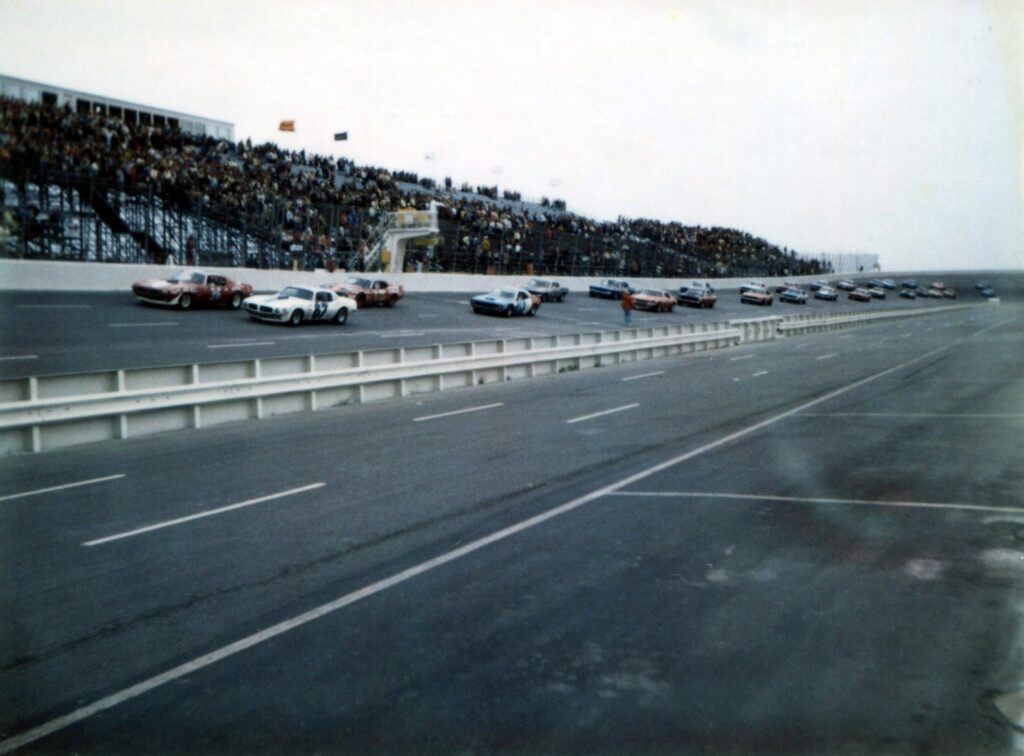 Probably the most memorable was a date for the old Grand American Series (Camaros, Mustangs, AMC Javelins, Barracudas, etc., back when pre-Cup Grand National was still full-sized sedans). Every car that got or came close to the lead promptly blew up or wrecked (including my old part-timer hero H.B. Bailey; Richmond's Sonny Hutchins, in a borrowed car, got close to the lead before his day ended), leaving unheralded Kruger Johnson of Georgia to take the checkered flag…
… except that the winner wasn't Johnson. In victory lane, Frank Brantley explained that Johnson was sick and couldn't make it north, so he had been asked to drive the car. Only time I've ever gone to a race when nobody knew who won until the winner's interview.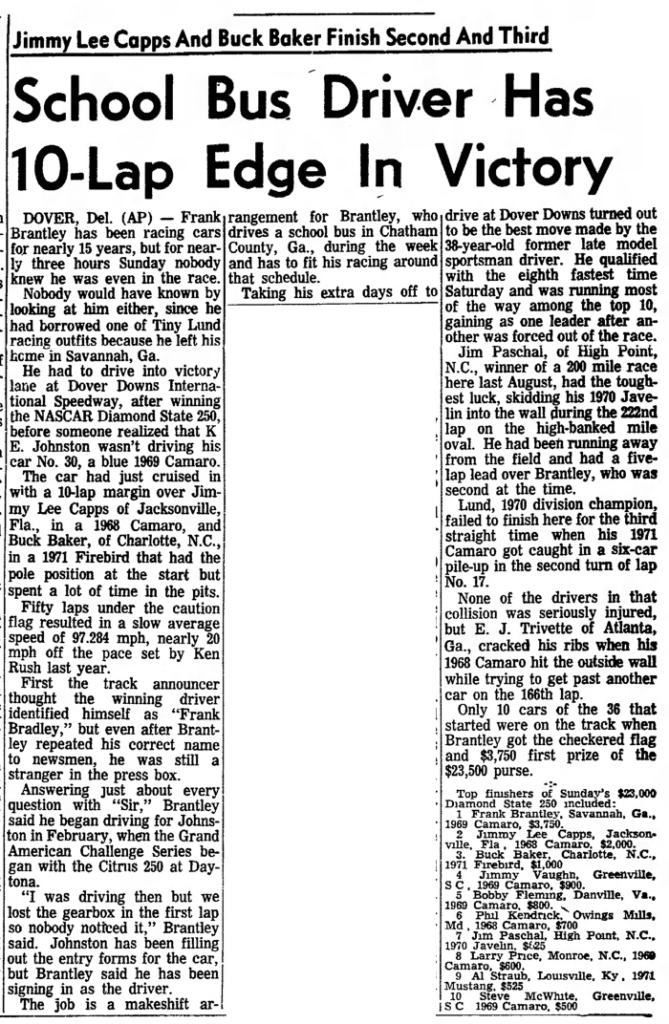 Atlantic City Speedway was a flat little paved track, actually in Pleasantville, N.J., where modifieds and hobby cars raced weekly. It was a good fix, and I visited as often as possible.
Ken Butler, a former thrill show guy, promoted the place and was a good showman. I particularly remember the National Anthem: At the beginning of the recording, the track's pace truck would pull out of the pits with a passenger holding a large American flag out the window. The driver knew just how much time he had to circle the track and pull into the pits, where another staff member would take the flag and attach it to the flagpole rope, running it up to the top just as ". . . and the home of the brave" ended.
Unfortunately, the coming of casinos to Atlantic City doomed the little speedway, which was razed to make way for parking lots. Now the casinos are pretty much gone; it's a shame they can't bring the track back.
We also made regular trips back to Virginia in '70-'72 and caught several of the GN/Cup races at Richmond.
The latter part of 1972 and most of '73 saw me bouncing around to Baltimore, New York City, and 180 miles off the New Jersey Coast before finally landing an office job at the Coast Guard District Headquarters in Portsmouth, Va. I suspect we had time to catch a race or two at the end of 1973, but '74 was a winner.
Langley Speedway was the most regular stop, but the then-relatively new Virginia Raceway (now Va. Motor Speedway) in Saluda was conveniently close to my in-laws, and Dave Fulton was living in Wilson, N.C., where more racing beckoned. It was a good time to be a fan
In 1972 we bought a Saab (great car, if you could keep it running). That made the trips to Virginia Raceway more interesting, because our mechanic raced a Saab in the mini-stock division there, where he was the second-best car in the field. The best was a Volvo. Somehow, I don't think that happened in too many other places.
Dave got involved with a limited late model team down his way, and one Labor Day Weekend, we followed that crowd around to their races, including a 250-lapper at the little Chantilly Speedway in Roanoke Rapids, N.C. (actually, it was closer to Weldon). What I remember, though, was a Labor Day picnic at the driver's home (and the race shop), where BBQ chicken was put on the grill with a sauce that included a full can of McCormick ground cayenne pepper. If they could have converted that stuff to fuel, Danny Lee would have been undefeated.
After Coast Guard active duty, we moved to Durham, N.C., so I could go to graduate school at nearby UNC-Chapel Hill. For my racing fandom, this did a couple of things: it gave me a few more opportunities to get back to Richmond (despite losing one weekend each month to Coast Guard Reserve duty), and it gave me a new "home" track: TriCo Speedway in Rougemont, N.C.
When we had lived in Tidewater, Va., we were closer to Richmond, but getting out of town early enough on Friday to make it to Southside Speedway wasn't easy. Now that had changed, so for a couple of years we were back, for what I would call Southside's second golden age, with drivers like David Blankenship, Wayne Patterson, Charlie Ford, and Roy Hendrick (among quite a few others). The racing was great.
TriCo was fun, too. The track itself was a bit on the decrepit side: the grandstand had steps from the top row down to the ground in back, but nobody would dare use them, and sitting on some boards was an act of faith, too.
Late model fields on the three-eighths-mile asphalt oval weren't great, but you always looked forward to the Easter Monday season opener.
Until fairly recently, North Carolina had Easter Monday as a state holiday, and the TriCo promoter had a Monday afternoon special race to take advantage of that. Crowds were generally very good, late model fields weren't usually tops on quantity but excelled in quality. I'm pretty sure Bobby Allison was a winner at least once and a competitor multiple times. Drivers came from north and south.
(By the way, some sources – including the track itself – say TriCo was a dirt track that closed in 1973 and was paved and reopened in 1983. This is bull. The track was paved the first time I attended – either 1974 or '75, and the pavement wasn't new. It ran through most, if not all, of the '70s. When it closed and reopened, everything was torn down and rebuilt, but the track ran on the old pavement for at least one season before being repaved.)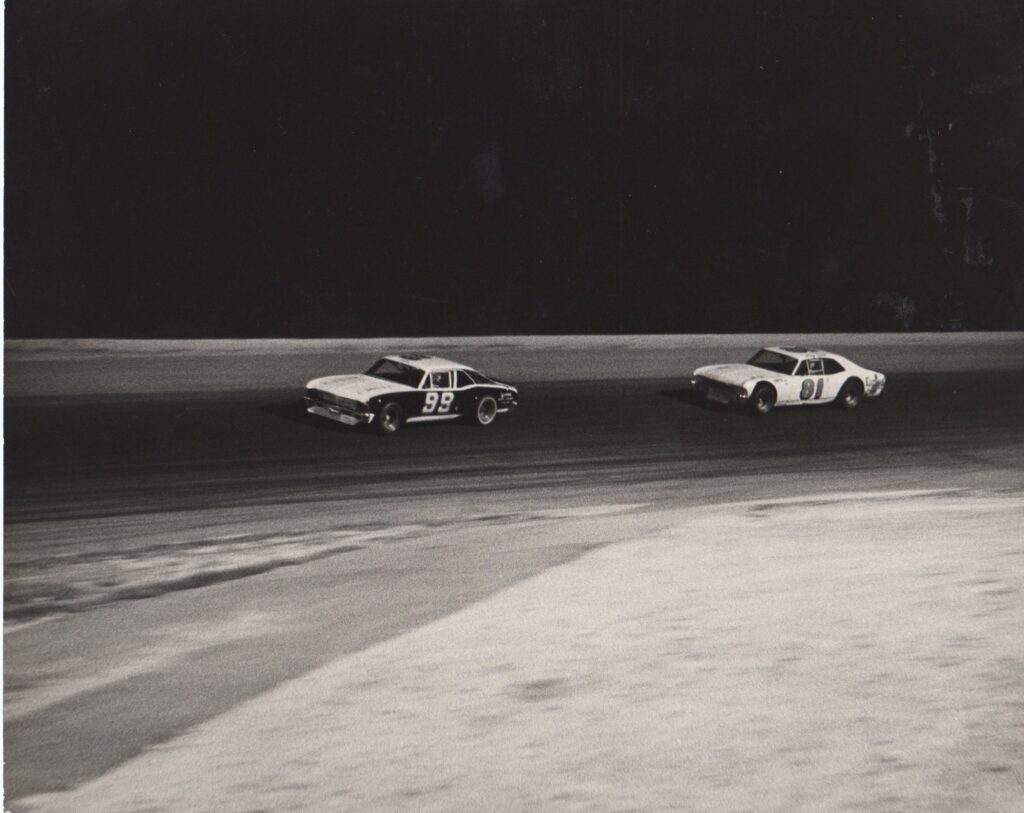 The Easter Monday race I recall most vividly was in the mid-'70s (I would guess '76). My hero, Ray Hendrick, was among the entrants, driving a red "Flying 11" Chevy Nova. Fairly early in the race, Hendrick's motor let loose going down the front stretch, and Tommy Houston (once holder of "most starts" in what is now the NASCAR Xfinity Series) and South Carolinian Jerry Rector got caught up in the oil, and all three cars smashed into and then over the first-turn guardrail. Rector's car ended upside down in the old dirt track pond, but none of the drivers was injured. The repair job on the guardrail wouldn't meet any exacting safety standards, but the race eventually was completed.
Despite being in a less-than-ideal grandstand location, I got a nice photo of the cars going over the wall, but in pre-digital days loaned it to someone who never returned it. I do, however, have a copy of a racing newspaper with that photo on the front page.
It was at this time that I made my first trip to Charlotte Motor Speedway (for a race; see a recounting of another adventure at the end of this piece). Some Chapel Hill friends had moved to Newton, N.C., and become friends with then-Charlotte owner Richard Howard's son. They were going to the race with the Denver, N.C., Jaycees to run the infield concession stand as a fundraiser. I was allowed to tag along.
I don't remember much about the race, although I do remember a hand-lettered sign pointing down a dirt road just off the main highway that advertised "24-hour massage parlor, this weekend only." Ah, capitalism.
This is another good stopping point. On July 4, 1976 – Bicentennial Day – we moved to Siler City, N.C., where I was to work as sports editor of a small newspaper while finishing my graduate studies. This changed the racing landscape again, and it made me a sportswriter, able to cover racing first-hand. More about that in the next installment.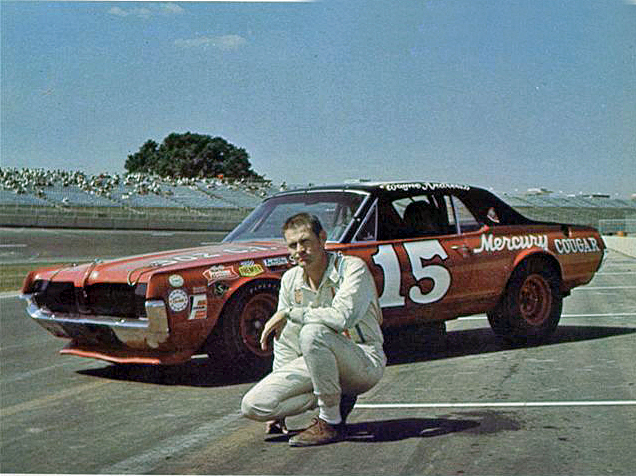 BONUS STORY – The first time I saw Charlotte Motor Speedway was for a basketball game, not a race. It was 1969, and the University of Richmond was playing in the Southern Conference Basketball Tournament at the Charlotte Coliseum. I was – don't laugh – a cheerleader. Our days were open after the first round, and I had driven down, so on Friday afternoon, I headed out to see what the speedway looked like. There, I ended up running into a guy who was driving his Plymouth Road Runner or GTX around the track, because, as he put it, "I own six shares of stock in this place." There was a little maintenance work going on, and things were unlocked. He invited me into the infield to meet his friends, then proceeded to take me on a three- or four-lap tour of the track with the speedometer buried. He was not a professional race driver; to say I was scared silly would be an understatement. But when I left, probably still shaking, I had definitely seen Charlotte Motor Speedway.
(A NOTE about the cover photo – When Dover Downs Speedway opened – with the horse racing track inside the car racing one – the speedway thought fans would pay top prices for seats on the start-finish line in an enclosed, air-conditioned grandstand. At least in those days, we didn't, and shortly after this photo was taken, the start/finish line was moved to what had been the backstretch, where it remains today. Both the horse track and the enclosed stand remain, but everything else pretty much dwarfs them.)
(PHOTO CREDITS – The cover photo, showing Dover Downs a few years before my story, is from the speedway. Both the Dover Grand American photo and the race report are from the Racers Reunion website and a nice article about the race by Dennis Andrews, son of the great racer Wayne Andrews, who was taken out by an early wreck that day. Both Atlantic City photos were from blogs where I couldn't find true origin info. The Saab race car is from Tom Donney Motors, where it apparently resides. Its dirt track racing sibling wasn't quite as pretty. The TriCo Speedway shot was posted to Racers Reunion by Robbie Watson. I'm pretty sure the Wayne Andrews photo is a NASCAR publicity shot, widely available online.)