When you get older, you think of these things: In just a few weeks, I will be within six months of celebrating my 60th anniversary as a race fan. That would be the day I attended my first race, April 7, 1963, at the Atlantic Rural Exposition fairgrounds track in Richmond, Va.
That race made me a fan, but the road that came afterwards wasn't always straight or narrow. If you'll permit me, I'm going to try to retrace it.
I loved that first race, won by Joe Weatherly after a nearly race-long battle with Junior Johnson, until the latter's Ray Fox/Holly Farms Chevy blew an engine and backed through the first turn fence with less than 10 laps to go. He still finished fifth.
That created a new fan for both drivers, plus an awareness of others, like Ned Jarrett, Billy Wade, and David Pearson. Oddly, I don't remember picking up much of a Richard Petty vibe, maybe because "the King" didn't have a very royal day, finishing 10 laps behind in sixth without leading a lap. For reasons unknown to me, Petty and teammate Jim Paschal traded cars that day, and Paschal led nearly 50 laps in the #43 before differential issues knocked him out just past mid-way.
I was drawn to the race in part by local participants. Weatherly was from just down the road in Norfolk, and there were two Richmonders racing, Emanuel Zervakis, at the end of his career, and Larry Manning, just getting started. Unfortunately, they were the first two cars out of the race.
That experience led me to attend every Grand National/Cup event in Richmond until the fall of 1970, when I was otherwise committed to U.S. Coast Guard duty in Cape May, N.J.
In the meantime, in 1965, I discovered weekly short-track racing across town at Southside Speedway, where my real hero worship started. It's to my discredit that I don't have a framed photo of Ray Hendrick in his #11 modified somewhere around here, but a big one is mounted prominently in my brain.
Also by this time, I had a regular co-conspirator in my racing obsession, Dave Fulton. A small cadre of other buddies frequently joined us in ones and twos, but it was always Dave and me, and I'm grateful we went through all that together.
Dave's Uncle Eddie had told us about folks sneaking into the infield for the fairgrounds races in the trunks of cars, but we never tried that (and we were too big to slip in through the drain pipe under the second turn, as I saw one particularly skinny guy do). However, we came up with what people today would call a "hack" for saving money at Southside.
For big races, individual scorers were required for each car (you marked down a number from a flipping counter each time your car crossed the start/finish line), and several cars always failed to provide that necessity. If you were willing to fill in, you got your admission ticket money back. If you were successful in picking the most decrepit-looking car in the field, and that car fell out after four laps, you got to watch the rest of the race for free from one of the best seats in the house.
(I've told this story before, but here goes again.) For one 300-lapper, the car I picked actually had a pretty good day, and as other cars made pit stops, he moved up higher and higher in the field until he was riding in third place. I was both scoring and cheering by this time.
Then he made his pit stop, and his crack crew got him back out on the track in – get ready – 32 laps.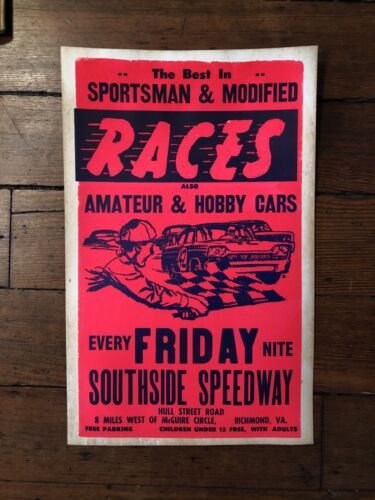 For my professional race fan development, Southside had the advantage in that it was paved. The fairgrounds track was dirt, so I got to see quality racing on both, which I believe made me a much more rounded fan, enthusiastic about seeing good racing on both types of track surface.
As Dave and I aged a bit and our parents became more willing to loosen control, we began to roam a bit and take in other tracks. Langley in Hampton, Va., was still dirt the first time I attended, but soon was paved and became another stop for many of the Richmond drivers. Old Dominion in Manassas tended to have more drivers from Maryland, but for big events like the Bill Bogley Lincoln-Mercury Gold Trophy Race, it was worth a trip. Even Beltsville Speedway, just outside the Washington, D.C., Beltway, was a draw.
Our favorite, though, was South Boston. It drew the most Richmond guys, for one thing, and for another, the racing tended to be awesome. Plus, the concession stand had the best fried chicken (I've never gotten chicken with as more black pepper in the breading) and good fried baloney sandwiches.
Occasionally, we did the stand-in scorer gig there, too, but South Boston gave you a free ticket for a future race rather than a refund, which made it a little less attractive for guys who wouldn't be able to attend every week.
At some point toward the end of my still-a-student phase, I missed my golden opportunity to attend one of the more obscure tracks in Virginia, the original Southampton Speedway. Most people who associate this name with anything at all think of the track near Capron, Va., that ran for about 10 years from the early 1990s; occasionally, conversation comes up about how it might reopen someday.
The track I'm talking about also was in Southampton County, Va., but was located not too far away, near Branchville. It was a dirt track that ran from about 1967-71. One Sunday afternoon in about the middle of that run, I headed in its direction.
I was about two-thirds of the way there when the car started to overheat. Two or three fill-up-the-radiator stops later, I stumbled across a mechanically-inclined guy at a junkyard/towing company who popped the thermostat out and fixed the problem. Despite his assurance that car was now fine until freezing weather, I was gun-shy and late by this time, so I headed home, never to return to Southampton, which closed a couple of years later.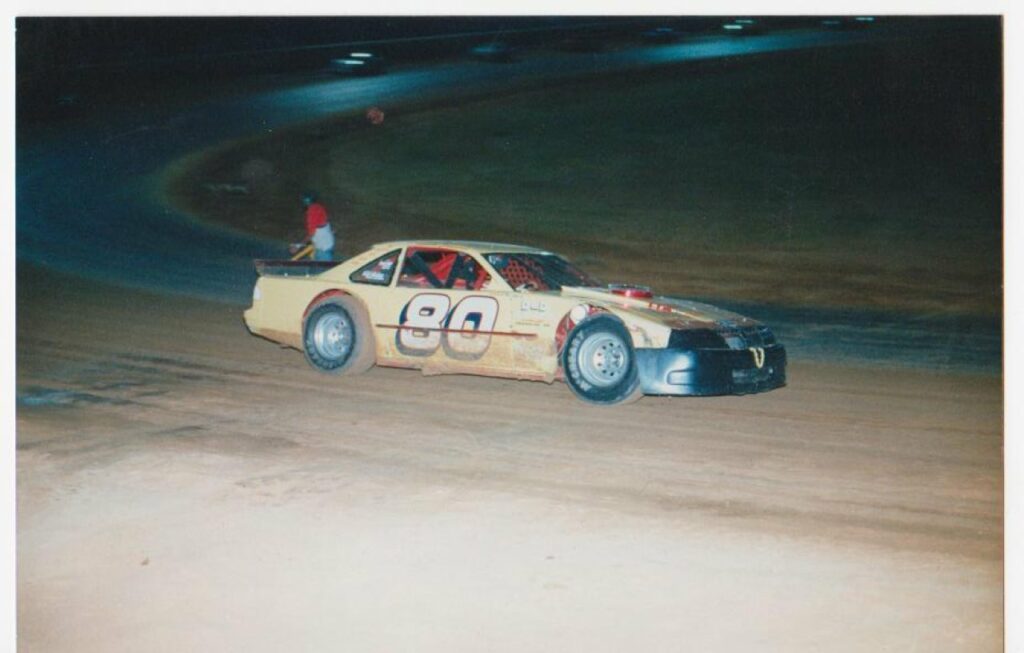 There's another little framed chart in my brain of the race tracks I had planned to attend that closed before I could get there. This is the one I came closest to seeing in action. It still hurts.
One last story about this period: I met a girl….
You know how that goes when you're a race fan. At some point, you have to find out where she stands on noise, fumes, dust, concession stand hot sausages, splintery bleachers, and guys with an obsession.
We were actually engaged by the time it dawned on me that I might be steering my life in two opposite directions, which could have unfortunate results, so I decided it was time for the test: Friday night at Southside Speedway; Saturday afternoon at the fairgrounds (now paved and officially named Richmond Fairgrounds Raceway) for qualifying events, and Sunday at the fairgrounds for a big late model race. We might have squeezed in a formal date Saturday night.
She either liked it or liked me enough to say she did. More than half a century later, it still seems like it turned out right.
Finally, I should mention that my "career" as a racing writer began during this period when I offered to write a column for Cavalcade of Auto Racing, a monthy racing paper/magazine published out of New York that covered an odd assortment of race tracks around the country. I think I wrote three or four columns before dropping out – I just wasn't going to enough races to have the kind of insider information that got you readers. Fortunately, I would get other opportunities.
I mentioned earlier that I joined the Coast Guard in 1970, and that kind of ended what I can probably call Part 1 of my career as a fan. Since I've written a pretty lengthy article already, I'm going to declare at this late point that this will be a multi-part series.
Part 2 (coming soon to a Pure Racing Thunder website near you) will include a brief residency in New Jersey, then a return to Virginia, where a new set of tracks beckoned.
(PHOTO CREDITS – The cover photo is by the author and was taken at Ararat Thunder Raceway in Virginia. The Joe Weatherly and Junior Johnson shots are publicity photos from 1963 – Daytona and Darlington regularly did and released these – so there's really no credit to be given. The Ray Hendrick photo was from a website in the United Kingdom, so I'm pretty sure that has nothing to do with its origin. The Speck Edwards photo is from Jack Carter's contributions to Racers Reunion. The poster and magazine were "for sale" postings online. The Path Valley victory lane photo is by Rod Ort and was posted on the PA Sprint Series web page.)