I feel so fortunate to live where I do in South Central Pennsylvania, because for a race fan, it's nothing less than paradise.
Within an hour or less of my house (some 3-4 miles north of the Mason-Dixon Line) are Lincoln Speedway, Hagerstown Speedway, Williams Grove Speedway, and BAPS Motor Speedway, not to mention the Hunterstown Speedway kart track. Another hour and change will bring me to Path Valley Speedway, Port Royal Speedway, Selinsgrove Speedway, Greater Cumberland Raceway, and several others. Recently we had PA Sprint Speedweek with 10 major races scheduled in 10 days. The crowds were awesome.
Years ago, when we were in central North Carolina, the tracks weren't quite so numerous, but they were there: Caraway Speedway in Asheboro was probably the only one really close, but Ace in Altamahaw, Trico/Orange County in Rougemont, Wake County near Raleigh, Cumberland County near Fayetteville, and 311 in Madison were all pretty easy drives (for a much younger driver, at least).
The difference, of course, is that all the Pennsylvania (and Maryland) tracks are dirt, while all the North Carolina tracks except for 311 were paved. That in turn was what I had grown up with: while my first-ever race was at the dirt Richmond fairgrounds, my weekly racing was at Southside Speedway in Richmond, with side trips to South Boston, Langley, Old Dominion, Beltsville, and elsewhere.
All of that is most a meaningless ramble, except that it sets the stage for a follow-up to Dave Fulton's tale of seeing Dale Earnhardt Sr. race to victory in the season-ending race at Wilson County Speedway in 1977.
Before I get to that story, though, here's a bit of groundwork-laying. In my second-ever race, at the Richmond fairgrounds, March 10, 1964, I had tried watching from the infield with a couple of friends. Early in the event, a car that had qualified well dropped out, and the driver heeded the call of some 15-year-olds at the fence and came over to talk with us. I never forgot his kindness.
That driver was Ralph Earnhardt. Years later, when his son started showing up at local paved weekly tracks in North Carolina, I took an interest.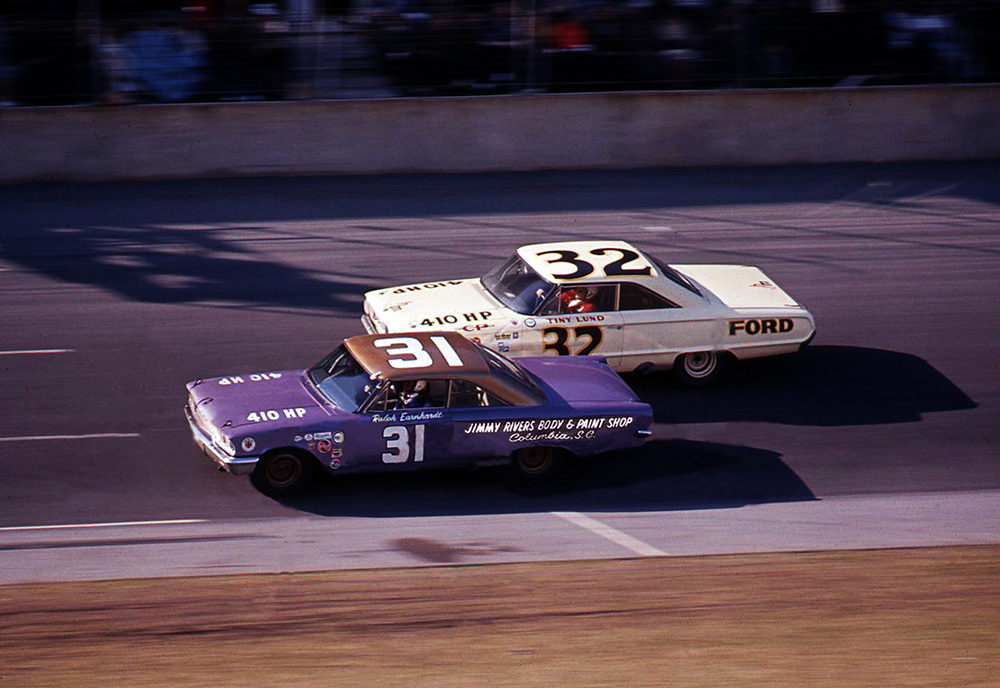 I can't tell you the exact year of the race I'm about the recall, but it was between 1977 and 1980, and it took place at my "home track" of Caraway Speedway, located just north of Asheboro, N.C.
Caraway was born a dirt track, home to drivers who also ran at Sanford and Rockingham (the old dirt track, not "The Rock"), but in 1977, it was purchased by the owners of Thomas Brothers Country Ham (sponsors of Sam Ard, among others), who paved it and created a showplace. That first season even had legendary Greensboro sportscaster Charlie Harville announcing.
It was a couple of years later, though, when we were there for a 200-lapper that drew a quality field of drivers from Central North Carolina (including Ard, obviously), southern Virginia, and South Carolina (including Jr. and Slick Johnson, mentioned in Dave Fulton's recollection).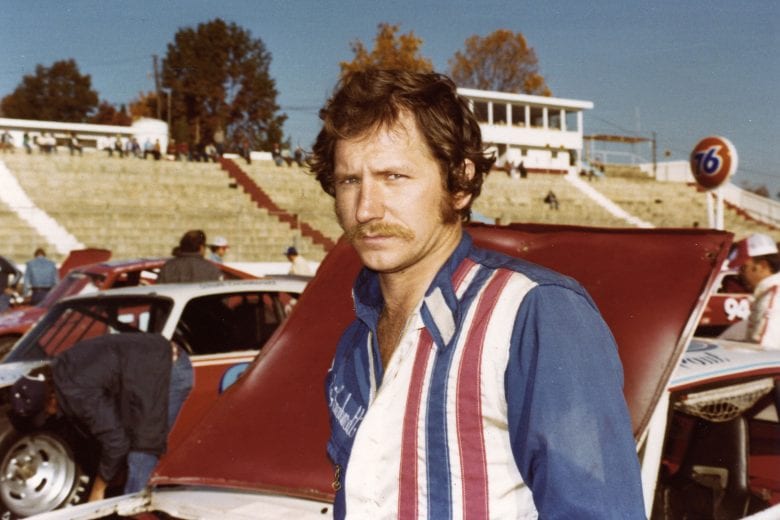 Also entered was that young Dale Earnhardt, driving a Chevy Nova #8.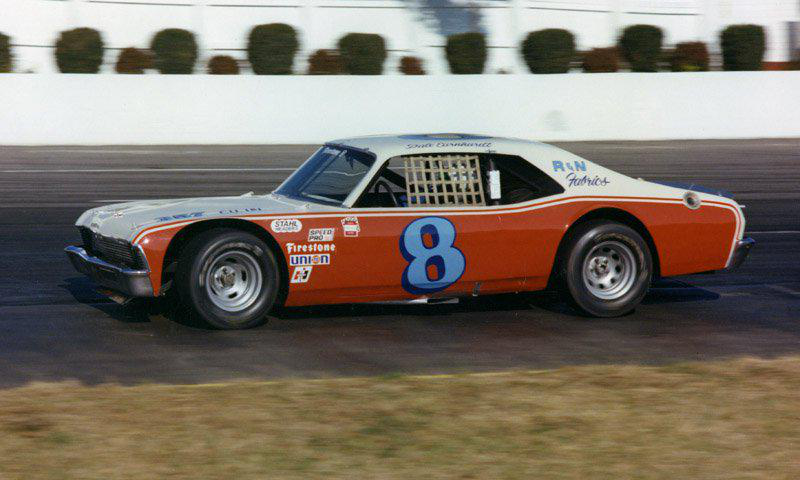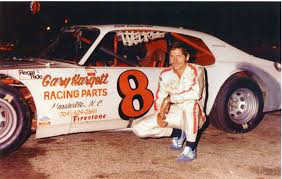 In the hierarchy of drivers on hand that day, Earnhardt was no big deal, and early in the race, he wasn't running up front. That became a problem with the #8 spun out, and while getting things sorted out, Earnhardt lost a lap.
No problem. He just raced down pit road and passed the field in the pits. Nobody caught the move, and he was back on the lead lap.
In the years afterward, I often imagined the gears grinding in that young brain. Earnhardt was back on the lead lap, but he was a long way from the front of the field.
I'm not sure how many laps it was, but some minutes later, the #8 spun out again, in the same spot, but this time without losing a lap. Once again, he pointed the car down pit road and passed the field. The car that had brought out the caution restarted the race in the lead. The car that had brought out the caution restarted the race in the lead. He won the 200-lapper.
I told a friend at the track that we had seen Earnhardt prove that he was not only a really good race driver, but he also was the smartest person at the track.
Was it cheating. Yes, unless you subscribe to the old saw that it's only cheating if you get caught.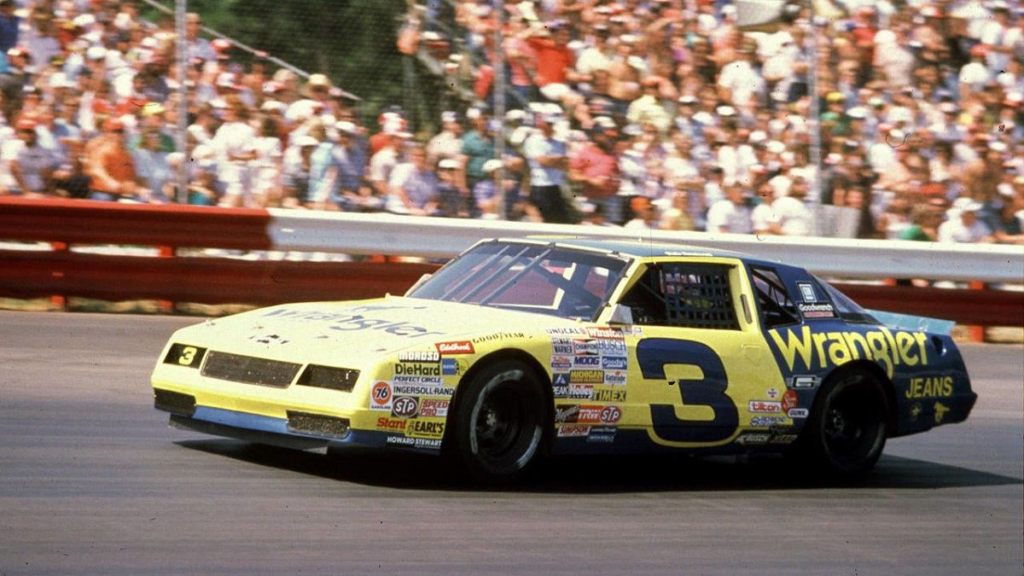 Anyway, that – plus the earlier encounter with his dad – made me a dyed-in-the-wool (or Wrangler cotton) Dale Earnhardt fan. A few years later, when lifelong friend Dave Fulton became manager of the Wrangler sponsorship of Earnhardt and the owners leading up to Richard Childress, that was icing on the jeans.
I still marvel at Earnhardt's legacy, remembering how many years after his death Coca-Cola left all those drink machines with his image out for fans to salute.
I'm privileged to have watched his career and cheered for an incredible race driver and person.
Frank Buhrman