The NASCAR circuit, its tracks and fans seem more preoccupied with following Dale Earnhardt, Jr. and the NBC crew calling races that winds down to the start of the fabricated "Playoff" that is drawing some of the worst ratings in the history of sports television. At the moment, though, my mind has drifted back almost 45 years to the very first time I laid eyes on Dale Earnhardt, Sr. – the weekend of November 12-13, 1977.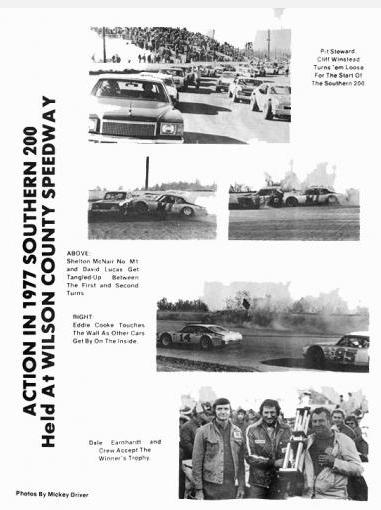 45 years ago, back in 1977, there was a spectacular dirt track located half-way between New York City and Miami on U.S. Highway 301 in Wilson, North Carolina. Once promoted by partners Joe Weatherly and Paul Sawyer, the current promoters, Nick Gwaltney and former racer James Jones closed each season at the half-mile dirt "Gem of the East" with the rich Southern Late Model 200 stock car race. This "Outlaw" event drew many cars for that one weekend who were not regular competitors at Wilson. They came for the money and because most tracks had closed for the year.
In the early to mid-70s, the "Big Dogs" at Wilson included Mutt Powell, Al Grinnan, "Farmer John" Matthews, Bud Elliott, J.E. Beard, Dennis Smith, Roger Matthews, father and son Junior and Slick Johnson, Mac Mangum, Chubby Thompkins, Shelton McNair, Earl Arnold, Monk Tate and Joe Huss, along with a host of other talented drivers. The Southern Late Model 200 was THE race not to be missed for any Wilson race fan.
In November 1977, I was in my 7th year of employment at Blue Bell, Inc., the manufacturer of Wrangler Jeans. I had just celebrated my 4th wedding anniversary and was looking forward to Thanksgiving. At the time my job title was "Division Personnel Manager" – yesteryear's term for a Human Resources guru. I was based at the division headquarters for the largest Wrangler Womenswear division in the company, located just a couple of miles north of Wilson County Speedway on highway 301. I was responsible for hiring, training, firing, insurance, EEOC and Employment Security Commission disputes, pensions and profit sharing for the employees at our Wilson division headquarters and outlying sewing plants in Bethel, Ayden, LaGrange, Windsor and Ahoskie, North Carolina.
The November 13, 1977 Southern Late Model 200 at Wilson was the most unusual and most memorable of any big event I ever attended at that wonderful ghost track. The promoters had spent all day Friday grooming the track for a full day of practice and qualifying on Saturday before Sunday's race. Motor graders, water trucks and compactors prepared the track until it glistened like a newborn's bottom. Thousands of gallons of water (and I suppose calcium chloride or some dust inhibitor) had been applied to the super smooth surface that drove like asphalt after 15-20 laps.
Then it happened. Late Friday afternoon an unexpected and unpredicted cold front moved into eastern North Carolina. Friday night temperature readings dropped to 26 degrees and when the sun rose Saturday qualifying morning, the National Weather Service station at Raleigh-Durham Airport reported a temperature of 21 degrees! It warmed during the afternoon, but never out of the 40s. The Wilson racetrack had literally FROZEN during Friday night and was slick as glass.
Many of the weekly cars of choice at Wilson by 1977 were still Chevelles, with a few Ford Fairlanes thrown in for good measure. Several of the top drivers had switched to Novas by 1977, but they weren't prepared for what they saw when they arrived at the track Saturday. There had been an invasion of Camaros and Mustangs from the Piedmont of North Carolina, body styles not yet running at Wilson, but allowed for the Southern Late Model 200.
Making his first dirt track start in 8 years, Tommy Houston from Hickory had a Nova like several of "our" regulars, but Stick Elliott of Shelby had a Mustang, and his protégé, a bearded and raw-boned youngster from Kannapolis, North Carolina was in a Camaro prepared by a transplanted Virginian. The car owner of the beautiful orange, white and blue #17 Camaro built on Hudspeth Road, just down from Charlotte Motor Speedway, was Robert Gee, a Norfolk native who had come to the Charlotte area via Emporia and South Hill, Virginia. It was in South Hill that his future employer, Rick Hendrick first met Gee.
Driving the Gee Camaro once wheeled by Billy Scott and Darrell Waltrip was his son-in-law, Dale Earnhardt, the son of Ralph Earnhardt who would later marry Tommy Houston's niece Teresa. Racing does make for strange bedfellows. I can assure you that we Wilsonians had never heard of Dale Earnhardt and his presence meant little to us. That would sure change by the time Sunday afternoon was over.
Previous year Wilson Champion J.E. Beard wrecked during practice and never got his Nova right in the race. Several Limited Sportsman division drivers made the field. Their 301 and 302 engines didn't spin tires on the slick track like the big motors.
Joe Huss of Roanoke Rapids won Saturday afternoon's 25-lap consolation race for non-qualifiers over another former track champ, Bud Elliott of Emporia, Virginia – uncle of Elliott Sadler and brother Hermie. Neither Junior Johnson of Florence, South Carolina nor Jimmy "Porky" Edwards of Fayetteville made the big show, either. Edwards had been unbeatable at Dillon, South Carolina during the 1977 season, but the frozen Wilson track was his undoing, also.
There were several big driver changes for the 1977 Southern Late Model 200. Goldsboro, North Carolina's Dennis Smith, a previous 200 victor would drive the #88 belonging to Mutt Powell of Hemingway, South Carolina. Powell's #88 had been a frequent Wilson winner.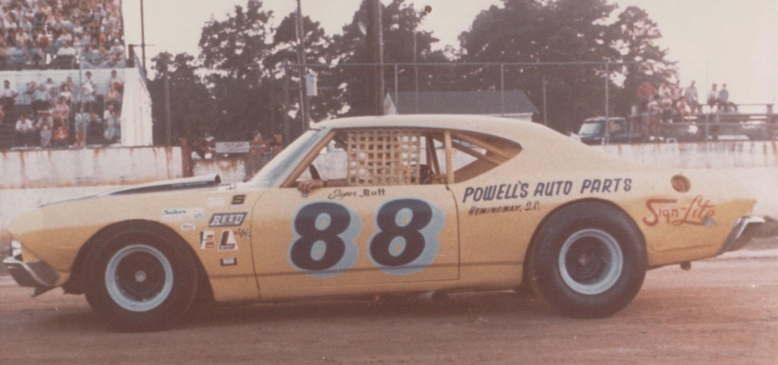 Filling in for the Robert Radford's Garage #59 entry was Sam Ard, now living in Asheboro and driving NASCAR Late Model Sportsman. The regular driver for #59 was Fuzzy Ferrell.

When Saturday afternoon qualifying finally concluded, it was Ruffin, North Carolina's Monk Tate on the pole, followed by Dennis Smith, Earl Arnold of Raleigh, Glenn McDuffie of Sanford and Plymouth, North Carolina fuel oil distributor Shelton McNair in his powerful red M-1 Chevelle. Earning the 11th starting spot of the 40-car field in the Robert Gee Camaro was the 26-year-old Earnhardt.
When Sunday afternoon race time finally arrived on November 14, the temperature did a slow climb to a high of 51, but it was windy and raw. Everyone was wearing winter jackets and winter head gear. The slick racetrack and highly competitive field resulted in 14 caution flags during the course of the 200-lapper.
At the halfway mark, a surprising run by Earl Arnold in his #1 had him in the lead over Gaffney, South Carolina's Billy Scott, Earnhardt, Ard and pole sitter Tate.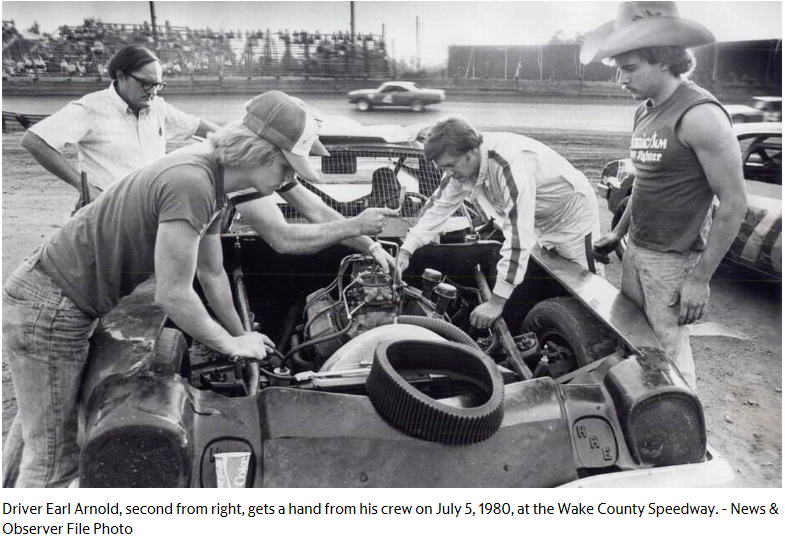 Earnhardt had grabbed the lead for the very first time on lap 57 and would go on to dominate the last 100 laps. He'd beat his future uncle-in-law Houston by less than half a lap. Houston was pleased in his return to dirt, but said the difference was the Firestone tires Gee had mounted on the #17 Earnhardt Camaro.
Almost 3 years to the date of his November 14, 1977 Southern Late Model 200 win at Wilson, Earnhardt would finish 5th in the season's final Winston Cup race on November 14, 1980 at Ontario, California and be crowned the series champion for the very first time of seven crowns. By that final 1980 Ontario race, Wrangler Jeans sponsorship adorned the new champion's Rod Osterlund Monte Carlo and I was Manager of Wrangler NASCAR Special Events. In 3 short years I had gone from seeing Earnhardt for the first time to managing his racing program and the personal services contract he signed for me over dripping meatball hoagies at Daryl's Restaurant in Greensboro, North Carolina.
That November 13, 1977 Sunday also marked the final appearance of the comic strip "L'il Abner." You guys will show your age if you don't know who Abner is nor ever had a gal ask you to a Sadie Hawkins dance.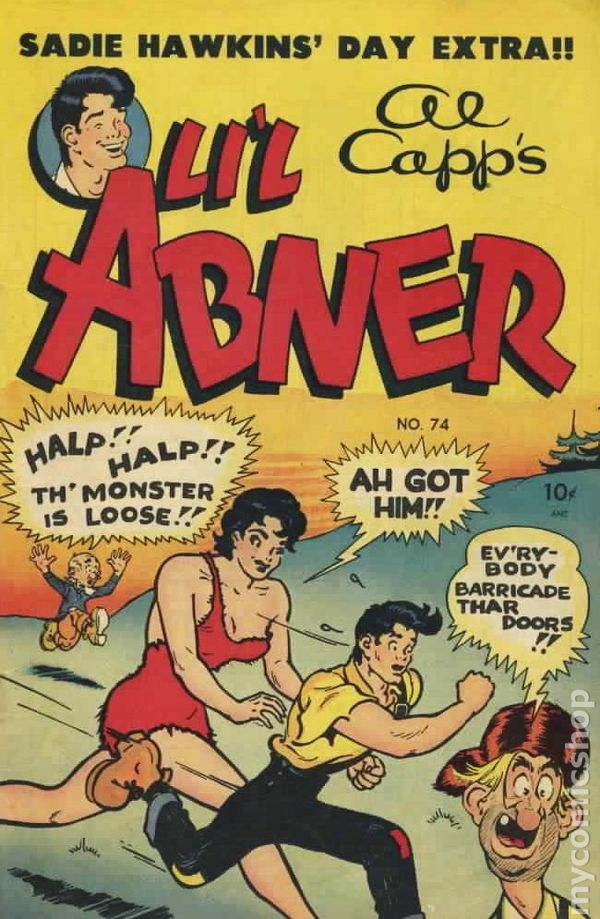 Anyhow, the time period between November 11-14, 1977 is really special in my life. So, please excuse me if I turn the clock back 45 years and think of Dale Earnhardt, Sr., rather than his son. It has been a quick 45 years.
SOUTHERN LATE MODEL 200 – TOP 10 RESULTS – WILSON COUNTY SPEEDWAY

Wilson, NC

200 Laps – One-Half Mile Dirt Track – 40 Cars

NOVEMBER 13, 1977
1) Dale Earnhardt Kannanapolis, NC #17 Camaro $2,500

2) Tommy Houston Hickory, NC #95 Nova $1,500

3) Monk Tate Ruffin, NC #86 Nova $1,150

4) "Farmer" John Matthews Raleigh, NC #16 Chevelle $ 850

5) Earl Arnold Raleigh, NC #1 Nova $ 650

6) J.E. Beard Bailey, NC Nova $ 590

7) Dennis Smith Goldsboro, NC Nova $ 400

8) Sam Ard Asheboro, NC Pontiac $ 300

9) Tommy Tudor Emporia, VA Chevelle $ 200

10) Stick Elliott Shelby, NC Mustang $ 150

Margin of Victory – < 1/2 lap

Earnhardt drove the #17 Robert Gee owned Camaro, starting 11th

LEADERS AT HALF-WAY (100 LAPS)

1) Earl Arnold – Raleigh, NC
2) Billy Scott – Gaffney, SC

3) Dale Earnhardt – Kannapolis, NC

4) Sam Ard – Asheboro, NC

5) Monk Tate – Ruffin, NC

TOP-5 QUALIFIERS

1) Monk Tate – Ruffin, NC 25.18 Seconds

2) Dennis Smith – Goldsboro, NC 25.37 Seconds

3) Earl Arnold – Raleigh, NC 25.42 Seconds

4) Glenn McDuffie – Sanford, NC 25.42 Seconds

5) Shelton McNair – Plymouth, NC 25.44 Seconds

Results of 25-Lap Consolation Race for Non-Qualifiers

1) Joe Huss – Roanoke Rapids, NC

2) Bud Elliott – Emporia, VA

Notable Wilson County Speedway regulars also not making the field included Junior Johnson of Florence, SC. and Jimmy "Porky" Edwards, Jr. of Fayetteville

Note: This was the first dirt track race for 2nd place finisher Tommy Houston in eight years.
Dave Fulton
# # #
Credits ( cover photo ); In the early fifties just around the time Dale Earnhardt was born theses two ruled Wilson Speedway, Fonty Flock (#14) and Herb Thomas (#92). WILSON SPEEDWAY – speedwayandroadracehistory
(Editor's note: This story is publish with the permission from the author! It has appeared previously at RacersReunion.com, GhostTracks.com )
More of Dave Fulton's articles ( Here )