This week it was announced that the Nashville Metro government and Speedway Motorsports Incorporated was one step closer to bringing NASCAR back the fabled Fairgrounds Speedway. With the increased interest in the return to that track I thought it was time to knock two years of dust off my recollections from my very first Cup race. Written in 2019 on my 50th Anniversary of attending Cup races, kick back and enjoy racing from "Back In the Day" at what is now Cup's most talked about track… through the eyes of a twelve year old fan.
Earlier this week, as I sat in the John Glenn Theater of the Columbus Center of Science and Industry I marveled at the spectacle before me on the Giant IMAX screen- "Apollo 11: First Step Edition." The film was comprised of previously never before seen footage edited to tell the story of man's travel to the moon and return.
Like most everyone my age or older have for the last few weeks been recounting where they were that day when Neil Armstrong uttered his famous words as he made that first step onto the lunar surface.
Do you remember where you were July 20,1969? I do. Probably you do as well.
How about less than a week later? Do you remember where you were on July 26, 1969?
Probably not, unless you were in Nashville at the Fairgrounds Speedway for NASCAR's Nashville 400. I remember it today because that is when I got to see my very first Cup race.
Half a century later, I still remember the excitement that I was finally going to see my driver, David Pearson take on the big dogs of the Grand National Series-live. Not snippets on Wide World of Sports but an entire 400 lap race! It was like Christmas in July. And it turned out to be everything (well almost everything) this twelve-year old race fan could have imagined.
But that was then. Nowadays, we can't tell if we saw a good race or not without NASCAR using their statistics to tell us so. Statistics-wise this race was a stinker. On paper, no matter how you cut it, it wasn't a race that Steve O'Donnell would trot out his numbers and printouts to convince us just how good a race it was.
Here's the stats. See what you think.
Twenty-four cars started the race. Only nine were running at the end. The pole-sitter, Richard Petty won, leading 398 laps. He relinquished the lead to David Pearson during a pit stop. It only took him two laps to return to the front never to be behind again. Only Petty and one other car, Bobby Isaac finished on the lead lap. Third place finisher, James Hylton finished 13 laps off the pace. My driver, David Pearson finished sixth, 24 laps behind. There were only 5 cautions for 18 laps to slow the race to a finish at bit above 78 MPH, a new race record.
Petty's winning margin was a half a car length. For his efforts he won $3000.
Statistically, it stunk. Just looking at it today, fans would have worn out social media complaining about it, calling for it to be dropped from the circuit instead of clamoring for its return like they do today. Steve O'Donnell would have ensured the race stats got buried, probably in the same spot Smokey Yunick's Hall of Fame nomination is located, never to see the light of day.
Spinmeisters would have written it off as an anomaly and the media would have shifted focus to the next race… the following evening at Maryville, TN.
Statistics aside, the truth is the race was incredible! Ride with me for a few paragraphs and see what you think about my first Cup race.
Richard Petty and Bobby Isaac made up the front row. Petty had won five of the last seven races here, but this time he was in a Ford. Bobby Isaac, who had won twelve races already this season was in his K & K Insurance Dodge. My driver, David Pearson won the race here last season, started behind Petty in the #17 Holman-Moody Ford. James Hylton was to his outside. I had hoped that Pearson would have won the pole, but he was still in a good position. I just knew it wouldn't be long (first lap probably) that he would get around the others and take the lead.
Standing, watching the field of twenty-four take the green flag I saw that "cheater" Bobby Isaac jump to a huge lead, only to slow and get passed by Petty. Back then, in my mind, every driver who outran my driver had to be a cheater because that was the only way they could ever possibly win. Asked later about the start, Isaac explained that because of the enormous lead, he thought NASCAR had waved off the start, so he lifted. Petty speculated that Isaac knew he jumped the start and lifted so as to not bring down the black flag of NASCAR. Didn't matter-my driver was not out front.
Petty was the class of the field that night and it wouldn't be until he pulled off the track for a pit stop that my dream was finally realized as I finally got to see David Pearson in the lead. That dream was short-lived, two laps… one mile, as Petty would move back to the front when the Silver Fox would have to make his stop.
The stifling Nashville heat soon became a factor and during the caution flag on lap 130 Isaac pitted, but something was different as folks were gathered around the driver's door. Turns out Isaac had passed out behind the wheel and crew chief Harry Hyde dragged him out of the car and laid him on pit road where ambulance attendants administered oxygen to him. Hyde then worked to get relief driver Dave Marcis strapped in and get the car back in the race.
Marcis, who had parked his own Dodge because of ignition problems was now back in race in the #71 but was way behind due to the stop and driver change which dropped the K & K Dodge from contention… or so I thought.
Racing conditions and attrition continued to take its toll as car after car dropped out as the heat and the stress mounted.
Three drivers just quit. Suspension issues took out three more. Two crashed out. Engine, fan belt, oil leaks and vibrations took out more.
Today's fans have little understanding or appreciation of how big a part attrition played in racing back then. Today's cars are almost bulletproof, but back then, just because a driver such as Petty had a lead, a big lead even, it didn't guarantee a win or even a good finish.
As a fan, you, like the drivers, held your breath lap after lap hoping things would hold together just one more lap, just one more lap, so they could bring it home.
As relief driver Dave Marcis raced lap after lap, Bobby Isaac left the pits and went to his personal vehicle where he laid across the hood for the next sixty laps or so. On lap 200, Hyde flagged Marcis into the pits and put Isaac back behind the wheel to try and finish the race.
The K & K Insurance Dodge, now multiple laps down was in hot pursuit of Petty's Torino and now we watched to see if Isaac could overcome the seemingly impossible deficit. Lap after lap, we watched as the orange #71 cut into the lead and without benefit of Stage breaks, Wave Arounds, Lucky Dogs and other competitive contrivances available today started making up the multi-lap deficit created by the two driver changes. Isaac got his final lap back by tapping Petty and sending him into a wild spin down the front straightaway. Petty never lost the lead, and both raced on.
Lap after lap, it was nothing but straight up old school racing.
The heat applied by Isaac coupled with that in the Nashville air was taking a toll on Petty. As we watched the laps wind down and as the gap narrowed, fans begin to stand-cheering on the #43 to hang on or the #71 to catch Petty and make the pass.
My driver, David Pearson, had fallen from third to sixth because of a coil problem was running 20+ laps down. Left with little to cheer for, it was time to switch alliances and see if I could help bring a different Ford home.
The last ten laps saw the entirety of the 15,000+ fans on their feet, cheering with all they had, hoping to be the difference for their driver. Everyone waited for Isaac put his bumper on Petty and spin him again, this time for the win…
But it never happened. When the Checkered Flag dropped it was Richard Petty recording his 98th win, finishing 1/2 car length ahead of Isaac.
After the race, Petty needed oxygen and refused to get out of his car to join the beauty queens until he got some oxygen. I don't know about anyone else there, but I was exhausted from watching Isaac's frantic charge and that oxygen-I could have used a snort or two of it myself.
Forget O'Donnell's stats, this passed the true "eye test." It was one heck of a race! An incredible start to a now fifty-year career attending NASCAR races.
We had to get home, so we didn't hang around for the Victory Lane celebration. We later learned that Lynda Petty delegated duties with the beauty queens to young Kyle. Nor did we get in line for Richard Petty's autograph, which stretched deep into the late night. But we did leave with a program, ticket stubs, a ton of memories and a burning desire to see more Cup races.
It was one giant leap for this race fan.
In retrospect, the Nashville 400 had tons of ramifications, far beyond further fanning the flames of this fan's racing interests.
I got the see Richard Petty win in a Ford. Something only seen 10 times in his 200 career wins. That season, Petty would go over the century mark in wins, getting #99 the next day in Maryville TN. Four races later at Winston-Salem, Petty would break the century mark.
1969 saw my driver, David Pearson, win the Cup Championship. It was his third championship in four years. I didn't get to see him win the race, but I got to see him race on his way to his final championship.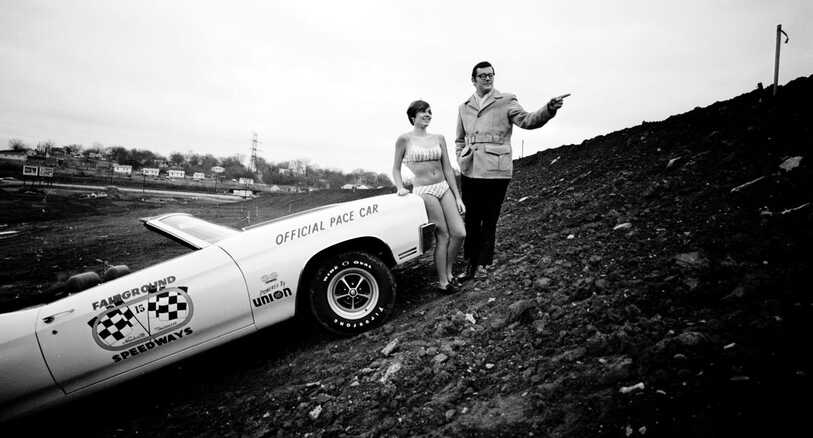 When the 1969 season ended at Nashville, the entire facility was torn out and rebuilt with the track lengthened and the 1970 race would be the 420 to reflect the increased length. And the turns' banking increased to an outrageous 35 degrees, the steepest in racing.
Bobby Isaac won 17 of the 54 races that 1969 Cup season. It was the winningest season of his 15-year career and he was the winningest driver that season, besting Pearson and Petty, who won 11 and 10 races respectively.
Isaac said after the Nashville race that the only chance he had to win was to spin Petty again and he just wasn't going to do that. He also said that if he had been able to stay in the car, he would have won that race. Next year, he came back to Nashville and backed those words up, winning the race on his way to winning his only Cup Championship.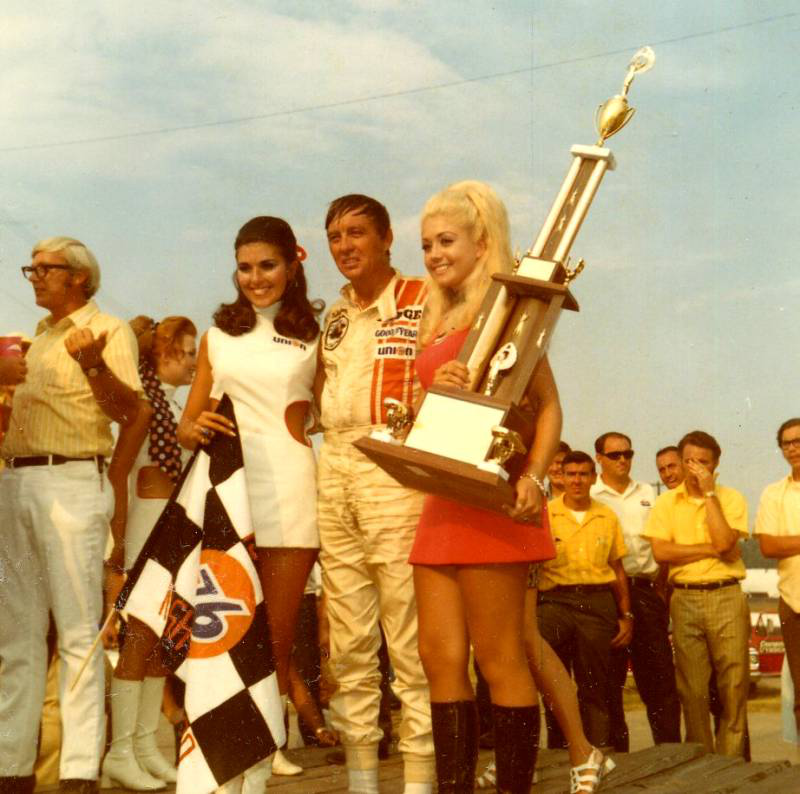 Isaac also said after Nashville that this was the first time that heat had affected him that way. Fast forward eight short years later, at a short track race at Hickory NC, history repeated itself as heat forced Isaac to pit and exit his car, turning it over to a relief driver only to then collapse on pit road. Isaac was revived at the hospital but later died of a heart attack triggered by the heat exhaustion. Was that night in Nashville the beginning of his end?
Nashville left the Cup scene in 1984… or more correctly, the Cup scene left Nashville. Today, fifty years after my first trip to the Fairgrounds as we called it then, there is a renewed interest to bring it back. I'd love to see that. The Fairgrounds made good memories for me and helped fuel my fan career.
Maybe it can make good memories for this generation of fans.
No matter what the stats might say.
Thunder on… and Stay Safe!
David
Credit Cover – Photo; City, BMS strike deal for NASCAR to return to Fairgrounds Speedway | Auto Racing | nashvillepost.com