This week has an interesting combination of events-exciting News came from Nashville about progress to finally bring Cup back to the Fairgrounds, plus December 1st was the 58th anniversary of Hall of Fame driver, Wendell Scott's Jacksonville win.*
In 1969, I had the opportunity to see Wendell Scott race at the Fairgrounds. Kick back and enjoy this August 20th, 2019 recounting of that special time in this backstory.
My previous article, "Nashville – One Giant Step" discussed my first Cup race, the 1969 Nashville 400. This article is a follow up, a backstory you won't find in "The Tennessean" or other news sources. It's an account from a twelve-year-old race fan's perspective, transcribed fifty years later. So, take a step back in time.
Our start in NASCAR was supposed to happen the year before. I remember the excitement hearing my dad tell us that for our summer vacation we'd be heading south to camp, fish, sightsee and… take in our first Cup race. I couldn't wait for the chance to actually see the cars and drivers I had read about in the newspaper or listened to on the NASCAR radio broadcasts. It was like a summertime Christmas.
But that was 1968 and it was a very volatile time. In those days before social media, satellite TV or cable almost everything we knew about what was going on was in the newspaper, on the radio or on the evening news on one of three networks. Every night we saw footage of our young men fighting in a war no one wanted in Southeast Asia. Faraway places with names like Gulf of Tonkin, Khe Shan, Hue, Hanoi, Da Nang and Saigon came into our living rooms and into our lives.
Civil unrest at home shared the screens as we saw our leaders assassinated, demonstrations held, and riots erupt. Faraway places to a twelve-year-old Kentucky boy with names like Watts, Detroit, Birmingham and Washington DC came into our living room and into our lives.
Those, unfortunately, were our times then.
Just a week or so before we were scheduled to leave for our first Cup race, tensions raised in that area. Sanitation workers were going on strike and marches were rumored for race weekend. Taking all that into account, Dad made the decision to change our plans. We went to a different area. We camped. We fished. We saw sights. We had fun… but there was no NASCAR race that year.
After our aborted first attempt, Dad decided to make our first big time stock car race at one closer to home-Nashville at Fairgrounds Speedway. Like the promised race earlier, I was again excited when I got this news. Now, I was FINALLY going to see my driver, David Pearson. Heck, Richard Petty was driving a Ford this time so it would even be OK to cheer for him.
We took our seats where we always did-near the end of the front straightaway-right before where the drivers lifted. Dad always sat there because that's where the cars would be going their fastest. I liked the speed but was disappointed when I realized that due to Nashville's unusual pit road arrangement the top teams would be pitting on the opposite end from where were sitting, at the end of the backstretch of the 1/4 mile infield track. You see for big races that served as pit road-a different solution for the .596 mile oval.
Having a huge interest in pit stops, I guess I'd be bugging Dad for the binoculars tonight.
Our seats were right in front of the least desirable pit stall at the track. A driver pitting there had to slow down early on the track to get whoa'ed down enough to stop in their pit stall. When they left, they had to pick their way through the other cars pitted on both sides of the 1/4 mile's backstretch. It was easy to see why no one wanted there.
But a car finally took it. A '67 Ford. Number 34. First time I'd ever seen it. First time I had ever seen a pit crew made up of African Americans. It was a small crew. Three if I remember correctly. And after they got their tools and meager equipment hauled to their site and set up, the hood went up on the car and the crew started thrashing. They swarmed over and under the car. Their bustling drew attention from the other fans in our section and when they realized the crew looked different than the rest of the field, boos and other venomous vocal objections were hurled their way. Loud, crude, ugly. The crew had to hear it, but if they did, they never showed it. Their focus was on getting the #34 ready to race using whatever they had to get that done.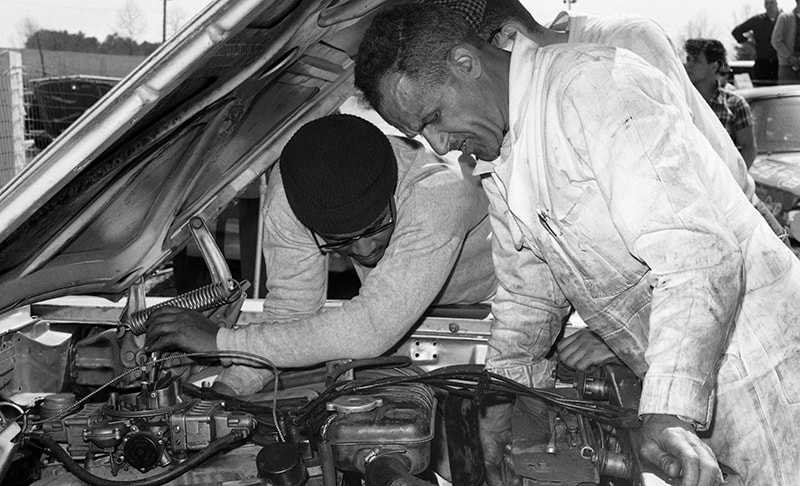 It was tense time… or at least it was for this 12-year-old.
As race time drew closer and the cars were lined up, the crowds attention shifted to the other end of the track, where the "Big Dogs" were lining up. I couldn't see much of what was going on with Pearson, so I went back to watching the crew in front of me. Were they going to get done in time? When was the driver going to get in the car… it was almost time!
Finally, they buttoned things up, put their tools away and then the oldest crew member grabbed a helmet, put it on, crawled in the car, buckled up and fired it up.
Was the crew chief really going to race that car?
The car wasn't the fastest nor was it the slowest-it lined up mid-pack in the 24-car field. As the field rolled off to take its pace laps, my attention changed to the shiny new Ford #17 of David Pearson. He was starting in third, behind pole sitter Richard Petty. Bobby Isaac in the orange K & K Insurance Dodge sat just to Petty's outside. As Petty brought the field down for the green flag, I couldn't wait to see Pearson's Holman-Moody Ford blow the doors off of Petty's Ford and Isaac's Dodge.
Much to my surprise, my first Cup race didn't play out as I had hoped. It would be 128 laps before Pearson would get around Petty… and that was only because Richard had to pit. Pearson led two laps before Petty retook the lead and held off the rest of the field, including a ferocious charge by Bobby Isaac to take the win by half a car length.
Petty and Isaac were the only two cars on the lead lap. Third place was thirteen laps down.
But while my driver was racing at the front of the field that night in Nashville against Petty, Issac, James Hylton, John Sears, "Soapy" Castles and local favorite Coo-Coo Marlin, I couldn't help but sneak looks back through the field to see how the #34 was running.
That old Ford… it kept plugging along. It wasn't long before it was lapped and later lapped again. When pits-stops came I had to take my eyes off the action just to watch. The first time in it was just the two-man crew servicing the car. In a sport where pit stops were then measured in seconds, theirs seemed to take minutes. The crowd around me pointed and howled at their struggles. The next time they pitted, I think the driver got out of the car and helped service the car, which drew even more points and howls.
But the team never gave up.
Stock car racing that night in Nashville was as much about attrition as competition. Ahead of the #34, the leaders kept up their frantic pace. Behind him, the official records will show Wayne Gillette, Bill Siefert and Henley Gray just quit, and parked their cars. Ignition problems took out fifth place starter, Dave Marcis on lap 40. Bill Champion who had started inside the #34 crashed out on lap 200. Vibrations, oil leaks, suspension issues and engine failures claimed their victims. But that night in Nashville the #34 kept plugging along.
There were more pit stops. Each time the car came in, the determination to press on became more apparent. These men were here to race and race they did. The crowd could make fun of their execution but with each stop the admiration for their efforts grew. The little team may have been on the opposite end of the pit speed spectrum of the likes of Petty Enterprises or Holman-Moody, but no team showed more determination than that team did that night in Nashville. With each pit stop more fans stopped to watch. With each stop, the cat calls and ugly remarks diminished and were eventually silenced.
Lap after lap, the #34 continued on. It wasn't anywhere near the fastest, but it steadily pressed on, hugging the bottom line, giving the leaders room to race by. If Hollywood was writing this script, the #34 would have made a miraculous comeback for the win or at least finish the race, being there to take the Checkered Flag.
Unfortunately, we were not racing in Hollywood that night, but in Nashville.
The #34's night came to a bitter end in a lap 237 crash. It was bittersweet for me as I hated for their night to come to an end and to end that way. They had worked so hard and raced so hard. Plus, I hate wrecks. Wrecks cost money. Wrecked cars have to be fixed to race again… even if there are only three to do it.
I guess the good thing was that with the #34 on the sidelines now I could focus all my attention on my driver, David Pearson to see if he could run down the leader, Richard Petty. Unfortunately, a coil issue dropped Pearson from contention.
The record books will show that Richard Petty won the race in front of some 15,000 plus fans. David Pearson finished sixth, twenty-four laps down to the leader and nineteen laps ahead of the next finisher, local Legend Coo Coo Marlin. They'll also show the #34 finished 11th, one spot up from its 12th place starting spot. He finished ahead of two cars that started ahead of him-Dave Marcis and Bill Champion and only one car who started behind him, J. D. McDuffie, got by him.
#34 netted $440 for their efforts that night.
Nashville, July 26, 1969 was a night of firsts for me. It was my…
– first Cup race,
– first time to see David Pearson race,
– first time I saw Richard Petty win… in a Ford no less,
– first time I ever saw African American race car driver, Wendell Scott race.
Wendell Scott would go on to finish 9th in points that season, a season that would see David Pearson beat Richard Petty for the points championship.
Scott had entered Cup in 1961 at age 39, a time when many drivers were calling it a career. There he began his climb up the points standings. By his third season he was 15th in points, then 12th, 11th and in 1966 finished 6th. He'd remain in the top 10 for four straight seasons.
I didn't know it at the time but that night in Nashville I saw Wendell Scott race in his last top 10 points season. That night I didn't realize it, but I had seen an incredible racer. I had no way of knowing that four seasons later his 13-year Cup career would be essentially over after being involved in a 21-car wreck at Talladega that severely injured him physically and ruined him financially.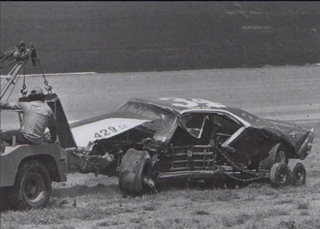 That night, I didn't know that I had watched a future NASCAR Hall of Fame driver in action.
There was so much I didn't realize when I watched that race in Nashville. I didn't realize what he and his family went through to compete in Cup. Nashville was probably no different from the 391 Cup races they had completed in before.
At twelve years old, I had this idyllic view that racers raced. Later, I realized that wasn't always the case as limited finances and resources often forced drivers, especially those independents of that day like Scott, to race below their talent level just to make sure they could make the next race.
Later still, I realized that not only was the #34 one of the oldest cars on the track that night, but it was filled with used parts that had been cast off by other teams as worn out. Wendell had taken them, remade them serviceable and was using them to compete against others with newer cars loaded with brand new parts.
Those were all lessons later learned.
I also learned that what I saw that night was exactly what his son Franklin Scott described in his speech given at his father's 2015 induction into the NASCAR Hall of Fame.
"The legend of Wendell Scott depicts him as one of the great vanguards of the sport of NASCAR racing. Daddy was a man of great honor. He didn't let his circumstances define who he was. The Bible teaches that before a person can have honor, they must first have integrity and humility. In addition, another one of his great attributes was perseverance. There were two words that were forbidden for us to use growing up in the Scott household: Those words were 'can't' and 'never.' "
Every lap turned, every pit stop made "can't" and "never" we're never displayed, instead it was words like "grit", "determination", "tenacity" and "perseverance."
What I experienced that night in Nashville was exactly what son Wendell Scott, Jr. described later at the HOF ceremony.
"Wendell Scott Jr. said the crowds at the race tracks eventually turned supportive of his father.
'Daddy had a thing about when we got to the track and we sort of judged the mood of the crowd as we signed into the track, and when we crossed the track, if you can imagine this picture, and the boos and sometimes the boos were worse than boos, but he told us to listen to the fans that we don't hear, and I thought that was so immaculately said because those were the fans that really supported us,' said Wendell Jr.
'Over the years there came to be more of them than we realized,' said Wendell Jr. 'There were more fans supporting us probably during some of the worst periods or epochs of our history of this country. The boos weren't really that much proportionately speaking.'
But they were real nevertheless."
Son Franklin best summed up who I saw that night in Nashville in his final comments at the Hall of Fame.
"There were a lot of detractors and there are always going to be detractors, but he didn't let them make him less determined at what he wanted to do. Death threats, he was poisoned, he went through all kinds of stuff, but he came back. Tonight, hopefully will be motivation and inspiration to anyone who has a dream for greatness and a vision for greatness. That's pretty much what I have to say."
That night in Nashville overcame my disappointment from not making the first Cup race when we originally had it planned. This was an incredible race that gave me many fond memories for the start of my Cup career. But one memory I hope sticks with me alongside those of Pearson, Petty and Isaac is that of Wendell Scott and his family crew doing whatever it took to run their race to their very best. Seeing firsthand their drive and determination made them winners in my eyes no matter what the finishing order and was an inspiration going forward in my life.
I didn't need to wait for Wendell Scott's Hall of Fame induction for motivation and inspiration-I saw it first hand, at my first Cup race, at that hot night fifty years ago in Nashville.
If you never knew Wendell Scott, here is a brief look back with Wendell, Ned Jarrett and Steve Byrnes-
Inside NASCAR-Wendell Scott Part 1
Inside NASCAR-Wendell Scott Part 2
Hopefully the return to Nashville will build memories for new fans going forward. A special driver at a special track made memories that have lasted this fan for over half a century. May yours be as impactful and as lasting.
Thunder On… and Stay Safe
David
*Editor note; Today 3 of December 31 years ago we lost Wendell to spinal cancer.
Photo Credit (Cover); Wendell Scott: The Legendary NASCAR Hall of Famer – Daily Rubber