As Thanksgiving approaches I have much to be thankful for. In the side of my life that is racing I give thanks for all those who I've had the chance to come in contact with through it-be it readers who have read my scribblings, to those who made it possible and to those I've admired for their passion and talent to paint the pictures on the pages. Friends and fans who I watched races with, who have shared their stories, teams who fielded cars, drivers who awed me with their talents, officials and flagman who made it happen or personalities who brought racing into my life by radio and TV and many more.
May God bless each and every one of you.
There are some who hold a special place. This time of year always reminds me of one in particular-David Gene Pearson, who passed away November 12th, 2018. In this reprise tribute piece I wrote shortly after his passing, entitled "David and Dad", I think you will understand why.
I give Thanks for this opportunity to share and hope that at this time you say Thanks to those who have made an impact on you as David Pearson did on me.
Happy Thanksgiving all!
It was Wednesday when the phone rang. Odd day. Odd time. When you have elderly parents and family that's never a good sign.
I hesitated to answer it, but each ring seemed more insistent for me to answer. Fearing the worst, I finally took a deep breath and picked it up.
I answered, "Hello, Nance's residence."
"You'll never guess who called!"
It was my father. Now I was really scared. We always talk on Sunday nights after the race. Plus, I'm the one who calls. Dad never calls.
Dad wasn't in the best of health as a combination of allergies, asthma and emphysema was slowing stealing his life from him. Working as a pipefitter in the local steel mill for thirty years or so didn't help either. His father worked underground in the coal mines for over fifty years. Black lung got him. Dad said the dust in the steel mill is what made him sick. He always said Pa had black lung… he had iron lung.
As his condition worsened, breathing would become difficult. Walking across a room would exhaust him. Carrying on a conversation would make him short of breath. Excitement would choke him up.
Something must be bad wrong for him to call me and to call now. My head was spinning as I tried to figure out where it was going and get ahead of it.
"Who?"
"David Pearson."
David Pearson was my Dad's favorite stock car driver. If you're looked at my bio you know he was my favorite as well. Growing up, most kids dreamed of being a driver, but mine was to join the Wood Brothers and be the front tire changer for David Pearson's #21.
Obviously, I never made it. Dreams die hard but it's just as well. I'm sure he'd not reached 105 Cup wins had my dream of going over the wall with an air gun had come true.
Growing up, we were glued to the radios on Sundays to hear how David would finish. On those lucky occasions when a race or a portion of a race was televised, like the live ABC broadcast of the finish of the 1976 Daytona 500, we dropped everything to plant ourselves in front of our television to finally see his mastery that we could only imagine. As Pearson fans we were right there with him, going through the lows and highs and this finish, often called NASCAR's greatest race that had it all in a mere half a lap.
In the brief span of a minute and ten seconds we experienced every feeling and emotion a race fan could have. We were on a high seeing David sitting in second on the last lap, knowing he was right where he needed to be for the win. The anticipation of when the "Silver Fox" would make his slingshot move on the leader, Richard Petty, having our hearts jump into our collective throats when Pearson closed on Petty on the backstretch, started outside, then ducked inside. We cheered and waved him on as he pulled alongside, held our breaths wondering how low Petty would take him. We cheered when he completed the pass before Turn Three, slipping between "The King and a lapped car, only to watch helplessly as Petty made his move and dove underneath, heading for the win. Screaming as they came down for the flag side by side, only to have our hearts drop as Petty pulled ahead. When they made contact, the sparks flew and the 21 slammed nose-first into the wall, I recall the air turning light blue as some choice words were uttered by my Dad (and thought by me before he said them) as we all looked in disbelief that Petty not only knocked David out of the race but was going to spin past the line for the win.
When Petty came to a stop, short of the finish line, the realization there was still hope overtook us as we search the TV screen to find Pearson. Where is he? Where is he? And as we spot David nursing his battered #21 toward the line, past the motionless #43, 800 miles from the scene we were doing our best to push him across the line before Petty's crew members can get to Richard's damaged car and push him to the finish first. There was no greater elation and relief when Johnny Bruner dropped the Checkered Flag on the limping Wood Brothers Purolator Mercury as we flopped back into our chairs exhausted from the emotion and our efforts.
It's just what you did as a fan.
Dad had met David at Atlanta after the 1978 Dixie 500. You all remember that one don't you? That's the race where the fans left the track after the race not knowing whether Donnie Allison or Richard Petty had won. There was a scoring controversy between the two NASCAR flipped their decision between the two several times.
Dad just happened to go to that one. It was a last minute deal. A co-worker of Dad's was pursuing his pilot's license and needed to get in some flight time. They decided taking in the Atlanta race would be a good excuse to fly so they rounded up a couple of more fans and off they went. After the race and not knowing the results, the group headed to the airfield to get ready to fly back to Owensboro, when there, sitting in a swing, relaxing before loading up for his take off was David Pearson. That day was not a good one for the "Silver Fox." He had encountered issues and exited early that day, finishing 32nd. David had already cleaned up, changed and was ready to go, but he and Dad got to talk a bit before each flew their separate ways.
Dad always said it was terrible to watch a race and leave not knowing who had won, but getting the chance to talk with Pearson more than made up for it.
"You're kidding me! That's great! Why did he call? What did you all talk about?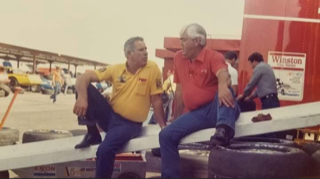 I knew the answer to the first question or at least I thought so, so I played dumb (which is not a stretch for me to do). I had almost forgotten about it as it had been so long. It was the summer of 1993 I believe and the Louisville Motor Speedway was having Pearson and several other drivers in to sign autographs and put on an exhibition race. I had been working on Dad for us to go and meet him since I heard the news that David was going to be there. I so wanted him to go. I offered to drive down and pick him up and take him to it and take him back home, but when it came time, between the summer heat, the hot, humid Ohio River Valley air and the huge crowds, there was no way he could make the trip. I was heartbroken but was determined to make the trip and at least get Pearson's autograph for him.
As I stood in what seemed to be an endless line, I scribbled out a note. In it, I explained how my Dad was a big fan, how my Dad's condition prevented him from coming and asked him if he could sometime give him a call just to encourage him, lift his spirits. I included all the phone numbers, including mine so he could bill the call to it.
When it was my turn I found myself suddenly tongue-tied. Finally getting the chance to speak to the man who was my stock car hero left me speechless. All I could do was slide my #17 die-cast to him to autograph, hand him the note and pleafully ask, "Please?"
The three-time Cup Champion quietly took the note and slipped it in his shirt pocket, then reached for the die-cast, signed it and slid it back to me. I stood there silently wanting to say more, but couldn't. Sensing those behind me getting restless, I dropped my head, muttered "Thank you" and stepped out of line so they would have their chance.
I had missed my chance to say something to David Pearson and was so frustrated over the whole thing I just left, not staying for any racing, replaying the whole scene over and over in my mind and kicking myself over what I should have done, but for some reason, couldn't.
I never really thought David would ever call. He's a big time driver. He didn't know me or my dad. I figured he was just too busy to bother with it. Plus, I couldn't open my mouth to ask him, so why should he? Besides, he probably gets requests like this all the time and he doesn't have time to answer them all. Because of all of those reasons, if he didn't, I wouldn't ever hold that against him. Heck, I'd never hold it against him anyway-he owed me nothing and through his driving had given me more than I deserved. But…
Dad answered the second question first.
"I knew who it was as soon as I answered the phone and he said 'Hello." He didn't need to introduce himself. There is no mistaking that voice. It wasn't much of a conversation though. Your Mom was at the grocery, so I had to get up and answer the phone. I was out of breath from that before I said anything. Then when I heard who it was I got excited and that cut my air off even more. By then, I was in no shape to carry on a conversation."
"He seemed to understand and did most of the talking. He had to. I was in no shape to."
"Don't feel bad Dad. I was so excited when he autographed my car, I got tongue-tied myself and couldn't say anything. There is no telling what he thinks about the two of us. Probably wonders if anyone in our family can talk."
"He was nice though" and that's when I learned the rest of the story.
"Before he hung up he apologized for not calling sooner. He said, 'I promised that boy (I was in my mid-thirties at the time) that I would call you. He gave me a note with your number on it and when I changed out of my street clothes into my racing uniform that night to race, the note fell out into my racing bag. That was my last race of the season and I didn't find it until I was going through my bag for the first race this season (1994). I'm sorry, but I promised that boy I'd call you.'"
I was silent as I soaked it all in.
"Did you really ask him to call me", he asked quietly.
"I was disappointed you weren't able to make it to Louisville to see him. I didn't know if he would call or not. I just thought it might help."
"I wished I hadn't gotten choked up. He had to do all the talking. There were things I wanted to say…"
Dad was now getting short of breath. I wanted to know more but this was not the time to try and push to find out what he wanted to say so I wrapped it up by saying "I'm really glad he called you, Dad. That means a lot to me that he would do it, even after all this time."
David Gene Pearson, three-time Cup Champion and 105-win Cup driver owed us nothing. If the Hall of Fame driver promised me he'd call Dad, I never heard it. But after finding my misplaced note, he took the time to call and lift my Dad's spirits and forever secure his place in my Hall of Fame long before NASCAR recognized him for theirs.
In racing as in life, there are champions on the track as well as off. David Pearson was both.
Several times I tried to get Dad to talk a little more about the call, what the shortness of breath kept him from saying, but it never happened. He just wouldn't go there. So I quit asking. He knew I wanted to know. He'd tell me if he wanted me to know. For fourteen years he didn't.
On June 9, 2008, the hideous diseases that for so many years had slowly choked away at my Dad and his life, finally freed him as he passed from this world of fighting to talk and breathe to one where his breath and words are now easy, rich and full. Ten years later on November 12 of this year, his favorite stock car driver, David Pearson, finally joined him. I'm pretty sure that day, Dad would have stood back and after the welcoming crowds thinned down and cleared out, he would have walked up like he did at the Atlanta airfield, welcomed David home and resumed that phone conversation that he had waited 24 years to complete.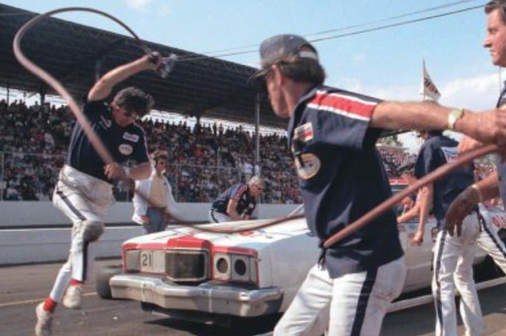 I was sad to hear of David Pearson's passing. He was my hero as well. It always hurts when heroes leave us. It did on June 9, 2008. It did again, November 12th. But I had to smile knowing that Dad finally got to tell him what he wanted to tell him. He finally got to finish what he started. In that, I take comfort.
Dad left before ever telling me what he was going to say to David Pearson, but couldn't. One day, I hope to join them. I'm not sure if I'll ask them about that conversation though. You see I have some unfinished business as well. If I can just get that impact wrench away from Leonard Wood one time (if he beats me there) I'll finally get to go over the wall and change those front tires for my hero, David Pearson.
I can't wait!
Thank you David Pearson. You are a true champion.
Thunder On… and Stay Safe… and Happy Thanksgiving.
David
Credits-
Video: YouTube-AJ1964. Images: daytona500winners.com