(Eventually, I'm going to work some history in here. It's way down below.)
Now that we're done with two consecutive weeks of NASCAR Cup road racing, I couldn't resist putting on my old-guy hat and saying, "OK, people, when are you going to cry 'uncle' and say you've had enough of this turning right-AND-left stuff?"
Back when our sport had just about hit rock bottom and the powers-that-be were finally willing to listen to what outsiders said might help reverse the decline, there was a sizeable sentiment to have more road racing. I didn't share that sentiment, but it got NASCAR's attention, and – starting in 2021 – the number of road courses on the Cup schedule grew to unprecedented numbers. That year, with the schedule still subject to COVID-related disruptions, there were a record seven road courses; there were six last year and will be six this year. The schedule for '24 isn't out, yet, but we know NASCAR has decided that street circuits are the new sliced bread, so watch out.
Back when this trend was in its formative stages, I said that the lure of road courses was their novelty, and only time would determine whether their popularity was sustainable. I don't think we've gone far enough to reach a conclusion there, but I want to take this opportunity to say I might have been wrong. (I make no such admission for the charter system, driver development programs, stage racing, etc., but that day could come, too.) My logic here is that attitudes toward road courses remain mostly unchanged among older fans – and there are still plenty of us, albeit with our number shrinking in a kind of inverse ratio to the increase in pill bottles on our bathroom counters.
We still yearn for the "good old days," whether they were really that good or not, when all the things we complain about hadn't yet occurred to the suits in Daytona. "Big Bill" France may have been the ultimate dictator and a loose cannon to boot, but he knew his audience. The painful part for us geezers is that, while the current NASCAR brain trust may have stumbled around badly over the past decade, the slowly rebounding attendance and TV ratings indicate they're starting to succeed in building, and the audience they're building with may not like what we like. Road courses (and city street courses) could be the future (but maybe not).
The last few years that the great Chris Economaki was with us, the PR team at Richmond had to make special arrangements for him. Everybody else just plugged in a laptop and went to work in the Infield Media Center, but the track kept an IBM Selectric typewriter in a closet somewhere and brought it out on race weekends for the great Mr. Economaki. It was a matter of respect.
Sometimes I think my vision of NASCAR is like that IBM Selectric, only maybe with less respect. A hundred years ago, I probably would have been complaining about cars replacing horses.
On that note, let's go back a bit less than 100 years and talk about NASCAR and left-and-right turns.
Big Bill didn't have any road courses on the schedule for the first five years of the Strictly Stock/Grand National (Cup) division. Some classify the Daytona Beach-Road Course as a road course, but that's silly – it had no right turns, only two different surfaces, pavement and sand. It was still, more or less, an oval.
The first right turns came in 1954 on a track created out of runways at an airport in Linden, N.J. Trivia experts also know that was the race Al Keller won in a Jaguar.
The first race on a purpose-built, permanent road course came two years later, 63 years before our current left-and-right events, and it was at Road America in Elkhart Lake, Wisc.
There was a second road race in 1956, but in Big Bill's way of doing things, it was considered part of the 1957 season. Believe it or not, it was run December 30 at another airport track, Titusville-Cocoa Speedway in Florida.
Maybe the weirdest thing in the records took place on August 4, 1957, when two road course races were run on the same day! Yeah, Big Bill did it his way whether it made sense or not.
On the East Coast, NASCAR visited Watkins Glen, N.Y., for the first time (the series wouldn't return for seven years and would only become a regular stop in 1986), while on the West Coast, racing was taking place at the Kitsap County Airport in Bremerton, Wash. Nobody tried the 1957 equivalent of the Charlotte/Indy double.
Up until this point, you'll note, nobody had run a road race at the same track two years in a row. This pattern continued with New York tracks at Bridgehampton (Long Island) and another airport track at Montgomery. It even happened with NASCAR's first truly successful road course, Riverside, Calif.
Riverside first ran a NASCAR event in 1958, when "foreign" cars again were present: two Citroens, a Renault, and – my favorite – a German-built Goliath.
Riverside did not repeat in '59, but did return in 1961, and after another year off, became an annual feature of the schedule starting in 1963 and running in January, prior to the Daytona 500 the next month. The '63 race was the first of Dan Gurney's five Riverside wins, including four straight in that January race.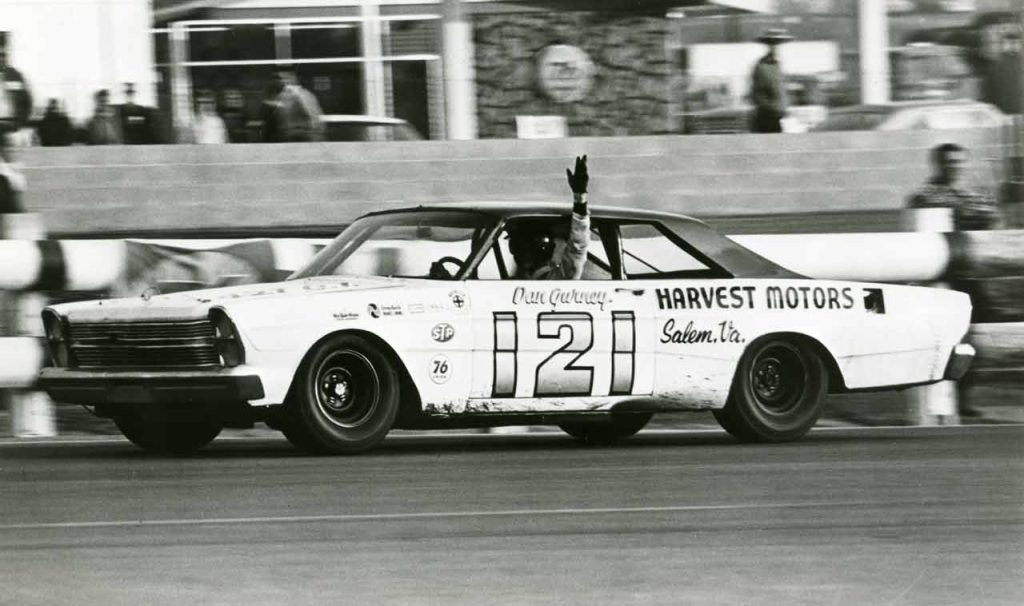 For many years, Riverside was it for road racing on the GN/Cup schedule, but after several sporadic appearances, Watkins Glen joined as a regular stop, then Sonoma (originally Laguna Seca) in California. Now the party also includes the Indy road course (although rumors abound of a return to the big speedway next year), COTA in Texas, and Chicago's streets. Road America, which got the boot to make room for Chicago, might return again at some point, and the Daytona Road Course, which hosted a 2021 race due to COVID issues elsewhere, remains available.
In the early years, and especially with Dan Gurney's success at Riverside, it was popular to put road-racing specialists in GN/Cup cars, especially those normally driven by racers who weren't fond of or accomplished at left-and-right racing.
The most successful of these ringers was Canadian Ron Fellows, who drove a race or two per year for nearly 20 years, and finished second twice, trailing Jeff Gordon to the finish by three-quarters of a second in 1999 (driving for Joe Nemechek), and coming home a second and a half behind Tony Stewart in 2004 (at age 44, in a Dale Earnhardt car, which had started last!). During that period, Fellows also won four Xfinity races (the last of which when he was a month shy of 49) and two in the Craftsman Truck Series.
Eventually, enough Cup regulars earned impressive chops as road racers that interlopers were relegated to the back-of-the-field cars, but Shane Van Gisbergen's Chicago win may be changing that. It's an extra item of interest, regardless, and interest is what we need.
I just have this nagging feeling that what interests me – like that little historical summary above – may not at all interest the new fans NASCAR seems to be acquiring. If I'm right about that, it means the sport will continue to drift away from the things that made me a fan for 60 years and replace them with more of the stuff that makes me a grumpy old codger, muttering about NASCAR while he heads out for a Saturday night short track race (or Sunday last weekend, when the PA Sprint Series joinws Tony Stewart's All Star Circuit of Champions at Selinsgrove Speedway).
I'm glad I still have options, but I wish NASCAR was a more serious one of them.
(Photo Credits – Out cover photo and the photo of Dan Gurney winning at Riverside came from the Dan Gurney's All American Racers website. The New York City pedestrian crowd is a still capture from a StreetFilms YouTube video. Chris Economaki's Indianapolis typewriter came from a blog called Eric Decker's Laughing Stalk. The Linden, N.J., photo came from the Australian website Speedway and Road Race History, although that's certainly not its origin. The Ron Fellows photo is from NASCAR as used in SpeedSport.)
Frank Buhrman