Michael McDowell needed something… in his season that seemed to be filling with uncertainty something good would be welcomed.
McDowell had climbed into the Top 16 at Atlanta and was hanging on to the final Playoff position. But his 24th place finish at Michigan had dropped him in the Standings. He now found himself on the outside looking in-his Playoff future uncertain.
Three races left in the regular season to decide. Indy Road Course, Watkins Glen and Daytona-the track where he got his only win. Does he try to Point his way in to edge out Ty Gibbs and Daniel Suarez or does he go for the win?
To top it off, his long-term future was unknown. With his contract expiring at the end of the season, he was the subject to lots of Silly Season speculation. Would he stay? Would he go? 2024 seemed up in the air.
Then certainty came.
Last Monday, McDowell got a contract extension from Front Row Motorsports. He also kept his teammate, Todd Gilliland, who also got a contract extension. 2024 was now set.
He went into Indy strong, posting fast practice times. When the qualifying clocks finished ticking, he was fourth fast, behind the front row of Daniel Suarez, last year's winner Tyler Reddick and alongside road race ace desperately needing a Road Course win, Chase Elliott.
It was the little Mustang, the team that doesn't even have its own Hawk-Eye to check its car's specifications, going against the best Chevy and Toyota had to offer.
When the checkered flag fell, this Top Four was still the Top Four, but the little Ford was the first to the line.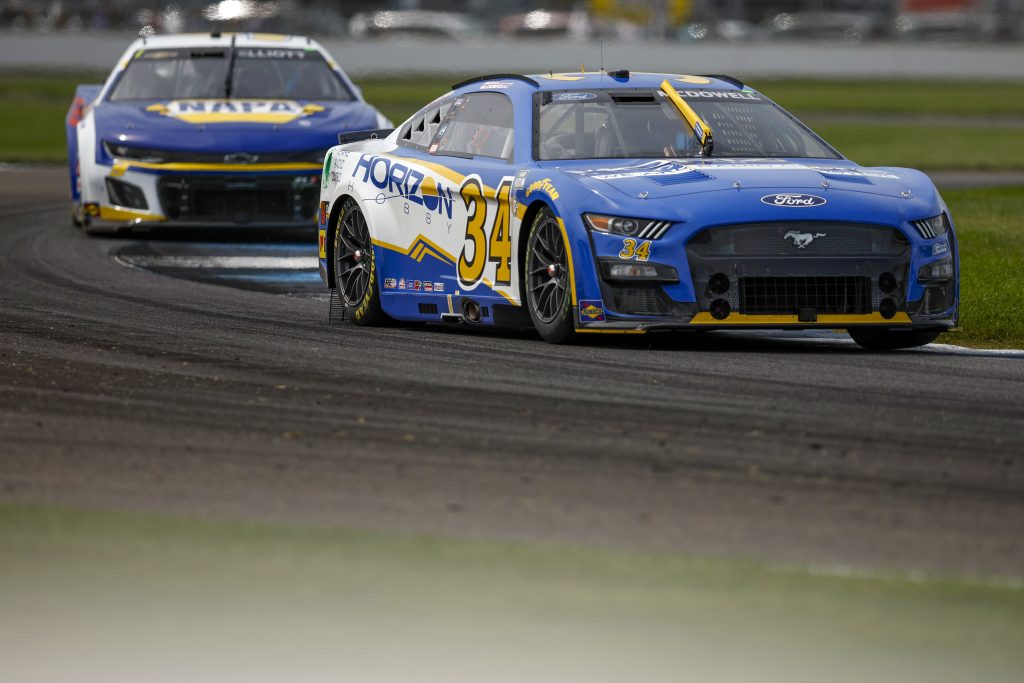 The much needed and highly popular, near flawless race win secured Michael McDowell's path to the 2023 Playoffs. Playoff Points earned will hopefully help see him out of the first Round this year.
A contract. A race win. A win at one of the most historic tracks in motorsports. A ring. A playoff berth. All in one week!
I think that's just what Michael McDowell needed. To have a "little" team win may be just be what the sport needed.
Now let's take the Deeper Dive…
This was McDowell's second career win. That moves him out of the "One Win Wonders" category and lifted him to a tie for 114th on the Cup Career Win list. He is now 17th on the Current Drivers Win List, tied with A. J. Almendinger and Bubba Wallace and one behind Aric Almirola, Ross Chastain, Erik Jones and Ricky Stenhouse, Jr.This is his first NEXT GEN win, which ties him for 13th in NEXT GEN Wins with 11 other drivers. He is the 24th different driver to score a win in a NEXT GEN car.
McDowell becomes the third different driver to "kiss the bricks" with an Indy Road Course win and the 18th different driver to do it overall.
This win further secures McDowell's spot in the Playoffs, tying him with Ricky Stenhouse, Jr. for 15th Place in the Points Standing. His 6 Playoff Points is 11th most this season.
This win qualifies Michael McDowell for the Playoffs for the second time and Front Row Motorsports for the Playoffs for the third time.
This was McDowell's second Top 5 of the season, the fourth such season in the last five years.
This marked Ford's first NEXT GEN Indy Road Course win.
This the 6th Ford in the 16 field Playoff, which is one more than last season. It is also the fourth different Ford team in the Playoffs. Last season's inaugural NEXT GEN Playoffs saw Team Penske and SHR carrying the Blue Oval.
McDowell won Stage One and the Race and finished second behind Daniel Suarez in Stage Two, leaving only one point and one Stage Point on the table as he goes forward.
This is Ford's third straight win in a row in the NEXT GEN era. Former Front Row Motorsports driver Chris Buescher won Richmond and Michigan, while McDowell took Indy. The last time Ford had a three-peat was in 2020 when Kevin Harvick (2) and Brad Kesolowski stung together three in a row.
This is Front Row Motorsports first win of the season. This team now has more wins this season than SHR and is only one behind Ford leaders Team Penske and RFK. Let that sink in a minute.
Starting fourth, McDowell took the lead from Pole Winner, Daniel Suarez on the first Restart and drove a flawless race over the next seventy-six laps, leading fifty-four of them, a race high. Once in the lead, McDowell never got passed except when he pulled into the pits for service.
This race was the second race of the season where there were no Racing Lead Changes. All Lead Changes were a result of passes on Restarts (1) or Lead Changes because the Leader pitted (9).
This was Daniel Suarez's third career pole, his first in NEXT GEN. He had a strong performance all race as he and Chase Elliott were the only two drivers to never drop out of the Top 15. He was clocked with nine of the fastest laps of the race on his way to a 4th place average running position. Unfortunately, he was not able to overcome an air hose getting hung under the car during the last pit stop. Without that misfortune, Suarez, not McDowell may have been punching his ticket into the Playoffs.
Denny Hamlin used race strategy to capture the Stage Two win. The extra points raised his 17th place race finish up to a 10th place Points finish plus a Playoff Point. Not a bad day all things considered he had a 15th average position and ran the bulk of Stage 3 outside the Top 20.
After his dismal performance at Michigan, Chase Elliott went into Indy in bad need for a win to make the Playoffs. As one of the most successful road course racers, It looked like he had a shot, running all day in the #34 Horizon Hobby Ford's tire tracks. He logged eight of the fastest laps of the day, including outrunning the leader McDowell on the final three laps of the race. However, he could only lead one lap of the race and it wasn't the one that counted, he missed the much needed win by a mere .937 seconds. He still needs a win and the schedule is in his favor. Can he take advantage of it?
Like Elliott, A. J. Almendinger is another road course racer who was in need of a win to get into the Playoffs. AJ showed his left-right skills, logging a race high 21 fastest laps in the race. Unfortunately, he couldn't use it to stay out of Ryan Blaney's way and got spun off-course and out of contention.
This was the second 39 car field for the season and it had a sizeable contingency of foreign drivers in the field. In addition to Cup regular Daniel Suarez, we had teammate Shane van Gisbergen off of his Chicago win back in the Project 91 ride. Aussie SuperCar points leader Brodie Kostecki, wheeled RCR's #33. 23XI's third car had F1 and IMSA veteran, Kamui Kobayshi behind the wheel. F1 Champion Jensen Button took another turn in the #15 Ford, while IMSA endurance race driver, Mike Rockenfeller was subbing in the #42. The results were not quite Chicago, but here is a breakdown of their efforts-

Van Gisbergen – P10 finish after starting P8. Scored three Stage Points. According to owner Justin Marks he suffered flu-like symptoms before the race and required an IV. In post-race, Ty Gibbs expressed displeasure with SVG and the way he raced.
Kostecki-Started P11, finished P22, last car on the Lead Lap.
Rockenfeller-Climbed from P37 to finish P24. Second car one lap down behind Kevin Harvick. Chase Elliott had a post-race conversation as he felt that MR held him up on his run to try to overtake McDowell.
Button-Started P31 to finish P28.
Kobayashi-Started P28 and finished P33, one ahead of Joey Logano.

Ricky Stenhouse Jr. was apparently NASCAR's de facto Minister of Foreign Relations as he showed all the foreign drivers the bumper of his #47 Chevy at some point in the race. It's probably just a lot of coincidental racing deals on his way to a 24th place finish.
Points Leader Martin Truex, Jr. had a solid day, bringing his #19 Toyota home in P7. The finish, coupled with Stage One points stretched his points lead from 57 to 60 over Denny Hamlin and 96 to 104 over William Byron. Since the most points a driver can make up in a single race is 59, Truex, Jr. now has a one race lead in the Regular Season points standings with two races to go.
On the other end of the Playoff Spectrum, Bubba Wallace saw his 18th place finish coupled with Suarez's strong run cut his 49 point cushion to 28 points. Suarez has shown strength at Watkins Glen, while Wallace has struggled on Road Courses. Will it all come down to Daytona?
This was the third Road Course race here but the first with

Choose Cone
No Stage Cautions
Restart Zone moved upstream before Turn 12

The race had one caution. This was the fewest cautions since 2012. The race ran in a record 2:09:09. Last year's race in the NEXT GEN with Stage Cautions ran in 2:40:18, while the first race, the last in GEN 6 and had 25 caution laps took 3:20:59 to complete. If speeding up the race was the goal it looks like the moves made this year helped achieve that.
One benefit of the short race was the TV viewers were treated to a lengthy post-race coverage as a continuation of the broadcast. No need to go to Peacock to get the scoop on race information, which benefited race winner McDowell.
Fans gave this race high marks and reported lots of action. Loop data showed that there was 2808 Green Flag Passes for Position (35.4/GF Lap) throughout the field. This was the lowest number recorded on the Road Course as last year's race reported 3254 (45.8). The record was in the first race which had 3774 and 53.9 per GF Lap. An over 900 pass drop over the three races is not a trend that needs to continue if they want to continue racing on the Road Course.
Will save discussions on attendance and TV numbers for a later discussion. One interesting tidbit that showed up was average age of viewers. I'll just say there are three ways to improve these numbers 1) attract younger viewers, 2) run off older viewers or 3) a combination of 1 & 2. Will be interesting to see what strategy is employed going into the new TV contract. Thank goodness for the "dusty old fans" who tune in or things would be looking far less favorable.
Monday and Tuesday following the race, Goodyear is having tire tests on the Oval. Is this the foreboding of things to come? If 2024 is back on the Oval, Ben Kennedy and Company will have to seek out another slot on the schedule for an IndyCar/Cup Double-header.
Of the 2808 Green Flag Passes, only 537 took place in P1-P15. This means that 81% of the passes took place mid to back of the field.
9 of the 10 lead changes were a result of Leaders Pitting under green. This can be attributed to varying pit strategies.
McDowell's near flawless performance behind the wheel and the tremendous storyline overshadowed the "strategy race's" entertainment making it one of the most appreciated performances and popular wins of the season.
Going to Watkins Glen, another road course, McDowell posted a sixth place finish last year and got bonus points in both Stages. He did finish behind Elliott and Suarez but he showed this week he can pass them. Does he have enough to do it and make it two wins in a row and strengthen his Playoff run? I'm not sure I'd rule it out. Confidence and momentum are powerful things.
Do they have enough? Watch the Glen on Sunday and see. Who knows, we may be talking about them at Daytona. He has a ring from there you know.
And wouldn't that be cool?
Even if he doesn't, we'll still have one more race behind us, more questions answered and more certainty revealed for the 2023 Regular Season finale in Daytona.
Thunder On… and Stay Safe!
David Nance
Photo Credit (cover): Sean Gardner / Getty Images