Earlier this week NASCAR announced changes to the NEXT GEN's short track package. These changes are to alter the aerodynamics in an attempt to put more control into the driver's hands in an attempt to improve racing on tracks one mile or less in length where the wet weather package is in use.
The changes consist of cutting the rear spoiler in half, from 4 inches tall to 2 inches and narrowing the spoiler width from 60 inches wide to 58 inches. On the underside, three interior strakes in the rear diffuser will be removed and the diffuser skirts (outmost strakes) will be reduced in width by 2 inches.
To balance the loss of downforce in the rear of the car, the engine strakes will be removed up front.
Dr. Eric Jacuzzi, NASCAR's Vice President of Vehicle Performance says these changes produce 30% less downforce than the original package, has little decrease in straightaway speed while reducing corner speeds by 8 miles per hour. The combination is expected to improve the racing on tracks where used.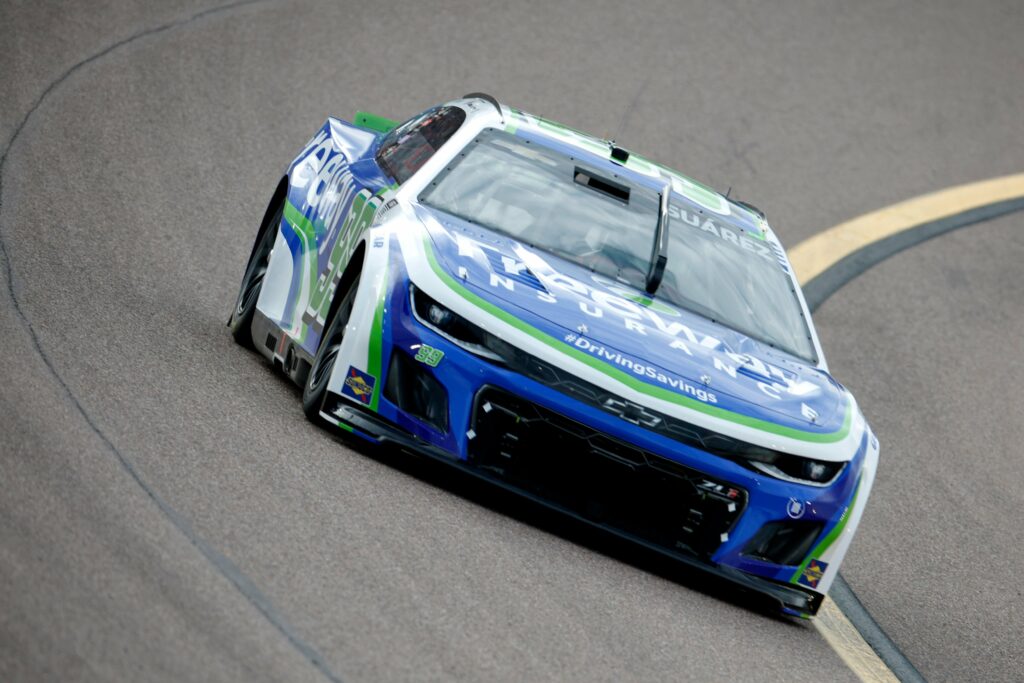 At this race last year, the original configuration NEXT GEN car produced-
2058 Green Flag Passes and
13 Green Flag Passes for the Lead
These are NASCAR primary metrics used to show NEXT GEN performance. However, a deeper look shows that-
A higher percentage of Green Flag Passes happened in the Top 15 positions (Quality Passes-that's good)
3 Green Flag Lead Change came from the 13 Green Flag Passes for the Lead (not good)
1 Racing Lead Change (a Green Flag Lead Change not a result of the Leader pitting under Green and occurs more than three laps into a Green Flag Run) came from the 3 Green Flag Lead Changes (again not good).
So last year, at this race, fans saw one Green Flag Lead Change where one driver passed the leader to take the Lead.
One.
In Dr. Diandra Leslie-Pelecky's Thursday March 9 article entitled Dr Diandra: Dissecting Cup Short Track Package not only did she explain the package in more detail but her interview with Bubba Wallace's crew chief Bootie Barker was most enlightening. When asked if this should work at Phoenix, Barker replied,
"I don't think it will be worse."
Considering the original package produced only one Racing Lead Change at this race last season and two RLCs at the Cup Championship race, for the sake of the fans today let's hope Barker is right and we will see an improvement.
You would hope these changes won't make things worse, but you only have to look back at NASCAR's attempt to "fix" the short track performance last season to get some insight into why maybe Bootie answered the question the way he did.
Turn back the clock to August, when after a somewhat disappointing April Martinsville race, NASCAR held two days of testing to improve racing for the fall final cutoff race.
The spring race was run under the lights in very cool (cold) conditions, and it wasn't what anyone had hoped for as near frozen fans who endured the first non-five hundred lap race there since the fifties saw William Byron win. It was an uneventful race that drew a 18.3% YES vote in the Jeff Gluck "Was It A Good Race" fan poll. Though hardly scientific, over 33K fans voted in what was then the second highest voter turnout, to vote this race the third worst race surveyed, and the worst short track race ever surveyed.
The science wasn't much better as it produced 1233 Green Flag Passes and 5 Green Flag Lead Changes. It got a bit of a pass because of the cold temperatures and the race was 100 laps shorter than previous Martinsville races.
For comparison the last GEN-6 race had 1976 Green Flag Passes and 26 Green Flag Passes for the Lead. Again, not a direct comparison because it was a longer race, but still it clearly indicates things with the NEXT GEN were not going in the desired direction.
Bring on the August tests.
Cup went back to Martinsville in August for a two-day test. Changes were made and when the Series returned at the end of October, hopes were high that the changes would produce improved results.
When the dust settled 500 laps later there was good news and bad news. The good news was Green Flag Passes for the Lead had improved to 9 from 5. The bad news was the Green Flag Passes had dropped to 674, a new record low for the track.
Two days of testing and resultant "improvements" +
100 laps more of racing +
40-degree improvement in temperature =
559 fewer Green Flag Passes
I'm fairly sure this was not the intended results.
Truth is, the only thing that saved that race was Ross Chastain's last lap "Hail Melon" video game move that blasted him into the Playoff Finals, the hearts of fans and NASCAR history. When Alex Bowman took the white flag, this race was in the dumpster, on its way to be even less well received than the April race, but Ross' one move changed perceptions from one of the worst races to one of the best ever seen… despite the stats.
Since NASCAR has banned the move, Sunday's Phoenix race will have to stand on its own. Hopefully, Bootie is right about these changes.
If he's not, what's next? Like Barker said, he views this as the first step. These changes can be done by removing bolt on parts. The next changes (if there are any needed) will be more involved (and more expensive) as they will require new parts for the sole source providers.
Phoenix is the first test. As big as that is, how these changes impact other short tracks will be even more important. Many may not realize the original setup produced at Richmond the two highest Green Flag Pass races in Loop Data history. Even those these are one of NASCAR's main metrics, these records weren't touted for the race, but allowed to come and go with little fanfare.
Why? Who knows?
How will these changes affect those Richmond numbers, those races? Again, who knows?
But we're going to find out in a few hours.
Fingers crossed that Bootie is right.
Thunder On… and Stay Safe
David Nance
Photo Credit (cover); Logan Riely / Getty Images