April 7 isn't one of those days brimming with great moments in history. According to one source, the "biggie" in history on that date was the first long-distance television transmission: In 1927, Herbert Hoover's image (he wasn't yet President) was "wired" from Washington to New York. It's also Francis Ford Coppola's birthday; I have a bottle of his wine downstairs.
This year Good Friday falls on April 7, and somebody has decided it's National Beer Day and National Coffee Cake Day. I'm in favor of all three.
Somewhat less significantly, it's the 60th anniversary of me attending my first stock car race, the Richmond 250 at the old Atlantic Rural Expositions fairgrounds track, now the site of Richmond Raceway.
As I have said here before, it was a great race and made me a lifelong fan. Joe Weatherly and Junior Johnson battled for the lead off-and-on through the race and were in such a battle when the engine let to in Junior's Ray Fox Holly Farms Chicken Chevy #3 with a handful of laps to go, giving the win to Weatherly and the Bud Moore Pontiac #8, who finished a lap ahead of runner-up Ned Jarrett.
I don't know if you could have seen my smile when it was over, so covered was I with black dust from racing tires wearing against hard red clay, but it was there.
It was good that the Weatherly-Johnson show was so good. One reason the race had gotten my attention was that there were two Richmonders entered, Larry Manning and Emanuel Zervakis. They were the first two cars out of the race.
Also, I knew that a couple of big names were entered, Fireball Roberts and Fred Lorenzen. They were the next two cars out.
"Dick" Petty (as the first racing story I had read called him) finished an uninspiring 10 laps behind in sixth place, and he wasn't even driving car #43, but rather #41. Jim Paschal was in the #43, and he actually led 48 laps early, before the differential failed.
A couple of mostly white cars driven by guys I didn't know – David Pearson and Billy Wade – ran well, and Pearson led briefly on two occasions, but he dropped out late. Wade finished fourth, albeit five laps behind.
All that aside, the battle between Weatherly and Johnson was worth the $5 my bleacher ticket cost (the main grandstand was $6; infield was $4). They led all the laps that Paschal and Pearson didn't, and they swapped the lead several times.
I went home happy, as did the other 15,000 fans on hand (plus the sizeable number watching from up in the trees off the backstretch), and I'm pretty sure that, when I got home, I circled September 8 on my calendar, so I'd be back for the next race at the fairgrounds.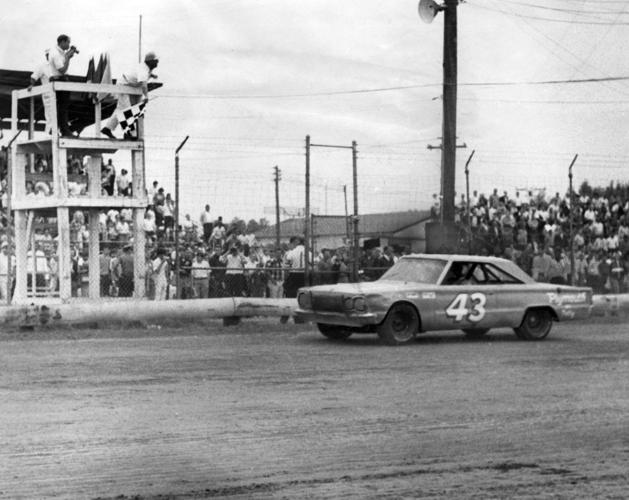 I made it back for that race, and by a rough estimation, about 100 events since then, including Grand National/Cup, Xfinity/late model sportsman, truck, IROC, late model stock car, modified, sportsman (the ill-fated low-end division started at Charlotte that was stopped due to high fatality rates), IndyCar, Silver Crown, sprint, midget, and maybe something I've forgotten.
(The 100 total counts multiple-event days as one, such as when IROC and truck or Silver Crown and sprint car races were held on the same date. That would easily have added another 10-20 races to the total.)
If I returned Palm Sunday (April 2) for this year's Cup race, I would be visiting the track for the first time since I was laid off as a race weekend public relations supplemental staffer in 2013, but I won't be there. Instead, I'll celebrate my anniversary on Saturday, April 8, at Port Royal Speedway in Pennsylvania, when the PA Sprint Series IMCA/RaceSaver sprint cars join the 410 sprinters and late models on Saturday night. I volunteer with PASS.
I was working on my calendar last night, and I added nearly 30 races to it, all at weekly tracks, and nearly all outside the realm of NASCAR. The last couple of decades in that 60-year period have seen a gradual change in preference and priority. I still love racing, but I don't love the NASCAR version of it like I used to.
Not that there aren't things to praise. Safety has come far. Three of the drivers in the 25-car field at Richmond that April Sunday would die from on-track accidents in the next two years, including my first hero, Weatherly. NASCAR hasn't had an on-track death in Cup racing in more than 20 years (since Dale Earnhardt Sr.); in 1964 and '65, six drivers died in races or tire testing. That's huge.
But I yearn for the simpler times of racing being based on actual cars, not racing creations out of NASCAR's shop, of drivers earning their rides by weekly racing prowess, not driver development programs, and of anyone being able to build a car and have a shot at building a career, without a charter.
(Not that the latter situation was perfect, as this pre-NASCAR story attests. In a 1947 stock car race at the Richmond fairgrounds, a local named Charles Duke paid to attend as a spectator, then, according to a newspaper account, "got the bug," stripped his 1942 Ford of non-essentials, and entered the race. According to the paper, "He didn't do well.")
In our little world of economy sprint cars, a first-time driver – regardless of experience – has to start in the rear of his heat race and the feature, if he/she qualifies, for the first three races entered. After that, you're as good as anybody else. In NASCAR, you can out-qualify a charter car by 10 mph or more and still have that car race while you go home. To me, that's not racing.
When I moved to Pennsylvania more than 37 years ago, I was a dyed-in-the-wool pavement stock car racing fan, looking forward to Cup races at Rockingham, Martinsville, Charlotte, Richmond, and occasionally elsewhere, plus weekly late model racing at Caraway, Orange County (N.C.), Southside in Richmond, and other tracks, with the occasional detour to dirt, usually at 311 in Madison, N.C.
It was distressing to learn that Old Dominion Speedway in Manassas, Va. – two hours away – was the closest paved track to me. All the ones in Pennsylvania were an hour or more farther distant.
My first racing trip as a Pennsylvanian was to nearby Maryland's Hagerstown Speedway, to see a dirt track late model/sprint car doubleheader, which I thoroughly enjoyed, even though I arrived late and had a crummy seat in a packed house. The next was to an enduro at Lincoln Speedway, also on dirt, also fun.
Then I saw a little ad for a place called Silver Spring Speedway, which was running "super sportsman" cars. Thinking they were stock cars, I headed out, only to discover that a super sportsman car was like a sprint car, only built differently. No matter, the cars put on an incredible show. The limited late models and street stocks also on the program were good but couldn't hold a candle to the super sportsman.
I was hooked on open wheel racing.
When Silver Spring bit the dust so the world could have another shopping center, I gradually shifted to sprint cars, and that's where things stand today.
It's racing for real people. Granted, none of this is cheap: a 410 sprint car engine will set you back $60,000 and more. People who don't know racing think I'm crazy when I say that PASS IMCA/RaceSaver sprinters are the economy sprint class, because the engines "only" cost $10,000 (and that's a dated number; they've probably gone up with inflation in the last couple of years). You can run a junker stock class for less, but even then there are people spending lots more on engines to stay up front. That's life.
The thing that'll keep me at Port Royal next month instead of Richmond is that the racing is straightforward (no charters), the rules are reasonably easy to understand, the drivers are accessible, and the cost is reasonable (for fans as well as competitors).
I miss Cup racing less and less each year, although I don't think the attraction will ever go away completely. Somehow, the ghosts of Joe & Junior broadsliding out of the fourth turn at Richmond (and covering me with black dust) keep it alive.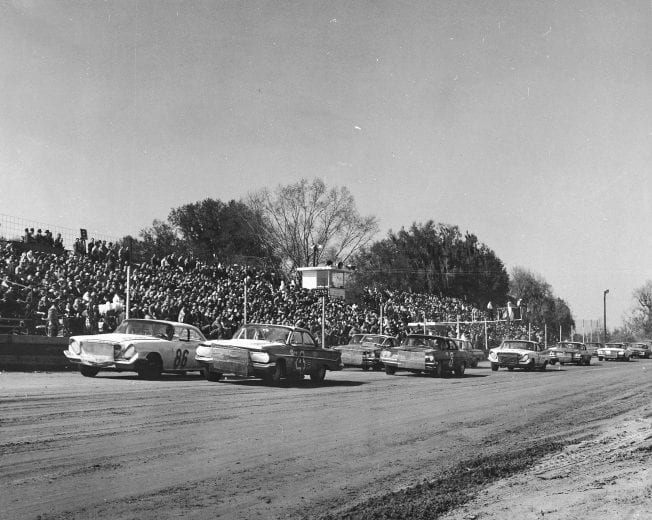 Happy Anniversary to me.
(Photo Credits – The cover photo seems to be from Hillsboro, not Richmond, but it is from 1963 showing the Pontiac #8 that Joe Weatherly drove in about 22 of his 53 starts on the way to the 1963 NASCAR Grand National Championship. The photo was attributed online to the Toronto Globe & Mail newspaper, from a story about the "Rise and Fall of NASCAR," but I didn't see it in the story. The National Beer Day image says specialsofthemonth.com on it, so I guess that's who's responsible. The Joe Weatherly photo is a publicity shot that shows up everywhere; I found three attributions for the first three copies I saw online, so I'm not sure ownership applies, and it might have come from Darlington Raceway. The Richard Petty photo is from Richmond Raceway. The Larry Manning photo has information printed on it about the Jack Walker Collection, from which it came. The Silver Spring Speedway photo is by Bob Krause and came from the still-alive Silver Spring Speedway Facebook page. The final images, with David Pearson parked and Rex White leading a field, are from Getty Images via NASCAR Latino.
Frank Buhrman