R.I.P Paul "Lil Bud" Moore
12/07/1941 – 08/01/2017
I don't remember the specific date I first met him, nor the year. I do know, however, it was on a Thursday evening during racing season because that's when the late model sportsman teams of NASCAR would run their weekly races at Columbia Speedway. The impression Paul "Lil Bud" Moore made on me that night was only enhanced by the way he drove a race car. By that I mean, I met this guy sitting on the tailgate of a pickup truck just behind the pit area. He wore a white t-shirt and somewhat thick glasses. My first impression was more inclined to place him as an accountant, or perhaps a schoolteacher, as the glasses gave the impression that he was very well educated and held some high position in society.
As I walked by the man that evening, he was telling a racing story to three or four guys standing around. The first thing that caught my ear was the distinct accent of Charleston, South Carolina, the home of Rhett Butler, and the lilt to the voice further convinced me of the aristocracy of the young man telling the stories. I hung around just long enough to be thoroughly entertained and to enjoy the uproarious laughter, mine included, when the story was finished.
The track announcer called all drivers to the end of pit road to draw for positions for the heat races and low and behold, this young man in the glasses jumped from the back of the pickup truck and headed that way. I followed along behind him and it was then that I discovered this young man was Bud Moore, nicknamed "Lil" Bud Moore so as to avoid confusion with Walter Maynard "Bud" Moore, a car owner from Spartanburg.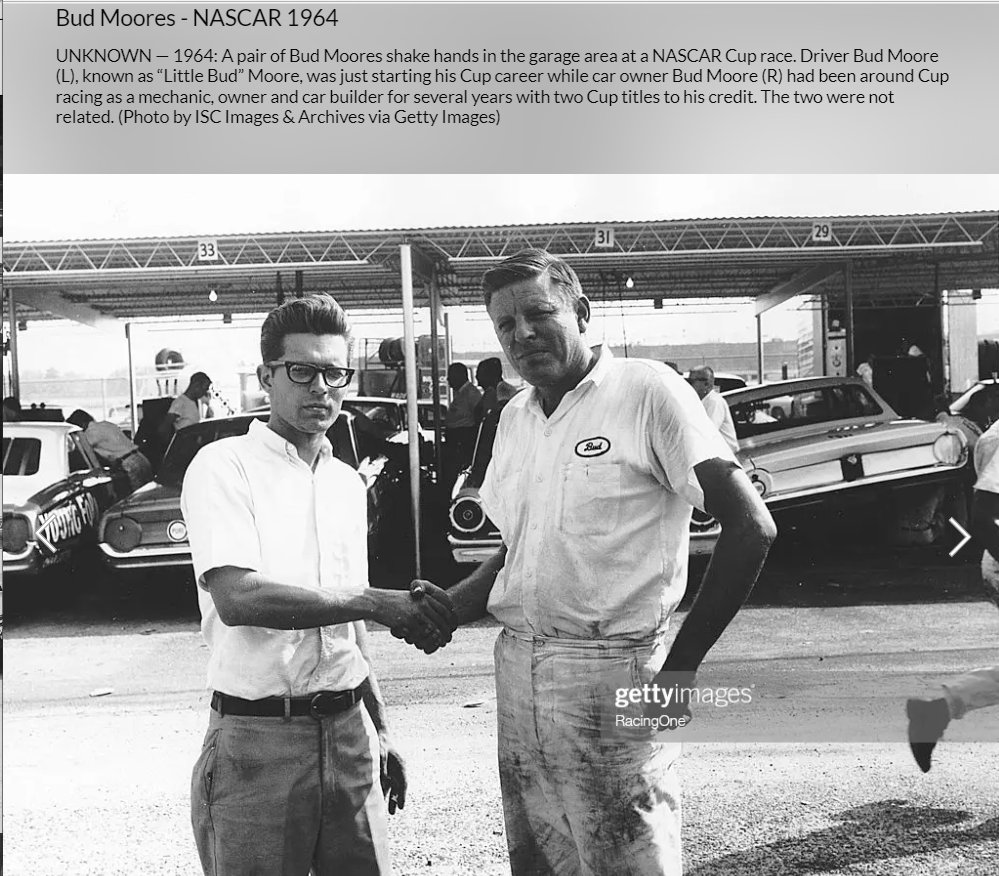 I don't remember where Lil Bud finished that night, but I do remember that he had that half-mile dirt track in his pocket almost from the start. That would become a trait of his over the years as Bud raced about the southeast at places like Columbia, Augusta, and Savannah. Bud Moore could drive a race car, especially on a dirt track.
Lil Bud ventured into the Grand National ranks of NASCAR in the 60s and in 1965 he entered 14 races and would finish in the top five 3 times and the top 10 seven times and would even earn a pole during that span. My fondest memory of his Grand National career was watching him in the 1964 Southern 500. Bud was driving a year old yellow Plymouth for Louis Weathersby, number 45, and would finish in 25th place after collecting a spinning Junior Johnson on lap 149. Bud hit Junior so violently that the rear of Junior's car was pushed up to the back of the seat. It was not the crash that made that race so memorable for me, but it was watching Bud come roaring into what was then turn three (I was on the infield next to the fence there). The Plymouth would sound like firecrackers going off under a tin washtub when Lil Bud would backed off so we knew the car was not running at 100%, but Lil Bud would drive that turn in such a way as to gain on cars ahead of him each time. Those were the days when the drivers allowed their cars to earn that Darlington Stripe.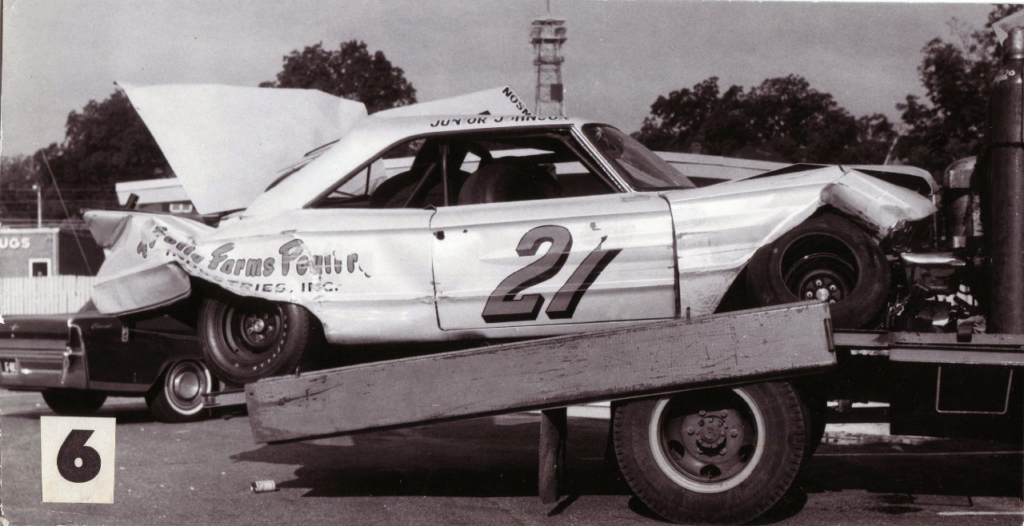 Was Lil Bud a good friend of mine? You bet he was. Know how I can say that with assurance? Because Lil Bud was a good friend of everyone with whom he came in contact. I've never heard one negative word about Lil Bud, even from the drivers he was whipping every week in the Late Model Sportsman. It is a shame that NASCAR has chosen not to archive the Late Model Sportsman results, although I hear they have those records in boxes in storage. Lil Bud is one of many whose legacy in racing is stored in a box in Daytona and unknown to younger fans. So much the pity.
A few years ago I was commissioned to write a magazine article about Lil Bud. We arranged to do the interview over the telephone. The morning he called me, he had just gotten in his car in Charleston and was headed to Charlotte for work. We spent over two and a half hours on the phone and I filled up a yellow legal pad with notes. I laughed often because you couldn't be around Lil Bud without laughing at his stories. He told some of the best stories a race fan would ever hear. Wish I had saved that legal pad but when the magazine article was finished the yellow pad went the way of the dinosaur.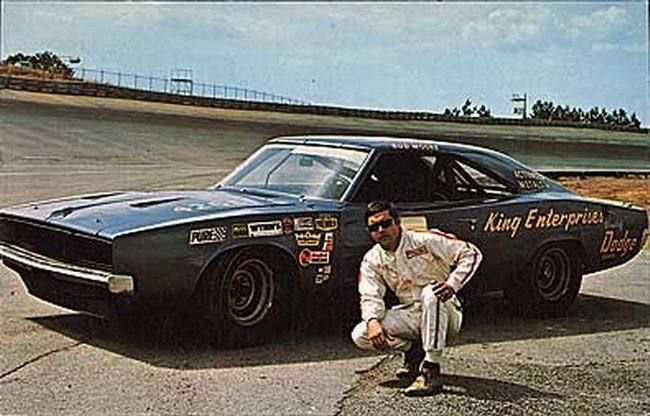 I have, hanging on my wall before my eyes in my studio, a picture of Lil Bud with the A.J. King Dodge he drove in Grand National. Lil Bud signed it "To Tim, Lil Bud Moore". That was at an appearance in which he and I, together with many racing folks, did at Memory Lane Museum in Mooresville, NC. I thanked him and then he said to me "you have to autograph one of yours for me". I remember looking at him to see the twinkling eyes as he was surely joking, but he wasn't. I signed one of my cards for him and he took it and put it in his bag he was carrying. You see, Lil Bud was a friend of mine and the memories I will hold of him in the years ahead will always make me smile, because that's what Bud was about. Oh, and as he told me once, the fact that he was born on December 7, 1941, had nothing to do with "The Day that will live in infamy".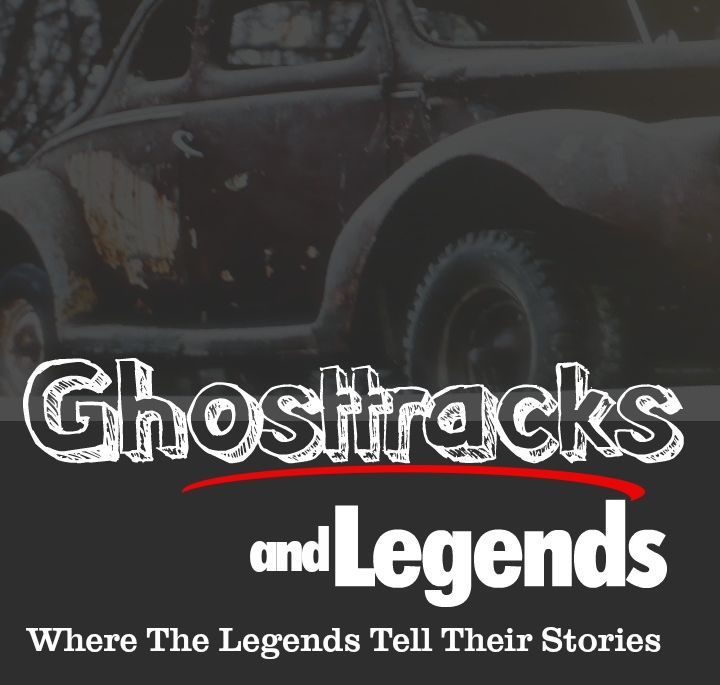 Don't forget to listen to our podcasts, The Racing Spotlight and Ghosttracks & Legends Race Talk on Tuesdays and Thursdays at 7:00 PM Eastern Time.
Tim Leeming
(Editor's note: This story is published with the permission from the author! *This story was originally published a few years ago on Race Fans Forever. If you missed any of Tim Leeming's articles, here at PTR; they can be found Here )
Photo Credit (cover); Little Bud Morre | PAUL LITTLE BUD MOORE FANS – STOCK CAR RacersReunion | Stock car, Race cars, Stock car racing (pinterest.se)