On December 9, 2020, NASCAR Cup driver Stanley Smith passed away. His brief Cup career and his life afterwards had a major impact on this writer. So much so, his passing resulted in this tribute piece, which fittingly was the last story I penned for PattyKay Lilley's site, Race Fans Forever before she took the site down. Not knowing if I would ever get the chance to write again, I found peace that Stanley's tribute might be it as his was a story of Hope.
And I think we can all use a little more Hope.
12/15/2020
This is a story I wasn't ready to write. I've wanted to write it, but it was for a special time. I suppose remembering one at the time of their passing is pretty special-so here goes.
It was on Justin Bonnett's Facebook page that I first saw the news that former NASCAR driver, Stanley Smith had passed away.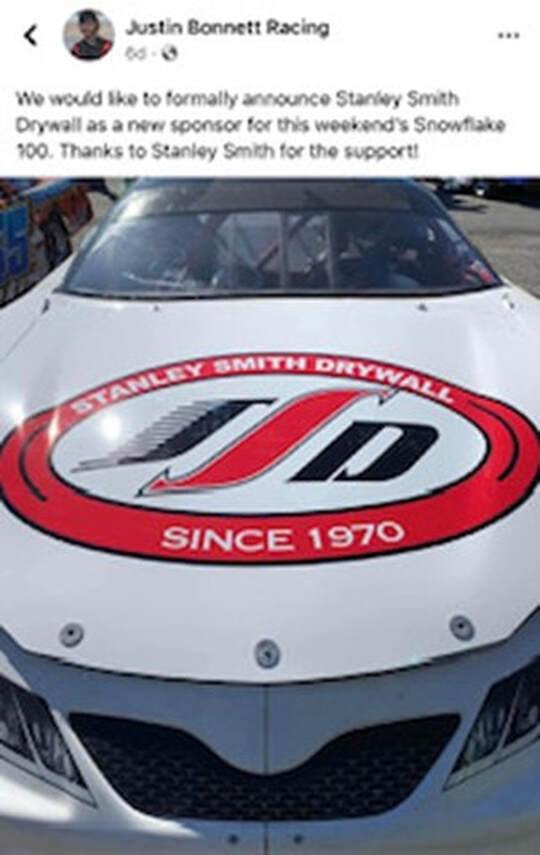 Justin carried the Stanley Smith Drywall logo on his hood in last Saturday night's Snowflake 100. After his fiery crash here last year that put him out of action most of the season the 10th place finish with Stanley Smith Drywall on the hood had to feel almost like a victory.
I'm sure the news brought a smile to Stanley's face.
Four days later, on Wednesday, December 9, 2020, Stanley Smith won his eternal Victory as he made the last great pass from this life to Glory.
Many fans may not recall Stanley Smith as he ran just 28 races over four Cup seasons (1990-1993). He also ran in two Daytona qualifier races and a Winston Open. The record book will show he registered no Cup wins, top 5's or Top 10's but his move from short track racing to the big-time was every racer's dream. But Stanley Smith's impact on the sport reached far beyond the record books and extends into the sport today.
Some would say he helped change the sport forever.
Folks may not remember but it was Stanley who called up Phillipe Lopez who was attending Texas A & M and asked him to be his crew chief. Lopez answered the call and for the next three seasons sat atop Smith's pit box making the calls. After the 1992 season, Phillipe moved onto Allan Dillard, Jr.'s team and over the next 16 years led some of the top teams in the sport – – DEI, Stavola Brothers, Travis Carter, Larry Hedrick, A. J. Foyt, Joe Gibbs, RCR, Joe Nemechek, Tommy Baldwin, Jr. His 19-year Cup career included drivers such as Hall of Fame drivers Darrell Waltrip, Terry Labonte and Ron Hornaday, Jr.Other drivers included Ward Burton, Jimmy Hensley, Steve Park, Hut Stricklin, Kenny Wallace, Dave Blaney, Ricky Craven, Tony Roper, Tony Raines, Joe Nemechek, and Geoff Bodine, among others.
It was Smith who gave a 21-year-old short track fabricator and mechanic from Illinois who had come south to try to break into Cup his start by making him a part of his crew. He would eventually leave Stanley and eventually wind up as a crew chief at Hendrick Motor Sports where he became a fairly successful Cup crew chief in his own right. You may have heard of him-Chad Knaus, who only went on to win Seven Cup Championships, five in a row.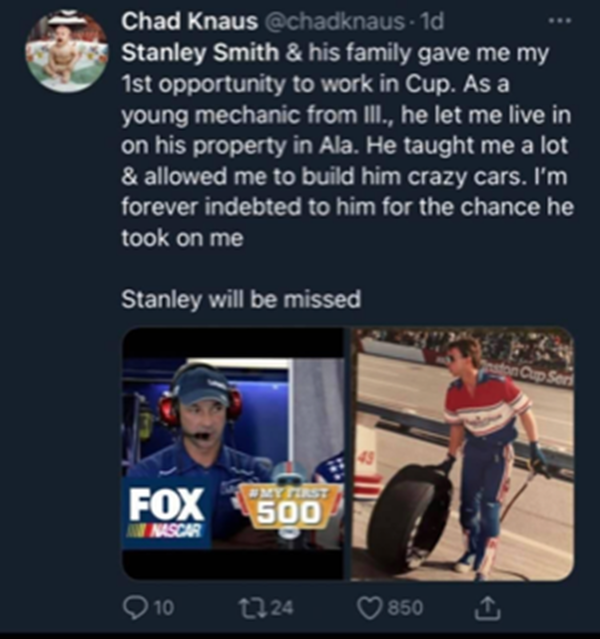 When Stanley entered the sport in 1990, he brought with him into the sport what has proved to be one of the most successful sponsors in the sport-Interstate Batteries. He carried their colors in his 1990 inaugural race and throughout the 1991 season before they moved over to an upstart team. You may have heard of them – Joe Gibbs Racing. And as they say, the rest is history.
It was his last Cup race though that he is most remembered for-the 1993 DieHard 500 at Talladega. Smith, along with Ritchie Petty (Richard's nephew), Rick Mast, Loy Allen, Jr., and Jimmy Horton were involved in a lap 69 crash that sent Horton sailing over the wall and out of the track. Hidden from the fans by all the smoke was the vicious hit Smith had made on the wall and that Petty had laid on Smith. All they could see was the #49 come out of the smoke and carnage, coast along the wall and finally come to a stop on the backstretch.
That would be the race that Stanley Smith would have the biggest impact on me.
Normally, I would have been at the track for that race.  The DieHard 500 was the race my dad and I went to annually until his declining health finally prevented him from going.  I stayed away for years but reluctantly went back after some work buddies, Keith Smith and Dave Rosenbaum asked me to take them to a NASCAR race. 
It was at the 1991 race where I first saw Stanley and his sharp Interstate Batteries colors. Saw him again the following year where this time he sported Ameritron Batteries. I'm not sure what caught my eye. The paint schemes? Maybe. It may have been the fact he was from Chelsea AL and I had been to Dega enough to know when it came to this track you keep an eye on those 'Bama boys.
1993 would be different. The one-two punch of losing Alan Kulwicki and Davey Allison was still too fresh. I had no desire to watch the race on TV, much less attend. That Sunday, I set the VCR and went off to do something else for the day. They were going to have tributes to Davey who had died just twelve days earlier and I just wasn't up for that. Robbie Gordon was in Davey's #28… it wasn't wrong; it just wasn't right. Neil Bonnett was back behind the wheel making his Cup comeback, which made me nervous. Maybe I'd watch the tape later. Maybe.
As that Sunday wore on, I found myself wandering through the TVs at Sears on my way to their Craftsman tools. The race was on and quite a crowd had gathered as they were all transfixed watching replay after replay of the cars piling up and Jimmy Horton leaving the track.
I reluctantly joined them.
CBS had cut away from a Robbie Gordon interview to show a brief clip of Smiths car leaving the wreck then cut back to Gordon and then to a replay of the wreck. By then CBS had figured Horton had left the track so attention first focused on Horton who had cleared a four-and-a-half-foot wall and sailed down three stories of banking to land wheels down on a service road outside the track. From the first aerial shots from the Goodyear blimp, you couldn't tell if the car was upside down or right side up because there was so little sheet metal remaining. A few agonizing seconds later we saw Jimmy step out of the wreckage and take off his helmet and survey the damage.
Our group gave a collective sigh of relief.
The broadcast's focus shifted back to Stanley as first responders arrived about a minute after he came to a stop. The damage on the car and their frantic actions told me the situation was not good and time begin to stand still as more and more help rushed to the scene and scrambled to administer care.
Five minutes later they had him extracted from the car and placed him on the track, continuing to work on him. Four minutes later he was in the ambulance and on his way to the Infield Care Center where he arrived less than three minutes later. Those thirteen minutes seemed like a year.
Six minutes later he was transported to the helipad and loaded onto the waiting Med-Evac helicopter and two minutes later was in the air and on his way to the Trauma Center at Carraway Methodist Hospital in Birmingham-the same hospital that Davey Allison had been transported to after his helicopter crash at the track just twelve days earlier.
As the helicopter went off the screen and attention returned to the racing on the track, I looked at the stunned crowd huddled around the TV. A few heads were down with eyes closed. Others, distant stares, not believing what they had seen. A few minutes later, David Hobbs reported from the Infield Care Center that Stanley Smith was in Very Critical condition.
Me, I left as Hobbs' report had left me physically ill – partially from the unfolding events and partially from trying to hold my breath for so long… hoping.
The race wasn't important now, nor the purpose that I had gone there in the first place. I left and went back to the vehicle, glued to the radio to try and find out any info I could on his condition. Unfortunately, this was 1993 and the technology for instant news and updates was years away. All I could do was search, listen, and wait. Though not a Christian then, I prayed as hard as a heathen could in hopes that God might listen and help Stanley through this. Things did not look good as we later learned he was diagnosed with a skull fracture, torn carotid artery and severed nerves, injuries that had taken many drivers before and would later take too many more. He was in a coma.
Over time, information trickled out. His condition was improving… slowly. He was out of the coma and recovering… slowly. But, he had ever so far to go.
His medical expenses were mounting, and fans were asked to help. Not knowing what else to do, I went to my wife, and said "Honey, we need to help this guy." She was far from a racing fan, but could see my concern and her only question was, "Where do we send the check?"
Over time, information about Stanley's condition came to a stop, replaced by more "compelling" stories. As each race went by, I'd wonder what was going on and how he was doing.
Time passed. Checkered flags fell. Trophies hoisted and eventually a Champion crowned. The race season melted into the holidays… Thanksgiving… Christmas… New Year's… and beyond. Daytona was fast approaching when on my birthday I received a card. Thinking it was another birthday card I quickly tore it open to find…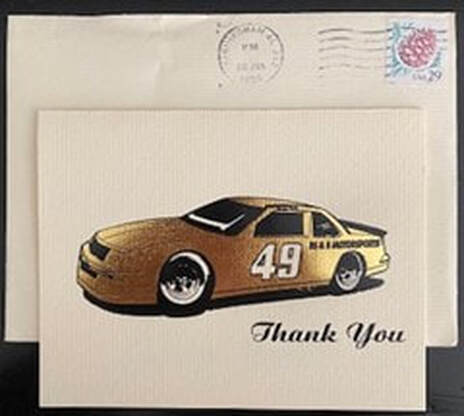 It was quite the Birthday gift. It's one I cherish still. It was put away in a special place… for times such as this.
I lost track of Stanley after that. Happy in knowing that he was going to make it, I went on with life assuming that his racing career was over, but thankful his life wasn't. It wasn't until years later when I ran back across his card. I went on a search to see whatever happened to the Alabama driver. It was then I learned my assumptions could not have been farther from the truth.
It was during that research I found that a couple of weeks after sending the card, Stanley was back in Daytona Beach. On February 11th, he and fellow Alabama driver, Neil Bonnett, Justin's grandfather, ran into one another at a local Krispy Kreme. Together, they discussed future plans, how they both needed to overcome their injuries and do what they needed to do, which was get back in the car and race. Neil was heading to track to do just that… practice for the upcoming Daytona 500. Smith was looking to rent a car and make his Cup return.
Later that day, Bonnett would take the track for the final time, dying in a practice crash, not unlike the one that almost took Smith's life…car dropping down to the apron, crossing the track and hitting the outside wall at a severe angle.
Stanley's return to Cup ended that day.
Racing went on. As a result of the Talladega crash, NASCAR mandated roof flaps to prevent the cars from getting airborne like Horton's did. They installed catch fences in the turns to keep them from leaving the track in the event they did get airborne. But it would be years before the sport would take steps like SAFER Barriers and the HANS device that would have prevented Stanley Smith's injuries and saved the lives of others.
So as racing went on, so did the deaths from head injuries. Rodney Orr… John Nemechek… Adam Petty… Kenny Irwin… Tony Roper… and Dale Earnhardt. The similarities of his and Earnhardt's accidents were eerily similar-the dip to the apron, crossing the track, hitting the outside wall at a severe angle, contact with a trailing car.
But I learned that a very few drivers had actually survived basilar skull fractures. Some even went on to race again. In 1989, Busch driver Larry Pollard suffered a basilar skull fracture three years before Smith's crash. He not only survived but later returned to drive in the series again.
Later that 1994 Cup season, star driver Ernie Irvin, like Smith miraculously survived basil skull fracture in a practice crash at Michigan. Ernie would not only return to Cup in late 1995 but would go on to win three more races over the next two seasons, including Michigan, the track that nearly took his life.
In 1999, Craftsman Truck Series original Rick Carelli, who had raced in every Truck race since the series inception, suffered a basilar skull fracture at the Memphis Motorsports Park. He returned and raced the entire 2000 season, winning at Richmond later that year.
As it turns out Stanley Smith wasn't through racing either.
He returned to NASCAR in 2001 to run a full 16 race NASCAR Southeast Series season, scoring 1 pole, 1 Top 5 and 6 Top 10's. 2002 saw him run 10 races in the Southeast and Southwest series, scoring 1 Top 5 and 4 Top 10's. In 2003, Smith cut back to four races in both series, scoring no Top 10's.
In 2004, at age 55, driving with a patch over his left eye due to the permanent damage from the wreck that nearly took his life some 11 years earlier, Smith found Victory Lane once again in the next to last race of the season. It was in the V-Taps 150 at my home track of Kentucky Speedway and was a very popular and emotional win for the driver who many weren't sure would survive that horrific wreck at Talladega, much less race again. I know standing in Sears that fateful Sunday, you could have counted me in that group.
Stanley would race again the following year running another five races in the Southeast series, where he captured 1 pole (where else but Kentucky), 1 Top 5 and 3 Top 10's. The record books will show this as his last season in NASCAR in a career that started in 1990 at a late age 40 and was interrupted by the Talladega wreck from 1993-2001.
The record books will also show that throughout the various NASCAR series he raced in he ran a total of 70 races (including Daytona Qualifiers and Winston Open), scored 17 Top 10's, 5 Top 5's and his Kentucky win.
It is fitting that his last major race we find in RacingReference.com was the 2008 Snowball Derby. It was three days after the 2020 version of this race, 71-year-old Stanley Smith won his eternal Victory.
Back in March, when COVID changed everything, it gave me a chance to go through some possessions, to straighten things up. It was then I found Stanley's card that I had put away. It was then I decided when the time was right, I would write my memories, this story.
But holding that card that I knew he had once held was also a time of regret. As I learned of his career after the injury, it saddened me deeply to realize that I had missed chances to not only see him race at the track just up the road, but I had missed my chance to see him return to Victory Lane there. Oh, what a day that would have been.
I so wished I had been there.
But it was also a time of celebration. I could look back and smile and celebrate that I had seen him race at Talladega when I made my first fan "comeback". I could celebrate his miraculous comeback-one second doing what he loved, the next fighting for his very life and then the long journey to overcome and eventually claim victory.
But the biggest celebration was knowing that since receiving his card back in 1994, the heathen who had prayed for him so hard after his crash, would in 2000 accept as his Lord and Savior, the One who brought Stanley through it all, Jesus Christ. It is my assurance in Him that I know that one day I'll see my brother in Christ, Stanley Smith again, this time hot-lapping on a track, paved not with dirt or asphalt but of Gold.
And oh, what a Victory Celebration that will be.
This is not good-bye but see you later.
Thunder On… and Stay Safe
David Nance
Photo Credit(cover): NASCAR Racing Champions Blog