On several occasions last week before the Bristol cutoff race, I got to hear SiriusXM's Speedway host Dave Moody do a mini-rant explaining why the current Playoff system was created.
I don't have the exact quote and will not be able to restate it as eloquently or as convincingly as The Godfather, but the gist of what I heard was the fans sick and tired of their drivers getting out of their cars at the end of the race and talking about having a "good points day". Fans wanted to see their drivers racing for the win not run for points. His closing point was this system has taken care of that. This system has once and for all eliminated discussion of points racing.
I was a bit surprised by his statement from two perspectives. First, it was my recollection that the the Playoff System was created primarily to create a "Game Seven moment" each season. This system guaranteed that the Champion couldn't be crowned until the conclusion of the final race. There would be no more clinching the championship one or more races before the finale. It would maintain fan interest and keep TV viewership up through the end of the season.
As I recall, those were the reasons given then for general public consumption and up until last week were the reasons given when the subject was discussed. Fans fussing over drivers mentioning a "good points day" being the primary driving factors for what we have today was to me a new and interesting revelation.
The second surprise is how this Playoff system had taken care of drivers talking about a "good points day" once and for all.
It was surprising since qualifying to get into the Playoffs and once in, advancing to the next round is entirely dependent on drivers having enough "good points days".
This season, like no other season prior clearly shows the importance of "good points days".
With an unheard of 15 different winners qualifying for the Playoffs going into the final Regular Season race at Daytona there was only one slot left to qualify. Winner Kurt Busch withdrew his medical waiver and opened up two slots when they dropped the green at Daytona. The race played out and Austin Dillon took one Playoff slot with his race win. The remaining slot went to Ryan Blaney who had strung together enough "good points days" throughout the Regular Season to outpoint Martin Truex, Jr. to get into the Playoff.
So to qualify for the Playoffs you must have enough "good points days."
Under the Playoff System there are two ways to advance to the finals-win races or have enough "good points days" to not be in the bottom four in points at the end of each three race round.
This first round of the Playoffs saw an unprecedented occurrence-no race was won by any of the sixteen Playoff Contenders. This means the twelve who advanced to the second round after Bristol did so because they had more "good points days" than Kyle Busch, Kevin Harvick, Tyler Reddick and Austin Dillon-four who are eliminated from the Playoffs in Round One.
They four now join the ranks of the other twenty drivers who didn't have enough "good points days" to continue to play under this Playoff System.
And that's the way it will be all the way to the Phoenix Finals under this System that allows three, at best to advance each round by winning while guaranteeing the remainder of the Championship field each round is set by "good points days".
At best-nine, five and one "good points day" advancers. This season, with its odd twists and turns we have seen the other extreme for advancers as all twelve advance due to their "good points days"-the very thing Moody said this Playoff System eliminated.
And now with four eliminated previous winners joining the ranks of expected winners like Martin Truex, Jr., Brad Keselowski, Aric Almirola, Michael McDowell and others the odds continue to rise that the remaining contenders may not be able to win any of the remaining Playoff races.
Such would throw the entire "eliminate good points days" driver references system into one totally dependent on "good points days".
Such is the unintended consequences of a new car "leveling" the playing field.
As odd as Moody's mini-rant was, the timing was even odder-immediately before a cutoff race that at a minimum of eleven of the twelve that were to advance would do so because they had a "good points day" at Bristol.
Odd indeed.
Dave is a smart guy, who doesn't do things without a reason-so saying what he said, when he said it only adds to the head-scratching from this occasional listener.
The truth of the matter is, when you adopt a system to crown your Season Champion that is based on two methods to play-win races or score points, you have not eliminated "points racing" but guaranteed it. Don't believe it? How many times have you heard the term "cutoff line"? What sets that?
Points.
So the System hasn't eliminated anything. It packaged things a little differently to make it look more "stick and ball"'ish in an attempt to increase appeal. But at the end of the day when you wash off all the sugar coating you are still going to find… points.
And points are going to determine what kind of racing we are going to see.
Drivers may not crawl out of their cars today and talk about their "good points day" like they did in the past. It's as if they are facing fines if they do. No today, it's camouflaged behind the more acceptable Stage Finishes and Stage Points which they freely discuss. But just because they may not say it "good points days" have not been eliminated by this Playoff System.
Just ask the four who would still be racing for the 2022 Cup Championship if they had of had a better "good points day" at Bristol.
Just ask Kyle Busch, Kevin Harvick, Tyler Reddick, and Austin Dillion how a "good points day" would have changed their season.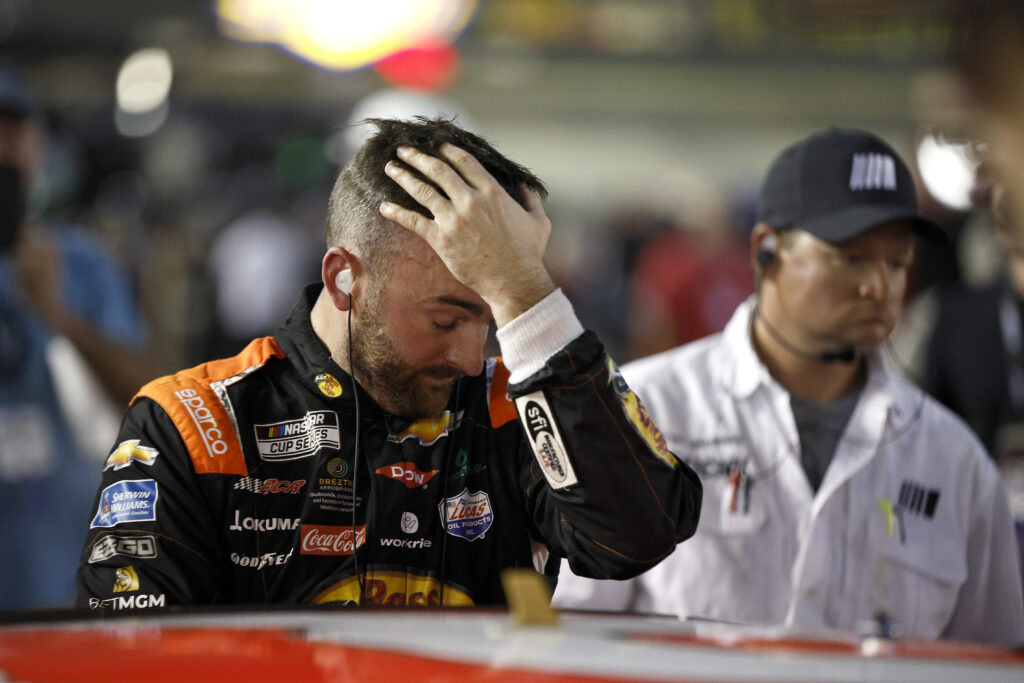 No matter what The Godfather says.
Thunder On… and Stay Safe.
David Nance
Photo Credit (cover); Jared C. Tilton/Getty Images