OR HOW JUNIE DONLAVEY & DICK BROOKS GOT A SPONSORSHIP AND NASCAR GOT WATKINS GLEN
It was a busy Friday morning at my Wrangler Jeans Racing office in Greensboro, North Carolina on an off weekend in 1982 between the May Dover Cup race and the Memorial Day week World 600 at Charlotte. I was busy preparing for all of our Charlotte retail promotion activities and customer entertainment centered around our Dale Earnhardt / Bud Moore sponsorship when the phone call came.
My secretary (we didn't have administrative assistants in 1982) told me the caller on the line was a Mr. Riesbeck from Corning Glass in New York. The pleasant gentleman, who turned out to be the comptroller and later company president thanked me for taking the call and told me he had been referred to me by the NASCAR Public Relations Department in Daytona.
"I told the gentleman from NASCAR that my company was interested in sponsoring a race car and asked if he could provide information. He told me he was very busy and said it would be better for me to talk to an existing sponsor and gave me your name and telephone number," the Corning Glass comptroller related.
I didn't tell Jim Riesbeck at the time that NASCAR had a very capable marketing department that he should have immediately been transferred to. In 1982 NASCAR's PR and Marketing departments were often at odds. The bad decision by NASCAR's PR manager wasn't his last. After he left the employ of NASCAR, he was arrested some years later and sentenced to a lengthy prison sentence for soliciting minors via the internet.
The Corning executive related on that spring May morning in 1982 how his company had developed a revolutionary glass product that had the capability to adjust to varying degrees of light, while at the same time filtering out harmful rays from the sun. They had decided to manufacture a sunglasses line utilizing the revolutionary glass and would call the lenses SunSensor lenses. The sunglasses themselves would be named Chameleon after the small reptile known for changing its color to adapt to its surroundings.
Riesbeck had persuaded the Chameleon marketing team that sponsorship of a NASCAR race car would be the perfect tool with which to introduce its new product. Since nobody at Corning Glass knew anything about NASCAR Winston Cup sponsorships, Riesbeck had begun the process of making exploratory telephone calls.
My conversation with the Corning Glass comptroller was both informative and businesslike. I told him how the Wrangler brand spent three times the dollars promoting and advertising its NASCAR sponsorship as it spent directly on the Dale Earnhardt / Bud Moore sponsorship. After we discussed his proposed budget for a NASCAR program, I suggested that car owner Junie Donlavey in my birthplace of Richmond, Virginia could be a good choice to fit the sponsorship budget Corning proposed to allocate.
After a number of years of sponsorship by businessman Harold Cole and his TRUXMORE waste disposal trucks business, Donlavey had struggled along for several years with sponsorship from Anniston, Alabama car dealer Sunny King. Jody Ridley had won a Winston Cup race at Dover in 1981 for Donlavey with the familiar #90 liveried in the Sunny King logos. But it was a struggle for the gentlemanly Virginian.
I gave Jim Riesbeck the telephone number in South Richmond for the Swansboro Motor Company shop on Midlothian Turnpike where Junie had for many years turned out #90 NASCAR Modifieds, Late Model Sportsman and Winston Cup Grand National cars for a diverse group of drivers. I also gave the Corning Glass comptroller the telephone number of Sid Morris at Morris International in Charlotte, North Carolina. Sid operated a AAAA advertising agency capable of a turnkey sponsorship program for Corning and the new Chameleon Sunglasses brand.
It was Sid who designed the attractive transitioning color scheme for the #90 Junie Donlavey Chameleon Sunglasses car driven by Dick Brooks in 1983 and 1984. It marked the reunion of Donlavey with one of his favorite drivers and a chauffeur Donlavey knew would carry the mail on the superspeedways. Brooks debuted the Donlavey team's new colors on February 27, 1983 at the Richmond Fairgrounds Raceway with a 13th place finish in the Richmond 400. During the two years Brooks and Donlavey were together under the Chameleon banner, their best finish would be a 3rd place at Bristol in 1984.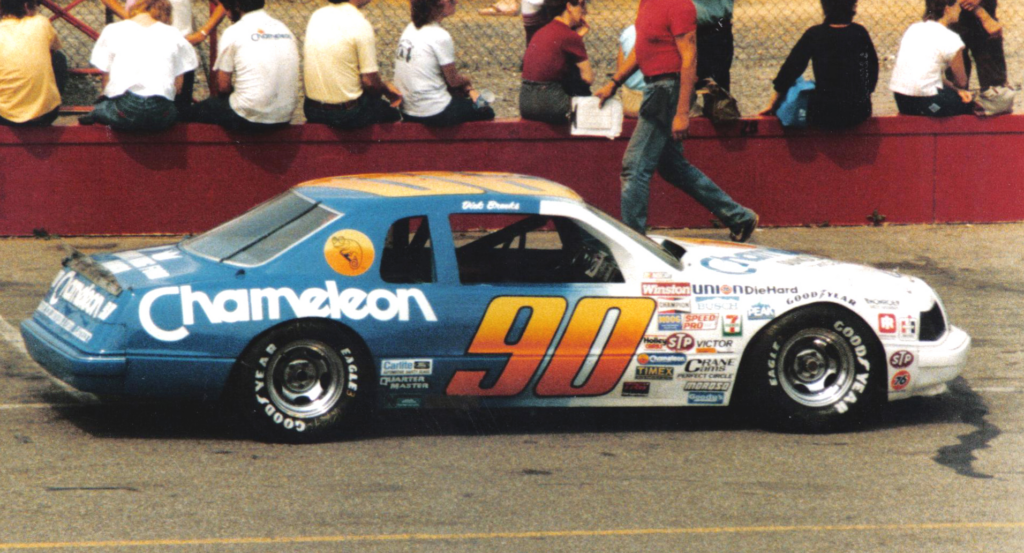 That might have been the end of the story, but it wasn't. Just as we were about to end our 1982 telephone conversation, Jim Riesbeck began to tell me about the struggling economy in Corning, New York. The huge A&P Supermarkets dairy, bakery and distribution complex on the road from Corning to Elmira had closed its doors and let thousands of employees go. Other manufacturers had either closed their doors or cut back their labor force. Ingersoll-Rand, manufacturer of the air wrenches used by all NASCAR teams was having labor unrest at their plant in Corning. All in all, the area's economic prospects were glum.
To top off the Corning area's economic problems, even the nearby Watkins Glen racetrack had shuttered its gates. Corning, related Riesbeck, had kicked around the idea of purchasing the closed down Watkins Glen road course where NASCAR stockers raced in the 50s and where the Formula One set had brought great prestige to the Finger Lakes region.
Perhaps Corning could turn the Watkins Glen property into a theme park was one idea being kicked around. Or, maybe an oval track could be built and NASCAR could be enticed back to the area.
That was when the lightbulb went off. I told Riesbeck that NASCAR was desperate to increase its presence in the northeastern United States. I asked if he minded me sharing Corning's thoughts about Watkins Glen with the NASCAR marketing Department? He said, "Certainly not."
As soon as I got off the telephone with Corning Glass, I called Jim Foster in Daytona. Jim was Vice President, Marketing & Communications for both NASCAR and International Speedway Corporation. He became very excited when I told him of Corning's thoughts to purchase Watkins Glen. He told me he would convey that information to NASCAR president, Bill France, Jr.
Late on the same Friday afternoon in May 1982, Foster called back from Daytona. "Billy is taking the NASCAR plane up to Elmira on Monday to meet with Jim Riesbeck," he said.
Further talks were held between Jim Riesbeck and Bill France, Jr. Perhaps the most important was a talk immediately after the 1983 Daytona 500 where terms were hammered out for Corning Glass to enter into a management agreement with International Speedway Corporation should Corning purchase the defunct Watkins Glen race course.
By summer of 1983 Corning was ready to break the news that it would purchase Watkins Glen and reopen the road course and maybe build an oval track, also. There'd be no Formula One racing, but Corning hoped to have NASCAR return to the banks of Seneca Lake.
It took several years of rehabilitation at the Watkins Glen track, but 36 years ago in August 1986, the track opened its gates once again to NASCAR stock cars. On Friday night of opening weekend my wife and I were invited by Jim Riesbeck to attend a superb function in the spectacular Corning Glass Museum officially kicking off NASCAR's return to Watkins Glen.
ISC installed a very capable crew at Watkins Glen, especially in its public relations department where the extremely likeable J.J. O'Malley took the reins. J.J. later traded the snowy winters of Watkins Glen for sunny days in Homestead, Florida, now a wholly owned ISC property, as is Watkins Glen.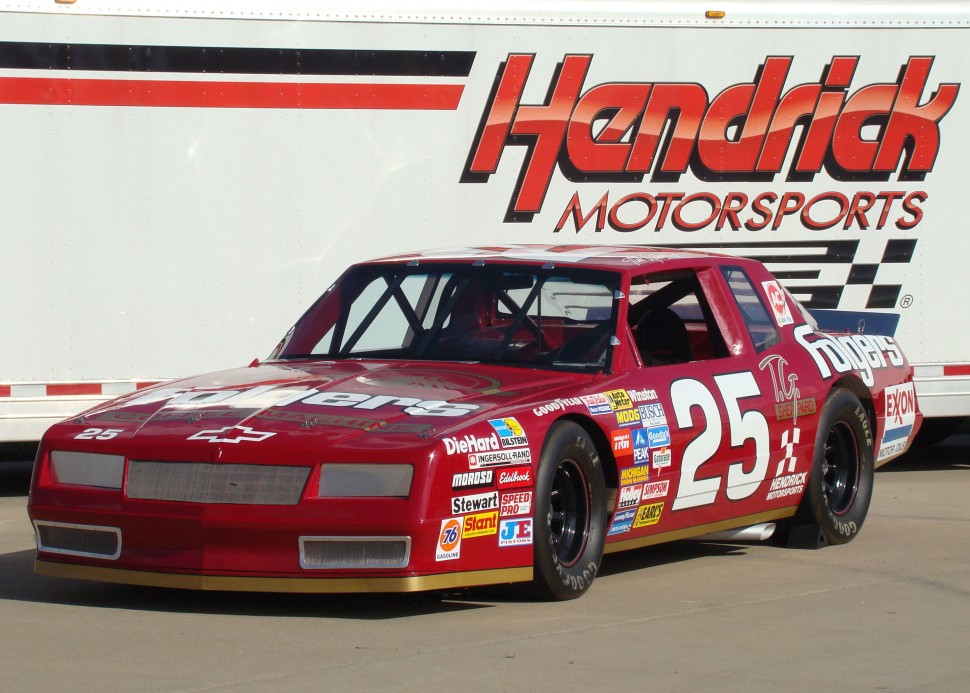 On Sunday afternoon, August 10, 1986, it was Harry Hyde's ace driver, Tim Richmond who flashed his still resounding smile in the Watkins Glen winner's circle as the wreath of victory was placed over his head.
More than 30 years have brought both joy and sadness to Watkins Glen. My worst moment at the track was hearing of the misfortune that had befallen J.D. McDuffie.
I quickly learned to love the Finger Lakes region of New York. I drove from Charlotte up beautiful I-81 through Virginia and then up the gorgeous Route 15 from Williamsport, Pennsylvania, following the flowing Susquehanna River. I flew into Elmira, I drove up to Ithaca and the Cornell University campus. I drove to Cooperstown and the National Baseball Hall of Fame.
I ate great Italian meals in Elmira. In Corning, Bobby Allison's crew chief, Jimmy Fennig introduced me to the world's best open faced roast beef sandwich – served at Pierri's with a huge side of just smashed potatoes covered with scrumptious gravy. One year we even found a little Texas roadhouse barbecue joint driving up to Ithaca. And the homemade sausage patties at the Gang Mills Diner were not to be missed.
My most wonderful discovery at Watkins Glen, besides the terrific racing, was the Syracuse based Wegman's Supermarket chain. There was one in Corning, just over the bridge from the first place I ever stayed. Going to Wegman's was an adventure. I will entertain no argument that it is the finest and most unique supermarket in the land.
Jim Riesbeck, Billy France, Junie Donlavey, Dick Brooks and Tim Richmond are no longer with us. You may be familiar with the marvelous and distinctive trophy given the Watkins Glen winner. Originally manufactured by Corning's Steuben Glass division, the iconic award is now named after the late Jim Riesbeck, the man who not only sponsored Junie Donlavey, but the man whose dream in a time of economic depression returned NASCAR racing to Watkins Glen International.
Let us sincerely hope that in these dire economic times for NASCAR sponsorship, a 2022 call to NASCAR Public Relations seeking sponsorship information is not met with the brush off like Jim Riesbeck's call from Corning Glass in 1982. The old ad campaign "just a phone call away" was never more true for NASCAR than when Jim Riesbeck made his fateful calls on that spring morning in 1982. And thank goodness they didn't build an oval!
# # #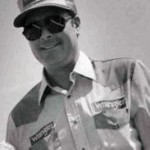 (Editor's note: This story is publish with the permission from the author! It has appeared previously at RacersReunion.com, GhostTracks.com )
More of Dave Fulton's articles ( Here )
Photo Credit (cover); Watkins Glen International In New York Is America's Premier Race Track (onlyinyourstate.com)