As a young teenager in Richmond, Virginia (one-time Capital of the Confederacy) in the early 1960s, my primary sports passion had been supporting our local Richmond Virginians AAA baseball team. They played in the International League and were the top farm club of the much hated New York Yankees. I began attending their games with my father in the mid-50s. Primary opponents (whose players I remember to this day) included such teams as the Rochester Red Wings, Havana (imagine that) Sugar Kings, Toronto Maple Leafs, Buffalo Bisons, Columbus Jets, Montreal Canadiens, Miami Marlins, Atlanta Crackers, Syracuse Chiefs and Toledo Mud Hens.
The decrepit Richmond ballpark, Parker Field, sat on the exact site of a former 1-mile dirt track where NASCAR's Big Bill France used to come down from Washington, DC in the 1930s and race his open wheel car.
Maybe my eventual love of automobile racing came via osmosis, somehow soaking up the vibes beneath my baseball seat where unknown to me hundreds of dirt warriors had once rumbled and stirred the dust. It was around this same time that I became aware that both the Richmond morning and afternoon newspapers carried extensive coverage and photos every Saturday of the weekly Friday night NASCAR modified races at the local Chesterfield County Southside Speedway. I read of the "Eastern Bandits" – Ed Flemke, Red Foote, Denny Zimmerman and Rene Charland coming south from Massachusetts and Connecticut with their lightweight modified cars and putting a hurting on our local boys.
It was the local Richmond modified drivers who'd eventually become my real racing heroes, particularly the "4-H' Boys" – Rapid Ray Hendrick ("Mr. Modified") in the cherry red Tant/Mitchell "Flying 11", restaurateur Sonny Hutchins in Junie Donlavey's potent blue #90 Ford, wily veteran Runt Harris in the #301 (numbered after a U.S. highway running through Richmond) and laid back Ted Hairfield in his blue #4 "Snake Bite" coupe. Throw in another of my favorites, Al Grinnan, and nothing can ever compare to the sights and sounds of the '36 & '37 coupes and coaches sporting Hilborn fuel injection stacks with their exhaust dumps glowing red and emanating blue flames several feet long. The fragrance on a humid Richmond summer night at Southside Speedway was essence of burnt tire rubber from the huge M&H Racemasters combined with nitro methane and alcohol, the fuel of choice for a fuel injected NASCAR modified in the 60s.
But, I'm getting the cart before the horse. Unlike many (maybe most at one time), I didn't attend my first race at the local weekly track. Much nearer my home was the magnificent half-mile Strawberry Hill dirt track. It opened in 1946 at the "new" Virginia State Fairgrounds owned by Atlantic Rural Exposition, a group of wealthy horsemen, although horses never ran on the Richmond dirt track. Its first race in 1946 was a AAA open wheel championship event won by Ted Horn. The track would later, in 1948, host the first NASCAR race in Virginia, a modified go won by Red Byron. It was at this facility that I attended my first auto race. The same site is today home of the beautiful Richmond International Raceway.
The Richmond papers also provided great coverage of the NASCAR Grand National races. My late Uncle Eddie had become a huge Joe Weatherly fan and had recounted to me watching Joe win several races at Richmond's dirt fairgrounds track. In fact, Uncle Eddie's proudest racing moment was taking his family's 1957 Ford onto the muddy Richmond track with hundreds of other fans and helping to dry it before a race.
Around 1962 I started listening to radio broadcasts of Grand National races staged by a consortium of different groups and carried locally in Richmond by daylight-only radio station WXGI – started by two former WWII Army buddies – thus the call sign reference to Ex GIs.
My excitement knew no bounds as I listened to Richard Petty and Jimmy Pardue (in the Virginia owned Burton & Robinson Concrete Construction car) sweep the February 1964 Daytona 500 in their potent new Hemi Plymouths.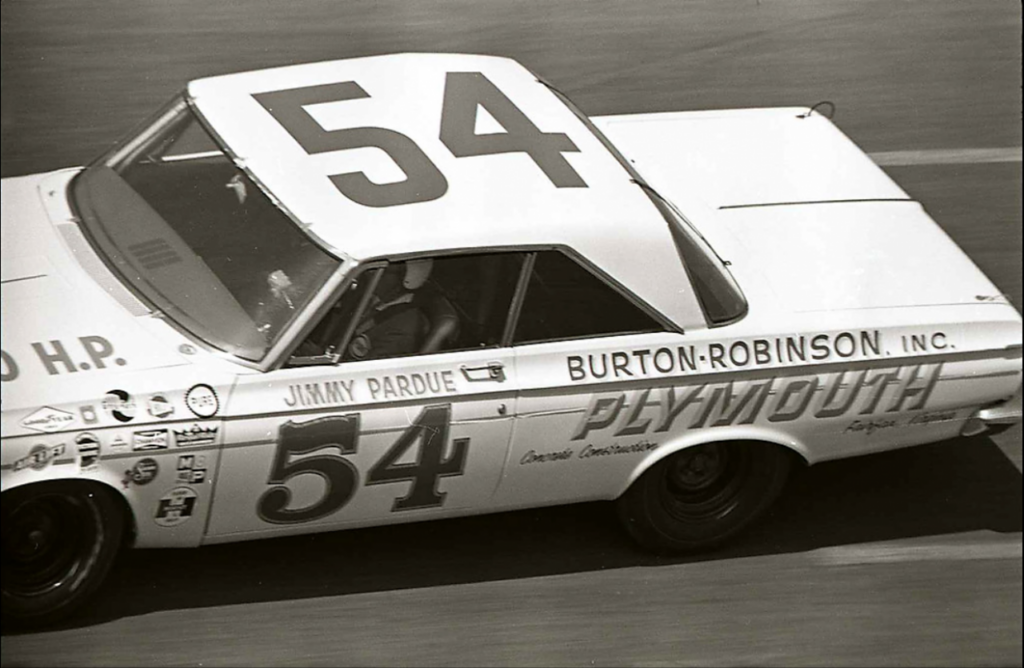 When newspaper ads starting appearing for the March Richmond 250 ("Direct from Daytona to Richmond") I was determined to go see a stock car race. I had no idea at the time what a transition it was for cars and drivers to tackle a behemoth 2-1/2 mile asphalt Daytona superspeedway, then come to the half-mile dirt track in Richmond leased by co-promoters (not owners) Paul Sawyer (Joe Weatherly's one-time partner) and Kenny Campbell. I also had no idea that one day the late Paul Sawyer would become one of our family's dearest friends, as well as my employer.
The Richmond Grand National race in March 1964 was a one day Sunday afternoon affair. Sawyer and Campbell allowed no engines to crank before noon, when preachers were supposed to have adjourned their congregations. They'd never heard my long winded Southern Baptist minister. By the time my father deposited this lone 15 year old after church at the entrance to the fairgrounds, the cars had already qualified and were taking final practice. I was to call my father when the race was over and he'd pick me up at the fairgrounds entrance.
I left home after church with a $5 bill. That was substantial money in 1964 – or so I thought. When I arrived at the Richmond ticket booth the reality of the cost to attend a professional NASCAR Grand National auto race ("They are Exciting and Dangerous" read the back of my ticket. "The Promoter and NASCAR bear no responsibility for injuries.") quickly sank in. The very cheapest unreserved seat in the wooden bleachers coming off turn 4 cost exactly $5 – the amount in my wallet. I paid my money, realizing there'd be no hotdog, Coke or program that afternoon.
Sitting in the turn 4 bleachers turned out to be my great good fortune. The first car I saw practicing on the track was driven by Tiny Lund, winner of the previous year's Daytona 500. Tiny purposely slid as high as he good go – broadsliding through the turn and creating the first rooster tail of dirt high in the air I was to ever see. I was immediately hooked. I was a race fan.
The Richmond P.A. announcer was the late Ray Melton of Virginia Beach – also announcer for the Southern 500 at Darlington. Melton drove a car provided by a Norfolk car dealership inscribed with the words, "NASCAR Chief Announcer." If you never heard former Marine Melton announce at a track, you missed a spectacle. The Richmond track was surrounded with the same huge loudspeakers used during the State Fair (heard all over the grounds) to promote the girlie shows and other carnival side shows. Those old timey loudspeakers were perfect for Melton, who'd also done some carny barking. With his microphone covered with a handkerchief, Melton began to utter numerous corny phrases familiar to the other race fans, but new and exciting to me.
"Here comes Ned Jarrett out of turn 4 – belly-to-the-ground – like the true champion that he is. Billy Wade in the Bud Moore Mercury is riding high in the championship groove," intoned Melton."Crawfish Crider has lightly kissed the turn 2 railing."
When practice was over, it was time for the National Anthem. Years later, in 1999, Richmond promoter, Sawyer would refuse to let NASCAR have the Busch cars take the track early with rain threatening until the National Anthem was performed. Sawyer had served in two different service branches during WWII. The 1964 Richmond National Anthem wasn't some slick performance by the latest TV music channel teen sensation and recording "artist." It was a version on a 78 rpm record by a military band played over the ancient speakers – scratches, hisses and all. The crowd stood at attention with hats over hearts and it was wonderful to be an American that afternoon.
The best was yet to come from announcer, Melton. He was famous for giving the command to start engines. He somehow put two or three extra syllables into the word, "Gentlemen." Through those huge ancient loud speakers, it sounded like Melton commanded, "Jellymeeeeen, Staaaaaart Your Engiiiiines!" The engines roared, the wooden bleachers shook and I was now a double dipped race fan who hadn't even seen a lap of competition.
On the pace lap Melton told us, "From country strands and crossroads stands – all the stars and cars of NASCAR's elite Grand National racing division are now passing by, wheeling cars painted in every color of the rainbow. As the drivers pass in review, clap you hands, stomp your feet (unless you're sitting in the bleachers) and send them on their way!"
When those 27 cars in March 1964 accelerated out of turn 4 at once, sending dust in all directions and making my heart feel like it had never felt before, I knew I was a race fan. There was absolutely no doubt. I shall never forget that very exact moment, now over 50 years ago.
Richard Petty in his Petty Blue #43 (the sportswriters back then called it "electric blue") and David Pearson in a very plain looking red and white Cotton Owens Dodge chased pole sitters Jarrett and Wade through the dust.
Before the race reached the mandatory halfway point to become official, the heavens opened and torrential rains halted the on-track action, turning the fairgrounds oval into a muddy mess. We were told over the P.A. that the race was suspended and would be resumed when the track was again able to handle all that bellowing Detroit iron at one time. Fans were instructed to look at the local newspapers and check the radio news for the date the race would resume. There was no ESPN Sports Center in 1964 to give us instant racing news.
Having no money to make a telephone call to my father, I attempted to solicit a dime from some race fan to make a call on a pay phone – no cell phones, either, back in the day. I was unsuccessful begging for a dime – not nearly as successful as the fellows who ply their trade on Charlotte street corners, then are shown on the TV news driving new Mercedes and BMW automobiles.
In the drenching rain, I walked across the fairgrounds and then a half-mile or so down Laburnum Avenue to the Lafayette Laburnum Pharmacy, where the on duty Sunday druggist took pity and let me use the pharmacy phone to call home for a ride.
The Richmond track was still too muddy to race on Monday, but word eventually came that the race would resume on Tuesday night under the lights. Contradicting the current Richmond track Media Guide, the track there had lights back in the 60s… they were not a 1990s invention. When the checkers finally flew on a very young David Pearson, I became one of just a few thousand to have seen a NASCAR Grand National race start on Sunday afternoon and end on Tuesday night.
I loved every moment. I was a race fan.
Dave Fulton
(Editor's note: This story is publish with the permission from the author! It was originally published on Race Fans Forever. )
Photo Credit ( Cover ); Racers Reunion