I'd return to the Richmond track in September 1964 with dear friend, Frank, beginning a tradition that would eventually take the two of us to hundreds of races in many series at tracks too numerous to name correctly. The week after receiving my driver's license in October 1964, I dislocated my hip playing football and spent six weeks in traction and six months on crutches. In March 1965, I somehow climbed with Frank's assistance to the top of the 4th turn Richmond bleaches on crutches – an experience I don't want to repeat. But, I was a race fan. (Part 1 here.)
With our driver's licenses now firmly in hand, Frank and I began in spring 1965 our weekly Friday night treks to Southside Speedway, then Saturday night adventures to Langley Field, South Boston, and Old Dominion. We made it up to Beltsville, Maryland for a GN race, but our two biggest adventures came in 1966, when we boarded in Richmond the first ever "race train" from Washington, DC to the brand new North Carolina Motor Speedway at Rockingham and then on Labor Day when we took a Greyhound bus to Darlington, South Carolina to witness our first Southern 500.
In September 1966, Frank and I headed to different colleges for 4 years making our race trips together more difficult. But, we persevered. Virginia tracks were phasing out the mods and bringing in the Late Model Sportsman division. We embraced the new division, while mourning the loss of the modified coupes. We took in races in the new NASCAR GT (later Grand American) division at Richmond, South Boston and Raleigh.
Following graduation, I took a job with the makers of Wrangler Jeans, settling in Wilson, North Carolina, then home to another fabulous half-mile dirt track. Somehow I became involved monetarily with what would have been known at the time as a Limited Sportsman car there. Our 301 cubic inch 1955 Chevy, driven by the late Danny Lee, raced at Wilson, Wake County Speedway in Raleigh and Chantilly Speedway in Weldon, NC. I once drove it in a pavement heat race at Cumberland International in Fayetteville, NC. That was a huge mistake. I was not cut out to drive race cars. I was a race fan.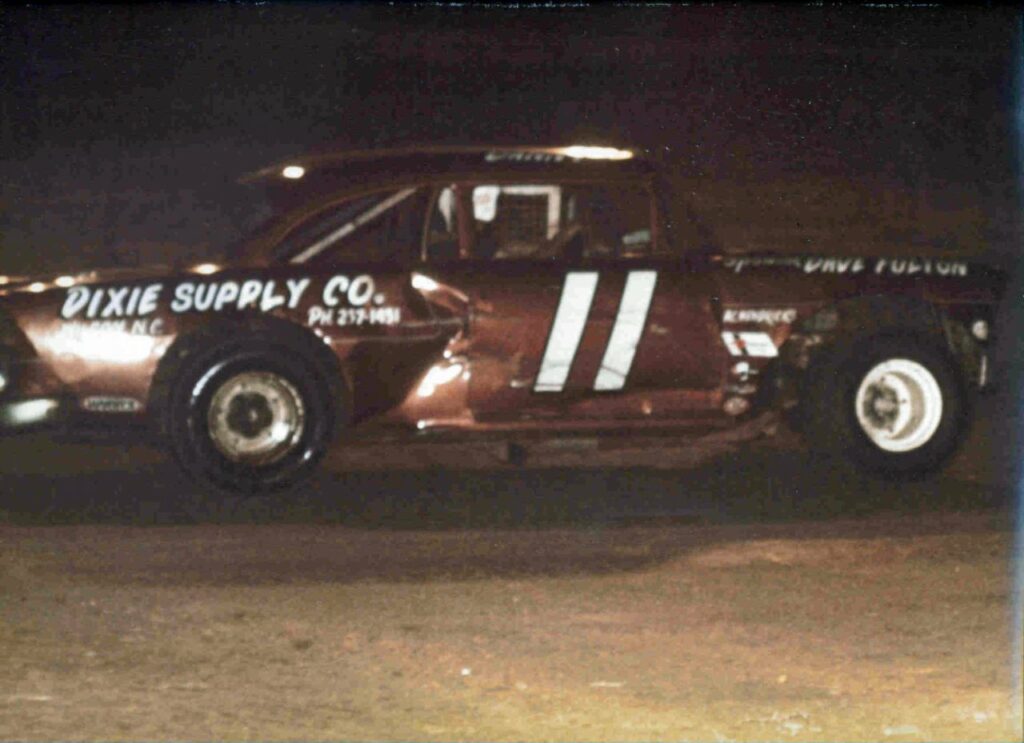 My buddy Frank took a sports writing job in Siler City, NC (home to Aunt Bee) while teaching Journalism at the University of North Carolina in Chapel Hill. As tickets to the Grand National races, now sponsored by Winston, became more expensive, Frank got us pit passes to Rockingham and Darlington. During this time, two of our old Southside Speedway modified regulars – Bill Dennis & Lennie Pond – became NASCAR Rookies of the Year, verifying what we already knew about our Richmond hometown weekly racing. At the same time, Southside regular Ray Hendrick was winning huge LMS events at Charlotte and Talladega as well as the Modified Race of Champions at Langhorne and Trenton and being paid handsomely by northern promoters to come up and beat their weekly regulars.
At the same time, the much loved Southside car owner, Junie Donlavey began campaigning full time on the GN circuit, his volunteer crew placing the underfunded #90 upfront for Richard Brooks, Ricky Rudd, Ken Schrader and Dick Trickle, among a list of drivers as long as there is in NASCAR history for a single owner.
I was the Division Personnel Manager for Wrangler's largest manufacturing division in summer of 1980 when the plum fell right off the tree and into my lap. While on a recruiting trip for Industrial Engineers to North Carolina State University in Raleigh with our Corporate Personnel Manager, I was told our company was going stock car racing. I was asked if I'd like to interview to head up the program.
Turns out we'd be sponsoring the former Rookie of the Year, a young fellow named Dale Earnhardt. Before I could move to corporate headquarters in Greensboro, we'd put our name on the Earnhardt / Osterlund car for the final 1980 race at Ontario, where Dale would win his first NASCAR National Championship for Wrangler. In January 1981, Dale and I sat together in a booth in Daryll's Restaurant on Church Street in Greensboro eating meatball subs. Dale had never seen a personal services contract before. The one he signed that afternoon for $100,000 had Italian sauce stains on the Wrangler copy.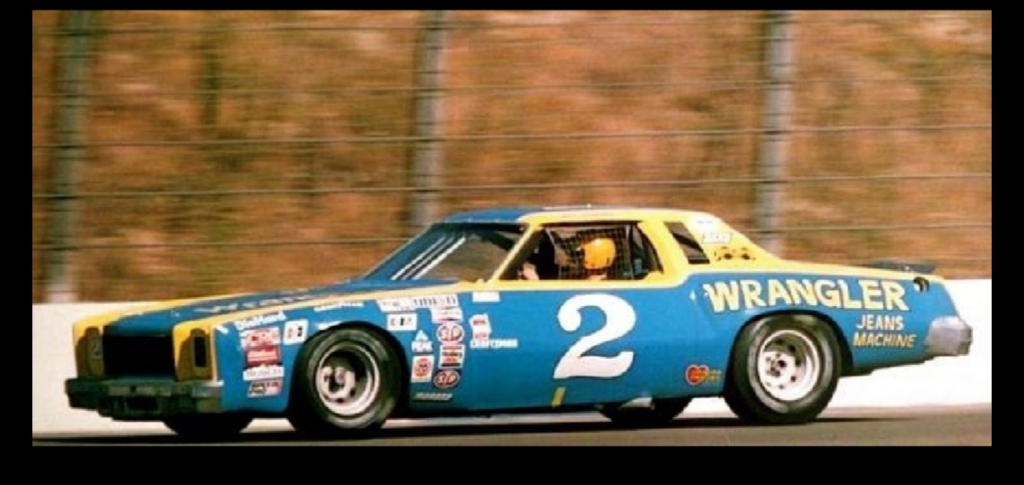 Life became a whirlwind after I signed on to manage a stock car racing program. We went through three car owners with Earnhardt the first year – Rod Osterlund, Jim Stacy and Richard Childress. That one season would fill the pages of a lengthy book. It was hell and hard work seven days a week. But, not only was I working in stock car racing, I was a race fan.
For 1982 we took Dale and our Wrangler dollars down to Spartanburg, South Carolina to the shop where WWII hero, Walter Maynard "Bud" Moore* housed his fleet of fast Fords. I have never met a finer man or nicer family. Four years later my family would temporarily move into Bud's house on Lake Bowen, west of Spartanburg.
In January 1984 I got a call from NASCAR telling me that the folks at 7-Eleven in Dallas, Texas needed someone to turn around a faltering motorsports program featuring Kyle Petty racing out of a ghost shop in Level Cross, North Carolina that had once been Petty Enterprises. Severely understaffed and trying to race a new Ford Thunderbird in 1984, Kyle's operation was doomed. Richard provided what advice he could, but he'd moved over to Mike Curb. Kyle's cantankerous grandfather, Lee made afternoon appearances from the golf course, cursing the crew and telling them how sorry they were.
We managed to broker a deal for 1985 that saved Kyles' career as well as the operation of the Wood Brothers, when 7-Eleven convinced them to run the full schedule and take on KP as their driver. Those were more fine people to work with. They don't come any nicer than Richard and Kyle or the Wood family – Glen, Leonard, Eddie, Len, Kim and their spouses and children. One of my favorite Christmas cards shows a little toddler, Jonathan Wood peeking between the banisters of a staircase. In no time it seemed, he was driving his own race car. Time flies. My girls were growing, we were moving around, but I was still a race fan.
For 1986, Derrike Cope, our Winston West driver for 7-Eleven convinced me to move back east to Spartanburg and help him start a Cup operation. Bud Moore and his wife met my family with a car trunk holding two weeks of groceries that we unloaded into their lake house they insisted we use – at no charge. After a later stint in Charlotte running a Public Relations and Marketing company handling stuff for folks like Robert Yates and Davey Allison, I moved back to Richmond for the next ten years. There, from 1990-1999, I served my old friend, Paul Sawyer as his Director of Media Relations at the beautiful Richmond International Raceway.
While back at Richmond, we staged races for not only the Cup and Busch Series cars, but for the NASCAR Modifieds, Late Model Stock Cars, Trucks and the disastrous Sportsman series, as well as races for USAC Silver Crown and Midget divisions. Again, it was hard work, but I loved every race. I was a race fan.
I haven't been inside a Cup track since I left Richmond in 1999.
Dale passed in 2001. NASCAR began to make changes I didn't understand. The cars could no longer race side-by-side."Lucky Dog" and "Wave Around" rules put cars back in competition that hadn't been competitive. Drivers started avoiding fans, holing up in million dollar motor homes and ducking the autographs Richard Petty once so diligently signed well after dark. Races became boring, television ratings tanked. I tried to keep watching because I was a race fan.
I tried taking one of my grandsons to two local weekly tracks in the Charlotte market. One was dirt, the other was asphalt. The races were awful. Each field had only 5-8 cars. They were running 7-8 divisions and we couldn't tell the difference. My weekly track experience had come in the days of 2-3 divisions and 18-20 cars in each race with divisions you could tell apart.
Soon all these goofy Chase rules appeared in the soon to be renamed again Cup series. I no longer understand what I watch – when I watch. The starting times of races have been tampered with, making them run too late.
Now the grandstands are being torn down. I wonder why?
I WAS a race fan – FOREVER, I thought. Today I have my doubts.
Dave Fulton.
*(More about Bud Moore here )
(Editor's note: This story is publish with the permission from the author! It was originally published on Race Fans Forever. )
Photo Credit (cover); Chris Graythen | Getty Images