That would be me, sitting here, watching the NASCAR world bask in the glow of two months of nearly uninterrupted good news. The message is a little nuanced but pretty close to, "All is well."
My automatic reaction is, "But-but-but-but-but. . . ."
The "automatic" part is troubling, because it leaves me fair game for the accusation that I'm just another geezer who was complaining about everything long before Dale Earnhardt Sr.'s death, a commonly accepted date for the beginning of the sport's decline. And yes, it's true that the first NASCAR race I ever attended remains one of the best in my memory, and that was nearly 60 years ago.
But I think I'm capable of putting aside the tendency to disapprove of everything that's happened since Winston got involved in the sport (1972) and look at some obstacles still to be overcome as this phoenix tries to rise from the ashes.
Here goes.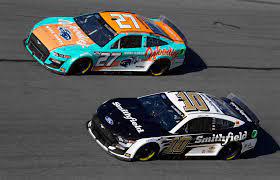 Did you notice how much attention the non-Cup-regular teams got at Daytona? Greg Biffle, Jacque Villeneuve, Floyd Mayweather and even the I-know-how-to-keep-my-name-visible Noah Gragson got a lot of attention and maybe helped a bit with ticket sales.
This week in California, we have the 36 usual suspects with only a couple of driver changes among the least newsworthy rides.
I'm a longtime critic of the charter system, and this is one reason. People like to see Cinderella stories, underdogs, and stuff that's different. For the most part, they won't see it in Cup racing for a while.
The amount of charter swapping that took place over the winter surprised me; I'm not sure it will be a regular occurrence. For the most part, it only matters to hardcore fans, because most of the charter changes are among the bottom-tier teams, where the casual fan's interest is limited.
What if things really do catch on, and every team has some level of star quality and lots of fans? What kind of reception would these charter deals have then?
Since they're pretty much like franchises, let's imagine this kind of thing happening elsewhere. How about in the NFL?
"The Minnesota Vikings announced today that the team would swap franchises with the Phoenix Cardinals next year, while the Cardinals in turn sell the Minnesota locale to the Seattle Seahawks, who would move there. The Cardinals will end up in Houston, displacing the Texans, who will move to Nashville. The Titans will suspend operations, while their owner uses the sale money to fly with Elon Musk to Mars, while Seattle will forego the NFL team to make a bid for the next Winter Olympics."
Got that?
Another way Daytona contributes to the fast start for NASCAR 2022 is with nearly everyone having a shot at winning. All you gotta do is hold onto the draft.
It was great to see the Roush (RFK) cars mixing it up at the front most of the day, and that might continue to happen, but I don't think I'd bet my Hyundai on it. Although Austin Cindric is in a much better car than Michael McDowell was last year, it's helpful to note how many drivers have won at Daytona (and/or Talladega) and nowhere else: last year McDowell had just one more top five (at 'Dega) and four more top tens in 36 starts. And even though I'm not a betting guy, if you want to put your gold on both of Rick Ware's cars finishing on the lead lap at Auto Club, I'd be tempted to take you up on it.
So here we are. The Clash gave us an outrageous new venue for Cup racing, and it produced some pretty decent results. Daytona gave us lots of extra story lines and a good race, making everybody happy. Where do we go from here?
The next four weeks are stops from before we started changing things. Auto Club may have the storyline that this is the last superspeedway race before the track becomes a short track, if in fact that still ends up happening, but that track hasn't been a rip-roaring success lately, so we'll see if the upward trajectory continues. Las Vegas and Phoenix present yet two more weeks far from the core fan region; will the excitement subside? Atlanta has been repaved and kind of reconfigured, so that'll be a story line.
Then comes an interesting test, the Circuit of the Americas. This is where we'll get a idea whether the track's 2021 success will continue, and whether the extra emphasis on road racing will prove wise. It'll take a couple more years to really answer those questions, but there will be hints on March 27.
And so it will go. We've got two new-to-Cup tracks, a couple of road courses on the schedule for the second time, and the second Darlington date still fresh from its resurrection, so there are some fresh preview stories.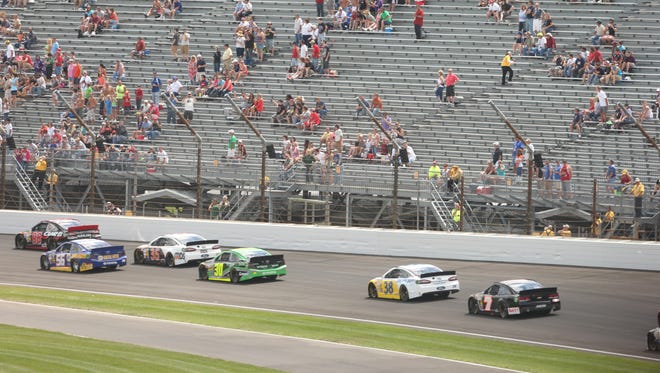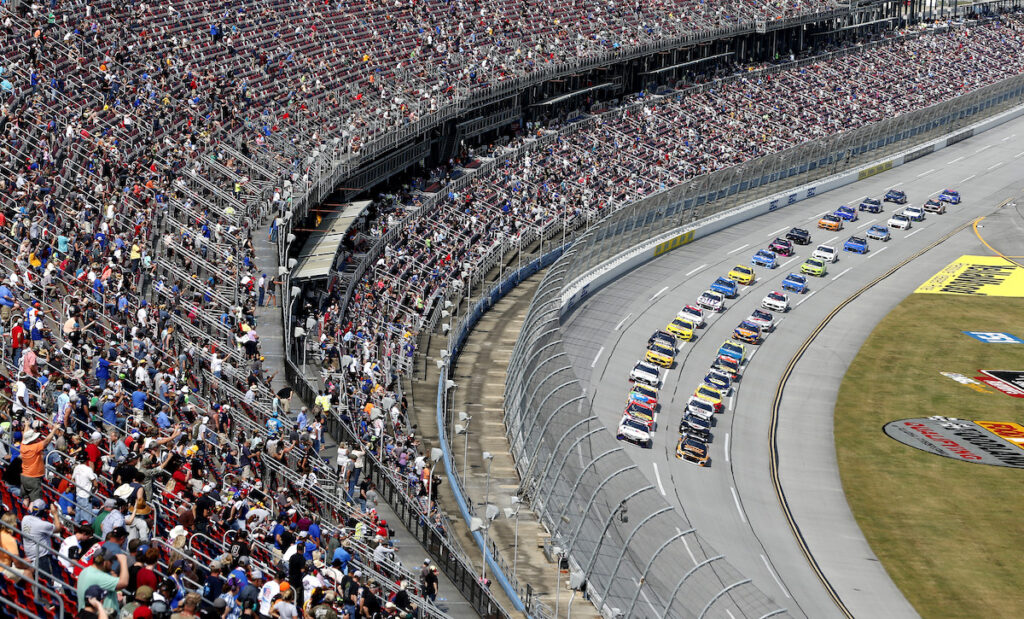 With luck, the same-old-36-cars every week will be livened up a little by some teams finding a new key to success in the NextGen car, and maybe The Money Team will show up a few more times.
Ah, the NextGen car . . . that could prove a good story line, too, as NASCAR works out the bugs. It was kind of funny to see Cindric stranded on the track Sunday, unable to move his car after blowing the tires celebrating. The problem filling the gas tank certainly wasn't humorous, though, at least not to the teams.
Still, it's going to take a lot of work and a lot of good racing to keep the Coliseum/Daytona momentum going. The old guy, who's really trying not to stay stuck in the past, hopes things succeed, although he'd still be a lot happier if the cars really were Fords, Chevys and Toyotas, not NASCARs, and if anybody could enter with a real opportunity to compete and win a far share of prize money, even without a membership in the charter club.
I don't think NASCAR will change those last opinions, but I'll argue that they make me a savvy judge of what helps a sport succeed, not just another grumpy old guy. Only one way to find out who is right.
"Drivers, start your engines."
(PHOTO CREDITS – The cover cartoon comes from NPR, and the Jacque Villeneuve photo from Reuters. The Joe Gibbs photo is from Beyondtheflag.com. The empty stands at Indy is from USA Today, and the full stands appeared in Sportscasting.com.)
Frank Buhrman