(About the cover photo: This is the only place you can go and see cars not grossly outnumbered by SUVs and trucks.)
So now everybody's excited because Tony Stewart is teaming up with new wife Leah Pruitt to race Dodges in NHRA drag racing competition. It's only a matter of time, they say, before Dodge jumps back into the NASCAR fray with Stewart-Haas Racing.
Maybe, but remember that Dodge's involvement in drag racing already was considerable, and it's linked to an apparently healthy business selling parts to Mopar drag racers. That's a very different situation than NASCAR would be. Still, I guess it would be cool if it happens.
On the other hand, how does this really help either NASCAR or Dodge? As a CAR brand, Dodge grows less significant by the hour. In 2005, it "commanded" 4 ½ percent of the U.S. market; today, that's down to less than 1 ½ percent, with a mini-van as its best seller. (Chrysler car sales are about half those for Dodge.) Fiat-Chrysler (sorry, the name-de-jour is now Stellantis) is alive because of Jeep and RAM sales, each of which is about twice that for Dodge and Chrysler car sales combined.
(Just for the record, all these statistics come from seemingly trustworthy online sources, but some could be dated. Nevertheless, I think they paint an accurate picture for this general discussion.)
Just for perspective, Nissan sells three times as many cars as Dodge-Chrysler; Hyundai-Kia about four times; even Tesla sells more. Given that the fans of tomorrow don't remember Dodge racing in NASCAR, how does this help the long-term outlook?
It only helps if this is how you pave the way for Jeep's involvement when racing switches to SUVs instead of cars.
Yeah, I know, nobody wants to see that. But what do you want to see Chevy do, now that the Camaro is headed for extinction (unless it returns as an electric car), and muscle car sales in general are in a free-fall.
I've said many times that auto racing might be headed toward something akin to horse racing, which outlived the horse's role in the economy by adopting gambling as its reason-to-be. I don't know if betting or something else is the answer for NASCAR, but a new marketing model may be needed if the current one keeps getting more and more irrelevant.
To review:
NASCAR races cars when everybody drives SUVS and trucks.
NASCAR races large internal-combustion engines when street vehicles run on four cylinders or – more and more – electricity.
NASCAR asks manufacturers to pour millions into a sport where they aren't allowed to design/engineer/build their own vehicles.
I understand that the ever-shrinking base of long-time fans likes the cars and engines (although maybe not the NASCAR designs) and noise and everything, but we already can't hear much of the noise or see the cars very clearly, and as much as I'd like to live forever, before long somebody else is going to have to fill my seat, either at the track on in front of the TV. I can't see the current NASCAR model bringing in large numbers of those newbies.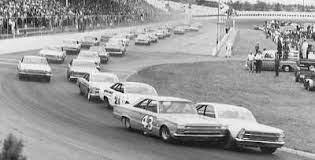 I guess it's not my problem. It's tough for NASCAR, needing to do things differently to gain new fans but alienating the old ones with changes. Anyway, I'm looking at weekly short-track schedules and planning my racing year. The PA Sprint Series, with which I volunteer, looks like it will end up with about 40 races (some co-sanctioned with neighboring regional groups running RaceSaver economy sprint cars), nearly all within a couple hours of my house, and nearly at tracks with reasonably priced admission and concessions. With no charter system and relatively simple rules, last year we had more than 160 drivers race with us at least once, including 68 going for 26 starting positions at the season-ending Keystone RaceSaver Challenge.
It's salt-of-the-earth people racing for the love of it.
It's fun.
I used to feel that way about NASCAR.
Frank's Loose Lug Nuts
My early status as a NASCAR fan (yes, they had cars that far back) was enhanced by a non-competitive membership in the organization. A bi-weekly newsletter and copies of entry blanks, race results and even the rule book kept me hooked (the racing helped, too).
The other day, while researching something else at the Eastern Museum of Motor Racing, I came across this ad in National Speed Sport News in 1954. I wonder how many respondents built a long-term love of NASCAR out of these memberships.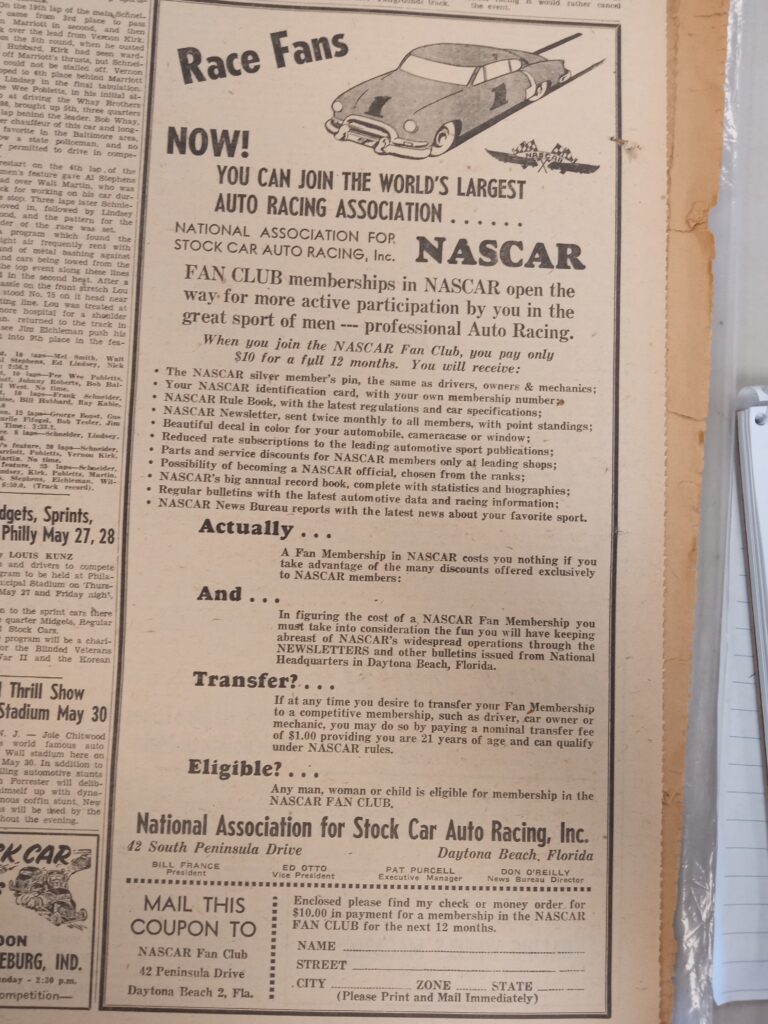 By the time I joined about a decade later, I don't think they still offered to "transfer" your membership to driver, owner or mechanic for a $1.00 fee. Too bad. Who knows what I might have done.
(Photo Credits – Today's cover photo is from The Sporting News and is a Getty Images shot. The Tony Stewart sprint car shot is from auto123.com. The Kia race car is from MotorTrend.com. Richard Petty on the front row at Martinsville is from NASCARHall.com, and the dinosaur is from BBC.com. The NASCAR Fan Club ad is from National Speed Sport News by way of the Eastern Museum of Motor Racing library, where the late Chris Economaki donated his papers.)
Frank Buhrman