"Mr. Peabody, I know that the Wayback Machine's warranty ran out a couple of decades ago, and it's not digital or anything, but do you think we could get a couple more trips out of it. Not to the Stone Age or Middle Ages or anything; heck, you were still on network TV when we'll make my first stop. Pleeeeaaaaase?"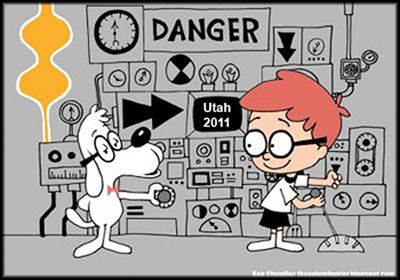 Cartoon dogs have a much longer life expectancy than their wonderful, furry, real-life counterparts, and the tubes in old electronics hold up pretty well, so maybe Peabody, Sherman and I – with a little cheering from the rest of the Rocky-and-Bullwinkle cast – can pull this off.
I want to show you what it was like to anticipate and look forward to the start of the NASCAR racing season in a different era.
Just to make it easy on the Wayback, we'll start with 1964 (Rocky, Bullwinkle & Co. didn't go off the network television air until that June). Let's go back 58 years to the day.
WHUHMP! "I think she used to land smoother than this, Peabody."
Wow. Lots of chrome on cars, TV antennas on houses, and people riding to work on buses. Radio stations had news teams. We worried about the Soviet Union.
But here we are in January 1964, and the first race of the NASCAR Grand National season is coming up, at a sports car track someplace near Los Angeles called Riverside, California. Of course, we won't know anything about the race until it's over – live TV is years away, and while Hank Schoolfield has just founded the Universal Racing Network to bring more races to radio, I don't think he gets it started until a few races later. If you are lucky, there might be something on the evening news, but not all stations have newscasts on Sundays in '64. Mostly, you wait for Monday morning's newspaper.
That has to hold you for a month, because Daytona is that far away (five weeks, actually, in '64). There's no live TV, but it has lots of newspaper publicity (and maybe some on radio or TV, depending on where you live), and it's on the radio, with its own "network." Throughout that part of the world where stock car racing is important (including Richmond, Va., where I was), the newspapers give the results lots of play, too.
That helps Richmonders get even more fired up, too, because their race, the Richmond 250 at the Atlantic Rural Exposition fairgrounds track, is NEXT! And even though Richmond can have some pretty un-race-like weather in early March, 15,000 fans – pretty much a capacity crowd – show up, only to be sent home when rain ends the show at the 100-lap mark. It restarts Tuesday night (with about two-thirds of the crowd back), and David Pearson slips past Daytona winner Richard Petty when the latter has to pit with 35 laps to go. Pearson cruises to a half-lap victory.'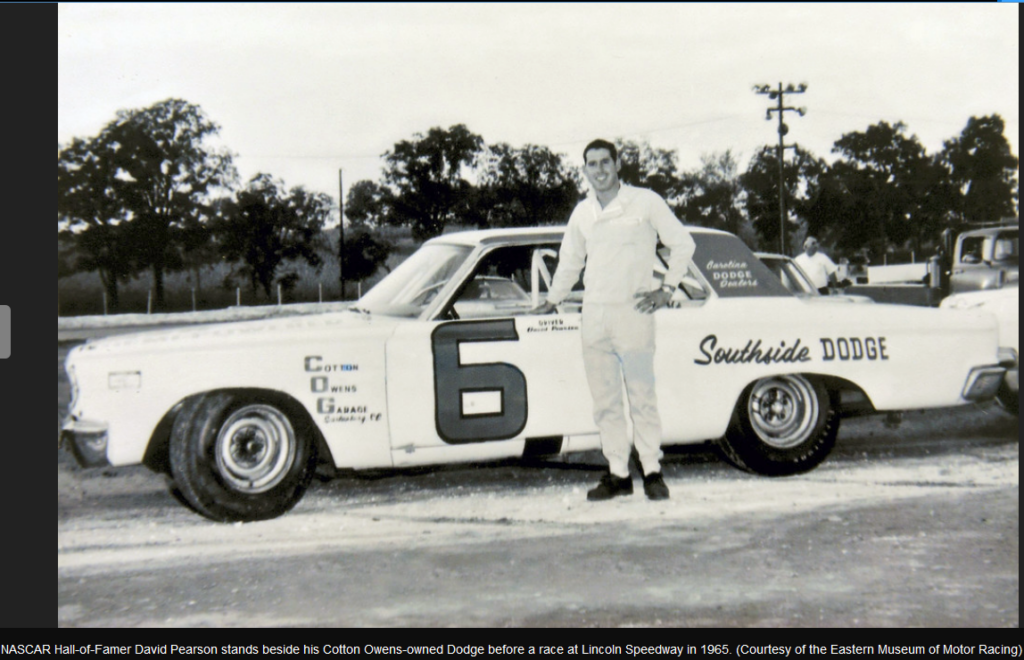 (Richmond promoter Paul Sawyer knew the value of that Daytona tie-in, too. His ads back in those days started with "Direct from Daytona!")
A handful of races into the year, and you've got a slew of factory Fords, the new "hemi" engine propelling Dodges and Plymouths to the front, and Junior Johnson and Joe Weatherly trying to keep the GM fans happy.
Now you're in the mood for RACIN' season.
At the risk of making the Wayback wheeze once too often, we'll stop at the same places in 1965 and '66 on the way home. The former year had much to keep the fans talking at the season's start, because Chrysler Corp. was boycotting NASCAR over rules effectively barring the "hemi" engine. Big Bill France had to come up with all kinds of gimmicks to keep interest high, but eventually, he had no choice but to allow Chrysler and the "hemi" to return.
Riverside and Daytona were Ford parades, and there were a couple of races between Daytona and Richmond, but the fairgrounds 250 saw Buck Baker run a sort-of competitive Dodge and finish second to winner Ned Jarrett's Ford, while independent (and Frank Buhrman's and Dave Fulton's hero) J. T. Putney (who once drove a cab in Richmond, I've heard it said) came home third in a Chevy, albeit eight laps behind.
In '66, the Richmond race didn't take place until mid-May, by which time Ford had begun a boycott – this time Big Bill didn't like their engine – so a Chrysler parade was on the menu, but fans of the underdog still had some cheering material. Tiger Tom Pistone set a new (and the final for dirt) track record in time trials and led the first 22 laps in his two-year-old, independent Ford, and J.T. Putney scored another third, this time only six laps back. Pearson otherwise dominated the race and got another win, part of a run that saw him victorious in five of the last Grand National events on the fairgrounds dirt.
There was no boycott in '67, but it looked like "furriners" might dominate the series, after Parnelli Jones won at Riverside and Mario Andretti took home the Daytona 500 trophy. As it turned out, they were the only Indy Car drivers to win that year, and the season would veer sharply in a different direction, with Richard Petty having a season like none other.
Here's what those seasons shared. As soon as you'd packed up the Christmas decorations, there was a NASCAR race to read about (if not watch). As soon as it was over, you started reading about that mystical race at Daytona, where extra cars were entered for special drivers – a few really were foreigners – and that spectacle took your mind off all the other sports fighting for your attention and got you in the mood to follow a season of racing. It also got you thinking about getting your tickets for your local race, whether it was two weeks after Daytona or almost three months.
It set the stage.
Contrast that with today, when the stories are about the NextGen car – designed by NASCAR, not Detroit – and which teams (those not likely to show up often in the top 20 or even top 30) are buying and selling charters. Daily stories feature companies you've never heard of before announcing they'll be minor sponsors on minor cars.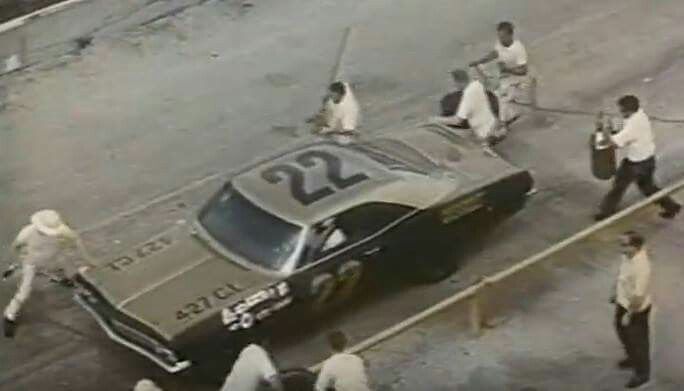 If that's supposed to get my blood going, it doesn't.
What does is that more than 350 entrants are going to spend five days qualifying for the Chili Bowl midget race in Tulsa, where there are NO CHARTERS and NO PROVISIONALS. You're good or you're gone.
I'm also interested in the schedules of national and regional stock car and open wheel racing series, where it's not the same prescribed group of drivers every week (although there are provisionals), and where not everybody talks or looks the same.
I'm ready for RACIN', not whatever the sport I fell in love with nearly 60 years ago has become.
Frank's Loose Lug Nuts (just a side ramble, actually)
Back in that era described above, there were other smaller-but-NASCAR-like stock car circuits. USAC had a good one, as did ARCA (much different from what it's become) and IMCA. A bit later, ASA, ACT and others joined the action. Out west, NASCAR had its own companion circuit, the Pacific Coast Late Model Series (later Winston West), which used the same cars, basically.
Drivers from those circuits would occasionally move to NASCAR, but more often they would drive a handful of NASCAR races, usually at the bigger races (which was one of the things that made those races special).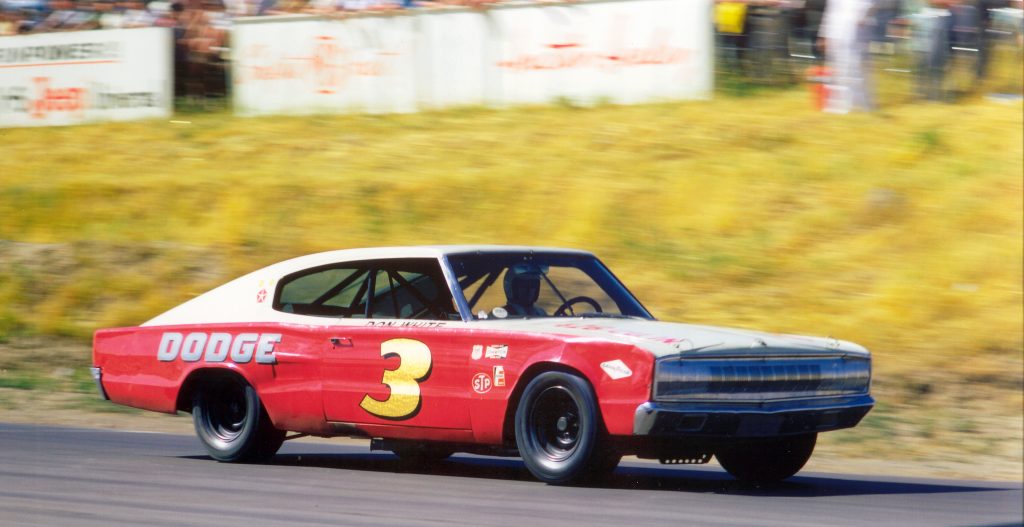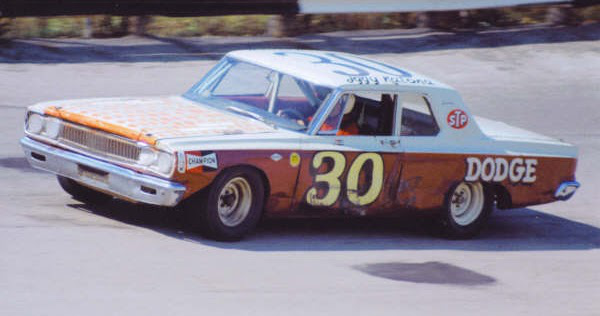 NASCAR (in the opinion of this writer) killed those circuits off, grabbing all the attention (and money) for itself.
Today, the smaller, alternate circuits are coming back. They had a head start on dirt, where NASCAR pretty much left things alone, and, starting with the NDRA (National Dirt Racing Association), several became pretty successful. Today the World of Outlaws Late Models and Lucas Oil Series predominate, but there are others – and much more action in the open-wheel world.
Now the pavement series are grabbing some attention, too. In the Mid-Atlantic/Southeast, CARS has a pretty good thing going, and there are several others like it elsewhere. Big races at Pensacola, Nashville, Martinsville, and (coming back this year) Winchester (Indiana) are getting more media attention.
That's a good thing, and when you plan your activities this year, check out the possibility of attending or at least watching some of those. You'll be glad you did.
In closing . . . great line I heard: "He was so far behind at the end that they applied his points to the previous season."
I sincerely hope you're faster than that in 2022 and always come out a winner.
(Photo Credits – Our cover shot of Richard Petty on his way to winning the 1964 Daytona 500 is by David Bryant and is for sale at Pixels.com, should you be a fan with some extra display space. The Wayback Machine photo is from Pinterest, which is to say I have no idea where it's from, but it's all over the web. The David Pearson photo is from the Eastern Museum of Motor Racing, but I'm not sure of the original photographer. The Tiger Tom Pistone photo is from a TMC Chase blog, and it's originally a newspaper photo. The Smokey Yunick shot is another from Pinterest – see discussion above. For the three non-NASCAR visitors, Don White is from Mopar Action; Iggy Katona is from MidwestRacingArchives, and Ron Hornaday Sr. is another Pinterist.)
Frank Buhrman