Perfection.
That's a bad word in racing, according to this writer. You may have heard me say it before, but from where I sit, one of the current NASCAR product's failings is that it doesn't have enough failings. It's too perfect.
For starters, the cars almost never break down anymore. In the first race I ever attended in what we now know as the Cup Series, only 11 of 25 starters finished the race; eight suffered engine failure.
The only races with low finishing percentages these days are the freak shows at Daytona and Talladega, where a good part of the field falls prey to "the big ones."
In 2021, it took until Richmond, the NINTH RACE OF THE SEASON, before the seventh car reported engine failure. That's out of about 350 total entries – versus eight failures among 25 cars in one race decades ago.
So why is this a bad thing? Well, from this writer's standpoint, cheering for your favorite driver has an extra element if you're also hoping/praying that the driver finishes the race without mechanical problems, especially engine failure.
Here's another way to look at it. On his way to this season's championship, Kyle Larson finished 34 or 36 Cup races, wrecking at Daytona – big surprise – in August and suffering engine failure at Talladega in the spring. I'll contrast that with Richard Petty in 1964 (Joe Weatherly drove multiple borrowed cars on his way to the 1963 title and so might not be a typical example.). Petty ran 61 races and failed to finish 20 of them. 20! Thanks to some great work by Maurice back in the shop, he only suffered four engine failures (plus a couple of engine-related problems), but rear end failure sidelined #43 six times, and a variety of other issues also popped up. He was involved in four wrecks.
Today you can almost assume that your favorite car will finish, except at Daytona/Talladega, where you can almost assume the opposite. Back then, there was doubt, and that – to me – was part of the excitement of being a fan.
Perfection also applies to the race tracks (and the tires Goodyear develops for them). That's why everybody got tired of seeing events on mile-and-a-half speedways, where everybody runs pretty much the same speed and finishes. I remember trying to defend my favorite sport against the "running-around-in-circles-is-boring" critics years ago, but I'm not sure I could have done that for some recent NASCAR events.
Here's the part of all this I hope will be entertaining. The first Grand National/Cup race ever run in Richmond took place in 1953, and it was so imperfect that no race was run in '54, and the promoters – Bill Rose and Joe Weatherly – never tried it again.
The race was bedeviled by rain, but it ran, even though Tim and Fonty Flock felt so strongly about the situation that they withdrew their entries. (Tim Flock was in second place in points.)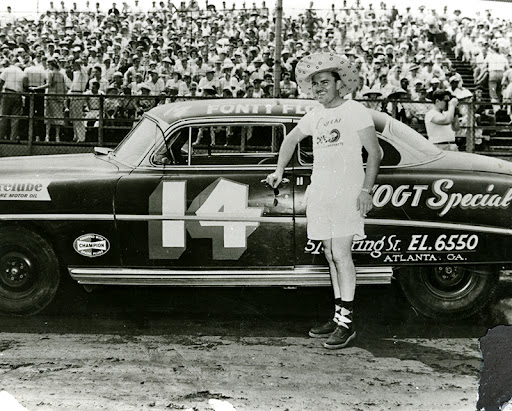 Rather than going through the whole day's adventure myself, let me just excerpt some paragraphs from the Richmond Times-Dispatch's coverage the next day (under a headline that read: "Petty takes 200-lapper at ARE oval").
"Driving a 1953 Dodge V-8, (Lee) Petty captured the lead with 10 laps remaining and came on to beat the No. 2 man, Dick Rathman, of Daytona Beach, Fla., by a lap on a day in which neither wet nor cold could keep the drivers from the track or a crowd of 5,000 from watching the goings on.
"It took the finish judges until late last night to figure out the times and placings, but the confusion was more in keeping with events earlier in the day when it was necessary to ask the spectators to volunteer to help dry off the track so the races might be run."
"Twenty-eight cars started the feature. Only 14 finished. The going was heavy because of spray and mud and after a while it became necessary for drivers to drive with one hand and clean windshields with the other. Eventually, the turns became so lumped with mud that they looked like small mountain ranges."
I won't call the current generation of racers sheltered, but somehow I can't see most of them racing under those conditions, especially when everybody who finished below 10th place earned $25 for their effort.
It would be hard to say that this was an example of racing being better "back in the day," but my point is that there were elements of unpredictability (imperfection) that gave fans something else to think about as a race was run, and I think we're missing that today.
I think it's too bad.
Frank's Loose Lug Nuts
Some "postscript" notes to that 1953 race:
Pre-race publicity made much of the Flock brothers running, which they didn't because of the track conditions. Also, the big pre-race story in the paper included a picture of Curtis Turner, who didn't show at all. Oops. It helps, I guess, to remember that the ancestor to today's charter system was the first effort by Bill France Sr. to pay formalized appearance money to a small number of top drivers so that smaller tracks/races could avoid disappointing fans. Sometimes good ideas get out of hand.
The race's co-promoter, Bill Rose, is kind of a forgotten figure in Richmond racing history, but he shouldn't be. In the late 1940s, he replaced traveling promoter Bob Streeter as Nelson Royall's partner in running Royall Speedway. Later, he went with Royall to Mooer's Field Speedbowl; the pair also promoted races regularly at the fairgrounds.
In 1957, then running Mooer's with Ken Campbell, Rose abruptly shut the place down at mid-season, announcing that he needed a vacation. Racing resumed, but just a few weeks later, Rose resigned because of his health, and he died not too many years afterward, of heart problems.
In the early days at Royall, Rose took one for the cause and was arrested when the track ran a late-season race on Sunday, evidently in violation of the then-prevalent "blue laws."
Although Rose never promoted another Grand National race, he and Royall presented the NASCAR SHORT TRACK DIVISION (sometimes called Short Track Grand National by fans and writers) at Royall Speedway in 1951, '52 and '53. Jim Reed, who dominated that division, won the 400-lapper in 1951 and the 200-lapper the following year. In '53, the race was run as twin 200s, and Bob Welborn won both. Later, as Southside Speedway, the track ran four Grand National races in the early '60s, the last in 1963.
If time allows, I may follow up on this story with another early Richmond race that would have fallen far short of today's NASCAR standard of perfection.
(PHOTO CREDITS – The cover photo isn't Richmond; it's Palm Beach, Fla., in 1954, but it represents racing of that era pretty well. It's from the NASCAR Archives and Research Center via Getty Images. The Fonty Flock photo is from the EncyclopediaOfAlabama.org. The Lee Petty photo is from Randy Ayers' NASCAR Modeling Center, where I was unable to find an "original" credit. The Mooer's Field photo is from Adolph Rice Studio via the Virginia Historical Society.)
Frank Buhrman