Racing Lead Changes.
NASCAR doesn't define them in their scads of data, but you know what they are. It's what we all go to races to see. It's what gets fans excited. It's why most fans pay good money for tickets. It's why they invest time each race day to watch and see.
It's your driver passes my driver as both battle for the lead with the lead change counted at the Start/Finish Line. Not at a scoring loop but at the loop that pays the money-the Start/Finish Line.
Sifting through the data, Las Vegas had five.
Lap 11-Denny Hamlin passed Ryan Blaney
Lap 49-Kyle Larson passed Denny Hamlin
Lap 92-William Byron passed Kyle Larson
Lap 102-Chase Elliott passed Kyle Larson
Lap 103-Kyle Larson passed Chase Elliott back
William and Chase's passes were just outside the Restart Lead Change three lap window. A little sooner and they wouldn't have been in this mix. But they did, so there were five Racing Lead Changes out of the 15 Green Flag Lead Changes and 21 Lead Changes total for the Race.
Five
The remaining 10 of the 15 Green Flag Lead Changes were evenly split between Start/Restart Lead Changes (5) and Leader Pit-Green (5). The Start/Restart Lead Changes occurred on the Start and on the last three Restarts.
Those Starts and Restarts can be exciting, but it's a different kind of racing and passing since the caution bunched everyone up again, you get to start double file and you have help from behind to give you a push or provide momentum to get you to the front. Usually within three laps the benefits of the restart are gone and it's back to real racing and the chance for Racing Lead Changes.
There are other green flag lead changes like those passes that occur when the leader pulls into the pits and turns the lead over to the competition. Strategy, it's called. It's counted as a Lead Change, but it's not a Racing Lead Change. Racing Lead Changes come from strategy known as outrunning the other driver.
No… Your driver passes my driver without my driver pulling off the track and without benefit of a Start or a Restart.
So, Las Vegas had five Racing Lead Changes.
But the race had 21 lead changes among 10 different leaders. When did those other six occur?
Those were all under Caution.
And Chase Elliott made a heck of a charge to try to get around Hamlin on the last few laps-changing lines, trying to gain and advantage. Hamlin successfully blocked his advances and hold him of those final laps of his 39 lap winning run. Hamlin made his winning pass on Lap 229 when Kyle Larson pitted from the Lead… Leader Pit-Green.
After four races in the Playoffs, with the season on the line, we've had a total of 24 Racing Lead Changes.
Darlington-2/18
Richmond-5/21
Bristol-12/23
Las Vegas-5/21
As you can see, Bristol had as many Racing Lead Changes (12) as the other three races combined.
Racing Lead Change Leaders through four races are as follows-
Denny Hamlin-6 in 4 races
Kyle Larson-6 in 2 races
Chase Elliott-5 in 3 races
Kevin Harvick-2 in 1 race
Kurt Busch-1
Martin Truex Jr-1
Kyle Busch-1
Ryan Blaney-1
William Byron-1
Surprised?
Did you think there was more Racing Lead Changes?
Did you think there were more Drivers who had made Racing Lead Changes?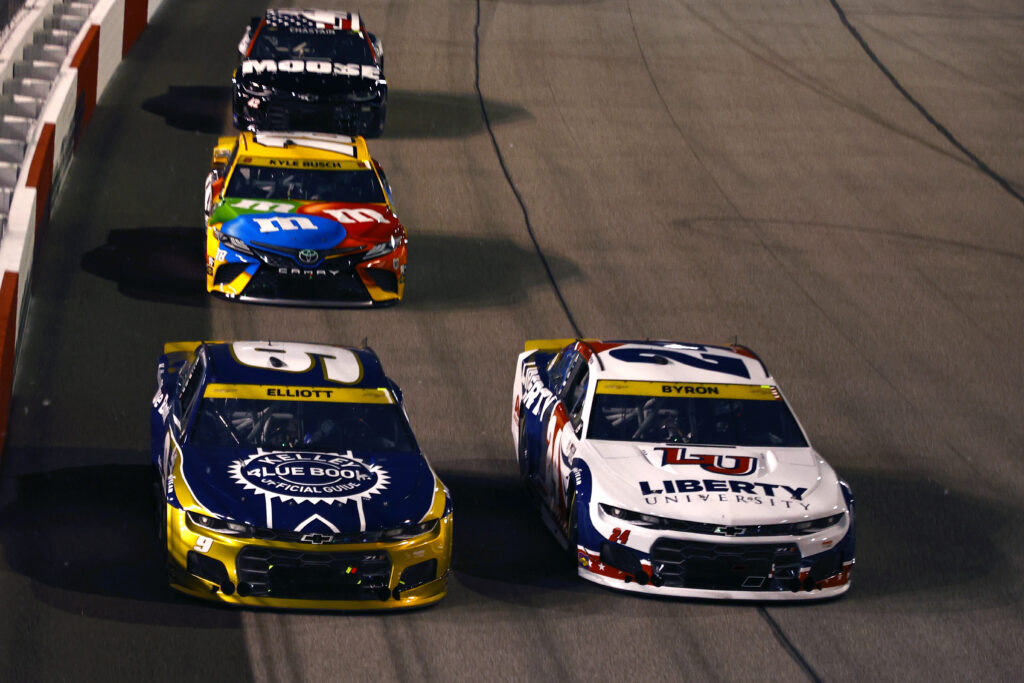 Are you surprised at the Chasers who haven't raced anyone for the lead yet. Missing from the list are current Chasers like
Brad Keselowski
Joey Logano
Alex Bowman
Christopher Bell
And eliminated Chasers including
Aric Almirola
Tyler Reddick
Michael McDowell
Remember these aren't on Starts or Restarts. Those lead changes for Green Flag Pit Stops don't count as Racing Lead Changes.
Why is all of this important?
Last season, guess who had the most Racing Lead Changes in the Playoffs?
2020 Champion Chase Elliott. He went up there and made 17 Racing Lead Changes on his way to the Championship. He was the only Chaser to finish in double digits.
Guess who had Racing Lead Changes in the most Playoff races?
That would also be Elliott.
Plus Chase also had the top Racing Lead Charges in the final two cutoff races and the Phoenix Finale. When you look at those kind of numbers, he earned it.
Maybe, just maybe there is something to this racing for the lead. Could these be indicators of things to come?
If so, Denny Hamlin has the favorable numbers… and races with Racing Lead Changes. Larson was shut out the first two races but went to the front in the last two.
Elliott is poised to pounce just one pass behind.
This week, we head to Talladega where the action is fierce especially at the front. Watch and see who Races to the Lead. The numbers and leaders could change dramatically. We'll see who is on top of this leaderboard heading into the cutoff race at The Charlotte ROVAL.
Here's some prop bets to consider-
How many Racing Lead Changes will there be?
How many drivers will have Racing Lead Changes?
Which driver will have the most Racing Lead Changes for the race?
Put your picks down in the comments and check next week to see how you did. Adds a bit of additional interest to your race watching, doesn't it?
While you are doing that, also remember that in the first four races of the Playoffs, there have been 24 Racing Lead Changes in the 1264 Green Flag Racing Laps run. These are Green Flag Laps that do not include the three laps after each Start and Restart.
That's a lot of Green Flag Racing Laps. We have a maximum of 1638 Green Flag Racing Laps left. How many more Racing Lead Changes will we see?
As a fan, I hope we see a lot more Racing Lead Changes. Starts and Restarts can be exciting. We know we have at least 24 of those left. Strategy Passes can create some tension until everyone cycles through that round of pit stops. But me, I watch to see racing, especially racing up front.
To me, that's the Excitement and Drama I'm after.
Let's see what Talladega brings. Should be something!
Thunder on… and Stay Safe
Sources:
Jayski.com NASCAR Cumulative Report
NASCAR.com South Point 400 Timeline
Photo Credits; Meg Oliphant/Getty Images