This is a diary-ish re-telling of a three-weekend racing binge during which I hoped to visit eight different tracks, six of which would be first-time stops for me. There also was the idea that I could compare/contrast these more grassroots racing venues with NASCAR's traveling circuits and maybe come up with some useful thoughts.
Weekend Two
FRIDAY, Big Diamond Speedway, Minersville, Pa. – The name should make clear that we're in coal country. Also modified country. Tonight's show has the PASS and Mid-Atlantic Sprint Series (MASS) sprints as guest division, along with three classes of modifieds and "roadrunner" stocks.
General admission was $20, and a good crowd was on hand. With the two regional RaceSaver sprint groups co-sanctioning the event, there were 35 sprint cars in the pits, along with around 20 each for the modified classes and just under 15 roadrunners.
The racing was pretty good. Unfortunately, the sprint race began with a bad wreck at the initial green flag, tearing up a couple of cars pretty badly (fortunately, while leaving the drivers uninjured). RaceSaver sprints include young drivers "on the way up," veterans who have been in more expensive divisions and like the lower costs here, and teams that just like racing at this level. At Big Diamond, one of the veterans got the win.
Another veteran told me before the race that he had run Big Diamond with an open-wheel USAC class in the mid-1980s.
My takeaway moment isn't even from the track. While cruising through Frackville, a coal town now home to a huge and seemingly abandoned regional shopping mall, I came across a corner takeout restaurant called Helena's Bundukies. I had no idea what a bundukie was, so I looked it up as soon as I got back to Granny's Motel (no kidding). Turns out it's a Lithuanian pork meatball, a local favorite in Schuylkill County coal country.
Helena's survives on three dishes: the bundukies, meat loaf, and stuffed cabbage soup (halupki), so it must be good stuff. One of the ways you can get your bundukies is cut in half and served between two sliced pickles, a "picklewich."
I am so disappointed Helena's closed at 3:00 p.m. on Friday and wasn't open on weekends. Now I see they've extended Friday hours until 6:00 – after I've gone. If only. . . .
SATURDAY, Path Valley Speedway, Spring Run, Pa. – Back in familiar territory at one of my favorite tracks, and tonight I'm announcing the PASS portion of the show. We're running along with super sportsman cars, a sprint car-like racer that races here without a wing, plus two micro-sprint classes and two four-cylinder stock car classes. Admission is just $10, and despite questionable weather, a decent crowd is on hand.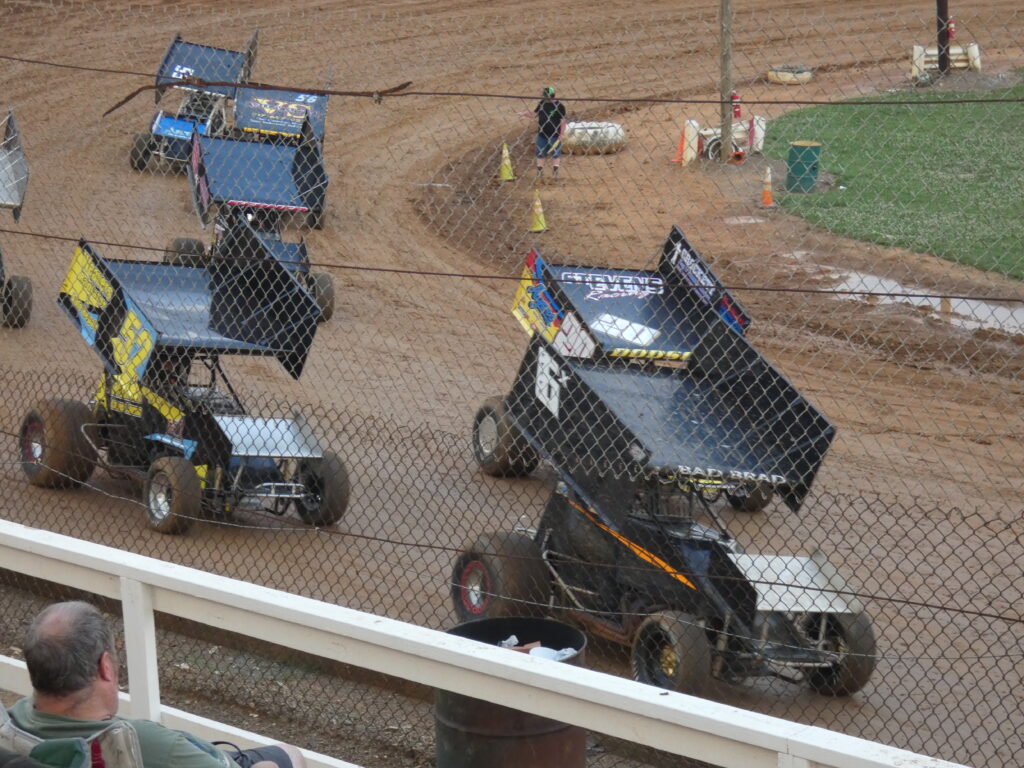 Path Valley is a high-banked quarter-mile, the definition of a "bull ring." The full-sized sprints put on a great show here, and when the track occasionally runs 410 sprints, it's unbelievable.
Tonight, though, it looked like we all bet wrong when the rain started. Fortunately, it eventually stopped, and with the help of the super sportsman cars, the track was ready to go with minimal delay.
The racing was good. In the PA Sprint Series feature, defending PASS and IMCA/RaceSaver National Champion Garrett Bard drew a front-row starting spot (drivers in the top half of the field after heats re-draw for starting position, so the fastest car doesn't necessarily start up front) and won the race, but there was plenty of position-swapping behind him. The super sportsman race also was very competitive; the fans who turned out despite the threat of rain were rewarded with a good night at the track.
Fans at Path Valley are into the sport. The concession stand that sells photos of drivers and cars stays pretty busy here.
My takeaway at Path Valley is on the technical side. The vast majority of weekly tracks now use transponders and electronic scoring, as opposed to those incredibly talented people (like Marion and Tim Hudson at the Southside Speedway of my youth) who kept track of all the cars with pencil, pad and really sharp minds. Unfortunately, transponders don't always work, and a big part of a track's behind-the-scenes work these days is making sure each transponder in the field is doing what it's supposed to do each lap – and backing everything up the old-fashioned way, just in case. This night at Path Valley seemed a really bad one – from my standpoint – for transponders, although the track scoring team might have said it was typical.
In any case, give thanks to those people who make sure the drivers get credit for finishing where they did every night.
SUNDAY, Bloomsburg Fairgrounds Raceway, Bloomsburg, Pa. – I was excited to get to Bloomsburg, because it's a new track for everybody this year.
Starting nearly a century ago and continuing into the 1980s, the fairgrounds hosted racing – mostly sprints and midgets – on its dirt-and-cinder horse racing track. This year the fair build a new auto racing track inside the horse track oval and put together a special-events schedule, mostly racing on Sundays. This was the third night of racing (after a couple of cancellations when the track wasn't ready and one or two for weather), and the PA Sprint Series cars were the first winged sprints to run on the new track.
The program featured late models and consisted of only two divisions, in part to try to avoid a late-night finish.
Unfortunately, rain paid another visit, quite unexpectedly this time. It started during a PASS heat race, which is always a scary situation, but the sprinters managed to slow down without incident and even continued to circle the track in an effort to maintain an acceptable racing surface. Then the sprinkle became a downpour.
Fortunately, the downpour didn't last long, and the track crew and race teams were able to run it back into racing condition.
The track is a work in progress, and passing isn't as easy here as at some other stops, but the racing still was entertaining, and the PASS event (co-sanctioned again with the Mid-Atlantic Sprint Series) was won by rookie Zack Bealer, who took his first win in a full-sized sprint. That's always fun to watch.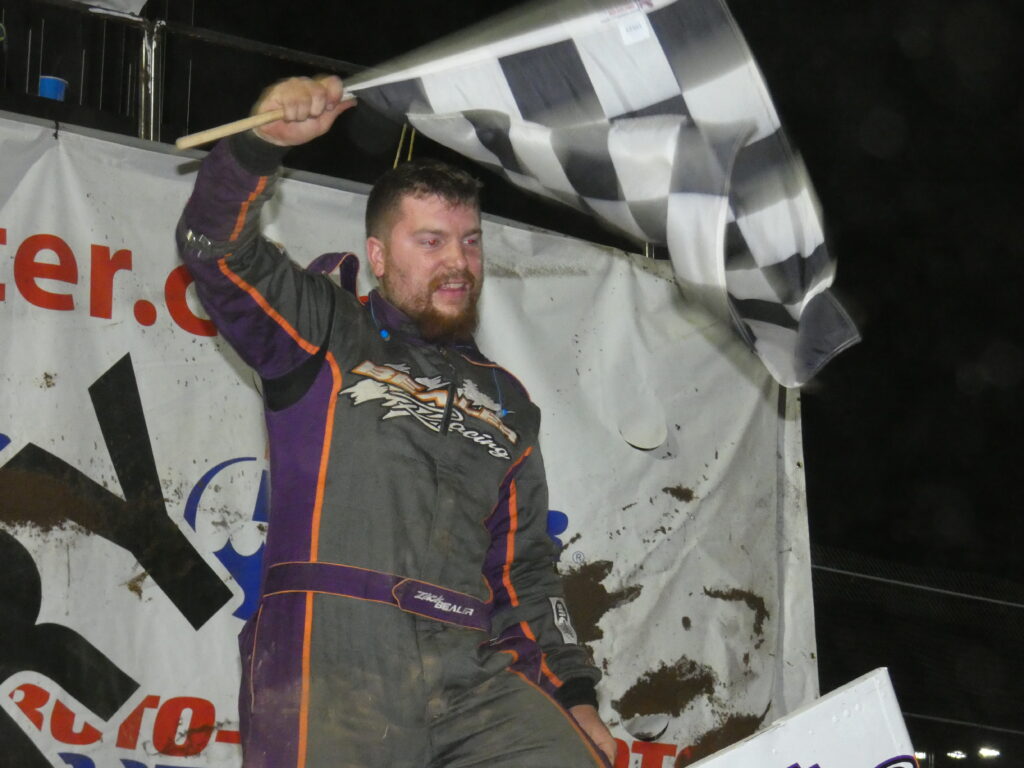 One problem a new track located in town will face is public opposition, and while the Bloomsburg team is trying to address that issue, the dust Sunday didn't help, and the rain delay almost ran the sow late. Steve O'Neal, the Port Royal promoter, has taken on that job here, too, and his influence will help with the public relations as well as track condition and entertainment. Still, this is a track whose future bears watching.
I have a couple of takeaways here. The first is food, which at some tracks can be a bit boring. Here, Bloomsburg being a fairgrounds, the concessions are fair-styled, with nice variety. Throwing my health to the wind, I tried the mozzarella cheese tempura battered and fried on a stick, kebab-style. My arteries may never forgive me, but it was good.
Some of the food wasn't cheap, but most stands had sodas for $1 or $2, which was nice on a very hot day.
The second takeaway is non-racing entertainment, which doesn't get as much attention at some tracks as it should. Bloomsburg offered the toilet-mobile.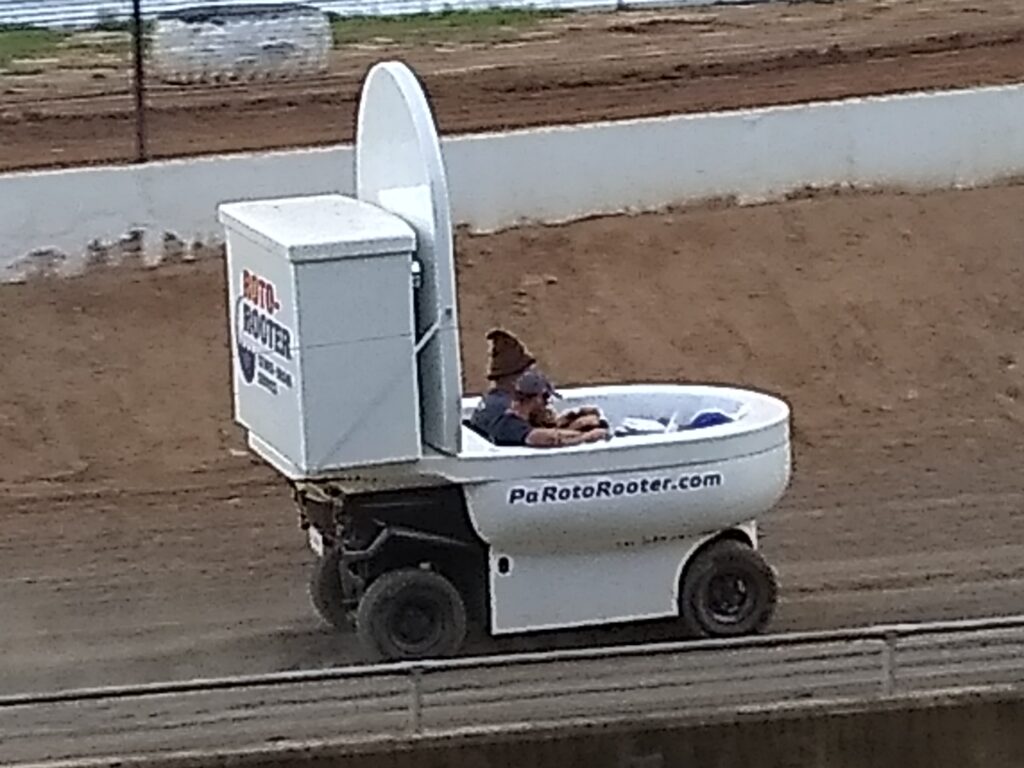 Roto-Rooter is quite involved here, sponsoring victory lane, and it provides this "vehicle," a giant toilet on wheels with two guys sitting in the bowl (wearing poop-y has) driving around the horse track and firing t-shirts into the crowd with one of those t-shirt launchers you see at ballgames. This might not be in the same league as the inning-by-inning entertainment at some minor league baseball games, but it's a start, and the crowd here really liked it.
Frank Buhrman
(Photo credits: All photos by Frank Buhrman)