(At least that was the plan)
(Part I)
There are some things you do while you still can. I once drove from Bristol Motor Speedway to Charlottesville, Virginia, (roughly 275 miles and a five-hour drive in those days) after a Sunday afternoon race (hours of sitting in the hot sun and drinking beer). I drove from Richmond Raceway home after a Saturday night race (175 miles, about three hours, but I'd been working, so no beer). I routinely drove three hours after a Saturday night short track race. No more.
Still, the feeling of age creeping up on me has encouraged me to attend more races when possible, especially after I hit the 100-different-tracks career mark a couple of years ago.
Last year was going to be the ultimate odyssey, but you know what happened last year. I went to only one new track, but I got to a fair number of more-or-less (2 hours drive) local races as part of my volunteer writing/photography work with the PA Sprint Series.
This year, I said, would be different, and it has been. Between PASS events, new tracks, and taking friends to familiar local speedways, I'm on track for around 35 races at between 15 and 20 different raceways this year. That's peanuts for some serious fans, but it's a big deal for me.
The highlight was a three weekend marathon in mid-to-late July, with eight races scheduled at eight tracks, of which six would be new for me.
There's a secondary factor in that three-week run. I'm a frequent critic of NASCAR's traveling circuits, especially the Cup Series, believing that the far-from-stock cars, limited access for new drivers/teams, hopelessly complex rules and points system, and corrupting influence of big money were killing the sport. I hoped my tour of grassroots racing (at least in my area) might support or at least influence my positions.
Let me tell you what I saw and see how you feel about that.
Weekend One
FRIDAY, Seven Stars Speedway, Millerstown, Pa. – Seven Stars is a go-kart track, formerly known as Greenwood Speedway. Millerstown is the postal address; there is a tiny village called Seven Stars, but the track is out in the country. It's small (1/6 to 1/8 mile?) but well banked. The facilities are pretty solid; this place has been around a while and is well established.
Most of the parking lot is reserved for race teams. Spectators park farther away, although you're still within VIP-parking distance for NASCAR. I walked back to my car two or three times.
Oh, spectator admission is free.
Even with rain all around the area, there was a big crowd on hand the Friday night I attended. "Big" is a relative term, of course; for a kart track, that means in the hundreds, not thousands. Still, the place was jumping.
Unfortunately, it didn't "jump" into any actual racing. Rain came early in practice. A prolonged effort to run in the track (featuring a number of spin-outs by the cars and trucks tasked with that job) finally saw the visiting PA Micro Midgets (wingless micro sprints with kart engines) take over and complete the job.
That brought more practice (kart tracks have more practice than racing, but who would I be to complain, since I didn't have to pay anything to get in. Kart racing is about the competitors. When there were only two or three kart classes left to practice, the rain returned, and the show was cancelled.
I had come to see the micro midgets/sprints, and at least in practice, I liked what I saw. These are real racers, doing it for the love of the sport. Their regular purse (total) is less than $200, and the winner gets $50.
Kart racing is a family sport – many of the kart classes at Seven Stars were for kids, starting as young as around 4 or 5, it seemed. The decline of the car culture may eventually kill it off, but I think it'll last a while, because of the family aspect, the low costs, and the fact that your garage is all you need for a race shop.
My takeaway moment was during practice for one of the divisions with the youngest competitors. A mother was pushing her daughter's kart down to chute toward the track. She leaned over and said, "OK, Princess, you're going out their on your own now."
In more than 50 years as a race fan, that was the first time I'd ever heard a racer called "Princess." I wish I could have seen her feature.
SATURDAY, Port Royal Speedway, Port Royal, Pa. – This was to be a PASS race. The economy sprinters were part of an all-open-wheel show with the 410 sprints and wingless super sportsman cars (a sprint-like racer also on the economical side). Unfortunately, the forecast was for 100% chance of rain, and the track called off the show at around noon. Later, it rained like crazy, but during a hot-and-dry afternoon, I visited local wineries.
Port Royal indeed is a showplace of weekly tracks. Located at a charming old fairgrounds in the town, it is just about state-of-the-art in every way, and under promoter Steve O'Neal, it now rivals Williams Grove Speedway as the top sprint car track on the East Coast, with top-dollar special event late model and modified shows to boot. The PASS drivers love the place, and it draws their top car turnouts, frequently exceeding 40 cars and sometimes topping 50.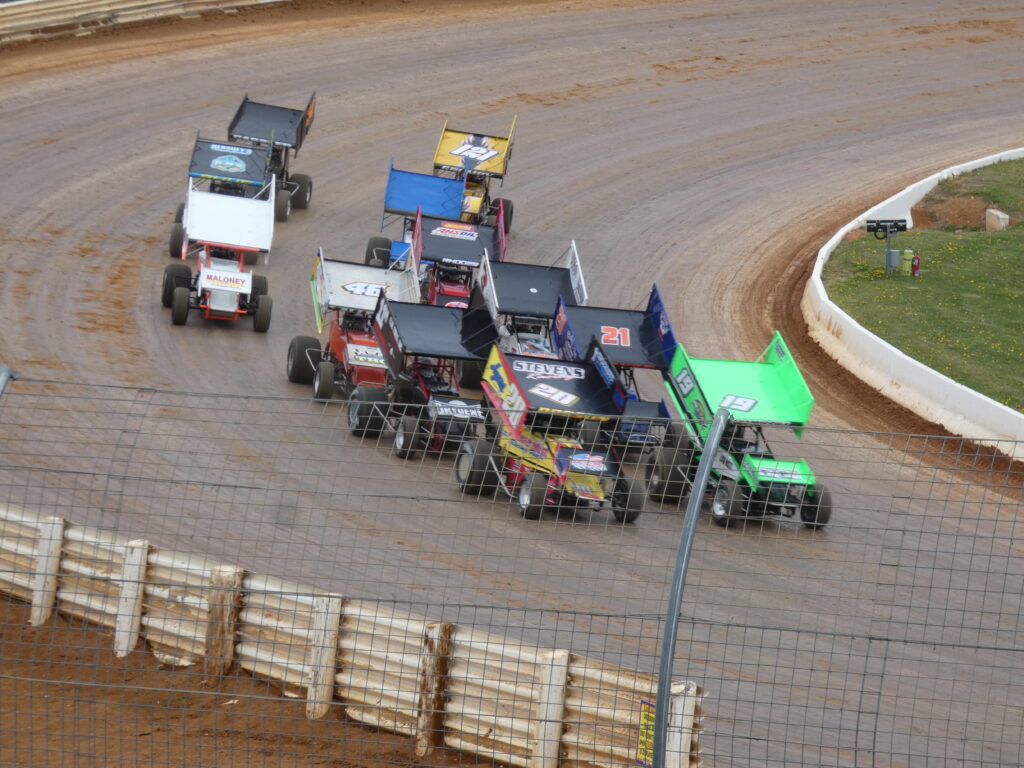 The concession stands include a local winery, which does a brisk business in slushies, and a maple syrup producer, who has commemorative glass bottles with race cars etched on them.
SUNDAY, Selinsgrove Raceway Park, Selinsgrove, Pa. – Selinsgrove Speedway is another classic old fairgrounds half-mile, celebrating its 75th anniversary this year. Selinsgrove Raceway Park is the micro sprint/go-kart track located in the infield.
Both tracks have switched to less-than-weekly schedules. "(T)o commemorate the one-fifth mile track's 20th anniversary," this year's schedule has 10 dates, four of which involve touring kart series. This was the only appearance of the year for micros. On tap was a big race for 270cc micros (the purse was subsidized by sponsors), the PA Micro Midgets and winged "outlaw" karts. Admission was $15.
The track shares a nice concession stand with the big track, but other spectator amenities are limited. A tiny bleacher set is in the primary spectator area, along with space to put out lawn chairs. With no access limitations, I sat in the somewhat larger pit bleachers, which had partially obstructed views in both directions.
With 80-90 micros/karts in the pits, the crowd was decent but seemed smaller than Seven Stars. Racing was decent as well.
The takeaway moment was for the duration of 270 micro activities. A crowd of 12-15 fans of one driver dominated the small bleachers, and they were equipped with cowbells and other noisemakers, which they used every time his car passed by. They were undeterred if things weren't going well.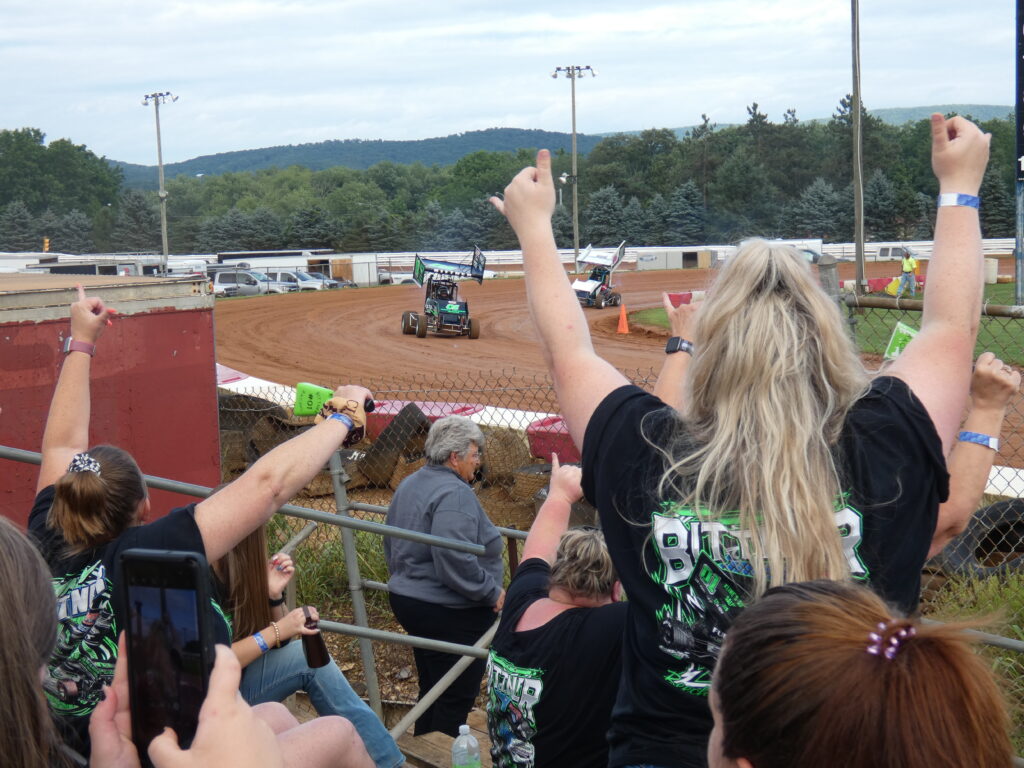 Their driver had to qualify through a B-Main/Consi and started near the rear, but he put on a gallant charge, to his fans' increasingly loud delight. He made it to sixth place and was going for fifth when he spun – a driver with whom he'd had earlier contact was behind him at the time, but the incident, if there was one, took place where my track view was obstructed, so I saw nothing. His incredible fans, although disappointed, remained positive until the end. If I was a driver, I'd want that crew in my camp.
Weekend summary: one race (one new track), two rainouts.
Frank Buhrman
(Photo credits: All photos by Frank Buhrman)