Well, here we go with what I guess is the fifth round in my review of past articles and the suggestions to better our sport. All those who got fed up after Round Four may grab a beverage and migrate over to MAV-TV, YouTube or your favorite hunting/fishing/cooking/gardening show.
We're up to 2019, which I'll split in half as I did for 2018, because I seem somehow to have written 43 articles, and there's no way my mind can juggle that many themes and come away with one coherent review. (Whether this effort ad summarizing 21 articles is coherent is not for me to say.)
Anyway, there were my usual themes: down with charters, stages, developmental driver systems, impossible rules and points systems, and sterilizing everything until nothing of interest is left. My "ups" included bringing back STOCK cars, trying formats besides a single long race, and promoting racing that's fun to watch throughout the pack, not just at the front.
Besides that, I had a few thoughts that might be worth repeating here. First, I called for ditching cars in the Xfinity series and replacing them with SUVs. The cars we race today are irrelevant to the vast majority of today's drivers, and that especially applies to those young enough to still be fans after I've turned to ashes or fertilizer. If police can use SUVs – as they increasingly do – why can't racers? I think there's a possibility that today's use of Camaros, Mustangs and such might even be a semi-deliberate move to make what racers race totally irrelevant, thereby justifying the end of the "stock" car designation totally.
Second, I called for racing to consider adopting the European approach to soccer, in which there a multiple divisions/levels of competition, and teams actually shifted from one division to another, based on how well/poorly they were doing. This wouldn't work in NASCAR today, because we have a corporate welfare system that protects owners by limiting competition. Granted, poor performance might result in sponsor loss, but wouldn't it be better if the top three Xfinity teams and top two Camping World Truck teams moved up to Cup at the end of the year, and the five worse Cup teams moved down?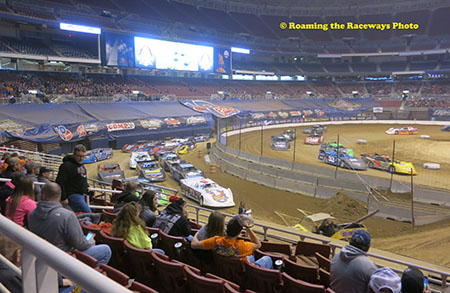 NASCAR has changed its schedule quite a bit since 2019 (when I thought a Cup date for the Circuit of the Americas would never happen), but I think more still could be done, and I'll add one specific again here: schedule a race (or weekend of events) at the Dome at America's Center/Edward Jones Dome in St. Louis, a much-underutilized indoor venue built for NFL football and capable of being converted to a one-fifth mile dirt track with 67,000 seats. Super Late Model racing has been held there already. I'll make this my carry-forward suggestion number three.
I'm also going to throw in one problem I kind of didn't really discuss in 2019 but did mention some related things. I talked about how, in college football and basketball, nearly everybody benefits financially from sponsorships by sneaker/tennis-shoe companies and wondered if the NASCAR world could find a similar situation (other than the involvement of auto manufacturers themselves). Tires would be the obvious choice, but there have been safety issues with that cooperation in the past.
This all came back to me recently when I saw that Door Dash had become the official bring-you-your-food service of NASCAR, and I thought to myself, "They show up on the quarter-panel of Bubba Wallace's new Michael Jordan/Denny Hamlin car, and it doesn't take NASCAR long to come calling for its piece of the pie."
That's the difference between NASCAR racing and nearly every other major sport. The organizations governing pro football (NFL), baseball (MLB), golf (PGA) and nearly all the rest aren't set up to overtly compete with the owners/competitors for money the way NASCAR competes with its teams (and the tracks it doesn't own). That creates a conflict of interest for nearly every financial decision made in Daytona. I think it's bad for the sport, and I don't know what can be done about it.
One final note: Remember the brief flap when some people thought NASCAR had taken Eldora Speedway's truck race away because it was angry at Tony Stewart for his role in the new Superstar Racing Experience. Tony loudly proclaimed that it was all his doing, and he was showing his displeasure with NASCAR for not having given him a shot at hosting a Cup race at Eldora.
Now the SRX has begun its inaugural season of racing at Stafford Springs Motor Speedway, which recently ended 60 years of NASCAR sanction over NASCAR's grab for its television rights/revenue. It could all be coincidence, but it's definitely not a Stewart-to-NASCAR gift box with "Russell Stover" on the top.
Frank Buhrman
(Photo Credits: Our cover photo of a race start at Phoenix is from USA Today. The racing SUV is a photo I used in 2018 and didn't note its origin, so I guess I have to plead guilty to that offense twice now. The Dome at America's Center/Edward Jones Dome photo is from Guy Smith's Roaming the Raceways. The screen capture from the Stafford Springs SRX race came off of YouTube, but I don't have more specific credit than that.)