Sunday's Coca-Cola 600 proved to be a historic event as Kyle Larson trounced the field in the season's longest race, resulting in Hendrick Motor Sports winning their 269th Cup Team win. This win moved HMS past Petty Enterprises for most team wins, a position Petty Enterprises held since 1960.
If Sunday's race is any indicator, this is a position HMS will not be relinquishing anytime soon, as HMS four drivers finished in the Top 5. It was Kyle Busch finishing third that prevented another 1-4 Hendrick sweep, a feat accomplished just two races ago.
Described as a "butt-kicking", Larson's win proved to be just that. If there was any doubt, the numbers proved it out. Let's look at the overall race numbers and then take a deeper look to see just how dominating Larson's performance was on Sunday.
Short on Cautions, Long on Green Flag Runs
The Coca-Cola 600 is the only race in Cup that has four Stages instead of three. The extra Stage Caution, coupled with a single caution for fluid on the track, resulted in only four caution flags for the 400 lap affair. Cautions on totaled 26 laps, so the green flag flew for 93.5% of the race.
Green Flag Passes Up
NASCAR Loop Data showed the 2021 edition of the Coca-Cola 600 had 3096 green flag passes for position. This was up 280 over last year's race, which is good. Unfortunately, it still lagged significantly over the 2019 race, which reported 3929 green flag passes for position.
Quality Passes Throughout the Field
1192 of the 3096 green flag passes for position were "Quality Passes" or passes that took place in Positions 1-15. The distribution of these passes show that passing was done throughout the field and not top or bottom heavy.
Lots of Lead Changes Among a Bunch of Drivers
Thirteen drivers found the front in Sunday's race that saw 23 lead changes. Seven drivers only led one time, each holding the lead for 6 laps or less. Larson found himself on the point seven times, leading 327 of the 400 laps. The next closest were teammates Chase Elliott with 22 laps and William Byron with 19.
23 Lead Changes – Must have been a lot of racing?
On the surface, a lead change every 18 laps or so sounds pretty racy. With 21 of those under green it sounds awfully racy. A deeper look shows that two of the passes occurred on restarts. Four were actual racing passes, where one driver actually drives past another leader to take the lead. The remaining 15 were when the leader pitted and relinquished the lead to another driver.
So the vast majority of the action up front was based on "pit strategy" or when to take on tires. Another "strategy" pass was one of the caution flag lead changes when Alex Bowman and several other drivers decided to take on two tires instead of four and got the lead as a result. Denny Hamlin used the same "strategy" to line up alongside of Bowman on the restart and took the lead after the restart. The "strategy" backfired when his two tires were unable to hold off Elliott, who had four fresh Goodyears.
You mix it all together, the season's longest race was far more "strategy" passing than "racing".
Only One Driver Won Stages
Larson won all the Stages and the Race. He got the Pole as well through "old-fashioned" qualifying. This is just one indicator of his domination.
Margin of Victory – Oh Boy!
10.051 seconds separated Larson from second place Chase Elliott. Had it not been for lapped traffic it could have been a lot worse. But that is what happens when you have the final segment that is run entirely green.
Cars on Lead Lap – Not Many
Cars on the Lead Lap is a NASCAR metric we hear a lot about today to show "how much better" racing is today than in the past. I don't know about you, but I've heard quite enough lately of Ned Jarrett's 14 lap margin of victory at Darlington.
With that said, 38 cars started on the race. Stage One went green and saw 20 cars go one lap down. Stage Two had a caution flag near 28 laps from the end and with the Lucky Dog and Wave Arounds that number climbed to 21. An all green Stage Three saw the number drop to 17 but even with the resultant Lucky Dog and Wave Arounds the race ended with 14 cars on the lead lap.
Having 14 cars on the lead lap but none closer than 10 seconds to the leader may not be a Ned Jarrett kind of win but in this racing era with Stages to bunch the field to prevent cars from going a lap down and Lucky Dogs and Wave Arounds to give laps back to drivers who have gone a lap down, it is no doubt dominating.
I wonder how many we would have had, had the race been run like Ned's or like that other little race run on Sunday – the one that didn't use Stage Breaks and all the other competition enhancements. We'll never know what Larson could have done to a one caution flag 600, but it might closely resemble those races from "back in the day".
Lead Change Summary Shows the Race Story
Below is the Coca-Cola 600 Lead Change Summary and it shows just how dominate Kyle Larson was in his 8th Cup win.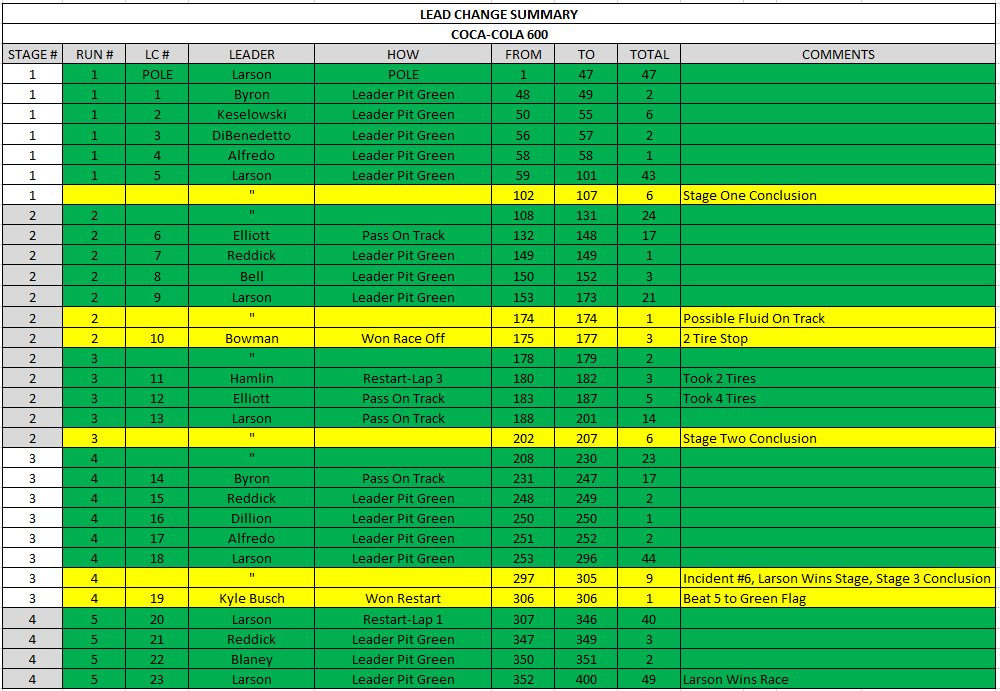 In the Summary, you see that Larson had the Pole and led the first 47 laps before pitting and turning the lead over to teammate William Byron. After the field had cycled through the green flag pit stops, Larson found himself back in the lead for the final 43 laps of the Stage for the Stage win.
With the Pole, Larson had first pit selection and went with Stall #1 which is at the Turn One end of Pit Road. With this selection, Pit Stall Passes were eliminated for each caution flag stop that Larson led the field onto Pit Road.
So Larson lead them onto and off of Pit Road at the end of Stage One, had lane choice for the start of Stage Two and led for another 24 laps until he was finally passed by teammate Chase Elliott. Elliott led for 17 laps before pitting and starting another round of green flag pit stops. When that cycle was complete, Larson was back in the lead and held it for another 22 laps before another caution flew for possible oil on the track. Larson led them onto pit road and took on four tires but teammate Alex Bowman took on two tires to pass him and restart up front for the remainder of Stage Two.
Bowman's lead was short-lived as he was passed by Denny Hamlin who was passed by Elliott. Five laps later, Larson passed his teammate and led the final 14 laps for the Stage Two Win. Larson held the lead after pit stops, led the field to the green to start Stage Three and held the lead for another 23 laps before teammate William Byron passed him on Lap 230.
It would be only the second time and would be the final time anyone passed Kyle Larson under green for the lead.
Stage Three saw another round of green flag stops that resulted in Larson retaking the lead and leading the final 44 laps for the Stage win.
Larson held the lead off pit road but was passed by Kyle Busch taking the green on the Stage Four restart. Larson would retake the lead before they passed under the flag stand again and would lead the next forty laps before pitting and giving the led to Tyler Reddick. After the green flag pit stops cycled through Larson was back out front for the final 49 laps, stretching his lead to over 10 seconds.
The Lead Change Summary shows a Kyle Larson "butt-kicking"
He won the Pole, won all the Stages, was the only driver to lead triple digit laps, was only passed twice for the lead, (three times if you count Kyle Busch on the restart) and won the race going away. When he got the lead he never led fewer than 22 laps at a time (the same as his next closest competitor) with his best 73 laps, which equaled the total laps led by the remaining twelve leaders.
Any way you cut it, Kyle Larson had them covered.
Since Darlington, four races ago, this term has been used to describe each race.
Martin Truex, Jr. kicked butt at Darlington
Alex Bowman "kicked butt" at Dover
Now, Kyle Larson "kicked butt" at Charlotte
What about COTA? Mother Nature kicked everyone's butt there… but she let Chase Elliott take the trophy to Dawsonville.
It's also been used to describe HMS's performance over the last three races.
P1-P4 sweep at Dover
P1-P2 at the last three races
Four out of the Top Five Sunday
So how many more "butt-kickings" will we see this season?
With 11 races left in the regular season, who knows?
Will HMS continue and extend their "B-K" streak or can someone snap it? Can another team out there put all their cars up front?
Sonoma is just around the corner and we'll soon find out.
For me, although I appreciate the accomplishments over the last four races, I've seen enough "butt-kicking" and "strategy" to last me for a while.
I'm just ready to see some racing.
How about you?
Thunder On… Stay Safe
David.
Photo Credit: Maddie Meyer / Getty Images