Below a TV Schedule for Homestead-Miami Speedway, October 2023. All three of the NASCAR top Series are racing at Homestead-Miami Speedway this weekend as the season's winding down. Sorry to say but No practice and quals on TV for the trucks this weekend. A bit sad due to the fact that the smaller teams miss maybe the only chance to get there 30 seconds of TV time for this weekend.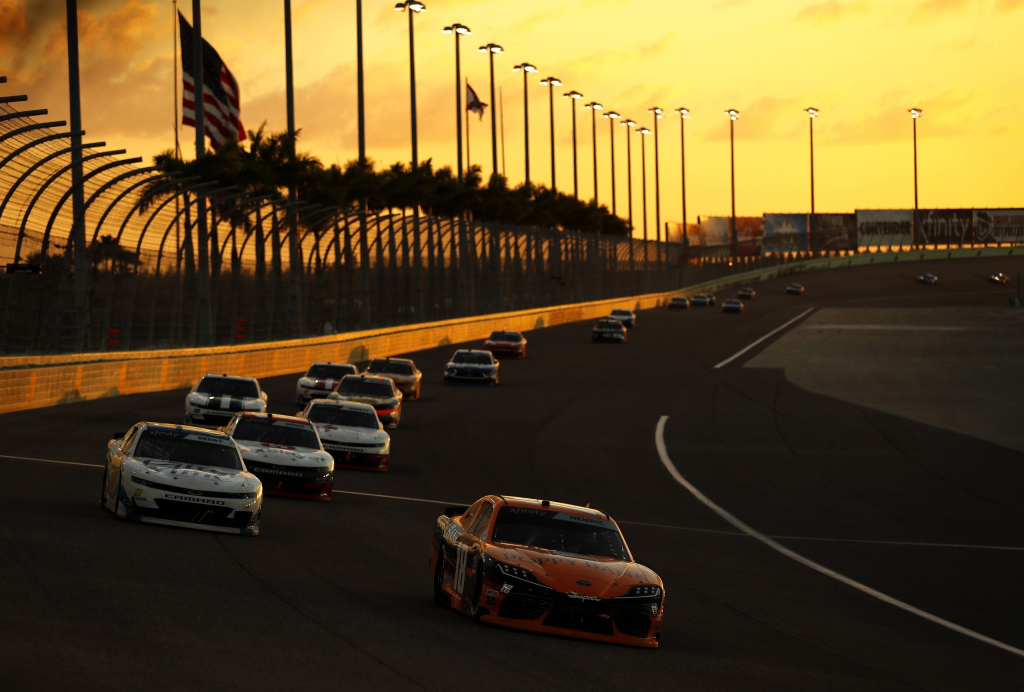 NHRA dragracing, is taking the weekend off, next up, Las Vegas next weekend on F.S.-1.
Some other events of interest; F 1 is back this weekend at Circuit of the Americas, COTA. ESPN -channels has the coverage, so, check your local TV provider for times and details. Here in Sweden, V SPORT MOTOR / VIAPLAY got the coverage over the weekend starting Friday night.
Friday, October 20
| | | | | | |
| --- | --- | --- | --- | --- | --- |
| SERIES | TIME (US.EST) | TIME (CET) | RACE | TV (US) | TV (SWEDEN) |
| NASCAR XFINITY | 6:00 PM | | PRACTICE / QUALIFYING | USA NETW. | |
Saturday, October 21
| | | | | | |
| --- | --- | --- | --- | --- | --- |
| SERIES | TIME (US.EST) | TIME (CET) | RACE | TV (US) | TV (SWEDEN) |
| NASCAR CUP | 9:00 AM | | PRACTICE / QUALIFYING | USA NETW. | |
| NASCAR TRUCKS | 11:00 AM | | PRERACE SHOW | F.S.-1 | |
| NASCAR TRUCKS | 12:00 PM | 17:30 | BAPTIST HEALTH CANCER CARE 200 | F.S.-1 | VIAPLAY |
| NASCAR XFINITY | 2:30 PM | | PRERACE SHOW | USA NETW. | |
| NASCAR XFINITY | 3:00 PM | 20:30 | CONTENDER BOATS 300 | USA NETW. | VIAPLAY |
Radio: MRN
Sunday, October 22
| | | | | | |
| --- | --- | --- | --- | --- | --- |
| SERIES | TIME (US.EST) | TIME (CET) | RACE | TV (US) | TV (SWEDEN) |
| NASCAR CUP | 2:00 PM | | PRERACE SHOW | USA NETW. | |
| NASCAR CUP | 2:30 PM | 20:00 | 4EVER 400 PRECENTED BY MOBILE 1 | NBC | VSPORT 1 / VIAPLAY |
Radio: MRN
Stay Safe
//B
Photo Credit (Cover): Jared East / Getty Images