Everybody remembers the trains, and I do, too. There was just something about watching a really good stock car race and – in the middle of the action – have a long freight train pass by just yards from the backstretch. I never sat in those little grandstands squeezed between the tracks (train and race car), but I'll bet that was cool – unless you had to go to the bathroom.
Everybody remembers the hot dogs, except me. I was never a fan, preferring instead the burgers, which were simmered in hot dog chili until served. That was my idea of lunch, not a hot dog that glowed in the dark (just kidding, Jesse Jones).
Everybody remembers the action, and that's why they still show up at Martinsville Speedway. I am certainly no different in that regard. I don't really remember what year I first attended a race at the famed "paper clip," but it probably was within a year or two of 1970. I know the heaviest years were '76-'79, when I was working as sports editor of a small North Carolina newspaper, and as long as I didn't ask for any extra money and got the boss pit passes for Rockingham (that he could distribute to friends), I could cover whatever I wanted.
Before more of that, a little history: As you probably know, Martinsville is the oldest Cup track, in that it's the only one dating back to NASCAR's inaugural "Strictly Stock" season in 1949 (Charlotte and Daytona had races on different tracks, and North Wilkesboro has a lengthy, involuntary hole in its run of races). By the "official" count, Martinsville and Daytona will be tied with 152 races each after this weekend, but that's bullshit, because Daytona gets to count more than 20 qualifying races, which nobody else was allowed to do (although Martinsville does have one oddball race in 1961). In truth, Martinsville is first, Richmond second (if you allow the current track and its on-the-same-spot predecessor to count as one), with Daytona just ahead of Darlington for third.
The track was dirt until 1955, and in 1956 its races were bumped up from 200 to 500 laps (one '56 race was 400), with a significant purse increase (back when we were allowed to know those things). Since then, it's been the model of stability.
Besides Grand National/Cup races, it ran modifieds a lot in the earlier years and then mixed in late models (see below) on their own dates, separate from touring series weekends. It has tended to run smaller-purse races for those divisions on the Saturday before Cup events, although that has changed some.
It has run other, lesser touring series, but early in its life, it went outside the box on occasion, too. In 1952, the paper clip hosted NASCAR's ill-fated Speedway Division for a 150-lap event. Can you imagine Indy cars at Martinsville on dirt? Some years later, it ran a race for the Sports Car Owners and Drivers Association, so Corvettes, Jaguars, Mercedes, and the like have motored there as well.
Now that NASCAR has started thinking at least around the edges of the box on occasion, who knows what else might show up.
A lot of drivers have done well in Henry County, but two names need to be mentioned: Richard Petty and Ray Hendrick. Petty won 15 GN/Cup races and was nearly unbeatable in his prime. Hendrick won 20 modified and late model races in just 13 years. You had to see them both to understand.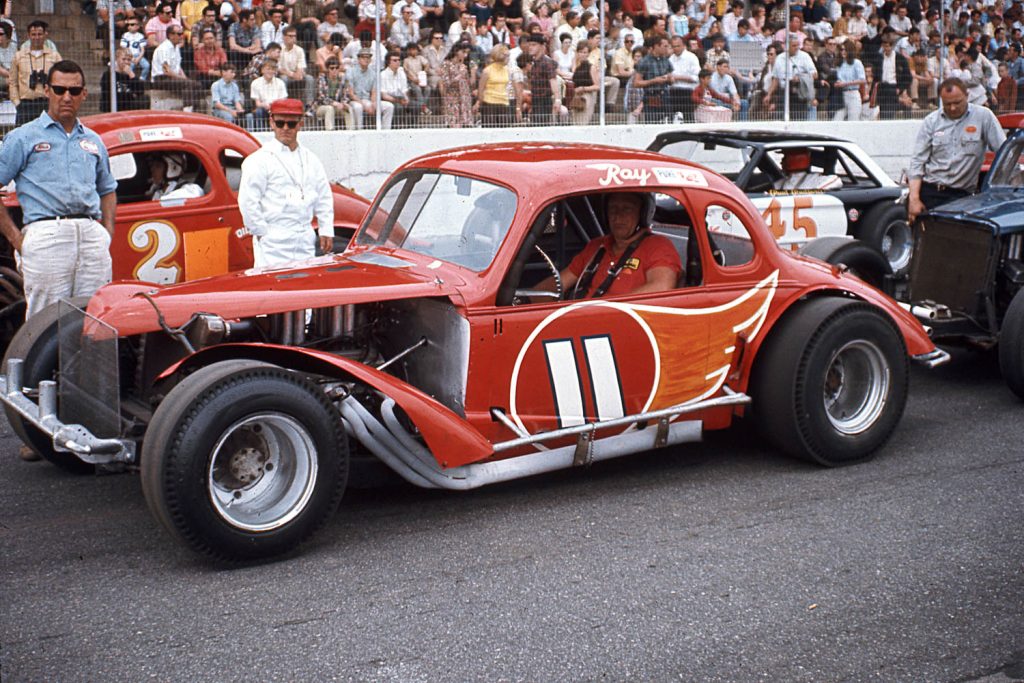 There have been others who have automatically been considered favorites, but I'll just mention one: Richie Evans, the great modified ace from New York. Sadly, for us, he lost his life at the track.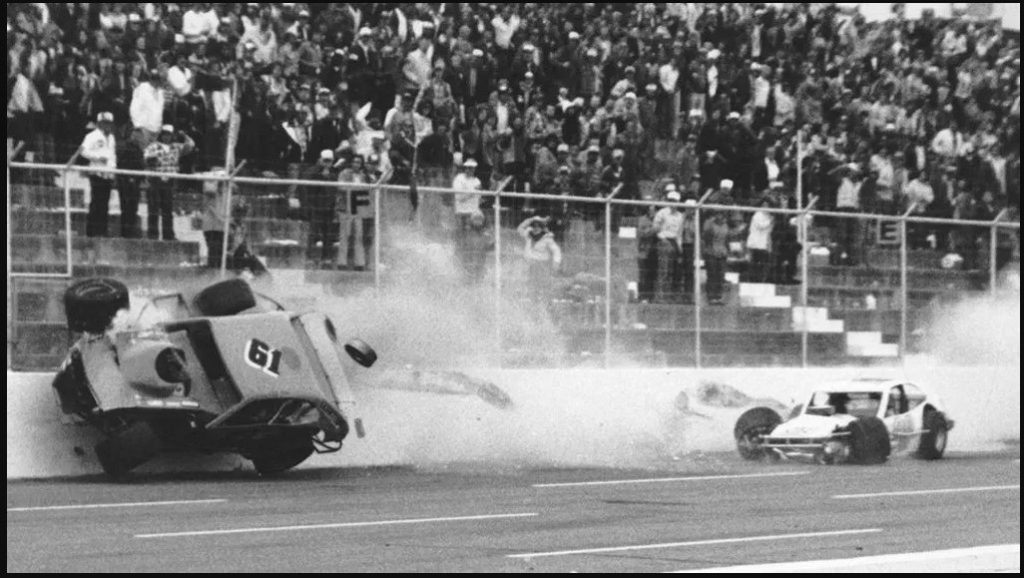 OK, enough history. Back to wandering through the past. The GN/Cup races were great, but my passions were the Dogwood 500 and Cardinal 500, the major-like-no-other events for modifieds and late models every spring and fall, 250-lap features for each class on Sunday, preceded by an incredible day of qualifying races on Saturday (and time trials on Friday). Since those races generally involved at least a few semi-local drivers for my paper, nobody questioned the coverage, and I was in heaven, working as both writer and photographer.
Saturdays indeed were special. Entries for the late model race could approach 100, and the modifieds usually drew around 60 or so back then. 20 would qualify via the time trials, and everybody else had to get in via 25-lap qualifying races on Saturday. Those races could easily be the best you'd see all year, and the fierceness of the competition rivaled anything the Romans saw at the Coliseum.
Despite the intensity on the track, though, and despite the expressions of love and hate from the fans, there always seemed to be positive feeling of camaraderie in the pits. That even extended to the likes of me. I spent one Saturday standing on the back of a flatbed tow truck where a group had gathered, talking with a prominent New England driver, assigning blame for accidents and swapping stories.
I saw two of the best take checkered flags at Martinsville before losing their lives doing what they loved: Richie Evans and Butch Lindley, and I saw my hero, Ray Hendrick, come home first more than once.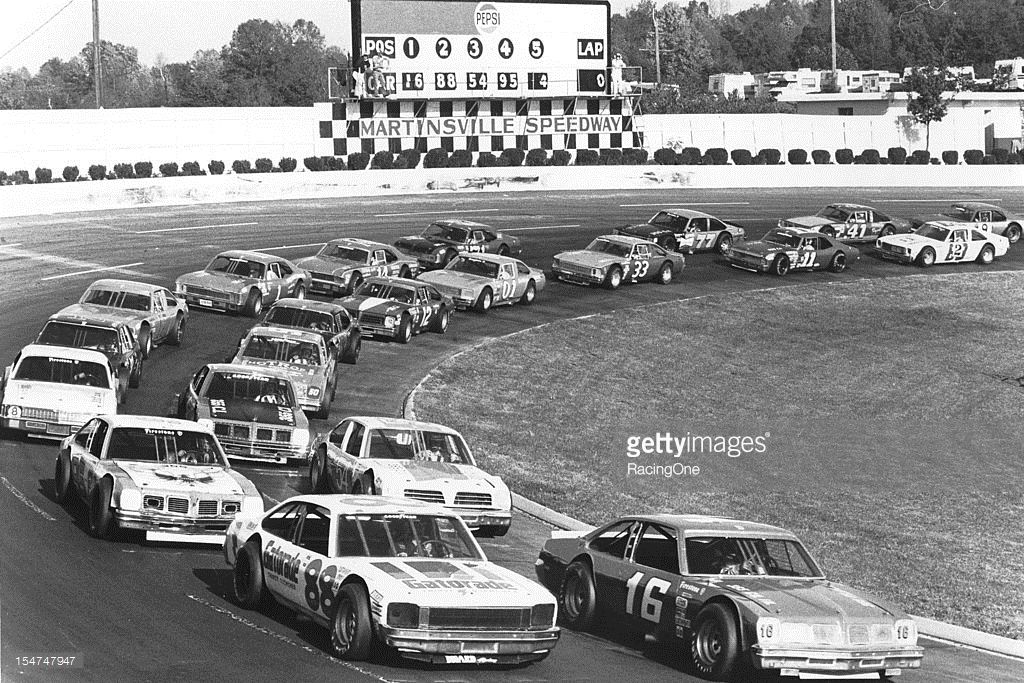 I would argue, too, that in both the late model/modified doubleheaders and the GN/Cup races, I saw better racing because technology had not yet mastered the tricky track; drivers made more of a difference. My view of today's NASCAR is that the most successful drivers are the ones who communicate best with their crews to improve their cars during a race, until the car masters the track. Back in the day, there wasn't as much you could do to the car, so the driver made a difference by driving. That's not a point of view that can be proved/disproved, but there's evidence for it, and this writer – who has never driven a race car – will stick by it.
Unfortunately, my wife and I will be driving to a memorial service for her uncle this weekend, and we'll be on the road while the Martinsville race is on. Years ago, there was a string of AM radio stations I could tune to and listen all the way home, but that's no longer the case, so I'll check out highlights Sunday evening.
Then maybe I'll switch to YouTube for some old Martinsville films and watch Ray, Butch, Richie, Geoff, and a host of other talented drivers doing what I used to love to watch.
Frank's Loose Lug Nuts
This isn't racing, but it's a story I enjoy telling. On one fall weekend during the late 1970s, Martinsville was racing the Cardinal 500, and, as small-town newspaper sports editor, I had a high school football game to cover, being played at a school near the Virginia-North Carolina border, just south of Martinsville. I convinced my wife to come along and make a weekend of it, and I found a Mom-and-Pop motel near the high school for Friday night.
It was late October and chilly, but when we opened the door to our motel room, it was like we'd walked into a blast furnace. The heat was on full-blast, and the thermostat said it was 85 degrees. I went to the office and complained, only to be told by the none-too-customer-service-oriented desk clerk there that she couldn't do anything for me; all the plumbers were closed for the weekend.
What could we do? We had only a short while to search for another place before the football game, and anything farther north would probably be full, due to the race. Our solution: move the bed across the room, directly under the mounted-in-the-wall air conditioner, and turn it on full blast. Our proximity to the cold air held the hot air at bay, just enough. The only additional problem was that the space available for the bed left no room to open/close the bathroom door, so we just had to leave it open and sacrifice privacy for the night. Ya do what ya gotta do.
The next morning we cleared out, leaving the room as we had "remodeled" it, daring the motel to complain. We never heard a word.
Fortunately, the football game was decent (the visiting team, which I was covering, won), and the Martinsville racing was as good as always.
The motel was too cheap to give away matchbooks with its name on them – common practice in those less-enlightened days – so I have no memento of the place, but we've never forgotten it.
(PHOTO CREDIT NOTES – Some photos credited at the end of their captions. The cover photo is one of the most widely used from the track; I copied it from NASCAR.com. The Red Byron photo is now owned by Getty Images but was widely available before that claim of ownership was made. I copied the SCODA sports car race photo from Racers Reunion, but this is another image that's been widely available for years. The same holds for the Ray Hendrick photo. The Richie Evans shot is from ISC Archives/Getty Images but probably was shot by a NASCAR photographer and made widely available back then. The same holds for the late model sportsman race start with Butch Lindley on the pole.)
(A NOTE ON SOURCE MATERIAL – Many times I have credited Racing Reference with helping me supplement my failing memory, but this time I want to give my shout-out to The Third Turn. Racing Reference takes NASCAR's word for it and starts its archival coverage of modifieds and late model sportsman/stock car races when NASCAR declared them touring series in the 1980s, and that excludes all the Dogwood/Cardinal 500 events at Martinsville. The Third Turn doesn't let NASCAR determine the boundaries of history and goes all the way back to the founding of the track. With some tracks, its history is less complete than with others, but this work-in-progress keeps getting better, and it was a pleasure to refresh my memory there.)