(Editor's note: With the Somona races on this weekend, I've brought back one of Vivian Simons articles to help us to get a bit more into the road course racing mood).
Author's Note: My articles are based solely on my opinions only. Normally no statistics are offered. Enjoy and feel free to comment afterwards…
Road course racing has long been my favorite type of racing. I enjoy the curves, the slight inclines, but mostly I admire the expertise it takes for a driver to negotiate these types of tracks. I personally prefer to watch these races on television. It is very hard to see the whole track and keep up with the action when you are at the track in person. I have attended races at Sonoma years ago when it was still Sears Point and thoroughly enjoyed the camaraderie there. Being able to hear the vehicles live was very exciting and watching them go around the course was very thrilling. I was there before the track was re-designed and before they took out the inner structure which had the carousel. It seemed much more challenging then than it does in its current configuration. The sound and smells were very enticing.
My preference goes back to my youth. Most of us older fans, who have been around since the beginnings of NASCAR, have had fun either riding or driving the back roads in cars where speed and cornering have played a part in the fun. We took great pride when we learned to drive a stick shift vehicle. That meant we had gotten there – where ever "there" is. I think it was a sign we had finally "become of age" in the adult world. Never mind the fact that we were only 14 or 15; we had done it and we could brag that we were now grown-up because we could drive a stick shift. We knew how to shift and how to use the clutch. We learned where the friction point was on the clutch so we could smoothly transition from one gear to the next without jerking or stalling out. We were taught to use the left foot on the clutch, right foot on the accelerator and brake so we never accidently used the brake while accelerating. We learned to steer better with our left hand because our right hand was for the shifter – whether it was on the steering column or on the floor. This was quite an accomplishment and we were so proud of what we could do. We couldn't wait to show and tell our school mates how well we had learned.
Most automobile manufacturers used the Borg Warner T-10 four speed transmission in their production vehicles during the 1950's and '60's. In 1957 it was used in the Chevrolet Corvette. In 1963, General Motors started using Muncie transmissions in their vehicles until 1975. They then went back to the Borg Warner T-10. These two names were very common to the people who were driving the muscle cars. Once again, it was the bragging rights that dominated the conversations on the street corners, parking lots and drive-ins where the teens gathered to socialize. Those were fun years and they actually helped form a lot of our preferences where cars and racing were concerned. Thus came my love of road racing.
As we grew older, we continued to express our feelings about cars in other ways. In those decades, the main reason for getting a job after school was to start saving for a car. After graduation, the same purpose of working to buy a car applied. On Saturday afternoons, sports car clubs would rope off parts of parking lots to build a course to compete on. We called them gymkhanas and most of them were timed events. Speed was a very important part of a good time. There were usually as many females competing in these local events as there were males. There was always a trophy given for the fastest speed. Yes, we also had Trophy Girls. The cars at these events were normally "muscle cars". They were the high performance cars which were then "souped up" even more by the owners and friends. Once again – this was all for bragging rights. At this time I do have to mention that not all people my age during that time were interested in automobiles. In those days it was very hard to accept that some people just didn't care about muscle cars and speed.
As I was watching the qualifying at Sonoma, the broadcast team talked briefly about Jerico transmissions and that brought back memories of races in the past at the road course tracks. From research I discovered they build the lightest, strongest and smoothest-shifting manual transmissions for not only road racing but for drag racing and oval track racing as well. Even though I am not a fan of in-car cameras, I did enjoy the times they had cameras mounted so we could see the footwork of the drivers while running the road course races.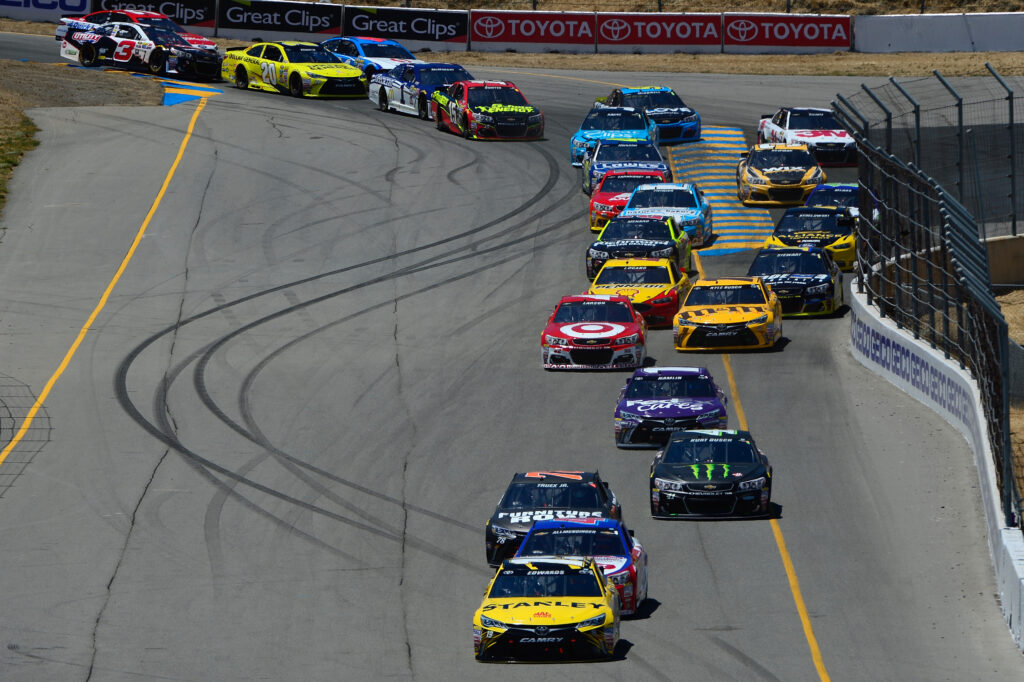 The race at Sonoma this past weekend showed how far road course racing has come in NASCAR. Initially, quite a few drivers didn't adapt to this type of racing. In fact, some of the best expressed distaste and disdain for them. Not only were different types of chassis needed for this racing, but different set-ups in the transmission gearing and motors were needed to navigate and succeed on the course. Therefore, the teams had oval track cars and road course cars in their stables. Some of the ones that I prefer to call racers rather than drivers, adapted more easily than others. Now it seems that most of the participants have somehow conquered the art of this type of racing. In the beginning, when NASCAR started adding these courses, some teams would hire what they called "Road Course Ringers." These were racers from other series who were supposed to be the best on a road course. One thing the teams overlooked was the difference in the style/type and weight of cars they raced in the other series. Very few of these road course ringers could adapt to the heavier style stock cars. Yes, they could shift and corner, but it was not the same, and they very seldom lived up to the reputations they had in their chosen series.
Congratulations to Tony Stewart for his win at Sonoma. He once again showed how good he is at road course racing as did other NASCAR Cup drivers/racers. It was one of the best races of the season so far. I think many fans enjoyed the competition and dedication it required. I also think they should add a road course race to their Chase. There are many good tracks out there and perhaps the teams could make their preference known.
Thank you for reading and please feel free to add your thoughts and comments. Thank you.
Vivian Simons
(Editor's note: This story is published with the permission from the author! It was originally published on Race Fans Forever. More of Vivian's articles; (Here)!
Photo Credit (cover); Sean Gardner / Getty Images