Thank you Josh Williams.
I must admit that I was as surprised as the next fan when I saw you park your car at the Start/Finish Line, climb out, wave and walk to the pits, leaving your disqualified Bear Bond shedding mount on the track.
I've been watching racing for a long time and admit I've never seen anything quite like that before, especially at this level.
I guess we all now know that cold temps and that adhesive don't play well together. When they patch was shed I texted to a more knowledgeable of the rules than I friend about what had happened. He said, watch, more action on NASCAR's part is coming.
Sure enough, when the call came from Race Control that your day was over, you parked your car as ordered, just not where NASCAR intended. Your defiant response to what you thought was a bad call by NASCAR (I did too by the way, but that's not important), coupled with the wave to the flag stand and that long, lonely walk from your parked steed to the pits struck a chord with every fan who has ever felt wronged but felt powerless to respond..
For a few moments, I think you were everyone's Johnny Paycheck in a firesuit.
And based on the outpouring of support shown since, your stand really resonated with the fans. That's what the fans have thanked you for. That's what has made you a new fan favorite to many.
I'm not writing this to thank you for that. Instead, I want to thank you for what came next.
You know the rest of the story. When you got to the pits you were soon met by a NASCAR official who escorted you to a vehicle and whisked you off to the infield care center and then to the NASCAR Hauler… the dreaded NASCAR Hauler.
NASCAR jail.
You had to sit there for the remainder of the race, a couple of hours or so. After the race completed there was that closed door meeting there with you and Series Officials. From your post-meeting comments it sounds like the Driver-Sanctioning Body collaboration resulted in a clear understanding being reached.
Fans can usually tell how one-sided it is by the number of times you hear the sound byte-"It is what it is" after the meeting.
You had a few.
NASCAR's reaction to your response was a flashback to an earlier time, a time when there was little doubt who was in control when it came to the brand and product. It was NASCAR's and don't you forget it. I've heard the Big John Lettuce Inspection scene
from the movie "Days of Thunder" was a fair representation of how things once were.
At one time being called to the Hauler was a very real part of NASCAR. Swift and decisive and mostly unpleasant for at least one party in there. Today, in these times where it seems that no action can be taken without due diligence and collaboration, a swift and decisive response was… refreshing.
In your case, there was no video to review. No data to analyze. No multi-day due diligence investigation needed. I doubt there was any collaboration between OEMs and Stakeholders before a decision was arrived at. They made a call-you reacted-they reacted to your action.
Let's go to the Hauler and talk about it.
I thought it was coming, because back in the day parking your car at the Start/Finish Line and leaving it there would no have been tolerated and would have been something worthy of a post race conversation for starters. Kevin Harvick parking his Truck so it ws blocking the Hauler didn't go well. But of late, in NEXT GEN NASCAR (sport era, not car) the lines have gotten a little blurry, action less decisive and nowhere as swift.
You see, back in the day expressing your displeasure over a decision NASCAR made (or didn't make) by making contact with their control car would have been worthy of a trip to the Hauler. There may not of been any penalties but a driver would not have been allowed to leave the track without knowing that such action was unacceptable. But, at New Hampshire, Kyle Busch did just that without even a discussion.
So maybe in the future instead of parking it, just go up there and give the pace car a little nudge would be a better way to do things.
At Darlington, Kyle did something very similar to what you did-he parked his car somewhere where it wasn't supposed to be, left it and walked away. That extended a caution to move it, just like yours. Main difference was he did it at a garage entrance. But apparently extending the caution doesn't warrant a meeting at the Hauler unless you do it in the Sanctioning Body's face.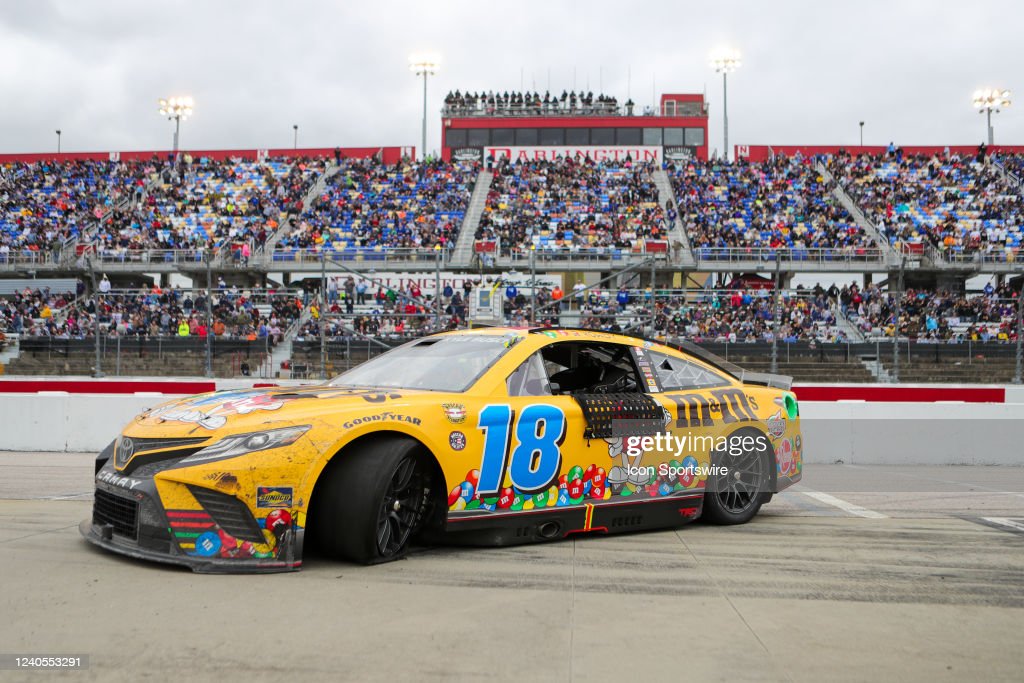 I guess if you had only picked a different place to park it you could have avoided the post-race conversation in the Hauler.
Or maybe if you had left your car like Bubba Wallace and found someone to shove several times, not separate when ordered by officials, walk off and bump another official you could have avoided NASCAR jail like the last driver who did all that. Oh he did get a penalty but it was for all that happened on-track before. Doing all that other stuff didn't warrant a penalty for it, much less a gathering in the Hauler to discuss it or the box it put the Sanctioning Body in.
And we've seen where a disgruntled Denny Hamlin can disregard post-race protocol, by-pass exiting the track after the race to then use his car to disrupt the post-race on-track Victory celebration. He further showed his displeasure with a post-race cuss-fit disguised as a post-race interview.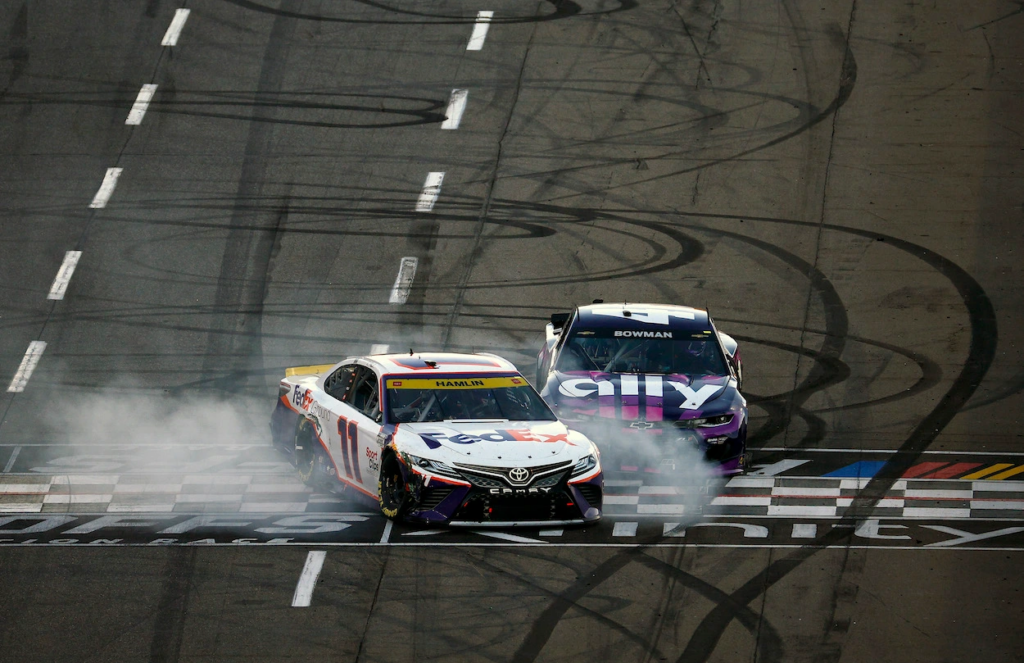 Maybe dropping some adult bad words when they first tried to interview you would have kept you out of the Hauler. Believe me, I'm glad you didn't and not recommending it, but just saying it seems to work for others.
Nasty words seemed to distract attention from the fact that when he passed the commitment line to pit road and did not enter the pits after the race he crossed the line and basically told the Sanctioning Body in pretty clear terms, I don't care about your rules. Everything after that just reinforced that further.
Your trip to the Hauler seemed to be a lot about NASCAR explaining to you just how important it is to them that you follow their rules. You would think those same concerns and the same talk in the Hauler would have been warranted in this last situation.
All that said, in a world where lines are constantly blurring, I want to thank you for doing what you did to again bring focus to the fact that there are lines… and crossing them is unacceptable and will result in immediate action.
Hitting the control car doesn't. Blocking the garage entrance and walking away doesn't. Not staying with your vehicle and going off to do what you want with other drivers and officials doesn't and using your vehicle to disrupt on-track, post-race celebrations doesn't.
But leaving your car at the Start/Finish line and walking away does.
Fair? Not saying it is. But at least for now, we know where a line is.
Thank you for defining it.
Maybe your action and trip to the Hauler is the first step in a return to a more decisive Sanctioning Body.
Oh wait, there goes Daniel Suarez.
Never mind…
But thanks anyway!
Thunder On… and Stay Safe
David Nance