Another historical NASCAR figure has left us with no notice, unless I have missed it. Did any of television's talking heads, self-proclaimed scribes of NASCAR history, web site gurus or the daily or trade press tell us of the March 14, 2017, passing of Tom Friedkin in New York City after a brief illness? I think not. Certainly not in detail.
We have members at GhostTracks who flagged races and inspected cars with Tom Friedkin entries. Very possibly we might even have members who crewed for Mr. Friedkin's team.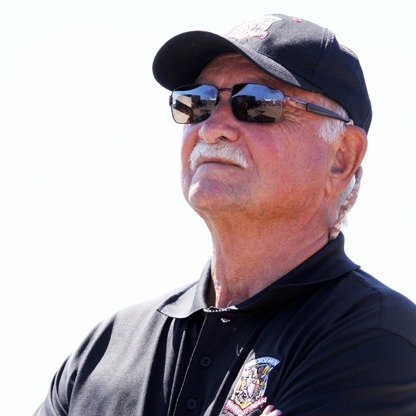 It just makes me sick that all of these purported "experts" fail to convey such important news. Then again, how many of these purported "experts" really know a darned thing about NASCAR history? That's why we have the GhostTracks site – to rectify, correct, and tell the "true" story of stock car racing.
Tom Friedkin came into NASCAR racing in 1965 as a millionaire. When he passed in March 2017, he was a billionaire.
Not only did the NASCAR press fail to tell us of Mr. Friedkin's passing, neither the mainstream nor business press wrote one single word about Tom Friedkin's one-time passion for and involvement in NASCAR stock car racing. Here's what the Houston Chronicle wrote when they learned of his death in March:
Thomas Friedkin, founder of what is now Houston's largest private company, has died.
Friedkin established Gulf States Toyota, an independent vehicle distributor, in Houston in 1969. He died March 14 at 81, but further details have not been made public.
Gulf States Toyota supplies hundreds of thousands of vehicles to dealerships in Texas, Arkansas, Louisiana, Mississippi and Oklahoma. The spokeswoman said dealers were informed of Friedkin's death this week.
Friedkin helped introduce the Toyota to drivers in the region at a time when the Japanese automaker wasn't nearly as popular in the U.S. The manufacturer's mid-century Corolla model was boxy and colorful, unlike today's sleek models in muted shades.
As the vehicles picked up speed here, so did the business. Three years after Friedkin signed a distributor agreement with Toyota Motor Sales, Gulf States Toyota had sold 5,000 cars and trucks to 14 dealerships.
In 1979, the company held the No. 1 spot in imported car and truck sales. It had sold nearly 66,000 vehicles by the end of that year.
In 1998, Gulf States Toyota outsold even Toyota Motor Sales USA in import car market share. A year later, Friedkin was inducted into the Texas Business Hall of Fame.
The momentum pushed Friedkin onto Forbes' annual list of billionaires. The magazine in 2013 valued his net worth at $1.7 billion.
Friedkin was also an avid pilot. He appeared in the cockpit in several movies, including "Blue Thunder" and "The Rookie," according to the IMDB movie website.
Friedkin's son, Dan, has succeeded him as chairman and CEO of the company, which reported $8.4 billion in revenue in 2015.
Thomas Friedkin is survived by his wife, Susan, and four children.
NASCAR got not a single mention in Tom Friedkin's business obit and that is just plain sad for a man who brought me and my buddy Frank Buhrman so much pleasure for a couple of years.
I never knew Tom Friedkin and I was "just a fan" when he came into my life. That doesn't make me qualified to write about him and I would challenge those who knew, worked for or around Tom Friedkin in NASCAR to please chime in with comments. A little back story is in order first.
Tom Friedkin was one of those individuals who the media liked to call "sportsmen." A sportsman was a good ole rich boy who liked to dabble in many non-business-related endeavors.
Our GhostTalker and radio host, Tim Leeming used to hang out at the Camden, South Carolina racing shops of sportsman Bondy Long, a millionaire heir to some of the DuPont fortune who took a liking to NASCAR at about the same time as Tom Friedkin, though Friedkin was the more colorful of the two.
Friedkin was piloting commercial aircraft for his father's Pacific Southwest Airlines (PSA) when his father and mother perished in a crash. He inherited the company as a 30-year-old. He was a big game hunter and conservationist. He flew stunts in several Hollywood feature films. Then the racing bug bit.
Between early 1965 and December 1968, Tom Friedkin would field 106 NASCAR Grand National entries, win 7 races, then disappear as quickly as he appeared on the racing scene.
Starting at Riverside with a Ford for Jerry Grant, it was later in 1965 when Friedkin brought some joy to buddy Frank and myself by seating veteran driver and proven winner, Jim Paschal in a beautiful burgundy 1965 Chevy Impala #41 emblazoned with the little sleepy bear logo of the Travelodge motel chain.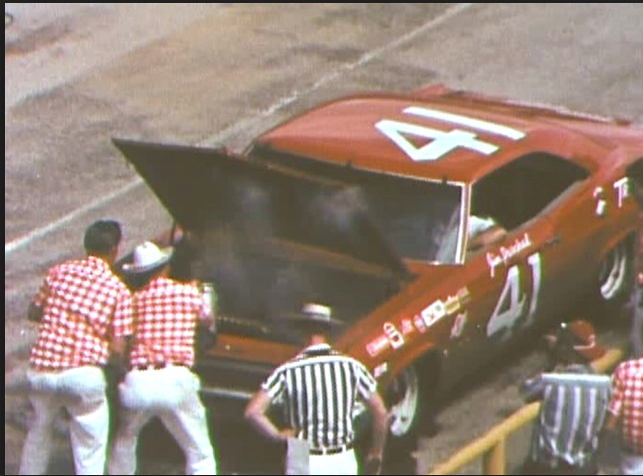 1965 had been a very rough year unless you were a Ford fan. Chrysler had boycotted NASCAR over size limits Big Bill France placed on the hemi engine. Our independent Chevy hero, J.T. Putney raced to a number of 2nd, 3rd and 4th place finishes in Herman "The Turtle" Beam's #19 Chevy, but it was an all Ford show in victory lane.
There were some attempts by Big Bill to get a competitive Chevy Impala on the track as attendance waned and some interesting entries suddenly appeared into the 1965 season from Smokey Yunick, Ray Fox, Toy Bolton, Turkey Minton AND Tom Friedkin.
Oh, how we cheered for Paschal in the big burgundy Tom Friedkin Chevy Impala against the Fords at Atlanta, Bristol, Darlington and finally at our hometown Richmond dirt track.
By the time Frank and I arrived from Richmond at Rockingham in March 1966 on the race train special to witness the first, last, and only Peach Blossom 500, the Tom Friedkin Chevy Impala had morphed into a burgundy #14 hemi Plymouth. With Richard Petty out with a thumb injury sustained in a touch football game, I suspect Tim Leeming might have been cheering with us for sometimes Petty Enterprises driver, Paschal.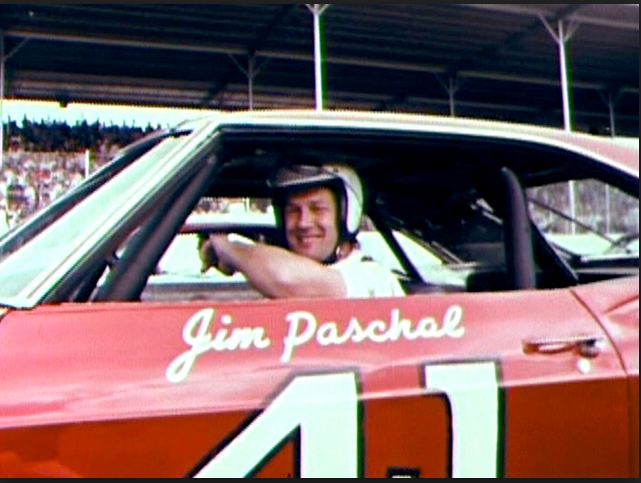 The Tom Friedkin Plymouth, wheeled by veteran Jim Paschal and crewed by Wilkesboro area crew chief, Bill Ellis, waged a torrid side-by-side Rockingham battle for the lead that day with Cale Yarborough in the bright red #27 Banjo Matthews Ford, all caught by me on Kodak movie film. Any guess which of those cars Ford hating Frank and I cheered? The Paschal entry would suffer engine failure, but the Ray Nichels Plymouth of Paul Goldsmith would save the day against the hated Fords.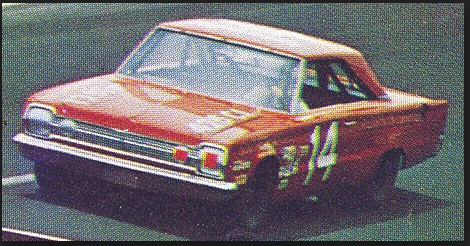 The #14 Plymouth fielded by Tom Friedkin would race 20 times in 1966 with Paschal scoring the first two Grand National wins for the fledgling millionaire car owner. Jerry Grant and Marvin Panch also wheeled the Friedkin car in 1966.
Those of you who were around, may recall that the Friedkin and Ellis Plymouth team eventually dropped the burgundy color scheme with white numerals and settled on a blue Plymouth carrying gold numeral 14s on the doors and roof and "Friedkin Enterprises" on the quarters.
1967 would be a huge year in NASCAR Grand National stock car racing for owner Tom Friedkin, driver Jim Paschal and crew chief Bill Ellis. They'd enter an exhausting 45 races that year and win four times, bringing the Friedkin GN win tally to six.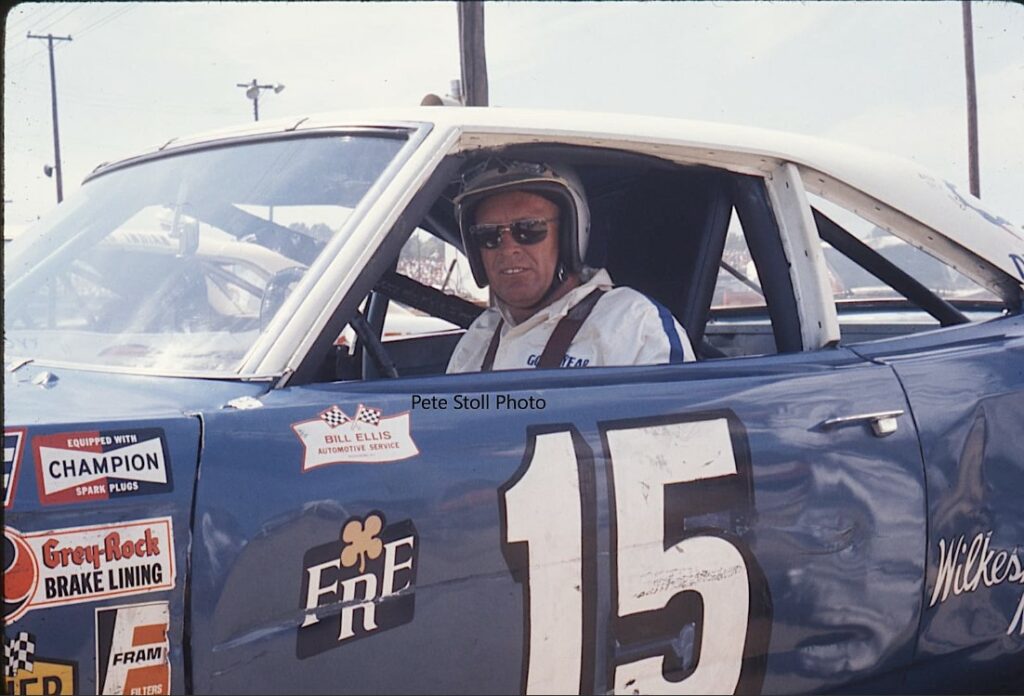 1968 would be the last season for Tom Friedkin in NASCAR. His driver lineup that year in cars numbered #14 and #15 was a who's who of outstanding racers.
Not only did Jim Paschal drive for the Friedkin/Ellis duo in 1968, so did Chargin' Charlie Glotzbach, Paul Goldsmith, Jerry Grant, James Hylton and Norm Nelson. Tom Friedkin even put Frank's and my racing hero – "Mr. Modified" Ray Hendrick of Richmond – in his Grand National car for a 4-race swing through Virginia. The modified star rewarded Friedkin with four top-10s in four starts, including one top-5.
Not to be outdone by Rapid Ray Hendrick's four consecutive top-10s in the Friedkin car, old veteran Curtis Turner climbed aboard for six 1968 races, matching Hendrick's four top-10s and one top-5.
The NASCAR record book will show that the 1968 season had ended and 1969 begun when Tom Friedkin entered cars in his final two races. But, both races were actually staged in 1968.
Appropriately, Tom Friedkin's final NASCAR entry resulted in a win. On December 8, 1968, local favorite and fierce Richard Petty rival, Bobby Allison would drive the Friedkin Enterprises Plymouth to a win in Montgomery, Alabama. The only car on the lead lap with the Friedkin car was Petty, in his last Plymouth outing before the dastardly move to Ford for 1969.
And just as suddenly as Tom Friedkin entered the world of NASCAR, he left, never to be seen again.
The still very young Friedkin had put in a bid to be a distributor of Toyota automobiles and was awarded the rights to distribute those imports throughout the Gulf states beginning in 1969. As noted in the Houston Chronicle obituary, by 1979 – ten years after leaving NASCAR, Tom Friedkin became the largest importer of automobiles and trucks in the United States, surpassing even Toyota Motor Sales USA. I wonder if Joe Gibbs and Toyota Racing Development have ever heard of Tom Friedkin?
When Tom Friedkin left NASCAR after the 1968 season, his former crew chief Bill Ellis took over operation of the #14 team. Between 1969-1971, Ellis would enter the #14 in 15 races. His first driver for the #14, in 1969 was very familiar to member Bobby Williamson and our big boss Dan Hinson. His name was Richard Brickhouse and he hailed from the North Carolina coastal plains community of Rocky Point. Later the same year Brickhouse would win the very first Grand National race at Talladega, but that is a story for another day. It does explain, though why Talladega's first GN victory lane was heavily populated with #14 shirts.
Besides Brickhouse, other drivers of the remnants of the Tom Friedkin team over those 15 races were Paschal again, Sam McQuagg, Ramo Stott (at the Brickhouse Talladega win), Freddy Fryar and Mexican star Pedro Rodriquez. Then it was over.
I am saddened that I have not heard one single mention of Tom Friedkin's death by the "experts." I guess they figure he was just another millionaire passing through NASCAR like a ship in the night. I really do detest "experts" and know-it-alls.
I would challenge any of you who worked around NASCAR during those brief years of Tom Friedkin's seven winning entries to enlighten us about him and his racing operation.
# # #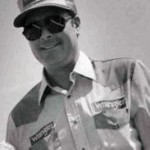 More of Dave Fulton's articles ( Here )
(Editor's note: This story is published with the permission from the author! It may have appeared previously at RacersReunion.com, GhostTracks.com)