Last week in the article Can Fontana Teach Us Anything About Vegas several questions were asked about what to expect about the racing from Las Vegas. Let's take a minute, review and see what we learned after the Pennzoil 400.
Will we see more green flag passes?: Sure did. Last year was 3271. This year was 3648. This is the second-highest Green Flag Passes in the last fifteen years, only topped by the 4057 in 2021's race, the final season of GEN 6.
This was the best stat for the race!
Will the bulk of the passes be P1-P15 (Quality Passes) or P16 or below?: Of the 3648 Green Flag Passes, 1249 were Quality Passes or were for P1-P15. This means 31.24% of the GFPs occurred in the 41.66% front of the field-or the bulk of the passing wasn't up front but happened in the back of the pack.
Not what you hope for.
12 Cautions ate up 60 of the 267 laps last year. Will we get more than 207 Green Flag Laps this time?: This race only had four cautions (eight less) for 26 laps. That means this race had 241 Green Flag Laps or 34 more Green Flag Laps for racing over last year.
More Green Flag Laps should mean better racing… right?
What about up front, and Green Flag Lead Changes. Last year we had 11. Do you take the over or under this year?: If you took the under you'd be a winner as this year's race saw 10 Green Flag Lead Changes.
This is not surprising considering the race only had a total of 13 Lead Changes. This is the second lowest in 15 years with 11 Total Lead Changes in 2018 being the lowest over that period.
Will the Lead Changes be mainly on Starts and Restarts (5 on 13 Starts/Restarts) or will we get more Green Flag Runs and have pits stops create Lead Changes? Last year the runs were long enough to produce two Lead Changes when the Leader pitted.: This one is interesting from several angles. The first round of Green Flag Pit Stops produced three Lead Changes and saw William Byron reassume the lead when Tyler Reddick pitted. The Third Round of Stops started at lap 221 and produced another four Lead Changes with Larson reassuming the lead.
So you would expect the Second Round would produce Lead Changes as well. Unfortunately, between P1 Byron and P2 Bowman pitting together and their margin being so large over the earlier pitting P3, Byron was able to get in and out if the pits without relinquishing the lead!
Impressive. Discouraging if you are a fan of close racing but something you don't see very often and makes a statement about how close or not close the racing was.
Starts/Restarts accounted for one Lead Change but it was the most important one-the final and winning Lead Change that happened during the race's Green-White-Checker that gave Byron the win.
Finally, will we see more Racing Lead Changes this time. Last year at this race only four times did we see a driver pass a driver for the lead… Among three drivers. Race winner Alex Bowman got one, Denny Hamlin got another and current points standings leader, Ross Chastain got the final two. Those three have proven they can drive a NEXT GEN to the front on this track. Should your fantasy pick come from this trio of Race Leaders?: Last year's race had four Racing Lead Changes. This year saw two.
Lap 10-William Byron passed Joey Logano
Lap 196-Kyle Larson passed Denny Hamlin seven laps into the run after Caution #3.
So, fans had to wait just over two hours to see two Racing Passes for the lead. Is that an appropriate interval to keep fans engaged?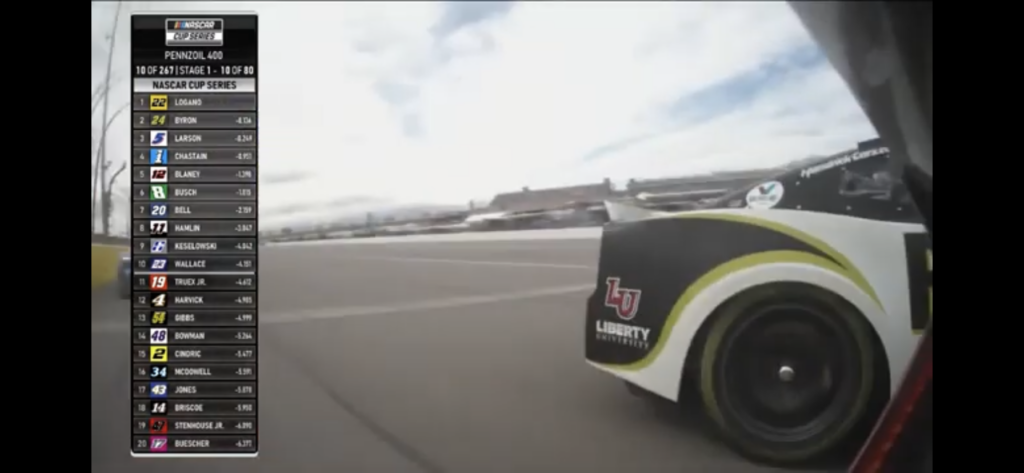 Hard to believe that's the best shots FOX had to show the only two Racing Lead Changes of the race.
So not only was there little passing on the point but on the rare occasion there was FOX managed to mess up showing them.
Good news is they did get them and weren't at commercial when it happened.
As far as who could do the passing-last year it was Bowman, Hamlin and Chastain, but none of them passed the leader this year. So if you used this for your fantasy picks this year, you lost out.
Final Thoughts: Nothing in this race was statistically positive except for NASCAR's go-to metric, Green Flag Passes. Even with those up they are taking place in the back of the field instead of the front.
The action did improve after the Lap 189 Restart as the there was an noticeable increase in intensity as different drivers made their runs. Unfortunately, it took momentum to make passes, especially for the lead… and that rarely happened.
Even though Byron had the stoutest.car all day, leading the most laps, winning both Stages and leading the entirety of Stage Two (even with Green Flag Pit Stops), he couldn't pass his teammate Kyle Larson to regain the lead. Without Aric Almirola's late race spin to force a shoot-out finish, we might be talking about Kyle Larson.
I'm concerned battles for P16 or lower, which is where Timing and Scoring shows passing is taking place, is going to keep fan interest high though. And two Racing Lead Changes on an intermediate track, the NEXT GEN's best racing track last season, is not what I hoped or expected to see.
For those of us at home… FOX needs to step it up. I don't want to see bumper cam shots to show me lead changes, not do I want to see them showing a trailing P5 car when there is an attack for the lead going on.
Shout out to Danica for calling the coverage off of the bumper cam shot of Bubba Wallace tooling down the straightaway to redirect the cameras to Kyle Larson all but running over leader Denny Hamlin.
I'm not sure where the director (or Mike or Clint) was but she at least knew enough to call out and get the cameras on some wild action.
I guess we're going to have to go back over the Law's of Racing which includes – A good broadcast can't make a bad race good. But a bad broadcast can make a good race bad. Heaven help you if you get bad coverage of a bad race!
This was race three, four counting the Colosseum. The dust and rust should be off by now and what you're bringing isn't helping the cause.
So what did we learn?: If this is an indication of this year's NEXT GEN performance on its best tracks, it could be a long season.
The good thing is there is another race Sunday as the Series goes back to Phoenix Raceway, and next month after a couple of exciting outings goes to the record-breaking Martinsville Speedway. Hopefully, the new package can replace the "Melon Move" for excitement.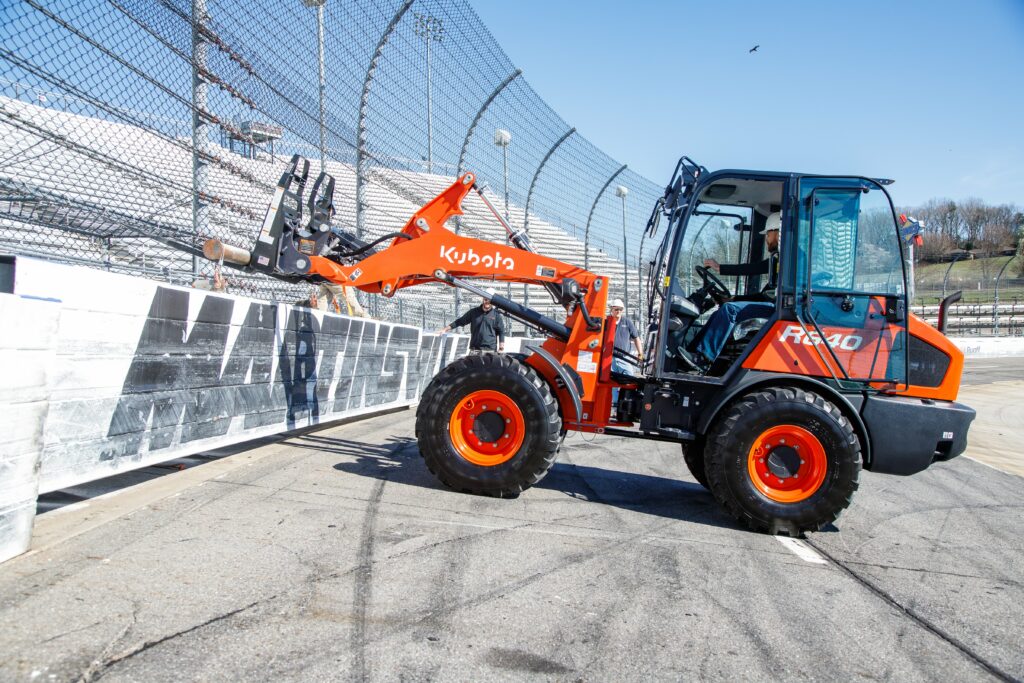 Tune in and find out!
Comment what you think it is. I'll give you the answer in the next installment.
Thunder On… and Stay Safe!
David Nance
Photo Credit (cover):  Meg Oliphant / Getty Images
PS: Also, more about the Vegas race check out Reddick Issues Warning About Next Gen Car | Kimi Räikkönen Returns to NASCAR – YouTube
DS