Fontana was an interesting race although I thought the second time around with the NEXT GEN care would produce better numbers including more Racing Lead Changes than last year's race.
If you recall that the 2022 race was only the second time CUP had raced the new cars. This was the first race for them on a non-Speedway track. The teams faced major supply chain issues and they went into the first of three races on the West Coast Swing severely short-handed. They had a single primary car for each number and if lucky one backup car for the team. The rest didn't have full backups but a single "parts car" to scavenge from in case something very bad happened.
Race hard? Pretty difficult considering the mine field the teams had to navigate through to get through the Swing intact. But they found a way.
So, it wasn't unexpected that the 2023 (and final in this configuration) Edition of Fontana produced more Green Flag Passes than the inaugural NEXT GEN race there-3512 to 2696. The fewer cautions (8 to 12) produced 21 more green flag laps for passes (162 to 141) coupled with an additional two passes for position per Green Flag Lap resulted in the more favorable numbers.
Other numbers… well
The increase in Green Flag Passes is a good thing for sure, however when you factor in other metrics, like Quality Passes compared to Green Flag Passes, Lead Changes, Green Flag Lead Changes, and finally Racing Lead Changes, the 2023 numbers actually went down. This indicates in 2023 there may have been more passing but the passing took place in positions 16-36 instead of up front where fans hope the action to be.
Lead Changes went down four (32 to 28). Green Flag Lead Changes likewise ()
And finally, Racing Lead Changes (green flag lead not after restart or result of pit stops) went down 5 to 4. So, all the indicators that point to racing being done up front where you would expect fans to want it to be, just weren't there.
Oddly enough…
It didn't seem to matter though as the Jeff Gluck's Good Race Poll said over 90% of those who voted said Fontana 2023 was a good race.
What about the Margin of Victory?
The race finish often determines how "good" or "competitive" the race was. On Sunday, Kyle Busch took the Checkered Flag 2.998 seconds ahead of Chase Elliott, whereas last year's NEXT GEN race had a Margin of Victory of 0.195 seconds, the closest finish from 2010 – present.
This race finish neither qualified for a dominate "butt kicking" nor was an "on the edge of your seat" finish. At the end, once Kyle got to the front, neither Ross Chastain nor later Elliott had nothing for RCR's newest driver who racked up his 61st CUP win.
Fontana Length Final Green Flag Run directly impacts MOV
A look back over Fontana finishes, it has been the longer the Final Run-the larger the Margin of Victory as evident in the chart below.
YEAR LAPS MOV
2010 2 0.466
2011 9 0.344
2012 U/C
2013 U/C
2014 2 0.214
2015 2 0.710
2016 2 0.772
2017 2 0.779
2018 68 11.685
2019 31 2.354
2020 73 8.904
2021 N/A N/A
2022 4 0.195
2023 55 2.998
U/C-Under Caution. N/A-Not Applicable-no race.
Historically, if the run to the Checkered Flag is nine laps or less the MOV will be less than 1.0 seconds. Over nine laps… Look out! Sunday was way over that lap limit and the clock bore it out.
Is Fontana and Indicator for Vegas?
Going into a race, the big question is "What can we expect?"
Will we see more green flag passes? Last year saw 3271 than last year? Will we get more Sunday? Last year most passes were in the back. Will the bulk move to P1-P15 or stay P16 or below?
12 Cautions ate up 60 of the 267 laps last year. Will we get more than 207 Green Flag Laps this time?
What about up front, and Green Flag Lead Changes. Last year we had 11. Do you take the over or under this year? Remember they have two races on this track under their belt?
Will the Lead Changes be mainly on Starts and Restarts (5 on 13 Starts/Restarts) or will we get more Green Flag Runs and have pits stops create Lead Changes? Last year the runs were longer enough to produce two Lead Changes when then Leader pitted. The more Cautions the more Start/Restart Lead Changes but fewer Leader Pit Lead Changes.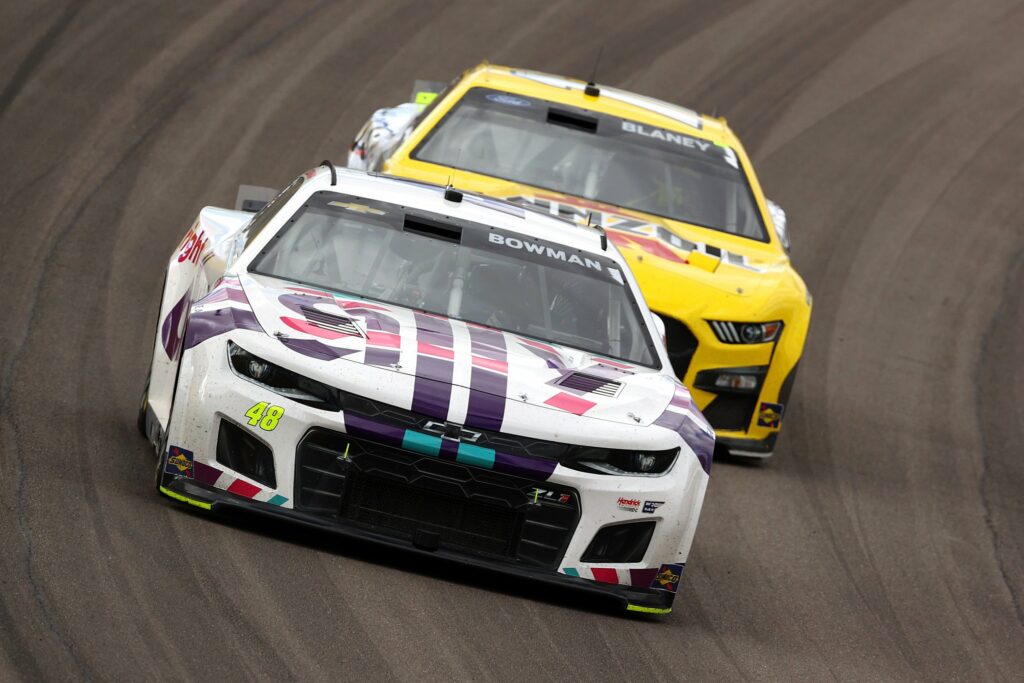 What will it be this year?
Finally, will we see more Racing Lead Changes this time. Last year at this race only four times did we see a driver pass a driver for the lead.
Four Racing Lead Changes! Among three drivers. Race winner Alex Bowman got one, Denny Hamlin got another and current points standings leader, Ross Chastain got the final two.
Those three have proven they can drive a NEXT GEN to the front on this track. Should your fantasy pick come from this trio of Race Leaders?
Can what we learned at Fontana help us predict which way things will go at second time for this race at Las Vegas? We're going to find out real soon. Check back in after NASCAR posts their stats and we'll see how NEXT GEN performed in its first 1.5 miler.
Should be fun!
Other points to consider.
Rivalries
With all the Silly Season driver shuffling several "rivalries" were pitched involving Kyle Busch. Stuff like who will win more races KFB or Ty Gibbs (who drives KFBs vacated ride). Or KFB or Tyler Reddick (KFB took Reddick's RCR ride).
These are no brainers and hardly warrant mentioning. Kyle has 61 Cup wins and a full NEXT GEN season under his belt. Ty Gibbs is a rookie who subbed for the injured Kurt Busch on the 23XI team last year. He's also going into a JGR ride that only produced one win for KFB and that was a questionable one as KFB was running a distant third to Reddick and Chase Briscoe when a last corner tangle took the front two out, barely giving KFB the win.
Long way to say that Gibbs ride has a long way to go to be impactful. From here looks pretty lop-sided and if KFB can't smoke the rookie then something is incredibly wrong.
KFB vs Reddick's is a bit closer, but the biggest problem is the car Reddick is vacating and Busch is occupying had three wins and could have easily had five (Bristol Dirt, Daytona 400). Reddick's new ride produced two. This might be an interesting duel if the two had comparable equipment, but that's not the case, making this a lukewarm rivalry at best.
The one that doesn't get discussed and so find is more intriguing is KFB vs. Kevin Harvick. Why those two? Bothe entered the season with 60 wins. Harvick is retiring at the end of the season. This will end the "Harvick Era" (2001-2023). Who will have the most Cup wins at the end of that era?
After Fontana, it's 61-60 KFB. Can Harvick make it even again or will Busch continue to increase his lead. Now that is interesting… and worth watching.
What's going on with these Points?
Daytona-Ricky Stenhouse, Jr. wins and leaves Daytona third in Points behind Joey Logano and Chris Buescher. Fontana-Kyle Busch wins the race and leaves California with five fewer points than Ross Chastain.
Two races. Two different race winners. Two different points winners. Looks odd but that's the way points are awarded for Stages and the race. It is what it is but more are starting to question if what it is right?
Sunday is the third race of the season, and the question is-will we see a third race where the race winner leaves the track with fewer points than other drivers. I don't know the answer but am going to watch to find out.
Chase News
News broke late today that Chase Elliott will miss Sunday's race as will be recovering from leg surgery to fix an injury he sustained while snowboarding in Colorado.
Was sorry to hear this news. At Fontana, Chase finished second to Kyle Busch after starting from the 33rd position. His climb up 31 positions was impressive to say the least I was looking forward to seeing what kind of performance he would put on at the 1.5-mile track Sunday.
Praying for a successful surgery and a quick and full recovery and rapid return to behind the wheel. Prayers to Josh Berry who will be wheeling the #9! car in Chase's absence. Good luck.
Hope everyone has a great race weekend.
Thunder On… and Stay Safe
David Nance
Photo Credit (cover); Meg Oliphant / Getty Images