Within the past week*, we race fans have lost two very prominent men, probably not well known to the "come lately" fans, but without whom stock car racing would not be the same, certainly not NASCAR. Russ Truelove and James Hylton have both departed, Russ through age and James through a tragic accident, but both are gone. How sad the weekend is for us old time race fans who remember when these guys were front of the pack racers although there is a big race in Talladega this afternoon (as I write this on Sunday).
Someone on social media wrote "there are no words to express his sadness at the passing of James Hylton". I know the sentiments because I've had the same feelings at times when we lose drivers. I was not yet 12 years old, standing next to the fence separating the infield from the track at Darlington when I witnessed Bobby Myers being killed in a crash right before my eyes. I was at Charlotte in May of 1964 as I watched the black smoke rising for the burning hulk of Ford #22 from which Fireball Roberts would later pass away. I would have been in that same spot at Darlington in 1965 when Buren Skeen was killed but I was boycotting NASCAR because they outlawed the Hemi.
The sad thing here is that most of the race fans of today don't know these names, or the names of Harold Kite, Larry Thomas, Jimmy Pardue, Joe Weatherly, Tiny Lund, Jabe Thomas, Elmo Langley, Earl Brooks, J.D. McDuffie, and so many others who gave so much to the sport we love. Over the years I've been around racing, I've met every one of those mentioned because I've been fortunate to have found a way to be connected to the sport. I was appalled in 1994 when the ABC Sports gal did not know who Buck Baker was when he stood right before us at the credential sign-in for the Southern 500, a race Buck had won three times. I was in shock when speaking to a class on Southern Heritage at the local University in 1996 when I was told by a student that there was never a driver known as "Fireball". I'm not sure which one of those instances thrust me into the project to accurately preserve the history of the sport but I am now deeply involved in that effort.
Being a fan since 1952 and attending races all over the Southeast, has allowed me to see the dimly-lit half-mile dirt and asphalt tracks and watch drivers compete. Many of the drivers had very limited financing but they all shared what they had in those days. Some became Stars of the sports and others are a part of the sport the younger fans would have to dig through internet sites for information. But think about this: Where would the sport be today if it weren't for the independent drivers such as James Hylton and Russ Truelove and all the others mentioned above? Simple, there would be no NASCAR.
Many detractors of the Petty Legacy like to point out that Richard won many of his 200 victories on short tracks with 15 to 20 car fields, with only one or two other cars having the backing he had. They conveniently forget that it was late in the 1960s before he had any appreciable backing. Those detractors like to point out that David Pearson was often his only competition. I take very strong exception to that statement, not because I was always a fan of Richard's, but because it seems to overlook the independents that made up those fields… independents such as James Hylton.
Watching a 100-mile race on a half-mile dirt track and seeing the fierce competition between all the cars out there is a part of my memories I hope I never lose. Guys like Hylton, Wendell Scott, Jabe Thomas, and so many more of those independents. A good friend of mine, Perry Allen Wood, wrote a book a few years back entitled "Declarations of Stock Car Independents" which contains a chapter on James Hylton as well as 11 other such drivers. Perry interviewed, along with James, Johnny Allen, Tommy Irwin, Curtis Crider, Elmo Henderson, Reb Wickersham, Paul Lewis, Gene Hobby, Jimmy Helms, Joe Frasson, Raymond Williams, and D.K. Ulrich. As far as I know, this book is still available for purchase, perhaps on Amazon and it is well worth the read. And, no, I am not compensated for the endorsement of the book; merely pointing it out because it does contain the stories as told by the individuals and we are fortunate that James is included.
James Hylton had a reputation for helping out other drivers, especially the "little guys". I can speak from personal experience that he was doing that back in the 60s when I was racing because he helped me out, yet he was a true independent with not that much backing. I guess this article leans heavily on James because of those memories but I also sit here and think of all the other guys mentioned herein and the so many more I watched race over the years. My Uncle Bobby, the man who got me so deeply involved in racing, once said if we had carried a camera with us, I would have my picture with every driver who ran in NASCAR from 1952 forward and I guess that's true. A camera we didn't have, but the memories I do have and James is a prominent memory for sure.
I have often used the expression "may he rest in peace." I guess this week, the loss of James and Russ within such a short span of time, has led me to the revelation that such a term should not be used when referring to a racer passed on. The passion these men had for their sport will burn within their spirits and their "rest" will be working on or driving a race car. I'm not sure if there is a "racetrack in the sky" we so often hear talked about when a driver passes, but if there is the spectators are watching the best of the best.
These men may have left this earthly plane, but they have not left the hearts and memories of those who once cheered them and now mourn them. But, be comforted, if you can, because by doing so you can assure the memories of these special people are passed on to the next generation. I sit here now and realize how much I truly respected all these past drivers. I have personal memories of them all through the years, from Buddy Baker to Benny Parsons. And, you know what? All those memories are good.
So, James, Russ, and all you other guys, don't you get caught for speeding on pit road up there!!!!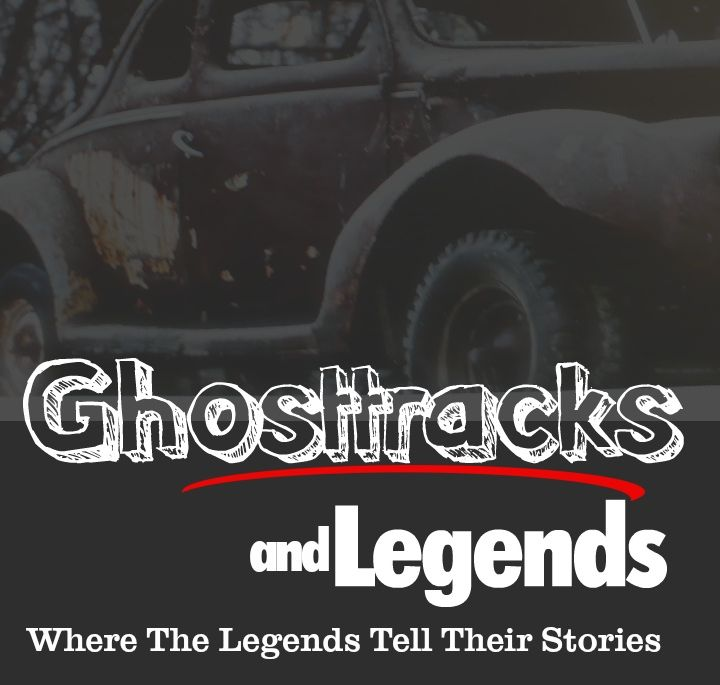 Don't forget to listen to our podcasts, The Racing Spotlight and Ghosttracks & Legends Race Talk on Tuesdays and Thursdays at 7:00 PM Eastern Time.
Tim Leeming
(Editor's note: This story is published with the permission from the author! *This story was originally published a few years ago on Race Fans Forever, after the spring race at Talladega. If you missed any of Tim Leeming's articles, here at PTR; they can be found Here )
Photo Credit (cover); NASCAR at Talladega.