(The author is meandering through a life of race-fandom, while he still remembers at least some of it. Part 3 of the Six Decades series, if you missed any part, click here.
On the afternoon of July 4, 1976, as we closed up the U-Haul truck after unloading the last of our belongings into our new house, a Bicentennial Day Parade float passed by, heading back out of town after the celebrations had ended. We probably joked about the parade being for us.
The new chapter in our lives began the next day, when I went to work at the local newspaper. Siler City, N.C., was home to several large textile mills, a furniture plant, and – two blocks up the street from us – a plant that made cheap dogfood. It also was home to Aunt Bea, or Frances Bavier, the actress who played that role on the Andy Griffith Show and had later retired three. She lived next door to my boss at the newspaper.
We continued going to Trico Speedway after moving in '76, but the next season a new track came into the picture: Caraway Speedway in Asheboro. It had been built as a dirt track nearly 15 years earlier, but that year it was purchased by the owners of the Thomas Brothers Country Ham business, known in racing circles for sponsoring the Sam Ard and Monk Tate late models. The new owners put a ton of money into fixing the place up, and everything was done first class. Legendary Greensboro sportscaster Charlie Harville was the announcer.
Unfortunately, the early weeks of racing were plagued by bad weather, and by mid-season, the original promoter had been replaced by Russell Hackett, who would continue in that capacity for more than 30 years (with his daughter remaining involved today). Despite those problems, the racing was good, featuring Ard and an array of Central North Carolina, Virginia, and South Carolina standout pavement competitors. Butch Lindley was a regular, as was a young driver named Dale Earnhardt.
We became Caraway regulars, with semi-regular trips back to TriCo, and occasional visits elsewhere, like 311 Speedway in Madison, when we felt like seeing dirt-track racing.
On one night at 311, for reasons I can't explain, Joe Millikin, the onetime Cup Series driver from Randleman, N.C., showed up with an asphalt modified (a car frequently seen Martinsville, Bowman Gray, and elsewhere) to run with the dirt track late models. Starting on the pole in his heat, he hit the gas and spun around like a top at the start-finish line. The weird episode ended there.
But racing was different now, because I also was a sportswriter and editor, and I could wander into the world of NASCAR as part of my job. That started with Rockingham.
Dave Fulton and I had attended the second race ever run at N.C. Motor Speedway back in 1965, riding down from Richmond on the Seabord Coastline Railroad's special race train, but now I lived and worked about 90 minutes away. My boss didn't care much for racing – he just wanted high school sports covered well – but he liked being popular among the crowd that hung out at the downtown drugstore, and he knew that if he had free tickets to give away to the races, that helped with popularity.
The deal, then, was simple: as long as I got him giveaway tickets and didn't ask for full reimbursement for my racing trip expenses, I could cover whatever I wanted.
This was before NASCAR was too popular for little newspapers to get press credentials, but I'd still send the track a copy of the stuff I published about them, just to let them know there was a return on their investment. There were never complaints about my credentials or the freebies for the boss.
When he could get away, Fulton would come over from Wilson, and I'd get him credentials as my assistant.
The same routine worked at Charlotte and Martinsville – I even covered a major SCCA road race and an AMA motorcycle road race at the former. For three years, life was good on the racing front.
Occasionally, there were suggestions that I get the race tracks to advertise in the paper, but the only time I succeeded was with a dirt track called Rainbow Speedway in Reidsville. The promoter stiffed us on the bill, the track went under, and nobody pushed hard about the advertising again.
The newspaper years were fun, but we were slowly going broke at what I was getting paid, so when the opportunity arose, I took a job in public relations at UNC-Chapel Hill, where I remained for six years.
During that period, the schedule shifted a bit more toward short-track racing (although I did attend a North Wilkesboro Cup race to work on a story with a UNC connection), and the schedule allowed us to continue regular trips to Richmond (both Southside Speedway and Richmond Fairgrounds Raceway) as well as appearances at Caraway, TriCo, and other North Carolina tracks, now including Cumberland County Speedway, a paved short track where Fayetteville's weekly dirt track now sits.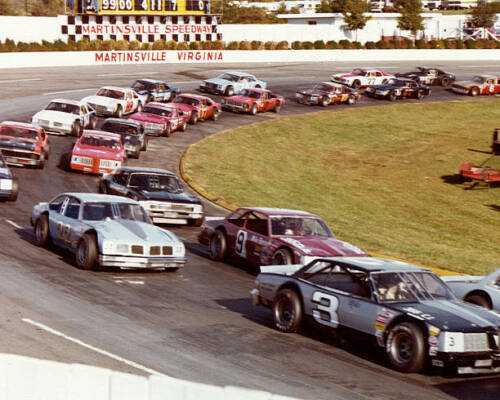 The late model sportsman/modified doubleheaders at Martinsville became particular favorites at this time. Those events would draw huge entry lists, and the Saturday qualifying races were guaranteed to be among the best you'd see all year. Cheering for local favorites against all those "invaders" made for a great day.
I'll share a "tribulations of a race fan" story here. On one trip to Martinsville, because of other schedule considerations, we decided to stay over the night before, rather than commute (Siler City was less than two hours away), and when we checked into our Mom & Pop motel just over the line in North Carolina, we discovered the heater going full blast in our room with no way to turn it off. The room was at 85 degrees. A complaint got us "no-HVAC-service-available-until-Monday," and there was likely nothing else available, room-wise.
We thought and thought, then rearranged the motel room furniture, moving the bed directly underneath the wall-mounted air conditioner, which at full blast pretty much negated the effect of the heater. The arrangement prevented opening/closing the bathroom door, so it had to remain open regardless of activity inside, but we were able to sleep. We left things as we'd rearranged them the next morning and imagined what the utility bill would have been for our room.
A food note: Martinsville is famous for its garishly pink/red hot dogs, but my preference in those locally-run concession days was the burger, which was simmered in chili after coming off the grill and served with more of the same – a chili burger instead of a chili dog. I haven't lost my taste for chili on a hamburger since then.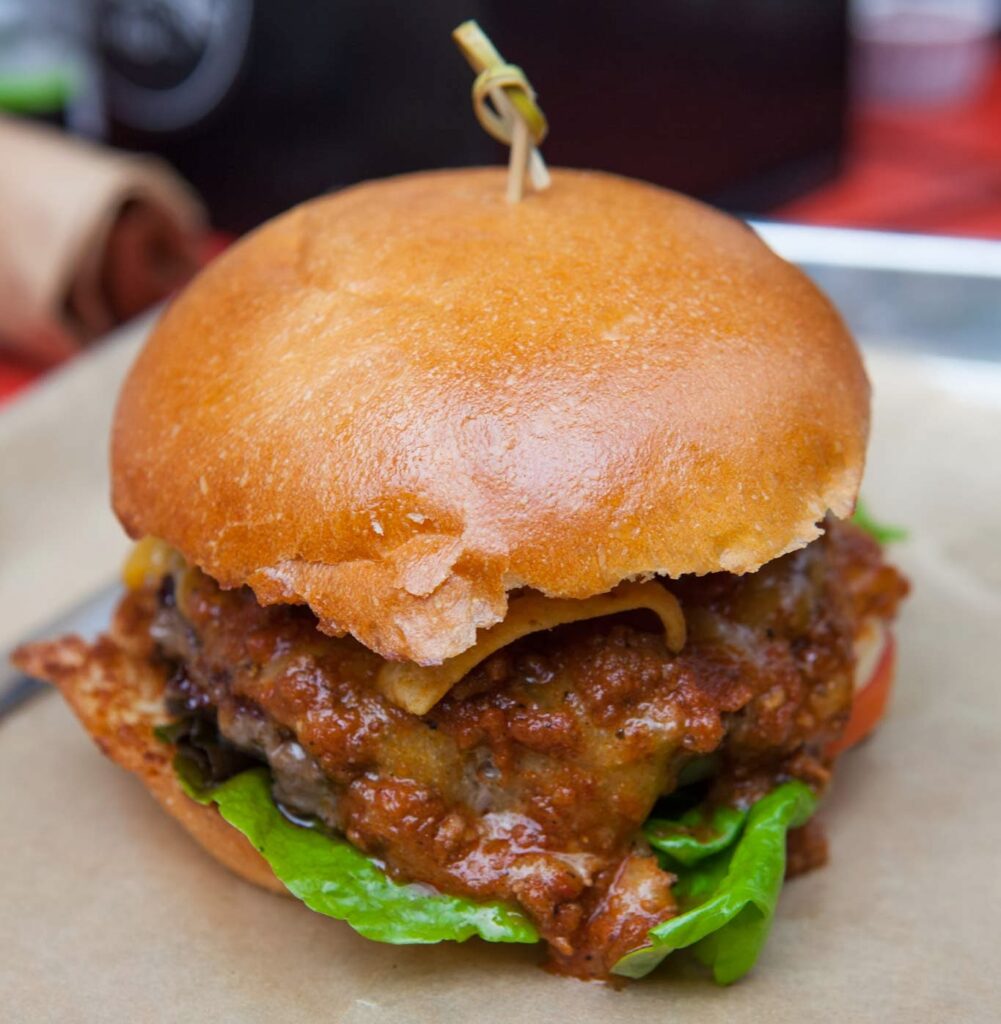 This phase of the race fan's life came to a close in the summer of 1985, when I accepted a job at Mount St. Mary's College (now University) in Maryland and moved just across the Mason-Dixon Line into Pennsylvania. I had no idea it would happen, but my world of pavement late model racing was about to be replaced by dirt tracks and race cars without fenders. More about that in Part 4.
(A NOTE about a regret – This might have belonged in the previous installment, but I don't remember the specific date. At one point in the mid-1970s while we were in North Carolina, I was doing some idle road-wandering and ended up outside of Hillsborough. Without planning, I somehow managed to arrive at the site of the old Occoneechee/Orange County Speedway, built by Bill France and moonshiner buddies and one of NASCAR's original Strictly Stock/Grand National/Cup tracks. This was before faithful preservationists had put the effort into saving what was left of the track from development and making some trails through the place.
For some reason, though, something in the ditch caught my attention, and I found a place to pull over and investigate. It turned out to be the twisted remains of a pretty large metal sign for the track. My guess is that it had been run over by mowing equipment.
For several minutes, I stood there debating (1) whether I could get the sign into my car, and (2) whether I'd get killed if I brought it home. After arriving at reasonable answers to both (1) and (2), I left the sign there. I still regret it.)
(PHOTO CREDITS – The cover photo is by David Allio and was shot at the former New Asheville Speedway. The photo with Ray Hendrick's car and the Thomas Brothers Country Ham hauler was published in Racers Reunion. The Rockingham program cover is from The Program Covers Project. The Martinsville Cardinal 500 photo came from eBay, which means I have no idea of its origin. The chili burger photo is from Un'Americana in Cucina.)
Frank Buhrman