(The author's history of six decades as a race fan ended with indecision over whether to take advantage of a newly presented opportunity to head for another track. Here's what happened.)
While I still don't know how long I'll keep this up, I know that the lure of a new track won out Saturday, and I headed out for Birdsboro, Pa. (just east of Reading), and the Pagoda Motorcycle Club, where the "World Championships" were being held for Slingshot scale cars.
So, first of all, what's a Slingshot?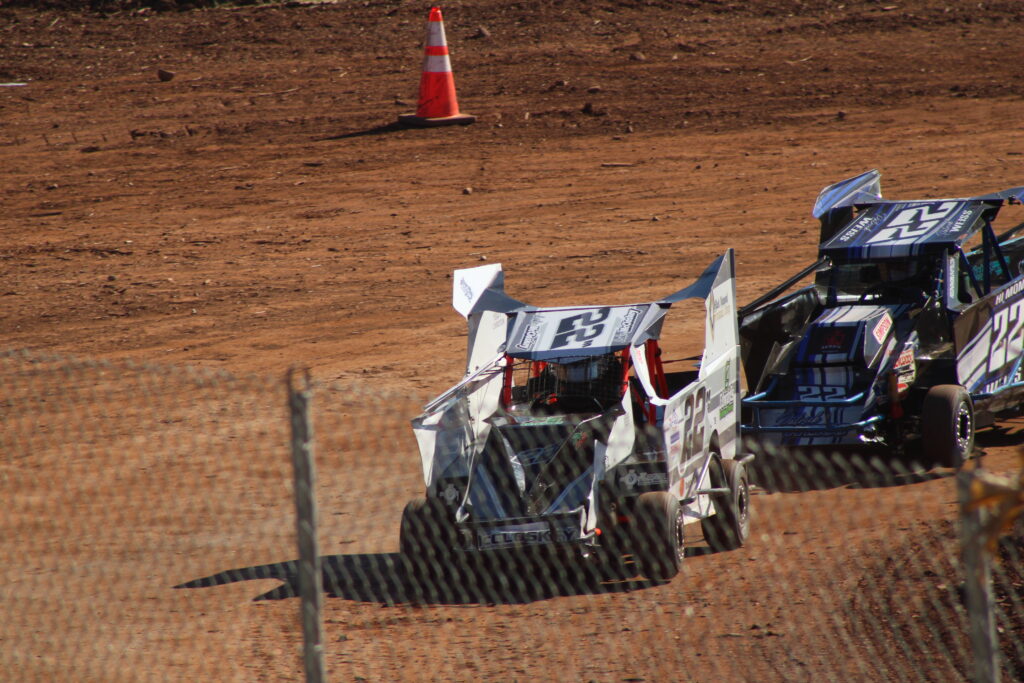 A Slingshot is a scale car, larger than a go-kart but considerably smaller than anything you'd see on the road, powered by a Briggs & Stratton V-Twin engine. It was developed by the Tobias family, well known in East Coast racing circles, and it's said there are about 400 of them out there racing in about nine states and three Canadian provinces. It comes in "regular" and "youth" version, with the only difference being that the latter has a 1-bbl carb. You can buy one from Speedway Entertainment in kit form for a bit over $8,000, and they'll put it together for you for another $750 or so. It's a reasonable way to go racing on a smaller track.
This "World Championship" has been held at several Pennsylvania tracks, moving this year to Pagoda, which isn't far from Speedway Entertainment's HQ in Myerstown, between Reading and Lebanon.
The Pagoda Motorcycle Club is a cool place. As the name would suggest, it's a bike club, going pretty much all the way back with AMA. Motocross is a big deal, but there's also this small oval, which hosts flat-track cycles and – for the last 30 years – a couple of junk car races each year. These are extremely popular.
The oval is located inside the motocross course – there are a couple of jumps in the infield. There's a nice concession stand, some bleachers, picnic tables, space for lawn chairs, and lots of port-a-johns.
It's all located next door to a huge landfill, which means it's unlikely to be snapped up as space for a new shopping center or subdivision. However, the landfill is growing, and I was told the whole Pagoda enterprise will soon move across the road so the landfill an expand. At least they have a place to go.
I didn't enjoy the racing as much as I would have had I known the drivers, but that's always the case. What I enjoyed was the trip: racing, spectator environment, how the place was run.
As much as I love Martinsville – and along with Richmond, it tops my NASCAR rankings – here's why I was glad to be at Pagoda Motorcycle Club Saturday.
Economics – Getting into Pagoda cost $10 (although I suspect over 90% of the spectators came in with $40 pit passes, because they were with a team), and parking was free. It was about a 220-mile drive (round-trip), so there was the cost of gas, but I left the house at 9:00 a.m. and got home around 6:30 p.m.
Concessions – This ties in with economics: a hot dog was $2, adding another buck for cheese and chili. You could get a pulled pork sandwich with fries and a drink for $11. More to the point, the stuff was good. I complemented the guy at the order window on my chili dog (the chili would have garnered no complaints in North Carolina), and he said, "Yeah. Joe makes some pretty good food." When you're at a corporate venue (like NASCAR), instead of Joe, you have Worldwide Catering Concepts, or something like that. There may be an executive chef somewhere, but he didn't make the chili. Score one for Pagoda.
The Track – Pagoda is one-eighth mile, which means everything happens really quickly, which is fun. It's hard to get distracted enough that your eyes aren't immediately drawn to the action, wherever on the track it's taking place. It got dusty for the main feature (24 cars), but it was hardly a bother. Passing wasn't easy for the little cars, but there was always something to watch. Sight lines were pretty good, although there were lots of poles, and the fall display at the starter's stand – cornstalks and pumpkins – was nice but kind of got in the way. Still, on an eighth mile, you can see.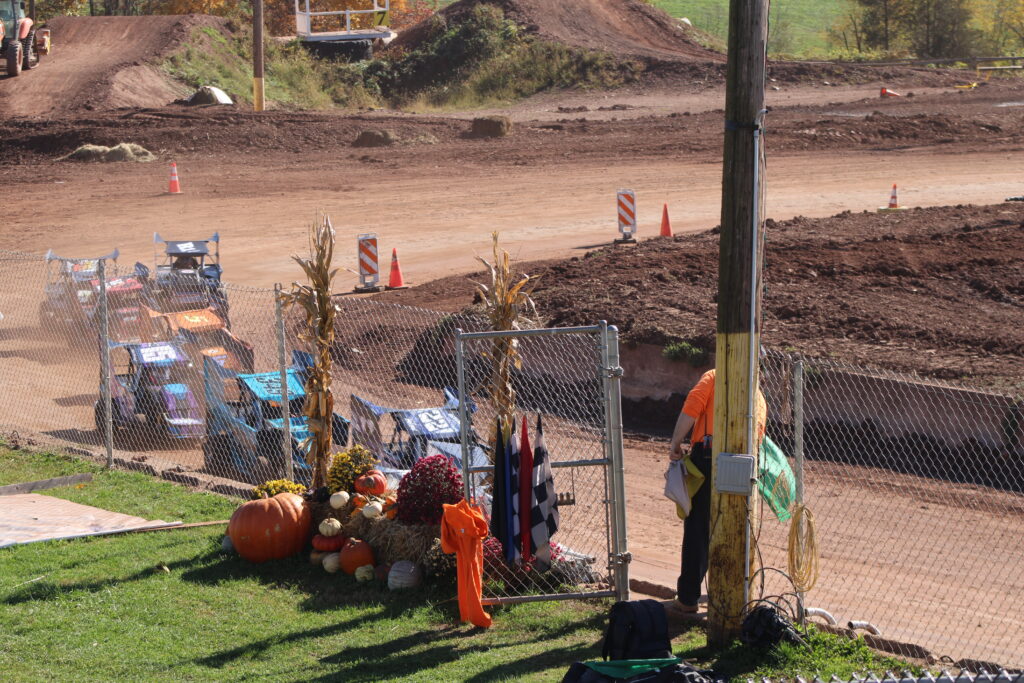 People-watching – People were wandering around a lot, which made for fun things to watch. My favorite: Mom walks by, with a maybe 5-year-old in driver/rider outfit behind her, unhappy. He decides to make a stand and stops, crossing his arms in anger and fixing his nastiest gaze on Mom. She stares back briefly, then turns and walks away. The scowl almost immediately turns to tears, he yells, and he starts running after her. Don't you hate it when you put on your best act, and somebody calls your bluff? Oh, and there were a few people dressed to impress, which I thought was cool at this venue.
Track and Slingshot Staff – Unfailingly nice.
Seating – The bleachers are decent-sized but were hardly used – usually about 25-30 people there. The rest were standing, walking around, or sitting on the ground (there were lots of sloped areas for this). There were several picnic tables near the concession stand, and I parked at one of them, which offered a good view. No VIP facilities that I could see.
Size – Don't know what else to call this, but when I decided I was over-dressed and needed to take my jacket back to the car, it was a very short walk. Nobody checked me for my ticket coming or going. The scale of the place just suits me more these days than a big track.
Something Extra – For the ten bucks admission, you also got a full program of flat track motorcycle racing. I had to get going, but I caught a couple of heat races before I left.
I think I was kind of tired of going to races before last weekend, ready to take a break, and I almost didn't go to Pagoda. It turned out to be such a positive experience that I wouldn't mind another race before winter, although I doubt it will happen. If this was the last one, though, it ended 2022 race fan activity on a good note.
A few other photos from Pagoda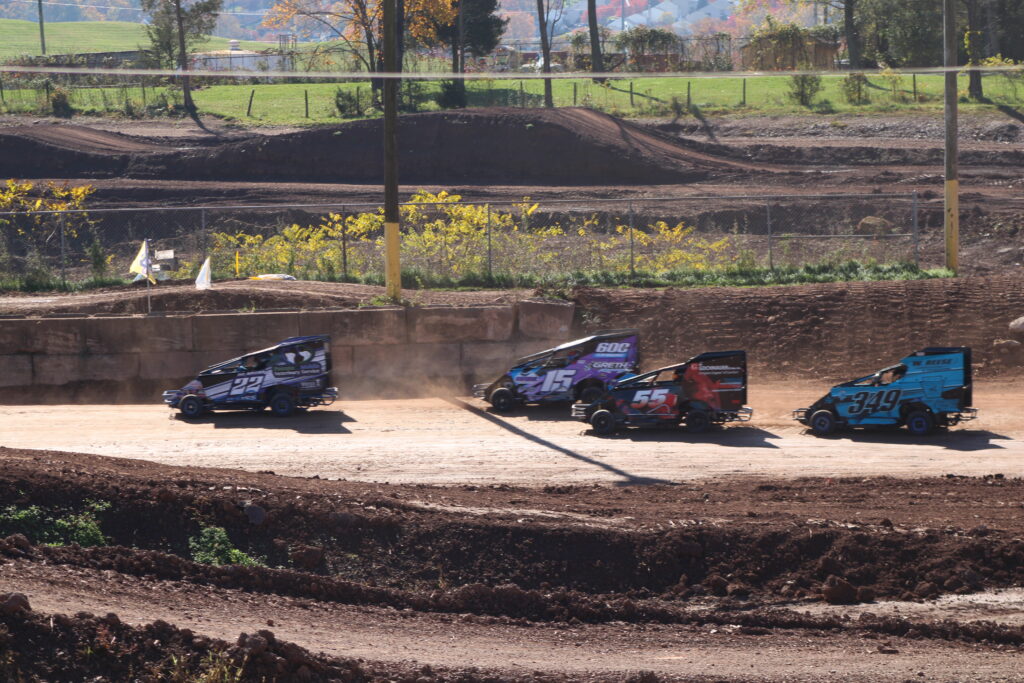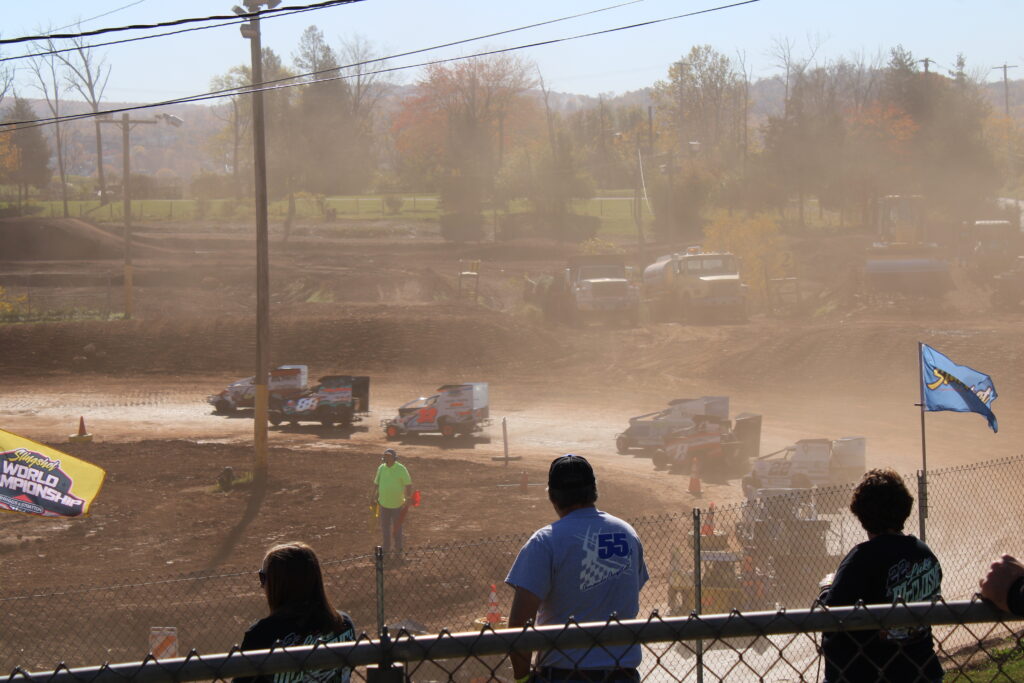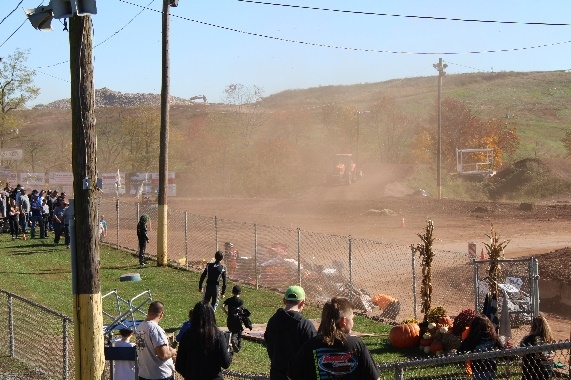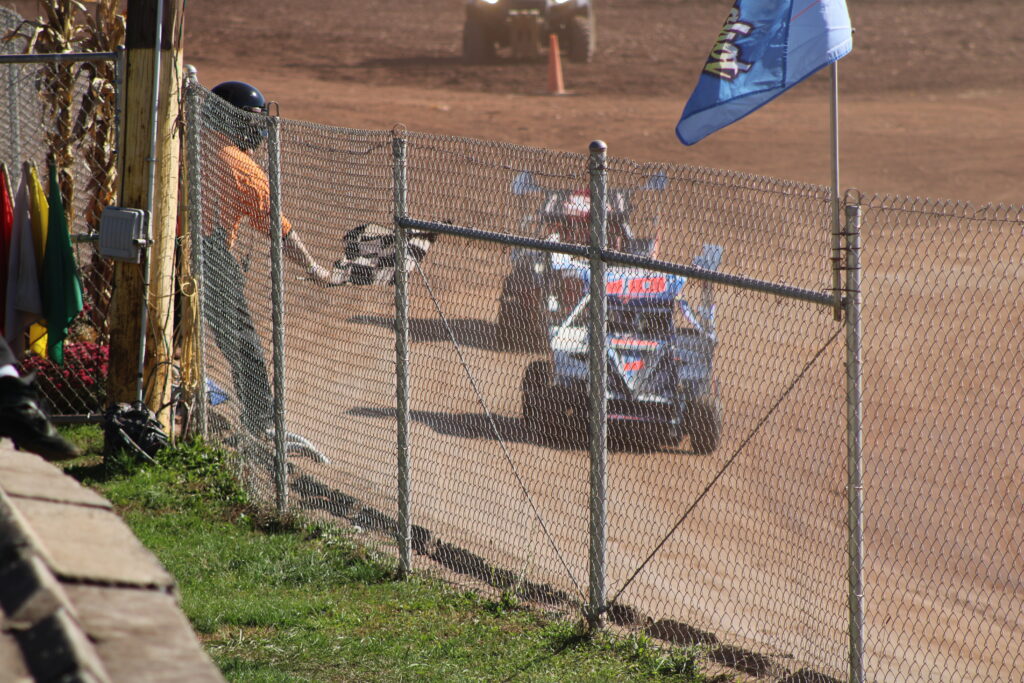 Frank's Loose Lugnuts – NASCAR's announcement that it would look at tires that would enable short-track races to be run in the rain strikes me as another slap in the face of the true fan who puts down the big bucks and attends in person – how much would you pay to sit in the stands and watch a race in the rain?
Nevertheless, it opens the door for me to reiterate some of my past suggestions for things we could change about the races. Instead of rain tires, how about having a race include paved oval, dirt oval, and road course segments, for instance. I'm going to pull together a few of those and try to have an article about my oft-ignored suggestions within the next week or so.
Frank Buhrman
Photo Credit; Frank Buhrman