A good friend recently drove from Pennsylvania to North Carolina to see Dale Earnhardt Jr. race a late model stock car at the reopened North Wilkesboro Speedway. Despite a busy schedule, she's planning another Earnhardt-related trip down to that area in October.
She talked of the huge traffic back-up and the race starting half an hour late so fans could get into the speedway. The announced crowd (GASP! They actually revealed the attendance.) was 30,000.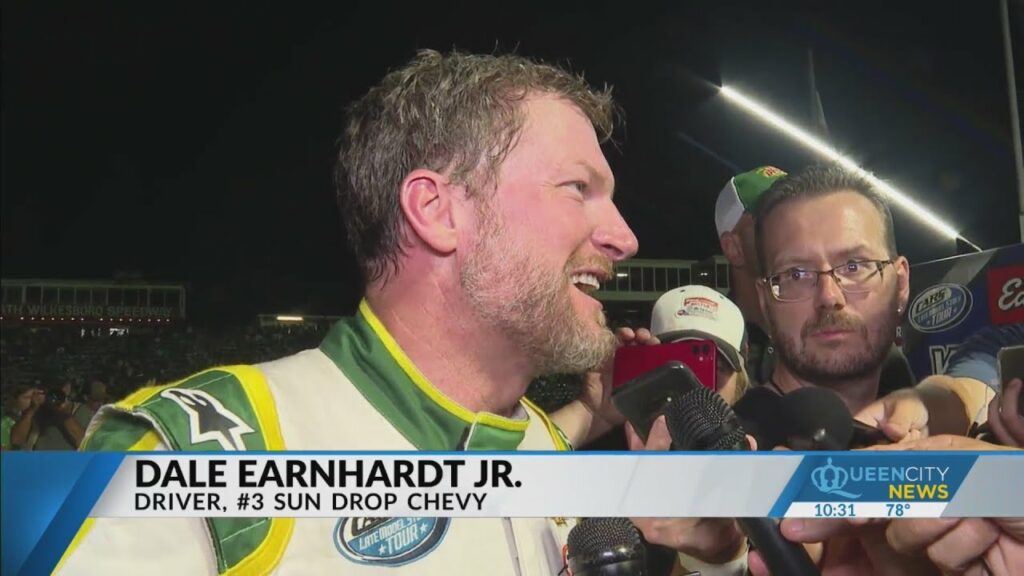 She said that she had done all kind of finagling of her schedule to get to the race. "I would never do that to go to a NASCAR (Cup) race," she added.
That crowd doubtless included people in attendance because it was North Wilkesboro's reopening, but you know as well as I do that without Dale Jr., the crowd likely would have been much less than half the sellout it was.
Where, I ask you, have you seen that kind of excitement for a Cup, Xfinity, or Camping World/Craftsman Truck race, other than the last Xfinity event Earnhardt entered?
We self-proclaimed professional NASCAR critics can argue until we're blue in the splitter about cars, rules, points, and all the other valid objects NASCAR has given us to criticize, but it remains that perhaps the biggest reason for the sport's decline has been its loss of star-power.
Look back 20 years, to when NASCAR was approaching its apex. The 2002 Cup champ was Tony Stewart. Mark Martin was second, Jeff Gordon fourth, Rusty Wallace sixth, then Kenseth, Jarrett, Rudd, and Dale Earnhardt Jr. Jeff Burton and Bill Elliott were right behind Dale Jr.
My guess is that, if you could have checked everybody in the (larger) crowd attending a typical race back then, versus those attending races today, the number wearing "star" driver t-shirts and caps then would be several times what it might be for the top racers today.
I'm certain that scientific research could develop a nice formula tying that into total attendance numbers: if you're a die-hard fan of Driver X, you're more like to be in the stands when that driver runs than if your closet isn't filled with merch from one of NASCAR's finest. Those closets, it says here, just aren't filled with merch from the current roster of upcoming NASCAR stars.
I'm not sure what I would suggest to the Daytona suits to fix that. I still think the driver development programs bear a big chunk of the blame, bringing drivers into top seats before they've had time to build a strong fan base. But it's more than that, and quite possibly we're to blame ourselves as well.
For one thing, back then we welcomed villains. To Richard Petty fans of a certain period, Bobby Allison was a true villain. To any number of drivers' fans of a slightly later age, Dale Earnhardt Sr. was a true villain. When Earnhardt wrecked Terry Labonte at Bristol and explained later that he was "just trying to rattle his cage," Labonte's fans seethed, but a lot of other folks loved it, because that's what you expected of Earnhardt.
Compare that with the way fans treat Ross Chastain or Noah Gragson today. Both of them have been portrayed as villians for on-track incidents. You'd think they had embezzled from a church or pushed a senior citizen out of the way in a check-out line. (IMHO, as I've noted before, we treat cheating the same way.)
We need for drivers to have diverse personalities so that we can love or hate them for more than on-track performance. The NASCAR of 2022 doesn't allow for that, and we the fans are complicit.
Dale Jr. and Tony Stewart seem to have actually grown more popular since they retired, and they've done it by staying visible in ways their fans like.
Earnhardt's podcast is a true phenomenon, and his "lost speedways" program nearly as much so. Even among that driver group I mentioned from 2002, I don't think you've have gotten the packed house North Wilkesboro had for an out-of-retirement appearance.
Maybe the crowd would be there for Stewart, because he also has held onto his fans. In his case, it has been the ownership of Eldora Speedway and the All Star Circuit of Champions sprint car tour – where he races from time to time. I believe all that enabled him to succeed with the SRX series, which has furthered his drawing power.
In both cases, the driver has continued to be involved in a more hands-on way that just joining somebody's broadcast team, and they both continue to race, because they love it. They also have a lot of people contact and are not holed up or limited to sponsor events.
Fans still identify with them and follow them. Notably, in neither case is NASCAR particularly involved.
I think Ross Chastain understands why Earnhardt and Stewart are so popular, and he's working to emulate that. How can you not love a watermelon farmer? I don't know whether his aggressive driving comes naturally or is part of the plan to build an audience, but the jury's still out on whether it will help or hurt in the long run.
There's no need to name names – you know who I'm talking about – but there are some drivers in topflight Cup rides today who are so bland that they're beyond redemption. Others have a shot, if they're given the chance, and if NASCAR, sponsors, and FANS (US!) allow and reward a little individuality.
There are fans out there who might be attracted to – or return to – a sport that has that.
Frank's Loose Lug Nuts
Next year's much-anticipated NASCAR schedule is out. I applaud holding the all-star race at North Wilkesboro, and I think the Chicago street race has no future, but I always look first at what's happening with Richmond, my home track, and once again, it don't look good.
Things have really gone downhill since Richmond had an early May spring date and the weekend after Labor Day in the fall. Now the spring date is at the beginning of April, a time likely to be cold and/or wet in Richmond. The fall date became the summer date this year with a mid-August race, which has become July 23 for '23. Keep hydrated and load up on sunscreen, fans.
It still looks like the Rockingham treatment: make the dates unattractive to fans and then pull a date because fans don't show up.
I used to say I wanted my ashes spread at the Richmond start-finish line after I moved on. Now I just hope the start-finish line is still there.
(Photo Credits – The cover photo has more star power in it than the entire field of a Cup race today. Unfortunately, I found it as an un-labeled Twitter feed and have no idea of its formal "ownership." Dale Earnhardt Jr. at North Wilkesboro was "uploaded to YouTube by Queen City News." The North Wilkesboro crowd shot came from a website called WhiskeyRiff and was a Facebook post by Mike Davis, who may have taken the photo. The Gordon and Stewart photo is by Robt LeSieur from Motorsport Images – I remember him from my years as a weekend warrior at Richmond. The Petty and Allison photo was posted on Twitter, and I have no idea as to it origin. The Richmond Raceway photo is from ESPN.)