(Editor's note; With the Bristol race weekend coming up I'd like to bring back David Nance's refection's about racing at Fr'istol )
During a Saturday night's rain delay some years ago I muted the yammering filler on TV and turned to the Internet. There I found an article on racing at Bristol that included the following quote from AJ Allmendinger, heard on his team radio during the 2014 race:
"I freakin' hate this track, man. The moment I get it figured out, is the moment it goes to …"
You can figure out the rest. But AJ's feelings toward the high-banked half-mile immediately reminded me of a video racing session a few years ago with my then four-year-old son when he uttered a term that perfectly described nearly everything about the place.
Trying to build his interest in the sport, we'd plugged in the Wii and set out to go racing. As it was loading the tracks, I asked him where we were going today.
"Fr'istol Daddy! Let's race at Fr'istol"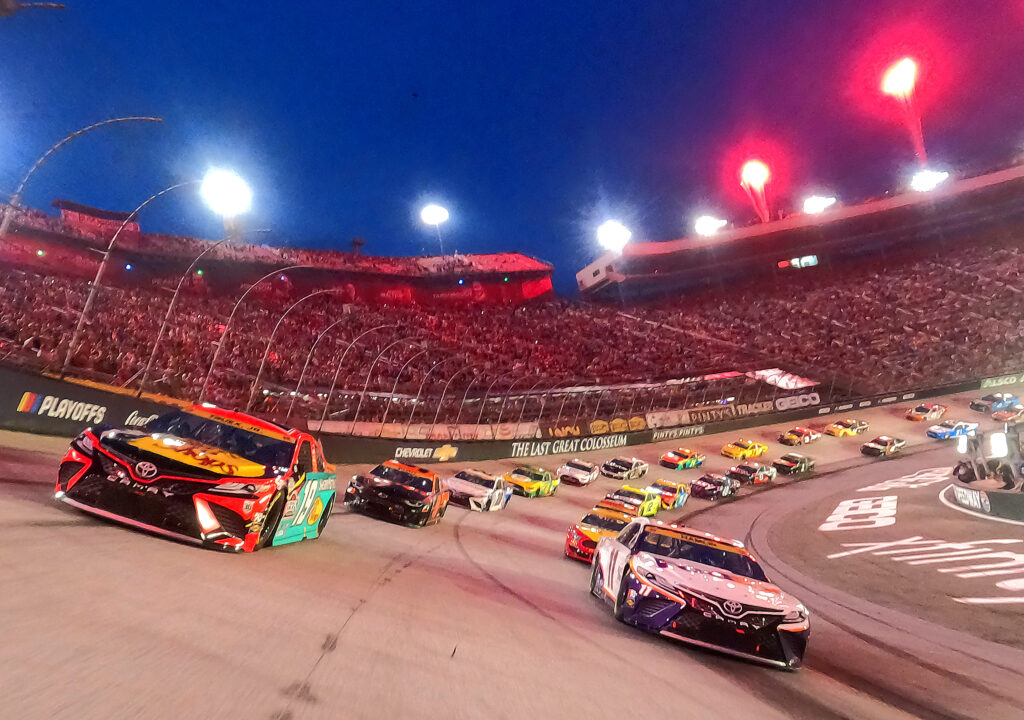 I started to correct him but stopped as I realized his innocent mispronunciation was a contraction that described the East Tennessee track ideally and captures the essence that is uniquely Bristol.
It's like Richard Petty's trademark "Just a racing deal" but very clear, concise and track specific… and depending on the inflection, delivery and gestures it covers nearly every situation there. For example, the night race seventeen years ago … after Dale Earnhardt spun Terry Labonte on the last lap for the win, Dale didn't have to explain his actions by saying, "I was gonna get back to him and just rattle his cage. I wasn't gonna wreck him. I got to him and just turned him around." Instead, all he really had to do was flash that Earnhardt grin, shrug and say "Well, that's Fr'istol" and everyone would have understood his intentions perfectly. Likewise, the spinnee on that last lap incident could have used the same term as well to describe his perspective. Terry Labonte could have easily said "I got to Dale and passed him coming off of [Turn] 4. He hit me between [Turns] 1 and 2 and turned me around. That's when all Fr'istol broke loose."

And all "Fr'istol" did break loose as the spinning Labonte collected Mark Martin, Tony Stewart, Ricky Rudd and Sterling Marlin as the #3 went on to take the checkered flag. "Fr'istol" also perfectly describes the finish four years earlier as Terry Labonte came spinning and crashing across the finish line after being tagged by Earnhardt coming out of Turn 4 for the flag.

A video of the crash and the winner's mangled car limping and spewing into Victory Lane with the caption, "That's Fr'istol, Baby!" would have been a marketer's dream, creating the ideal commercial for the night race for years to come. But "Fr'istol" isn't limited to beating and banging on the high banks. If you were there for the 2000 spring race you saw Johnny Benson's dramatic drive from the back to come up a lap or two short of his first win. You had to be there because if you weren't there you missed it all as ESPN went FOX over those final laps, showing the race for ninth between the Labonte brothers instead of that fantastic drive. When interviewed as he climbed from his car after his "where did he come from" finish, Benson could have easily summed up his effort and just missing the win with an exhausted, "Whew …that's Fr'istol."
"Fr'istol" describes the frustration found only there. If the term had been known four years ago, nearby fans could probably have heard Tony Stewart yell a gut-wrenching "Fr'istol!" over the roar of the engines as he did his two-handed helmet chuck at Matt Kenseth's passing car.
The frightening side of the World's Fastest Half-Mile comes out in the term. Hear a hushed "Fr'istol" as Michael Waltrip's and Mike Harmon's terrifying wrecks replay in your mind.
"Fr'istol" describes the fan experience there as well. I recall my first trip there, standing at the top of the backstretch stands. The high banks were reminiscent of my boyhood tracks of Salem, IN and Nashville Fairgrounds.
The grandstands were mostly concrete, the scoring stands were on a grassy bank outside Turn One, where the Kulwicki Tower now stands and there were more Porta-Potties around than there were fans at this year's Indy Cup race.
I was just tickled to be at a Cup race and my reaction could be summed up with, "So… I'm at Fr'istol" Over the years, I made several trips there and watched as the old facilities were taken down and the new Coliseum rose in its place.
One of my last trips there was with friend and new race fan, Jerry Wright. It was his first Cup race and he looked at the magnificent monstrosity in slack-jawed amazement. If he had broken his silence with "Wow! That's Fr'istol" all I could have done was grin and nod in agreement.
No better term could describe the uncertainty of the weather there, especially during the spring races. In 2006, Jerry and I became greatly concerned heading to the Busch race when we passed snowplows sitting in the median with motors running waiting to deal with what was to come …
Instead of seeing cars racing on the high banks, for a while we watched snowball fights, snow man building and later snow angels, while shivering on the ice-cold aluminum bleachers.
(Note: the crowd that day was still probably larger than attendance at Friday night's Xfinity race.)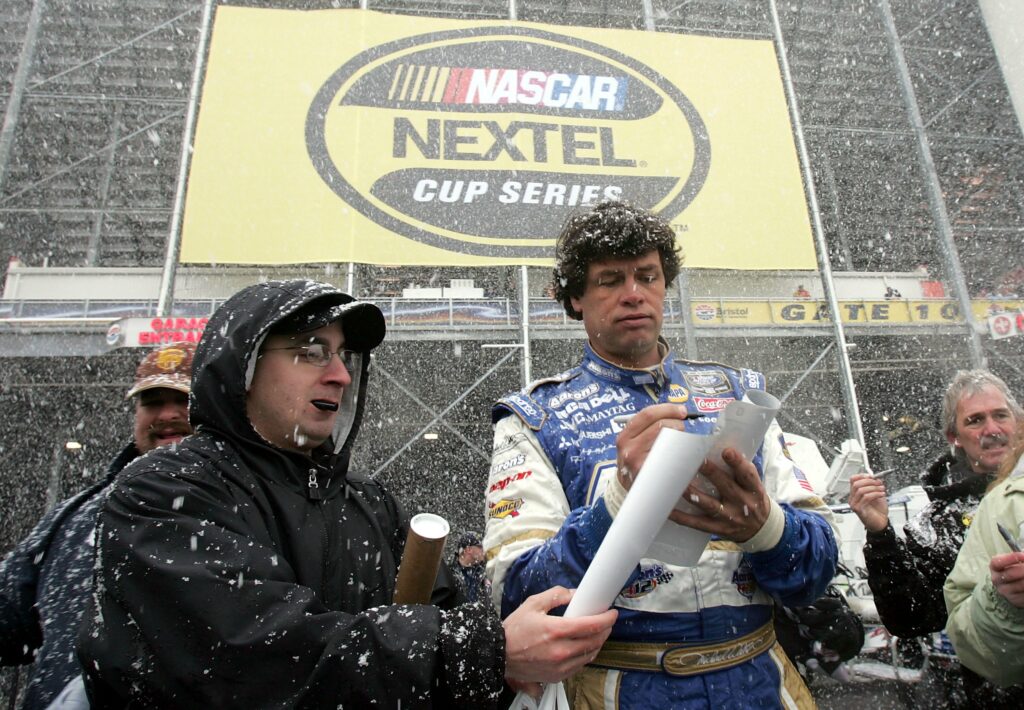 "Frfrfrfrfr'istol" said it all.
And Dave Rosenbaum, another long-time buddy of mine would have heard me utter "Aw Fr'istol" under my breath as I grabbed my Race Pac to start the mile and half walk to the track only to find the tickets were not in there but right where I had left them – back on the dresser in our motel room in Weaverville, NC some 85 miles away. He never said a word, getting mileage instead from silence. Waiting for the comment that never came was worse than any comment he could have made!
The term "Fr'istol" is timeless – still as relevant and applicable today as some of the examples mentioned above (and more you have probably recalled as you read this).
In post-race interviews from the wild overtime finish of Friday night's race, there were numerous drivers who could have easily used "That's Fr'istol" in their responses and we all would have known exactly what they meant.
Austin Dillon's race win elation, Justin Allgaier's near miss, Kyle Larson and Brad Keselowski's frustration, Kyle Busch's anger, Brendan Gaughan's knock-down-the-walls excitement, Ty Dillion's "I was just going for the win", Elliott Sadler's "Aw shucks I messed up" could have all been summed up with their own versions of "Fr'istol".
And as the rain falls once again on Saturday night's Cup race you can almost hear the crew members muttering "Aw Fr'istol" as they covered up the cars for the seemingly umpteenth time.
When the skies finally clear, racing resumes and the laps are run, who and how they could have used the term will unfold. I won't be able to write about it though. Somehow, during the hustle and bustle of this August Sunday I missed the restart of the race.
When I finally found it on some obscure NBC channel, Kevin Harvick, wife and crew were already in Victory Lane near the close of the hat dance.
Oh well, that was Fr'istol!
Thunder On… and Stay Safe!
David Nance
(Editor's note: This story is published with the permission from the author! It was originally published on Race Fans Forever.)
Photo Credit (cover); Jared C. Tilton / Getty Images