New Car. New Package. New Track Surface. New Track Configuration. New Atlanta Spring Race.
New way to race. New way to wreck. New names up front. New Lead Change Record.
New. New. New.
On Sunday, the newly resurfaced and reconfigured 1.5 mile Atlanta Motor Speedway hosted the Folds of Honor 500. With it's new high banks that rivaled the other Superspeedways drivers and fans alike were not exactly sure what type of racing it was going to produce.
Would it be the the single groove, hug the bottom line Atlanta of old or side by side pack racing like we saw at Daytona? Would it race like Vegas-the other 1.5 miler we've been to or produce something completely brand new? Let's look at the numbers and see what they say.
Green Flag Passes say it's a Superspeedway
NASCAR's tried and true metric of Green Flag Passes points to Atlanta racing like a superspeedway as it produced 6429 vs Daytona's 6462 vs Las Vegas' 3271. No other race this season produced those kind of numbers that rival the 500. Because of the difference in green flag laps it brought the percentage of Green Flag Passes per Green Flag Lap down to 24.8 to Daytona's 39.4. By comparison, Vegas' had a 15.3 percentage
So Atlanta is not quite Superspeedway numbers, but is closer to Daytona than any other track to date. Since one number doesn't paint a complete picture, let's see if there is anything else noteworthy.
Where was the racing?
Of Atlanta's 6429 Green Flag Passes, 4115 were Quality Passes as they occurred in the Top 15 positions. Daytona had 3213. Vegas had 1283. This meant that for Atlanta 64.0% of the passes occurred in the front 41.7% of the field. So not only did Atlanta have more Quality Passes, but the higher percentage of passing at the front of the field.
46 Lead Changes-A New Track Record.
46 Lead Changes. 46! This is the main number touted after Sunday's race. That is not only a record for Atlanta but was the most Lead Changes to date. It doubled Vegas' 23 and left Daytona's 35 in the dust. So looking at this metric you could say that Atlanta raced better than a superspeedway.
But if you have read some of our previous stories on race stats you know we don't leave it at that but dig a little deeper to see what the numbers show.
37 Green Flag Lead Changes Beats Daytona's Total Lead Changes
Nine of the 46 Green Flag Lead Changes occurred under Caution, leaving 37 Green Flag Lead Changes. This means that fans saw more green flag lead changes that Total Lead Changes at Daytona (35) and Vegas (25).
So once again, maybe Atlanta raced better than a Superspeedway.
Racy Restarts
Ten of the 37 Green Flag Lead Changes occurred during the first three laps after the green flag dropped to start or restart the race. This was more than Daytona and Vegas combined as we saw 4 at Daytona and 5 at Las Vegas. Phoenix, which is known for its wild restarts, in comparison only had 2 Lead Charges during restarts.
Eight of the 12 Runs had Lead Changes further indicating action on restarts.
We saw a new type of Lead Change-Leader Wrecked
Three times we saw the lead change under green when the right rear tire failed, sending the leader into the wall. William Byron (2) and Ryan Blaney found themselves in the lead after leaders Ross Chastain, Tyler Reddick and Ricky Stenhouse, Jr. had their right rear Goodyears let go. Their misfortune resulted in Green Flag Lead Changes for these lucky recipients.
Goodyear is looking into the matter, but so far this occurrence was something uniquely Atlanta, not seen at either Daytona or Vegas.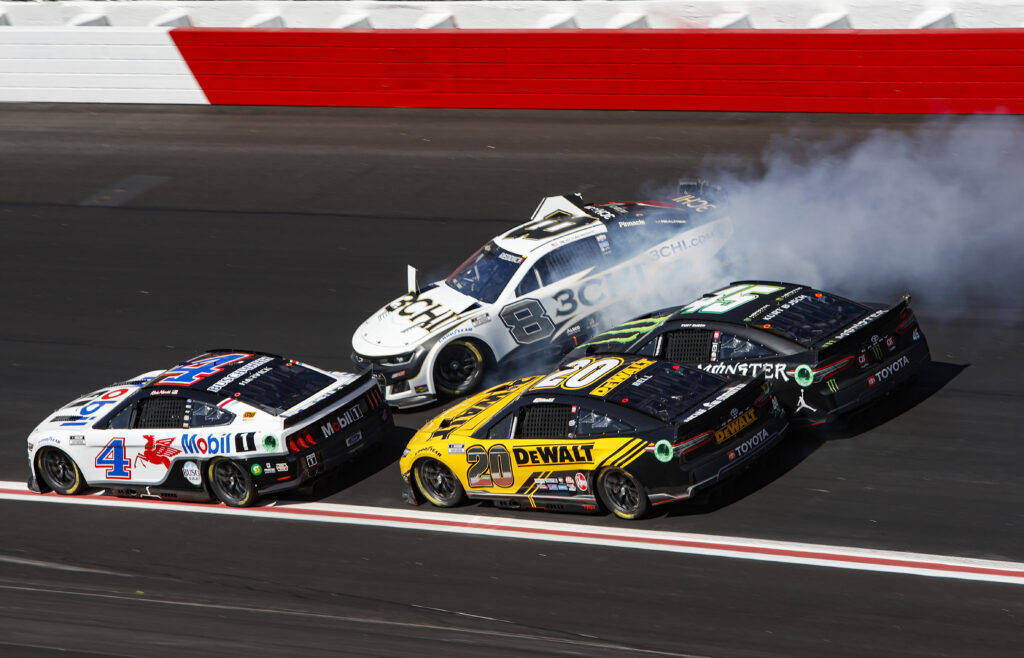 Like a Superspeedway, Atlanta had its own "Big One"
Tyler Reddick's tire failure at the front of the field triggered a multi-car incident that rivals Daytona. 13 cars were involved in that melee. This year's Daytona largest incident involved eight cars, while Vegas' largest involved four.
So when it came to wrecks, Atlanta definitely had a Superspeedway feel to it.
Twenty-four Racing Lead Changes!
Racing Lead Changes is one of the main statistics we have followed. These are Green Flag Lead Changes that happens after the three lap Restart window where one car passes the leader to take the lead. You race past me.
This happened 24 times in the race Sunday-the most for the young season. To put this into perspective here is the following Racing Lead Change ranking by race-
24-Atlanta
18-Daytona
5-Fontana
4-Las Vegas
1-Phoenix
To further put the Atlanta race into perspective-
By the time they completed Stage One on Sunday they had tied the Racing Lead Changes for the entire Western Swing (10)
By the end of Run 5 and before completion of Stage Two they had surpassed Daytona (19 vs 18)
By the end of the race fans had seen more Racing Lead Changes than Daytona, Vegas and Phoenix combined (24 vs 23)
No Matter How You Cut It, Atlanta Had Lots of Leaders
NASCAR reported Atlanta had a total of 20 different leaders for the race. The was the most for the season, exceeding Las Vegas (15) and Daytona (13). William Byron led the pack, finding the front eight times for a total of 111 laps.
But those lead changes include cautions, restarts and other means of getting to the front.
Focusing on just Racing Lead Changes we see that number cut down to 12 different drivers going to the point by racing past the leader. Four drivers got their first Racing Lead Change in this race. Overall, Ross Chastain led the way, doing it 4 times. A breakdown of the Racing Lead Change Leaders include-
4-Ross Chastain
3-Ricky Stenhouse, Jr., William Byron
2-Kyle Busch, Martin Truex, Jr., Chase Elliott, Joey Logano*, Kurt Busch*
1-Tyler Reddick, Kevin Harvick*, Ryan Blaney, Justin Haley*
After five races that brings the total to 19 different RCL leaders
6-Chastain, Kyle Busch
5-Stenhouse, Jr.
4-Truex, Jr., Bubba Wallace, Jr., Byron
3-Brad Keselowski, Reddick, Elliott
2-Blaney, Logano, Kurt Busch
1-Kyle Larson, Erik Jones, Alex Bowman, Denny Hamlin, Harvick, Haley
Overall, it's a pretty diverse group. When you consider these are the leaders who raced to the front, the distribution is a bit surprising with several drivers you would normally expect at the top are barely in the field.
Green Flag Passes For Lead-WOW!
Green Flag Passes For Lead is a NASCAR stat that counts the Green Flag Lead Changes at the various scoring loops around the track. A car can take the lead. And hold it to a scoring loop to get counted as a GFPFL and not hold it to the Start/Finish line where it would be counted as a Lead Change. This number is an indicator of the "back and forth" at the front.
There was a total of 141 Green Flag Passes For Lead. When you consider 37 of those were held for Green Flag lead change it means there was 104 Times when the driver who had the lead at a scoring loop was not able to sustain it for a Lead Change. That's a lot of "back and forth".
By comparison Las Vegas had 57. Daytona… well, NASCAR didn't report the number for that race. I think by this metric Atlanta raced more like a Superspeedway on Sunday.
Other Observations
The final run was 13 Green Flag Laps. The winning pass was a Racing Lead Change by William Byron. This was the longest Green Flag Run for the win this season-the first to exceed four laps
Even with the longer final run, the Margin of Victory was 0.145 seconds. This was the closest race since Carl Edwards beat Jimmie Johnson in 2005 by a 0.028 whisker. It was closer to a Las Vegas finish of 0.176 seconds than Daytona's 0.036, but still the second closest for the season.
The longest green flag runs of the day was in Stage Three as Runs Nine and Ten saw runs of 38 and 42 Green Flag Laps respectively. Neither were long enough for Green Flag Pit stops but unfortunately, where they fell in the race added to the criticism "this race was too long" (3:57:14)
If you use Ryan Blaney as an indicator in did Atlanta race more like Daytona than Las Vegas, the nod would go to Daytona, since he finished both races pinched into the wall while coming down to the finish.
Comparing finishes, both Daytona and Atlanta saw Bubba Wallace at the front on the final run to the Checkers. Atlanta had a far different results hard crash coming for the flag vs. a Second Place finish at Daytona,
Speaking of Crashes, there were some really hard hits this race. Wallace, Cody Ware and Noah Gragson had major impact. All walked away, which is a testament to the safety features in place, including the new car. They were still concerning though… hard, hard hits.
It seemed like nearly everyone in the race was involved in at least one incident during the day with a considerable number able to come back for strong finishes. 2nd place Ross Chastain lost a tire while leading and was penalized to go two laps down… but was challenging for the win. Third place, Kurt Busch's car was a battered mess while Daniel Suarez had his issues but was still in the hunt. Corey LaJoie went airborne through the frontstretch infield during the Lap 145 "Big One" on his way to his first Top Five finish. The Next Gen durability is definitely being tested…
The Big Question…
So does the newly resurfaced and reconfigured Atlanta race more like a mile and a half or more like a Superspeedway? I think what we saw Sunday with the side by side packs it looked more like the latter. The bulk of the stats we looked at support that as well.
However, several stats, including Racing Lead Changes also point to a race uniquely Atlanta. I for one hope they keep it that way.
The Bigger Question…
Was Sunday's race a product of the new car, new surface, new configuration, new tire or new Horsepower/Aero package for this track or a combination of them all? The package is getting little attention but suspect that played as big a role in the product we saw as anything.
They used the Daytona package. They got Daytona-style racing.
With as many variables to determine the major factor would be difficult. Only time will tell.
The Biggest Question…
How will the car do at COTA? We leave the ovals for the first road race with a car that has been described as a road racing car. Hopefully, it will make for a good combination.
At least the track should be dry and that will be a heck of an improvement over 2021!
Tune in, so we can see the next test of the 2922 NEXT GEN car.
Should be interesting!
Thunder On… and Stay Safe!
David
Credits; Nascar.com, Jayski.com, Racing-references.com and Tobychristi.com
Photo Credit; Sean Gardner / Getty Images