I have always been told and have also read that we all have recesses in our mind that hold memory banks. We don't always remember everything that happened in our life, but sometimes something will trigger a memory and it will then come to the forefront of our mind and allow us to share. Below are some of the memories I want to share with other race fans. I would like to express that I felt, and still feel very privileged to have lived there during the time history was being made in this sport beginning with the first Daytona 500.
I remember February 1959. A new 2.5 mile auto racing track had opened in Daytona. It was huge and the banking was very impressive. The first race at the track was Daytona 500 and was held on February 22 that year. A group of my classmates and I were fortunate enough to attend that race. We were in total awe at what we saw. It was very exciting and fun to be there in person. They named the stock cars that were running the Grand National Series. The sound and the smells immediately made me realize I could be a very avid fan of this sport. Although it was titled about types of fans, my article about my experience at that race can be read here at PTR and was previously publish at Race Fans Forever.
It was a very close finish and Lee Petty was declared the winner three days later. There was no electronic timing so they had to resort to photographs to determine the winner. Most of us fans had left the track thinking Johnny Beauchamp had won and were surprised they changed the results. There was a gentleman who drove the first and only Dodge in that particular Daytona 500 and he finished in 28th place. More about him will follow at the end of the article.
The race took 3 hours 41 minutes and 42 seconds to complete and the average speed was 135.521mph. Most of us were amazed the cars went that fast.
February 18,1962. I was in attendance at the fourth Daytona 500. I was just as excited as I had been at the first one.
A driver named Edward Glenn Roberts won this race. He was better known as Fireball Roberts and was a favorite by most fans. He was a Florida boy and had grown up about 60 miles from Daytona.
The race took only 3 hours 10 minutes and 41 seconds to complete that year and the average speed was 152.529 mph which was quite a bit faster than the first one. The margin of victory was 27 seconds.
We would lose Fireball in July 1964 as a result of burns and injuries he had suffered in a crash at Charlotte in May.
In December1963 Wendell Scott was the first African American to win a Grand National Race. Driving a Bel Air Chevrolet he had bought from Ned Jarrett, he won a Grand National race at Speedway Park in Jacksonville, FL
Author's Note: I was not at this race, but since it was history, I included it.
February 23, 1964. The winner, Richard Petty won this race by a lap over 2nd place finisher Jimmy Pardue. The average speed was154.334 mph and the margin of victory was 1 lap and 9 seconds. There were 3 cautions and 6 lead changes even with leader finishing on the lead lap by himself. There were almost 70,000 fans in attendance that year.
February 14, 1965. This race was completed under caution due to rain. Fred Lorenzen was declared the winner as he was leading when the caution came out. The race was shortened and they only completed 133 laps rather than the usual distance which is 200 laps. Fred Lorenzen was NASCAR'S original Golden Boy.
The race lasted only 2 hours 22 minutes and 56 seconds. There were 3 cautions and the average speed this year was 141.539 mph with 7 lead changes.
February 27, 1966. This was the year the of the return of the Chrysler Hemi engine. Richard Petty won the race with a 1 lap lead and the race lasted just shy of 3 hours and 5 minutes. There were 4 cautions and the average speed was 160.927 mph.
1966 was also the year of the first 24 Hours of Daytona race which I attended.
February 26, 1967. Mario Andretti, an open wheel driver won this Daytona 500. That was the only time someone born outside the United States has won a Daytona 500. His entry information said he was from Nazareth, PA.
This race had 6 cautions and ended under caution. The average speed was 146.926 mph and lasted 3 hours and 24 minutes and 11 seconds.
1969 and 1970 Chrysler brought winged cars – the Dodge Charger Daytona and the Plymouth Superbird. These cars were the fastest yet. Qualifying speeds at Talladega were approaching 200mph.
A speed test was arranged with Buddy Baker driving a Charger Daytona on a closed course at Talladega. He went an amazing 200.447 mph on March 24, 1970.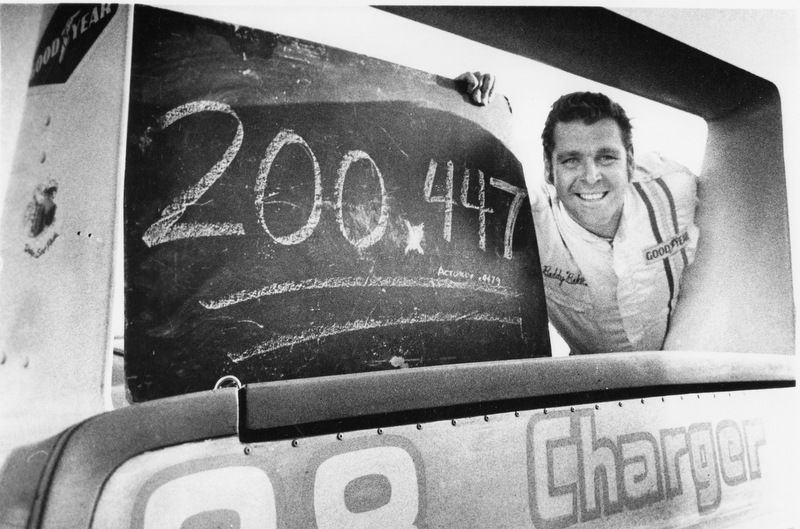 In 1972 they changed the name from Grand National to Winston Cup Racing as RJ Reynolds began sponsoring NASCAR racing. Nextel took over the sponsorship in 2004 and then Sprint acquired Nextel in 2005.
February 18, 1979 Richard Petty once again won the Daytona 500 with an average speed of 143.977 mph. The race lasted 3 hours and 28 minutes and 22 seconds. There were 7 caution flags during the race.
The young man who finished 8th in this race went on to become the 1979 Rookie of the Year. His name was Dale Earnhardt and he was driving the #2 Buick. The very next year in 1980, Dale won his first Winston Cup Championship in only his second season of NASCAR Cup racing. During his career, Dale would go on to win 7 championships and is tied with Richard Petty who has the same number of championships. Sadly, on February 18, 2001 we would lose Dale on the last lap of the Daytona 500 in a crash. After his death, NASCAR implemented many new safety improvements and have continued to make safety improvements a number one issue in the sport.
In my memories of 1959 above, I mentioned a gentleman who drove the first Dodge in a Daytona 500. I met him in 1963 and he became one of my favorite car racing mentors who helped increase my knowledge in the sport. Although he is no longer with us, I would like to honor him by directing you to the following link. Thanks to Marty Little for helping preserve history on some of the LEGENDS of NASCAR like my friend and mentor, Dick Joslin.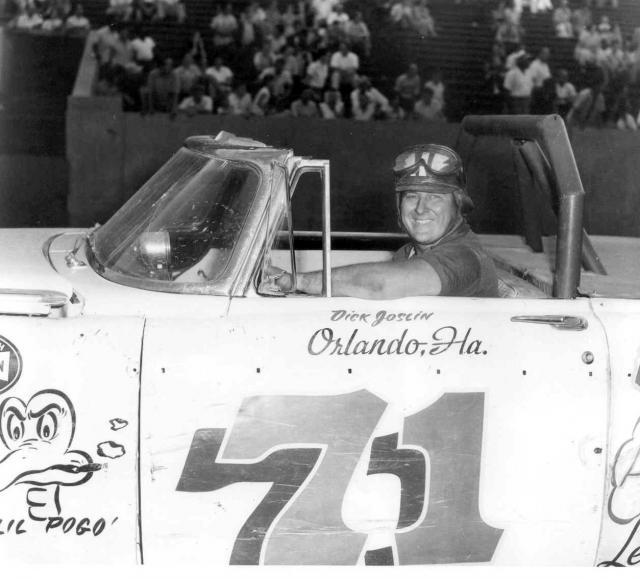 Thank you for reading. Your comments and views are welcome.
Vivian Simons
Editor Note; 68 years ago today 19 February, Dick Joslin won the 1954 NASCAR Sportsman race @ Daytona Beach.