Sunday, NASCAR will crown it's 2021 Champion. Sunday is the end of the 2021 season. Sunday is the end of an era-the end of the GEN-6 car.
From 2013 till Sunday, the GEN-6 has been the Car of the Cup Series. It has been the "bridge" between the "Car of Tomorrow" and all the safety innovations that has protected our drivers since then and the NEXT-GEN or GEN-7 that is going to be the "panacea" for all that ails NASCAR.
Over its nine seasons, she has had good and some not so good races. She showed her toughness protecting Ryan Newman in his horrifying Daytona 500 crash and Joey Logano in his Talladega blowover.
In her eight completed seasons she carried 6 different drivers to Cup Championships. She was the mount who carried Kevin Harvick, Martin Truex, Jr., Joey Logano and Chase Elliott to their first Championships. Kyle Busch and Jimmie Johnson each got two Championships with her, including Kyle's first and Jimmie's last.
On Sunday, she'll either carry a new driver to their first Championship or allow another driver to collect their second.
She said hello to new venues like COTA and Road America, reconfigured venues like the ROVAL, Indy and Daytona road courses, while saying good-bye to the ovals she had been built for, like Chicagoland and Kentucky. Ovals or Road Racing. it didn't matter-she was up for the challenge.
Racing surfaces didn't matter either-pavement, concrete or even dirt… she still found a way. She was even called on to race in the rain, but unfortunately, those who asked didn't know the difference between rain and a monsoon, forcing her to do things no car should be asked to do… but she did.
She started her Cup career breathing free in search for the right mixture of air and fuel to get maximum speed on all but a couple of tracks to ending her career being choked every race to some degree or another as competition gave way to entertainment.
She wasn't perfect… no race car ever is. She looked more like production than her older sister but just not enough to satisfy the fans and OEMs. That's part of the reason why her younger sister will take her place next season.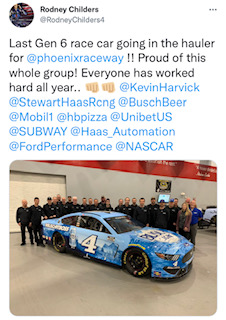 GEN-6 loved the air and flourished when she had plenty of it. Splitters, side skirts and "big-a$$ spoilers" maximized every breath of it she could find, planting her to the track. Sidedrafting others to claw her way to the front became the norm. In a crowd, she wasn't happy and getting up front to rob clean air from others became the way she rolled. Her aero appetite and dependency further hastened her demise.
But it was how she was was constructed, how she was built that was the final straw. She was hand built by the teams. That took people, lots of skilled people to take her from a pile of tubing to the finished product for the track. People designed her. People took the raw materials to make her parts. People put those parts together. People tweaked and massaged and more to allow her to run the best she could each weekend.
People cost money. Skilled people cost lots of money. Lots of skilled people require even more money and that was messing up the current "business model".
Enter NEXT-GEN. NASCAR meets IKEA.
With NEXT-GEN, teams no longer build the pieces and parts needed for the car, but buy them from sole source providers. Rich teams, not so rich teams and everything in between will get the same parts. To get a race car there will be little design and fabrication and more just assembling the purchased parts to make a race car
That means less people. A lot less people. That equals less money needed to race. Lots less money to race. And that makes for a more favorable "business model".
As NASCAR enters it's NEXT-GEN era, GEN-6's baby sister will be the engine to "right-size" the industry and NASCAR, like other industries rights it's wrongs on the backs of its workers.
The teams have built their final GEN-6's. That's it-there will be no more. More and more pictures of teams with their final cars are showing up on Social Media. No matter the team, in those pictures you can see the faces of those individuals who have poured themselves into not only their final pictured product but all of the previous cars they together created.
You can see the sense of accomplishment, the personal pride in doing their very best, together, to create this final work that have loaded up for the final trip to Phoenix.
What you don't see, what you don't hear, what you don't realize is when they off-load the GEN-6 after her return from Phoenix, some in those pictures will no longer be there. Some have gotten their termination notices already. Some will come soon thereafter. But that next team picture taken in February, when the teams finish their NEXT-GEN and send it off for its inaugural race at the LA Coliseum, that picture will look different. Some, like the GEN-6, will be casualties of NEXT-GEN NASCAR.
For this fan, that makes this season bittersweet at best.
Before you say "oh, you're one of those who don't like change" please understand I became a fan of the sport in late GEN-1. I've seen some change. I've rejoiced in the sports expansion and I've lamented its contraction. I find no joy when so many are affected by such change.
But that's just me.
As the Championship weekend unfolds and the GEN-6 era comes to a close, I say "Thank you" to all the men and women who put themselves into, who worked tirelessly on those cars so we could enjoy seeing our heroes compete in them 36 weekends each season.
You are much appreciated.
Our thoughts and prayers go out to those who enter the off-season with uncertainty created by this change.
Please know you are not forgotten.
Thunder On… and Stay Safe
David
Credits: YouTube – NascarAllOut, EthanThames1890. Photo – Rodney Childers